In creating Australia's largest exhibition of street and urban art, the Can't Do Tomorrow festival is clocking up a number of firsts. 
Its scale is one thing – more than three levels of exhibition space  in The Facility, a former woolstore warehouse in the Melbourne suburb of Kensington, will be transformed by large murals, installations and light shows to host 10 days of exhibitions, talks, workshops, parties and DJs from February 20-29. 
Organisers have scored a coup with the world premiere of Made in Hong Kong, Banned in China (previously titled Gongle), the exhibition by Chinese-Australian political artist and cartoonist Badiucao. 
The exhibition, which blends portraits of political leaders, exhibits of torture equipment and iconic Hong Kong neon to reconstruct metaphors anew, was cancelled in Hong Kong in 2018 amid threats to the safety of the artist and his family.
But perhaps even more impressive is the way the festival is bringing together a community of artists often existing in the shadows, working solo and with little recognition of their work – in itself a significant milestone.
'The street art scene can be fractious at times – there are unspoken rules that exist, rules about wall real estate, ranking and hierarchy,' says Festival Director Zoe Paulsen.
'We set out to create a festival that's inclusive and brings together artists from across the Melbourne scene, many of whom haven't worked with each other before. 
'I believe this has been made possible because of our industry neutrality. We are not a gallery, we are not curators, we are not artists ourselves.' 
Street art's reputation has come a long way, says Paulsen, particularly with respect to stereotypical views of it being akin to vandalism. This was certainly true with respect to unwanted tagging and graffiti on trains – which makes the festival's other 'first' so very exciting.
A partnership struck with Southern Shorthaul Railroad (SSR), which operates freight trains transporting grain across regional Victoria on the line right outside The Facility, will allow a team of artists to paint a 22-wagon train to create one of Australia's longest moving art platforms. 
'The partnership is a symbol of laying old grudges aside to celebrate the public form of street art,' Paulsen says. 'We got in touch with a range of writers and prolific artists who have helped shape Melbourne's street art scene, to contribute to a piece that has such significance in the history and trajectory of urban art.'
Opportunities for artists
Can't Do Tomorrow is also hellbent on helping artists to commercialise their work. Transcending the traditional art fair model, visitors will also be able to purchase original artworks directly from over 40 artists – notable names and emerging talent -as well as limited edition prints available from a custom-built print store. 
'A lot of people are genuinely interested in the art they see on the street but often don't know how to go about purchasing work from an artist they like. It's a unique opportunity for the public to see work in its true form whilst also meeting and buying the work directly from the artists'. 
Participating artists, most of whom hail from Melbourne, include 2012 Archibald Prize finalist Michael Peck who is transforming a shipping container into an interactive pool, and Melbourne designer and artist Callum Preston will create an installation inspired by classic '80s movie tropes of the 'shady warehouse district'.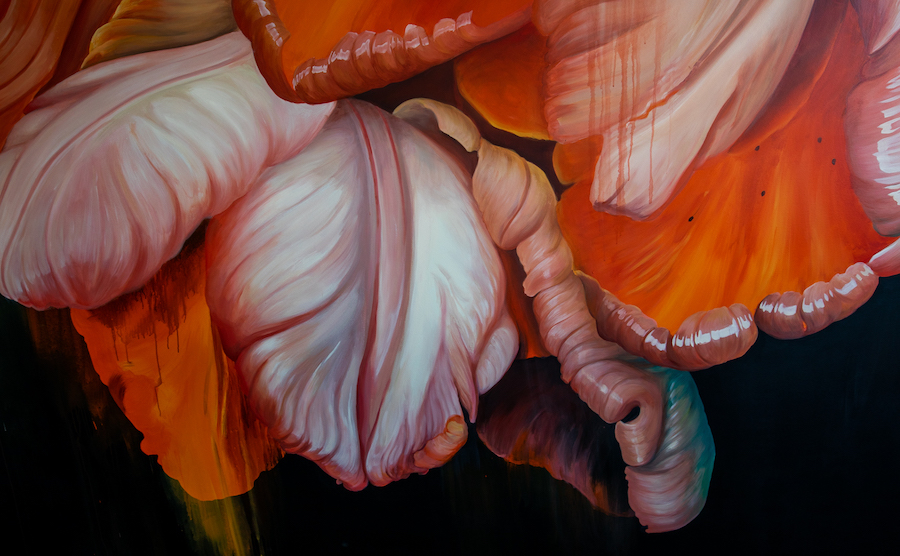 David Lee Pereira, Untitled, Shannyn Higgins Photography. Image supplied
The talents of several trailblazing female artists will be up front as award-winning multi-disciplinary artist George Rose transforms the talks auditorium from floor to ceiling in her signature bold and bright hues; culture street artist Kaff-eine will create a purpose-built shrine of small paintings and written stories dedicated to LGBTQI icons and celebrating queer identity; while artist in residence Aurora Campbell will showcase her work inspired by the taboos of the female experience including body image, revenge porn and female sexuality.
Keynote speaker Aaron Rose, an artist, documentary filmmaker and curator at the vanguard of street art exhibition in New York and Los Angeles, will lead the lengthy talks program to discuss the street art scene in Australia and globally. 
Paulsen says the scale and diversity of the event is so unique it will 'blow people away' – including herself.
'I have never been to anything like this before and I am so excited about it,' she says. 'We love that it is a summer festival.  The name rings true in terms of the immediacy of street and urban art – it's gotta be now, you can't do tomorrow.'
Book tickets now for the Can't Do Tomorrow on their website.