When Artspace Mackay opened in February 2003, many locals felt that the angular design created by Cox Rayner Architects (now COX Architecture) was 'too contemporary', says Artspace Mackay Director Tracey Heathwood.
The purpose-built gallery opened after much lobbying from passionate local community members, keen to see Mackay join the ranks of other regional Queensland cities expressing their unique identities through dedicated art galleries and exciting creative programs.
Aligning with that dream, the architecture practice's approach 'was to treat the building as a sculpture', using glass to ensure that the gallery's operations were 'transparent' to the community. The building quickly started to collect awards, and today – as the gallery celebrates its 20th anniversary – it is considered a regional gem, drawing tourists, while also connecting visitors to a rich community of artists.
Heathwood says, 'It's fair to say that our community hadn't really seen anything quite so modern at the time. I think people were really taken aback by its austere exterior. But, once you walk through our front doors, it has very high ceilings and lots of natural timbers, so it's actually a very warm and welcoming space.
She adds that Artspace Mackay has grown into being 'a really important cultural facility'.
'If I reflect on the way that we've developed our exhibitions, and have engaged with our community, as well as further afield, things have changed quite dramatically over those 20 years.'
Heathwood says that the primary aim was always to 'provide agency to our diverse communities and make sure that they have a voice'. And while a $5 million building refresh – due to start in November 2023 – may mark that 20-year journey, it is the anniversary program within its walls that perhaps best defines the vision of Artspace Mackay.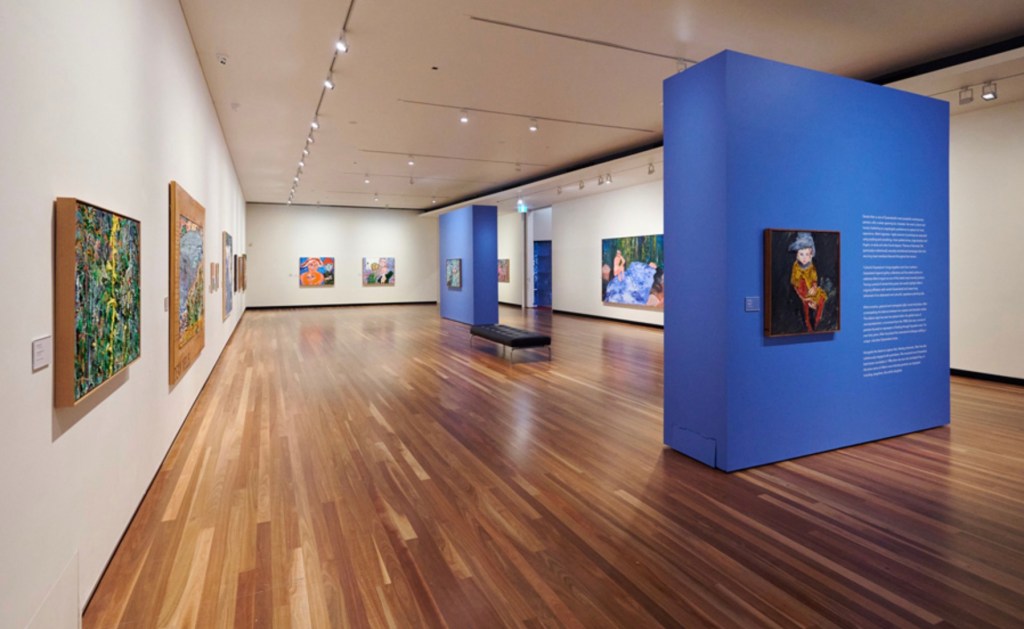 Looking forward, looking back
Heathwood says that when the gallery opened in 2003, around 75% of the exhibitions were toured in. 'These days, it's about 75% curated in-house and 25% touring. It's fair to say that the tables have been turned around. It's one of the things that we're very passionate about, making sure that we provide opportunities for our local artists to exhibit and extend their practice and reach.'
This nod to the local is captured in the major exhibition, Fire and Ash: Woodfire Pottery of Arthur and Carol Rosser, which examines the 40-year practice of two significant potters who lived in the Mackay hinterland and worked out of a secluded rainforest studio.
'They embraced this sort of self-sufficient lifestyle and built their own anagama (wood-fired) kiln. They used their own clay off the property; they felled their own timber and they both had science backgrounds. So that led to this really rich understanding of their environment and the land that they were working on.
'They were really ahead of their time. As a friend of the Rossers said to me, "They were environmentalists before that was trendy." It's an opportunity for us to honour their legacy when we are all considering our climate,' Heathwood tells ArtsHub.
That connection to land, place and climate is also an undercurrent of a new commissioned 17-metre mural by Yuwi, Torres Strait Islander and Australian South Sea Islander artist, Dylan Mooney.
'We've been following Dylan's practice for a really long time, watching him graduate from the Queensland College of Art. It's a real privilege to have him come back to create a site-specific mural in our foyer gallery, homing in on his Torres Strait Islander ancestry and reflecting on the impacts of climate change for our neighbouring communities in the Torres Strait,' Heathwood explains.
A collection that centres a community
When the gallery was newly built in 2002, Mackay Regional Council received a significant donation from Australian printmaker, painter and publisher of limited-edition artists' books, Tate Adams.
The artists' books collection has continued to grow and develop over successive years, assisted by the Libris Awards. The gallery now houses the most focused collection of artists' books in regional Australia, and it forms a large part of the 1200-strong collection of diverse works.
Curator Lauren Turton has taken a dive into its holdings for the exhibition, In Bloom, which uses the thread of floral imagery to interrogate a range of issues significant in tropical Far North Queensland. A highlight will be a newly commissioned 3D work by Cairns-based artist Brian Robinson.
And, completing the anniversary program is the exhibition, Time of Our Lives – a digital animation and projection created with the community arts organisation, Crossroad Arts, which works with people of all abilities, including people who are d/Deaf.
'I was really trying to think about how we put our community front and centre on our birthday celebration, and I thought what better way to do that than literally project their imagery onto the exterior of our unique building,' says Heathwood.
'[The animation project]' ponders how we mark special occasions, and how the seasons and nature reflect the passing of time. It has been facilitated by local new media artist, Donna Maree Robinson, over a series of animation workshops with a whole range of participants, including high school to all-abilities participants.'
It will be screened on the façade of the gallery for the opening celebrations on Friday 19 May, and again from 3-9 July.
The 20th anniversary program of exhibitions and events will be held 19 May – 6 August 2023.
Artspace Mackay's celebratory opening event will be held on Friday 19 May 2023, from 6pm.