In a first for the Art Gallery of Western Australia – and for any Australian State gallery – for the next month (18 March – 18 April) the entirety of AGWA's spaces will be exclusively devoted to a range of First Nations art in a presentation the gallery is calling BlakLight.
Encompassing six different exhibitions across its eleven spaces and three levels, BlakLight comes directly after AGWA's re-launch exhibition The View From Here, which showed wall-to-wall contemporary Western Australian artists, and is another expression of the gallery's strong support for this country's artists – in this case its many Indigenous artist voices.
AGWA Curator and Head of Indigenous Programs, Clothilde Bullen explained how 'colonised countries have been reckoning with their histories for centuries, and art is a powerful way to spark conversations about some of the issues that affect First Nations people and communities who were and continue to be impacted.
'BlakLight offers a different lens on viewing the world,' she continued. 'It provides an opportunity to invite all Australian community members to come together, acknowledge our shared histories, and engage in truth-telling around national and cultural identity.'
The largest exhibition coinciding with BlakLight is Tracks We Share: Contemporary Art of the Pilbara, a collaboration between AGWA; non-profit arts organisation FORM; Aboriginal art centres Cheeditha Art Group, Juluwarlu Art Group, Martumili Artists, Spinifex Hill Studio and Yinjaa-Barni Art; and independent artists Katie West, Jill Churnside and Curtis Taylor. Managed and produced by FORM, Tracks We Share celebrates artists from WA's Pilbara region, bringing together more than 70 artists and over 190 artworks.
Alongside Tracks We Share, is the exhibition Ever Present: First Peoples Art of Australia, curated by NGA curator of Aboriginal and Torres Strait Islander Art Tina Baum. This exhibition presents over 80 Aboriginal and Torres Strait Islander artists from across Australia and will tour to other parts of country and the world after its AGWA premiere.
Drawn from the National Gallery of Australia and Wesfarmers Arts' collections, Ever Present artists include significant 20th century figures such as Emily Kame Kngwarreye and Albert Namatjira, whose works will sit alongside contemporary First Nations painters like Mangala/Yulparija artist Daniel Walbidi from the Bidyadanga Community in WA's Kimberley region, and Badimaya artist Julie Dowling, based in Boorloo/ Perth.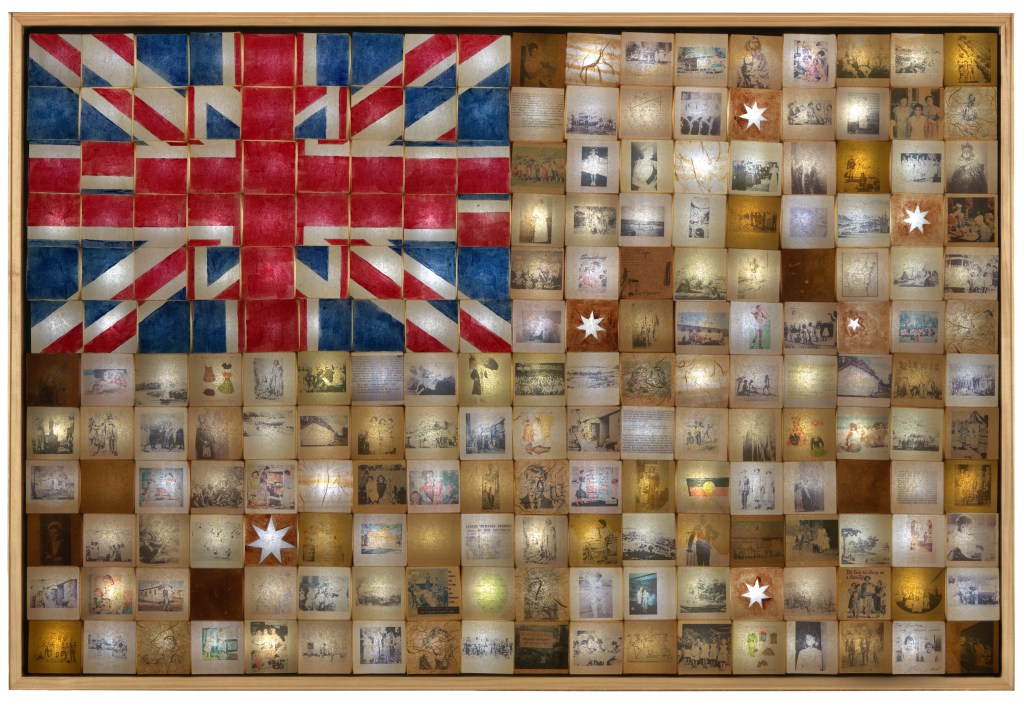 As well as this plethora of historical and contemporary First Nations art, BlakLight has also dedicated an exhibition to the textile works of women's arts collective Bábbarra Designs from Maningrida, Arnhem Land. Established as a women's refuge in 1983, the Bábbarra Women's Centre is now an established art centre with a focus on professional development and opportunities for its artists, and their range of hand-dyed and hand-printed textiles have become a thriving Indigenous operated enterprise for the community.
Clothilde Bullen describes how the inclusion of Bábbarra's works in BlakLight is an important way to showcase the breadth of First Nations artists' contributions to contemporary art practise.
'Their designs are exquisite, and the way we're installing them in Gallery 10 shows how many different ways they can be presented – showing them as fashion pieces, but also as three dimensional, sculptural textile art,' she told ArtsHub.
'It's also been very important for us to support Bábbarra's artists during what has been a really difficult period for them, and for many other art centres, through COVID,' she added.
Then, and in perhaps what is the most distinctive aspect of BlakLight's offering, the gallery has invited six Aboriginal writers and curators to respond to their rooftop sculptures – all of which are by non-Indigenous artists – in a part of the show entitled Rooftop Rewritten.
'This element of the exhibition allows visitors to contemplate new narratives of these western art works, which is another significant part of the BlakLight experience,' Bullen concluded.
BlakLight at The Art Gallery of Western Australia, 18 March – 18 April 2022, comprises the following exhibition across its gallery spaces:
Tracks We Share: Contemporary Art of the Pilbara: Gallery 1, 3, 4 & 5, 11 March – 28 August.
Ever Present: First Peoples Art of Australia: Gallery 6 & 7, until 18 April.
Balancing Act: Gallery 2, ongoing.
Tyrown WaiganaOvergrown: AGWA Foyer, until 13 June.
Michael Jalaru Torres, Jurru: Gallery 8, until 3 July.
Bábbarra Designs: Material stories by women of Arnhem Land, Gallery 10, 18 March – 17 July.
Sharyn Egan Boorongur (interactive), Gallery 9, 18 March – 4 December.
Rooftop Rewritten: Rooftop sculpture walk, 18 March – 18 April.