Design is a creative power – it can shape experiences, impact decisions and establish a sense of identity. To explore nationhood from the realm of art and design is the conscious decision behind Bendigo Art Gallery's major exhibition, Australiana: Designing a Nation.
It brings together works by over 200 artists and designers, from fashion, photography, ceramics and painting through to furniture design.
Curator Emma Busowsky tells ArtsHub: 'Australiana: Designing a Nation not only looks at artistic production that reflects ideas around national identity, but also informs and influences it. It's a cue to think about the agenda behind some of these works, especially those in the early colonial period.'
The exhibition sheds light on the social, cultural and political landscapes that have impacted creative output, including the major reform for the arts in the early 1970s. Unprecedented funding for the arts brought a wave of artists like Jenny Kee and Linda Jackson back home after working overseas, with significant contributions to the creative scene.
Busowsky continues: 'There are particular times when artistic production peaks around this theme [of national identity], I don't think that will ever totally go away… But, for example, in the 70s that was a government agenda as well, to leverage off this idea of nationalism for their gains.'
Acknowledging the shift in conversations around nationhood, Australiana is posed as an invitation for diverse perspectives. Voices from historians, curators, artists, academics and other prominent Australians are quoted throughout the exhibition.
The exhibition was initially conceived by Busowsky together with Bendigo Art Gallery's former First Nations Curator, Shonae Hobson. Lorraine Brigdale has now taken over the role and is providing her interpretations of some of the works from a First Nations perspective.
Bringing together those that encapsulate 'Australian art'
Exclusive to Bendigo, Australiana has been developed in partnership with the National Gallery of Victoria, partly prompted by 'my outrageously long list of desired works from them,' Busowsky laughs. Those on view include Tom Roberts' Shearing the Rams (1890), Marlene Gilson's The landing (2018), John Brack's The Bar (1954) and more.
Busowsky has also worked directly with artists, including Jenny Kee and Ken Done, to bring pieces from their studios into the exhibition.
Done's cover work, Sydney Sunday (1982), evokes a warm sense of familiarity and speaks to everyday experiences of an iconic landmark.
The major commissioned work, 100 Ice-Creams by Kenny Pittock, furthers this sense of nostalgia and memory, without missing a beat on the fun.
Another consideration for Busowsky was taking the opportunity to explore more speculative ideas around what encapsulates "Australian art".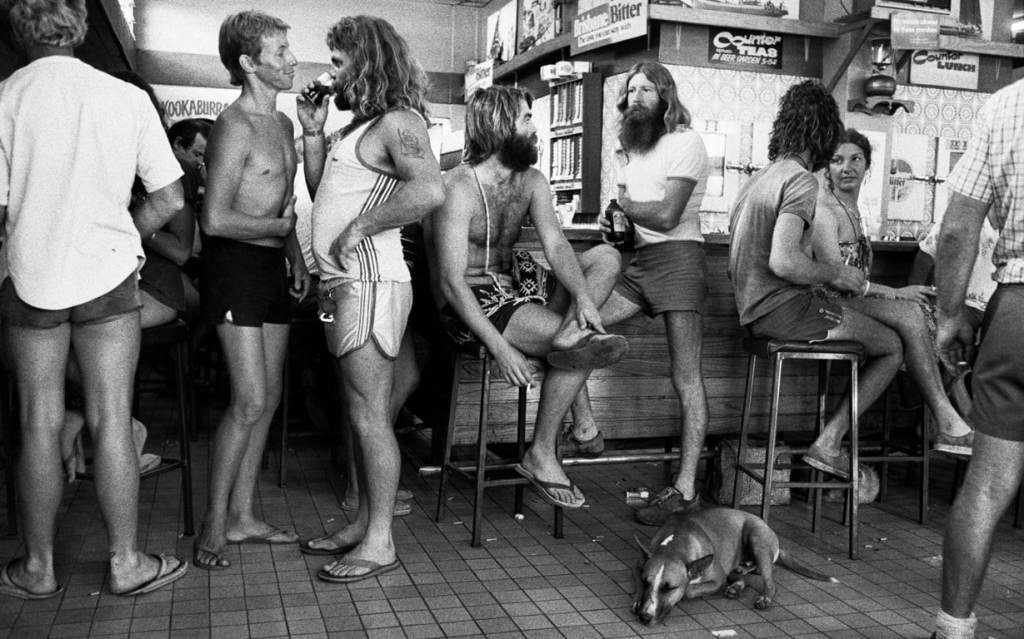 She says: 'There are pieces like Shearing the Rams that have shaped our values and what we recognise as Australian. But then you start diving deeper to look at Rennie Ellis' photographs, for example, which captured all aspects of Australian social life in the 1970s and 80s.
'There are plenty of things that are very overtly about nationalism but, to me, it's the quieter moments, the less wacky things – like the beautiful works by mid-century furniture designer, Schulim Krimper – that also present an essence of Australian design.'
Australiana: Designing a Nation is on view now at Bendigo Art Gallery until 25 June; free.
Need more reasons to travel? Don't miss out on the vibrant Fair Dinkum Bendigo program celebrating the creative city and reduced costs on public transport for regional travel.