More a social project than a pandemic pivot, Together In Art is the Art Gallery of NSW's (AGNSW) latest suite of curated content, delivered via a purpose-built website.
Rather than activating existing digitised material or rolling out fly-through exhibition tours, Together In Art has aimed for sustained conversations about a new future in gallery programming.
Justin Paton, Head curator, International art at AGNSW explained: 'There's not a museum on the planet that doesn't ask itself what it should be, and how it should be in the 21st century. But the closure has made us push up against those questions in a really acute way.'
He believes that the pivot we were all forced to make during COVID-19 closures 'can't live at the level of a white-board brainstorm.' Rather, he describes this moment as a 'circuit breaker'.
'The temporary closing of our doors forced a turn from the hardware, or the architecture, to the software – the people. The people who make art, who look after it, and who respond to it,' said Paton.
Together In Art is exactly that – community-led programming. It opens up an online world that welcomes artists, musicians, writers, and performers to turn to creativity as a shared experience in crisis, with collaboration and conversation at its heart.
Among the highlights are live performances in the vacated Gallery, exhibitions of commissioned new works, archive reveals and artmaking activities.
'It's a really interesting archive of what we have been in the last two months. But what is especially exciting is what it might become,' Paton said.
While Paton has been driving the project with Hannah McKissock-Davis and an editorial group, it's a Gallery-wide team response. 'Together In Art has been a space where many can speak, and where the museum can think aloud to itself in a compelling way.'
AGNSW Director Michael Brand told ArtsHub: 'The best way to play out this moment is to communicate with your talented colleagues and draw on their enthusiasm and their commitment, and that is what we've done very assiduously at the Gallery.'
Brand said that the success of Together In Art had made it to The New York Times, adding: 'Together In Art is something about which we are extremely proud. It's a new way of putting new material out there that's generous. It's also allowing the fact that crises can change the way you work in the future, and to be open to new possibilities.'
POWER IN THE POCKETSIZED
As the Gallery wrapped up its major summer exhibition, Japan supernatural: 1700s to now in early March, it had to quickly rethink the exhibition experience as a digital experience. One way of doing so was a suite of Pocket Exhibitions.
'The pocket exhibition  idea has resonated with audiences across all our social channels,' Brand said. 'It takes the form of a mini exhibition curated by our staff and by being presented online allows for instantaneous responses and commentary.'
Paton explained: 'The Pocket Exhibition is a simple and pragmatic device using the 10-tile Instagram format. You can get a surprising amount said in that space.'
For example, senior curator of contemporary Australian art, Isobel Parker Philip, has created an exhibition about simple human gestures of touch and holding, while curator of Aboriginal and Torres Strait Islander art, Coby Edgar, took inspiration from the Gallery's collection to present a thoughtful and witty COVID-19 for dummies guide.
The Gallery has also begun a series of New Work online exhibitions to support artists during this time; the first launched in May was led by assistant curator of international art, Lisa Catt. Titled From My Window, the project invited nine artists to observe the intimate space of their home and then share it in what is arguably a very public way – online, via the Together In Art website and the Gallery's social media channels.
Painter Jude Rae (pictured top) was invited to be part of the project. Describing herself as an Instagram junkie, she told ArtsHub: 'It's made me think about isolation twice over. Nothing changed that much for me and I continue my work from home, and yet something profound has changed in how you interact with people and the broader long-run implications of that. I find myself asking "where do we go from here?"'
Looking out from her window in an upper-storey inner city apartment, Rae said what stuck her was the frenzy of construction work that continued throughout shutdown.
'Construction work hasn't stopped; they're all in their hi-vis out there. I was so taken by those flags [on site]: the Eureka and Aboriginal flags. I was very conscious of the symbols out the window.'
While Rae is known for her paintings of the mundane, she said there was something about her window view that felt "connecting".
'The everyday is political in the same way the personal is political and this particular event is throwing us back on ourselves and our own personal environment,' said Rae. 'I hope we don't forget about the politics.'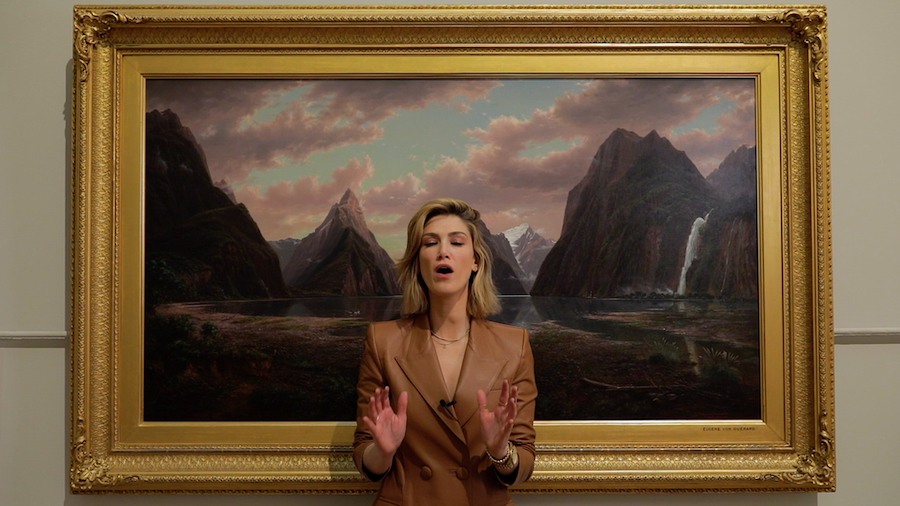 Still from Together In Art Performance by Delta Goodrem in the closed Art Gallery of NSW Grand Courts, Photo: Matt McGuigan/Hospital Hill.
GALLERY SUPPORTS PERFORMERS
One of the most popular elements of Together In Art has been the program's performance series, which sees musicians perform inside the Gallery in response to the exhibitions and architecture. The videos highlight the experience of being alone in the unique spaces of the Gallery, with performers framed by artworks – their performances reverberating off the travertine and parquet floors.
"It's like they're playing the building like a musical instrument," Brand said. "Music is something that perhaps has been most impacted. We wanted to help our colleagues in the performing arts who are in a really bad situation."
Paton noted that each performance resonated differently with facts of closure, lockdown and social distancing. "It's all there for me in that first Ngaiire experience, wandering through the empty building singing, 'Fall into my arms,' which was all about human contact when we couldn't have it," he said.
Other performers have included Delta Goodrem, South West Sydney hip-hop artist L-Fresh the Lion, Fijian guitarist (ex-Gang of Youths) Joji Malani, and Rainbow Chan.
'Video and art film and moving image are seen very much as part of what we do, but music performance has lived more within our Art After Hours program. We're showing that music can have a much more up-front place in all we do,' Brand said, adding that Together In Art has allowed the Gallery to look at new ways of working across disciplines, and with different voices. 'It's been about staying open and responsive to art and the world, even when our doors were closed.'
Discover Together In Art. The Art Gallery of NSW opened to the public with free timed entry on Monday 1 June. The Together In Art website will remain part of forward Gallery programming.