Making a film is a team effort. It requires a number of collaborators with a range of specific skills. What training courses often overlook is the importance of ensuring those collaborators know how to work together successfully.
At TAFE SA's Adelaide College of the Arts (AC Arts), students receive practical training in cross-artform collaboration each year by coming together to film a short scene (this year's effort was inspired by James Bond).
Each film utilises the students' expertise from across a number of courses.
'It really starts with set design and construction, and it ends up with CGI. We use acting students from our acting program, makeup is handled by our hair and beauty program, tech production students do the lighting, and sound production students are used later to add in the sound effects,' said AC Arts' Creative Industries Education Manager Elizabeth Lowe.
As Australia's only tertiary institution with performing arts, visual arts and design under the one roof, AC Arts is uniquely positioned to provide students with the opportunity to work alongside those studying complimentary disciplines.
'It enables students to actually gain experience more closely aligned to real life,' said Lowe. 'You're actually dealing with actors, you're actually dealing with technical production people, you're actually dealing with setting up a working space where you're going to do a shoot in an environment where they have to think about all the health and safety stuff.'
EXPERIENCE A COLLABORATIVE ENVIRONMENT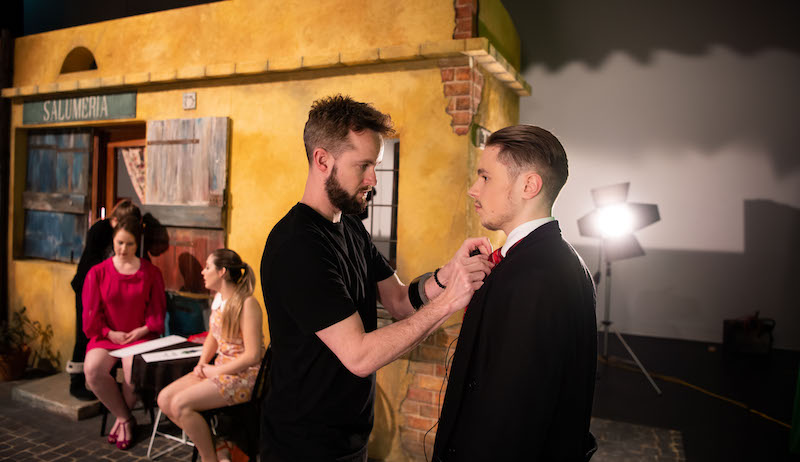 Dressed for success on set. Image supplied.
AC Arts' approach gives the students a chance to develop their skills while working to real deadlines.
'The makeup artists for example, they get given a brief, they get told this is what we're doing and when we need it done by. Those opportunities are just gold for them because it gives them an understanding of what it's like to work under pressure,' Lowe said.
As the project has evolved over the last four years, the collaborative elements have become more complex each year. Students from each department work together to shape the project, coming up with a setting and a storyline that best utilises their skills and showcases their abilities.
Going through that planning process is a valuable experience, Lowe explained: 'It's not just about getting the end product – what they learn along the way is equally if not more important.'
Teaching students about the process of getting a film made helps them become more effective team members.
'Depending on where they end up in the post production industry in the world, they may well be dealing with a film's producer. This means that they can talk that language and they can understand what it is that the producer is talking to them about. That opportunity is just priceless.'
THE IMPORTANCE OF HANDS-ON EXPERIENCE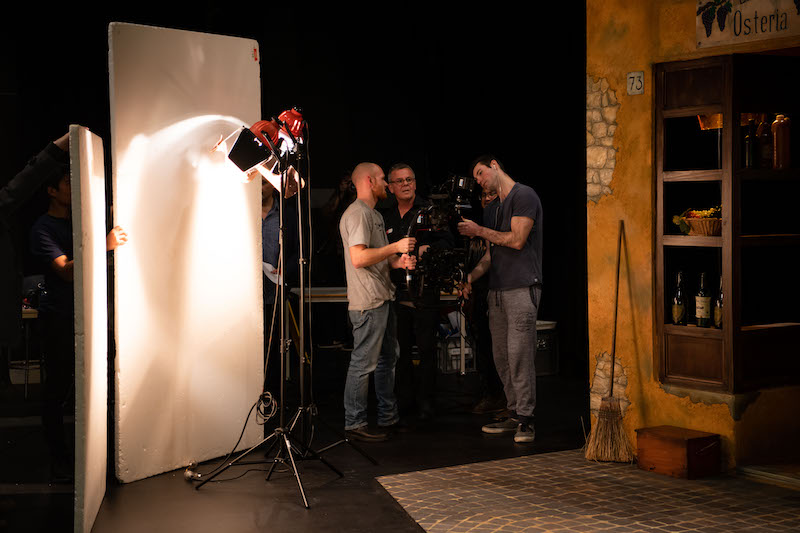 Setting up for an extension project. Image supplied.
While AC Arts has strong relationships with the growing film and gaming industry in Adelaide, including established companies such as Rising Sun Pictures and game outlets like Mighty Kingdom and Monkey Stack, there's a limit to the amount of practical work experience students can get.
'We have industry experts coming in to give masterclasses, we go out to industry and industry comes to us a lot,' said Lowe. 'But there are limits, and a lot of that is to do with the way that the industry works, in that when they're working on a film there's a lot of security around the IP, so we obviously can't have students in there doing work experience. That's very difficult for us.'
The sort of collaboration required to make a short film goes a long way to addressing the shortfall in work experience placements. Nor is it the only form of collaboration taking place within AC Arts' Light Square campus in Adelaide's CDB.
'We have music departments working with sound production departments; we've got cross-collaboration between sound and the film and television department, and when we've got dance and acting and music performances happening for the public, there are tech production students working behind the scenes,' Lowe said.
'There's a significant number of opportunities that we wouldn't be able to realize unless we had all of these fantastic vocational programs in the one space. We're very lucky.
Applications are now open for 2020. Visit Adelaide College of the Arts' website for details.