Kymberleigh Cowley and Matthew Edwardson in X-It, as part of In-Synch Ballet at the Quarry. Photo By Sergey Pevnev.
The Quarry Amphitheatre is an attraction in itself in Perth, Western Australia. The mighty expanse of rock was first sliced into a limestone quarry in 1834 and it wasn't until 1986 that it was converted to a unique venue for ballet performances.
On scorching summer evenings there can be no better place to view the large stage which is framed by huge eucalyptus trees gently swaying in the breeze.
Since Aurélien Scannella took over the artistic direction of the West Australian Ballet in 2013, he has delighted audiences with a diverse variety of concepts. His decision to collaborate with Perth's Co3 Australia contemporary dance company for this current production brought tears of joy to his eyes as he praised the dancers at the conclusion of the show.
For this reviewer, however, it required a leap of faith to leave behind preconceived ideas of tutus en pointe accompanied by harmonious strains of live orchestral music and move down a path of jagged movements and dissonant electronic sounds.
Fortunately, that superficial observation was soon replaced by appreciation for the challenging program Scannella and artistic associate, Sandy Delasalle, had devised.
Four different presentations, from four different choreographers, required the audience to face emotions of fear, drama, fantasy and humour. Each had dancers of varying sizes and nationalities who moved with a skill and precision that was breathtaking.
X-It, which incorporated a video screen depicting three alternating rooms at the back of the stage, demanded such synchronicity from the dancers that it was hard to believe they weren't actually moving into the rooms on stage. But choreographer Johanna Nuutinen, who brought her concept from Finland for this Australian premiere, had actually filmed the rooms with the West Australian ballet's dancers the year before in Fremantle Prison. She brilliantly portrayed the fears which surveillance has instilled in people and the difficulties of establishing relationships as a result.
Chihiro Nomura and Matthew Lehmann in The Sofa, as part of In-Synch: Ballet at the Quarry. Photo By Sergey Pevnev.
Heavy thoughts but, thankfully, balance prevailed and The Sofa, created by Israeli Choreographer, Itzak Galili, brought spontaneous laughter at a seduction scene between two people on a yellow sofa. It was clever, humorous and performed with split-second acrobatic timing by only three people, diminutive Chihiro Nomura from Japan; principal dancer Matthew Lehmann from Melbourne and Oscar Valdes from Cuba, in a flamboyant, multi-coloured costume designed by Natasja Lansen.
The namesake of the program, In-Synch, was a world premiere requiring improvisation by the dancers to music voted for, at the time, by the audience. Scannella, Delasalle and Sydney Dance Company dancer, David Mack, formerly a dancer with West Australian Ballet, had given dancers a framework to improvise to any of four musical scores but they would not know which one it would be and it would change each night. They were to interpret the music in seven different scenes to do with, for example, symmetry, architecture and conversation.
There can be no question that these dancers are of the highest standard but improvisation, whether in music, public speaking or dance, requires well-honed skills and In-Synch, for the most part, missed the mark. One small group, working together to make something akin to a group photograph almost worked but, if there was a star turn in this presentation it came from the duo combination of petite Dayana Hardy and tall Juan Carlos Osma, both from Cuba.Their movements and lifts were exquisite so if this was symmetry, it certainly succeeded.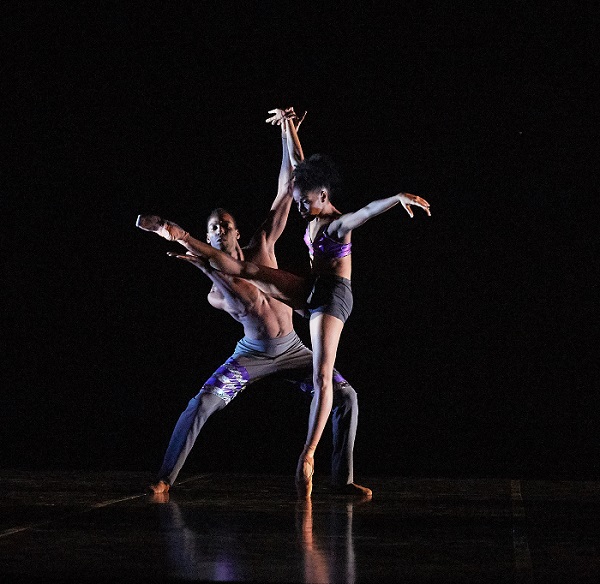 Juan Carlos Osma and Dayana Hardy in In-Synch, as part of In-Synch Ballet at the Quarry. Photo By Sergey Pevnev.
Reincarnation, the collaboration between the West Australian Ballet and dance company, Co3 Australia, comes with that disturbing passing thought about what happens after we die. Are we transformed, perhaps to another image? Will we be reborn as we are but maybe in a different era? Will it be heaven or hell? How will we be treated? Will there actually be a Devil? The questions are endless and Reincarnation did its best to answer some of them but what it really did was stretch the imagination. Polly Hilton delivered relief with beautifully executed solos and interaction with other dancers. Her red and gold costume, designed by Jonathan Hindmarsh was stunning. As another world premiere, I felt it would benefit by some reduction of the intense group dancing scenes which seemed repetitive at times, along with and the constant thumping electronic music overwhelming and distracting.
The fact that so much enormous talent from so many different countries could join together in such a wonderful setting is a credit to the many people behind the scenes who add so much to the production. While many travel across the world, it is also gratifying for ambitious young Australians to note that many of the dancers come from country Australia.
In-Synch will head to Karratha and Darwin in the near future.
Rating: 3 ½ stars ★★★☆

In-Synch: Ballet at the Quarry
West Australian Ballet
Artistic Director: Aurélien Scannella
With Co3 Australia

Quarry Amphitheatre, Perth
8 February – 2 March 1019