Ai Weiwei's White House, 2015. Photo by Jesse Hunniford. Image courtesy Mona, Hobart, Tasmania, Australia.
Opened just in time for Dark Mofo, Siloam is a new subterranean wing of Hobart's Museum of Old and New Art (Mona): a series of tunnels, chambers and gallery spaces excavated from the sandstone bedrock of the Berriedale peninsula and home to a striking range of artworks.
Ai Weiwei's White House (2015) is an elegant structure rescued from decay and slathered in white industrial paint. A readymade, it consists of the wooden frame of a Qing Dynasty (1644 – 1911) residence perched upon near-spherical bases cast from solid crystal glass. Discolouration within each glass sphere perhaps references geologic strata and the fog of history, while the work as a whole speaks to questions of cultural value and our shared relationship with the past.
The house's beams interlock without nails, and intricate carvings blossom beneath the bare, rib-like rafters. Its hand-carved artistry provides a stark contrast to the machine-carved striations in the rocky walls of the cavern containing it, but there is dialogue here too. Cracks in the stone walls echo similar cracks in the wood, and both structures – room and house; the purpose-built underground gallery and the readymade building it contains – invite us to consider purpose, repurposing, and the evocation of deep time.
Nearby, the New York-based, Chilean born Alfredo Jaar's The Divine Comedy (2019) reinterprets Dante Alighieri's epic 14th-century narrative poem across three discrete immersive environments. Audiences enter 10 at a time, with an additional $20 charge for the experience, and pass through Inferno, Purgatorio and Paradiso before returning to the galleries of Mona.
Cautions are issued as we climb a flight of stairs into a red-lit antechamber – the work is not wheelchair accessible – before being plunged into the maelstrom. Heat, sound, stillness and silence are initially used to compelling effect, but thereafter, instead of building on the initial experience, successive environments tend towards the anticlimactic.
Despite some potent imagery and the memorable participation of American performance artist Joan Jonas in the Purgatorio section, The Divine Comedy's initial impact does not linger; it feels more like an amusement park ride rather than a profound aesthetic experience.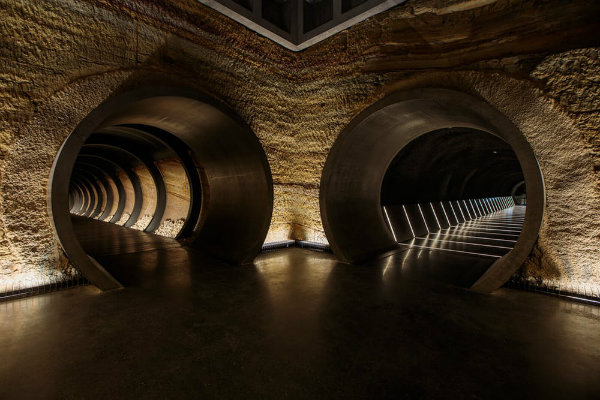 Mona's new underground extension, Siloam. Photo credit: Jesse Hunniford/Mona. Image courtesy Mona, Hobart, Tasmania.
Sound plays a key role in the two other works featured in Siloam, one of which is billed as the largest multi-channel sonic work in the world. Installed in one of the newly excavated tunnels at Mona, Christopher Townend's sonorous Requiem for Vermin (2019) features 230 speakers and 218 channels and is movement-activated as visitors ascend or descend the sloping tunnel housing the work. Oliver Beer's Mona Confessional (2016-9) requires more active engagement, and links to a new architectural feature above ground. Drawing on the Catholic ritual of confession, the artwork invites participants to enter the felt-like spiral of the confessional and confess their sins to an invisible audience. Above ground, anonymous listeners eavesdrop on the speaker without knowing who, or even what they are listening to.
Also showing at Mona during Dark Mofo is Mine, a new exhibition by New Zealand artist Simon Denny. Responding to the 1962 Australian boardgame Squatter, in which the players run rival sheep stations, Mine translates the game's setting and mechanics for the new economy, in which Australia rides on iron ore trucks instead of on the sheep's back.
Rather than harvesting season, as per the original game, Mine introduces lobbying season, one of many contemporary flourishes which bring the game into the 21st century. The gallery floor recreates Squatter's game board, while visitors' mobile phones are utilised to help them learn more about the rare minerals being mined in Australia today, the equipment used to extract such minerals from the earth, and the impact of an increasingly automated workforce via a series of augmented reality (AR) triggers.
Giant cardboard tokens recreating mining equipment scatter the game board. The game itself, called Extractor, also doubles as the exhibition catalogue. Naturally it is for sale at MONA – yours for just $65.00.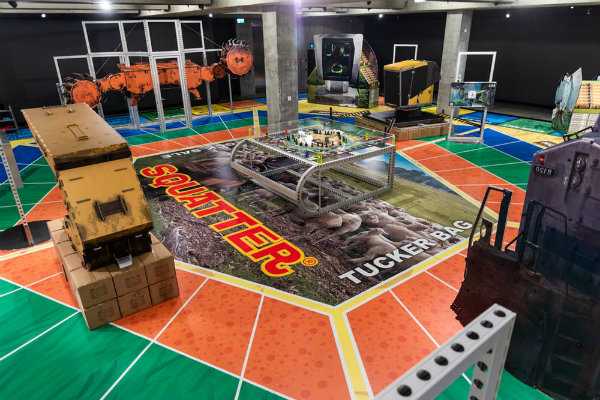 Simon Denny, Mine, 2019, installation view at Mona. Photo credit: Jesse Hunniford, Mona. Image courtesy Mona, Hobart.
In an antechamber before the main room of the exhibition, visitors can use their phones to learn more about the critically endangered King Island brown thornbill – a Tasmanian species considered the most likely to become extinct within 20 years if nothing is done to secure its survival.
The species' plight is also evoked via augmented reality in a cage for workers – designed by Amazon but never implemented – intended to protect staff members' fleshly bodies in a fully robotised environment. Point your phone at the right part of the cage, and an AR recreation of the thornbill tweets and flutters before your eyes – a songbird in a metaphorically gilded cage; a canary in the contemporary coal mine.
Already a cerebral exhibition, Mine takes a further intellectual jump in the final room of the exhibition. Instead of mining minerals and ore, here the exhibition explores data mining and awe, while also representing a range of grotesque post-human bodies created by artists including Patricia Piccinini, Fiona Hall, Jason Wing and Christopher Langton.
Mona is well known for not plastering its walls with texts and labels beside each artwork. Instead, each visitor carries a portable touchscreen device called an O, which maps a visitor's position in the museum in order to tell them about artworks in close proximity.
As you move through Simon Denny's Mine, the O is mining your personal data. In this final stage of the exhibition, pointing your O at the AR markers scattered around the exhibition reveals not a virtual King Island brown thornbill but a graph of visitor engagement.
Like the Hotel California, you can visit Mine at Mona but never truly leave – your data has become a permanent part of the exhibition.
Siloam opened on 8 June 2019. It is conceived by David Walsh, with design by Fender Katsalidis and Falk Peuser, with artwork curated by Jarrod Rawlins. Entry to The Divine Comedy is $20.
Simon Denny's Mine is showing until 13 April 2020.
The author's visit to Hobart was supported by Tourism Tasmania and Dark Mofo.