Patricia Piccinini Kindred (2017), 103 x 95 x 128cm, installation view QAGOMA exhibition Curious Affection; Photo ArtsHub
When walking through Patricia Piccinini's exhibition Curious Affection with Curator Peter McKay, he commented: 'It's the biggest exhibition we've devoted to a single contemporary artist, and we've been trying to find a comparative exhibition of this scale that's been presented in Australia – I don't think there is one.'
McKay is right. Piccinini's exhibition at the Queensland Art Gallery / Gallery of Modern Art (QAGOMA) is massive – not only in terms of the breadth of Piccinini's work with over 70 sculptures, drawings, videos and large-scale installations, but also in terms of the exhibition's design, which has been incredibly engineered to realise Piccinini's vision.
QLD Arts Minister Leeanne Enoch confirmed that Curious Affection is one of the outcomes of the Government's commitment in 2016 of $10.8 million over four years for blockbuster exhibitions at QAGOMA.
Marvel: Creating the Cinematic Universe was the first offered under the funding, and Piccinini is the second. But does this big scale, big impact, big dollar show deliver? Outstandingly.
Just as Marvel was a good bet, so is Piccinini. In 2016 she was crowned the most 'visited contemporary artist in the world' for her exhibition Consciousness, which toured three venues in Brazil and attracted more than 1.3 million visitors.
She represented Australia at the 50th Venice Biennale in 2003, has a wide international collector base, and most recently, her work was placed at the heart of the National Gallery of Australia exhibition, HyperReal (2017).
Despite this reception elsewhere, McKay says Piccinini's work is less known in Queensland. And while that correction is important for this exhibition, the ambition of Curious Affection goes well beyond geography or scale.
This exhibition needs to be seen by every school student, every science student, every architecture student, design student, gaming and technology student, as it offers a non-threatening and erudite way to help us navigate and imagine our future world – the kind of gut reaction, human connection that text books and class rooms can't teach us. And the time is right for art to lead those discussions.
Installation detail The Observer, Patricia Piccinini's QAGOMA exhibition Curious Affection; Photo Artshub.
Imagining futures
Melbourne-based Piccinini has found her signature in lifelike human-primate hybrids that pit their place in the world somewhere between the advances in biotechnology, the boundaries of humanity and the compelling power of nature.
While this year marks the 200th anniversary of Mary Shelley's novel Frankenstein – the nostalgic sci-fi tale of failed socialisation and Shelley's lab-created creature, often used as a reference point for Piccinini's work – rather it is the more contemporary reference of manipulated DNA sequencing, genetic modification and biotechnologies, such as CRISPR, that bring us to a new accepted reality in Piccinini's family of characters.
McKay explained: 'With CRISPR you can program bacteria to cut into very select DNA, so you enter a mutation into a host organism – just like catching a cold or being immunised. It is taught in high schools, there are CRISPR camps, and you can order this stuff online.
'It's a very powerful thought, and the implications of that is that we can create anything and we can do it at home, cheaply and effectively and largely unregulated. It is a new frontier,' he added.
Piccinini's populated world then starts to feel all that more normal – viable – than ever before. McKay has captured this pivoting moment beautifully in his exhibition with the placement of Piccinini's work, The Observer (2010, pictured above), which sits between the galleries of old and new work, and hovers next to the enormous inflatable work, Pneutopia (2018), which fills the void of the gallery like some biochemical bloom escaped from a backyard lab.
The Observer is an installation of a young boy who balances on a stack of chairs, capturing that sense that we are all on this precipice of change – it has a precariousness to it but also a sense of adventure. This is exactly the brilliance of Piccinini – the simple gesture that we non-science folk can connect with, and one that opens the door to thinking outside our realm of comfort.
Installation view Patricia Piccinini Curious Affection at QAGOMA; Photo Artshub
Walking through 'Curious Affection'
Curious Affection occupies the entire ground floor of GOMA. Visitors are funneled from one side of the central atrium, walking through galleries weighted largely with work from the past 15 years. They then cross the central atrium, which is filled with a newly commissioned Pneutopia (aka Piccinini's famous Skywhale), to enter an immersive environment and soundscape with over 3,000 hybrid flowers, and a suite of new installations and videos.
It is intensified by a darkened gallery space, inky black walls and a field of around 60 small speakers that create a really spatial experience – other worldly – and the floors are sprung to allow the gentle movement of Piccinini's field of womb-like flowers.
It is an incredibly dynamic viewing experience.
From the first gallery that audiences enter, there is this idea of innocence and acceptance in the unknown – a "curious affection" that builds across this exhibition and incrementally stepped through Piccinini's 30-year career.
Doubting Thomas (2008),100 x 53 x 90 cm; McClellan d Sculpture Part + Gallery Collection; courtesy the artist
Sculptures such as Doubting Thomas (2008) and Big Mother (2005) anchor that first gallery – first impressions set a tone of curiosity, nurturing and respect. But there is still a separation between human and hybrid in these early works. In Doubting Thomas the child probes the hairy amorphous critter, and in Big Mother she seems in service of the child – exploited as a wet nurse.
However, as one moves through Curious Affection these barriers slowly break down and fuse. As McKay noted of the celebrated piece, The Welcome Guest (2011): 'There is a different kind of welding going on – less driven by concern, and more driven by possibility.'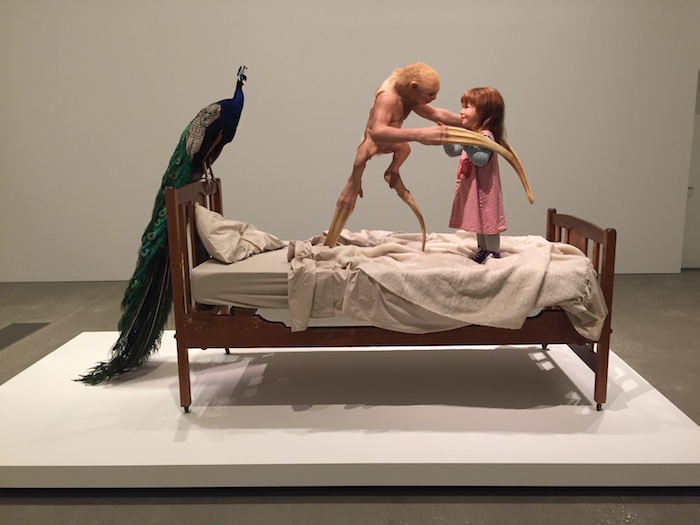 Installation view of The Welcome Guest (2011), QAGOMA 2018, Photo Artshub.

Here a child and a creature play on a bed; their eyes locked in joyous emotion, oblivious to an exotic peacock that stands guard. It gives the sense as if they were awoken from a dream or night time play and sits beautifully alongside a pair of works that also play off the vulnerability of sleep and encounter; Balasana (2009), a girl in the child's yoga position with a kangaroo on her back in perfect balance, and the video The Gathering (2007), where a sleeping child is surrounded by Piccinini's animated critters. Should we be afraid? Should we fear for the child?
In this section visitors also get to see the work that broke Piccinini on the world stage and went viral on social media, The young family (2002), which was shown at Venice.
The tone then shifts slightly as the viewer moves through ideas of IVF, of the wild, of wilderness and mythology – from Piccinini's take on the Sphinx (2012) to Atlas (2012) with its AI spacey modification; from the protective urban Bodyguard (for the Golden Helmeted Honeyeater, 2004) to The stags (2008), where dueling motorbike mirrors and car fenders seem as natural as a pair of stags claiming their territory.
However, it is The Carrier (2012) that is the end point for this first half of the survey, an incredibly dignified and powerful figure that is in service to the weak and elderly, that reaches the harmony Piccinini seeks. There is a calm and a connection between human and hybrid that offers a utopian guidebook for acceptance.
The Carrier (2012) Lyon Collection, Lyon Housemuseum, Melbourne; courtesy the artist; Photo ArtsHub
We see that same energy in the newer works, Kindred (2018, pictured top) – three figures on the orangutan spectrum to varying degrees – and The Bond (2016), a Piccinini-like portrait of a woman lovingly holding a species of this future design culture.
Piccinini said of Kindred: 'In this work, we see three unique individuals each set at a different point on a continuum of greater or less 'animal-ness' … the point is not their differences, but their connection.'
This reaches a pinnacle in the exhibition with the new work The Couple (2018), a retro 1980s caravan with a pair inside in a lovemaking embrace. It is the first time that Piccinini has made an amorous couple; they are young and healthy and adventure bound. As always there is exquisite attention to detail in the selection of books and items in the caravan that are familiar and add to the humanising aspect of the narrative.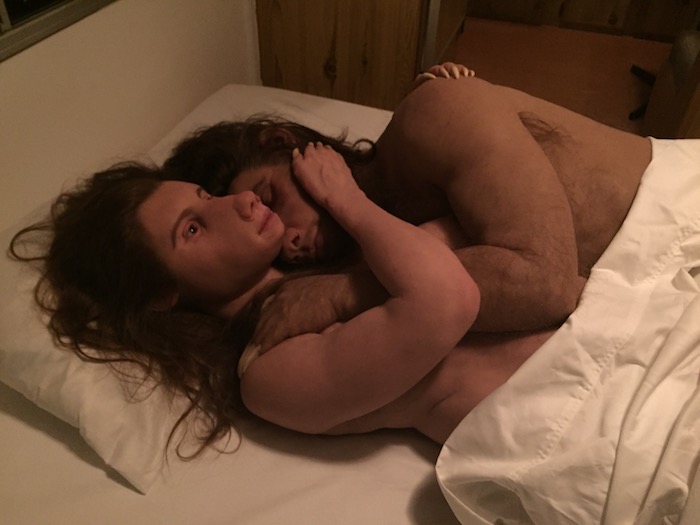 The Couple (2018), Courtesy the artist, detail view of installation
Piccinini suggests that the couple 'carry the possibility of reproduction and the possibility for a future outside of our control.' It is an incredible moment of hope to arrive at; all fear has been removed, and possibility is totally believable.
The capacity of Piccinini's art to transport us in this way, to shift our emotions and to open up how we might conceive the world is what makes her one of the most important artist's working in our times.
If you travel to see just one show this year, make it Piccinini's Curious Affection. It is exclusive to Brisbane, but it is the furthest thing imaginable from that word "exclusive". It allows us to enter a world that is totally inclusive, where we can imagine living in harmony with those not always like ourselves with empathy and respect. It is a great lesson as our contemporary world speeds up along its path of diversity, change and confusion.
Rating: ★★★★★

Patricia Piccinini: Curious Affection
Queensland Art Gallery | Gallery of Modern Art (QAGOMA)
Brisbane
Curated by Peter McKay
24 March – 5 August 2018
Ticketed.
The writer traveled to Brisbane courtesy QAGOMA.