Installation view National Art Part One (2018) at NAS Gallery; L-R: Tim Maguire, Reg Mombassa and Juz Kitzon; Photo ArtsHub
Art schools credit themselves on their alumni. For example, the first wave of YBA (Young British Artists) came out of Goldsmiths College in London during the late 1980s and were inextricably identified by that connection. They were artists such as Damien Hirst, Tracey Emin, Mat Collishaw, Gary Hume, among others, and their impact on the art world had a boldness that was an art school brand.
Similarly, in the USA, it is art schools like that of Yale University in Connecticut with its star-studded alumni, including Eva Hesse, Richard Serra, Wangechi Mutu, Roni Horn, Richard Prince, and Shirin Neshat for example, that has bolstered the school's reputation as one of the most prized in America.
This kind of institutional branding clearly has been around for a while, but a new exhibition takes a curious spin on it – one that is far more than just a sales pitch.
The National Art School (NAS) in Sydney recently unveiled a major exhibition celebrating the work of 50 alumni from the school, National Art: Part One (15 August – 27 October). The interesting part, here, is that all the works were gifted by the artists to build upon a teaching and touring archive.
Steven Alderton, Director and CEO of the National Art School said: 'The exhibition represents a powerful expression of the artists' generosity and the affection they hold for the National Art School, whose history and contribution to Australian art and culture can be traced back 150 years.'
With works spanning seven decades from 1947 to 2018, this extraordinary gift of 160 works demonstrate an incredible trajectory in individual careers, art movements across time, and the shifts in media. Many of the artists have gifted both student work and recent pieces.
Installation view National Art Part One (2018) at NAS Gallery; L-R: Alan Jones, Les Blakebrough, Luke Sciberras, Jan King, and Idris Murphy; Photo ArtsHub
Deborah Black writes in the exhibition catalogue: 'The longevity and resilience of the National Art School has always had, at its core, a fiercely loyal alumni.' Black is the Archivist and Collections Manager for the National Art School.
She explained that a policy of collecting student work was established in the 1930s by then painting lecturer Douglas Dundas, but that there had been moments when the Collection languished in storerooms, especially from the mid 1970s to the mid 1990s when very few works were collected due to the disruption at TAFE and at the NAS.
And with almost 50 years without a collection management policy, Black said that it 'was not until 1980s that the department of Technical Education employed a former student and staff member, Cameron Sparks, to document the Collection on catalogue cards.'
Funding came later in 2015 from the Ian Potter Foundation to create an on-site, climate control storage space for the growing 4,000 strong Collection, and to digitise those holdings. Proper catalogue also revealed what was missing.
This recent gift and exhibition was largely about filling the gaps – fifty alumni artists, who were not represented in the NAS Collection, were invited to donate formative student works.
Understanding the weight of these gifted works one only needs to consider Marie McMahon's iconic print, You are on Aboriginal Land (1987) – one of the first pieces that visitors encounter in the exhibition. She has gifted her last copy in the edition.
In the gallery foyer, stands a major sculptural work by Tim Storrier AM titled The Grand Impedimenta (2016). An autobiographical explorer, it is not dissimilar to his 2012 Archibald Prize winning work.
Clearly, this is a disparate exhibition, but it couldn't be anything other. To a viewer walking through the new gifts, the galleries feel somewhat congested – a veritable bounty! But in this case, both can only be good things.
There are some thoughtful connections across the exhibition from a curatorial perspective, but largely this is a general hang – and unveiling.
McMahon's print about land rights sits in the same first gallery as Joan Ross' three panel work, All you can eat seafood buffet I, II and II (2017), which she made during her Sydney Contemporary residency at Barangaroo last year.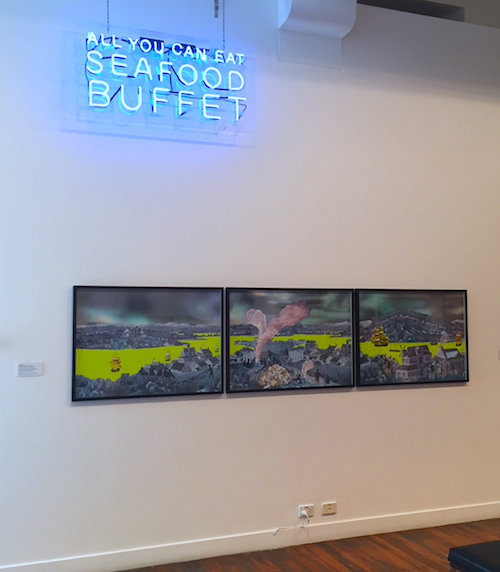 Installation view Joan Ross, All you can eat seafood buffet I, II and II (2017), at NAG Gallery; photo ArtsHub
It re-contextualises Joseph Fowler's 1845 watercolour drawing Millers Point Sydney – an image to project the new colony back to London. But Ross inverts the colonial gaze. 'I present the harbour as a seafood buffet complete with a buzzing neon sign; an invitation to shamelessly gorge on the bounty of the colony,' she writes. The message clear – indigenous subsistence and colonial glut.
What these two works demonstrate is that art schools also nurture the role of artists to develop their voice and responsibility to speak to contemporary narratives.
Further into the exhibition is a suite of works by photo media artist Merilyn Fairskye – a vitrine of 26 unique hand made books, Alphabets of Loss for the Late 20th Century (1994) Fieldwork II Chernobyl, her first 'nuclear' work after a trip in 2009, and The Day After, which was shot at The Polygon, Kazakhstan, six years and several nuclear sites later. It was where the first Soviet atomic bomb was detonated, launching the nuclear arms race, explains Fairskye.
These works are not only historically rich in their content, but show the journey of an artist as they have refined their practice, and voice, over 25 years.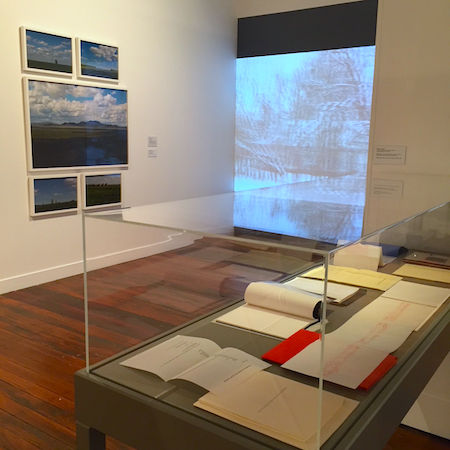 Installation view Merilyn Fairskye's gifted works, National Art Part One (2018) at NAS Gallery; photo ArtsHub
Experimentation is another defining factor of an art school. Early in the exhibition visitors encounter the ceramic sculptural work of Juz Kitson, Naked Simplicity (2016), in close proximity to a painting by Tim Maguire from 2018, who's work is renowned for pushing the medium.
Across the gallery is a major piece by Justine Varga, 6 months, 2 weeks (2013) – a durational recording. Varga has garnered a reputation for her cameraless photography, and this piece comes from her second year at NAS when she had just began to use the studio as a subject and conceptual device.
It is, however, oddly placed alongside the work of Garry Shead – a new piece from 2018 – and Lucy Culliton with Bibbenluke garden in snow pear trees (2009).
If you flip back through the memory bank, this group of artists reads a little like a roll call of prize winners. Like Storrier, Shead has been an Archibald winner (1993), Varga won the 2017 Olive Cotton Award and Culliton won the Mosman Art Prize (2000) and Portia Geach in 2006.
Of the 50 artists in this exhibition, nine have received medals of honour – AM, OBE, OAM, AO etc. to acknowledge their national contribution to the arts.
Then there are artists like Les Blakebrough (AM) with the gifted work, Three tilted bowls (2016), who is famed for creating the iconic Southern Ice porcelain – favoured by artists world wide today. And in the upstairs gallery, you have a pair of works by Guy Maestri – Innocent X and Gould (2017) – which also dramatically rethinks medium traditions.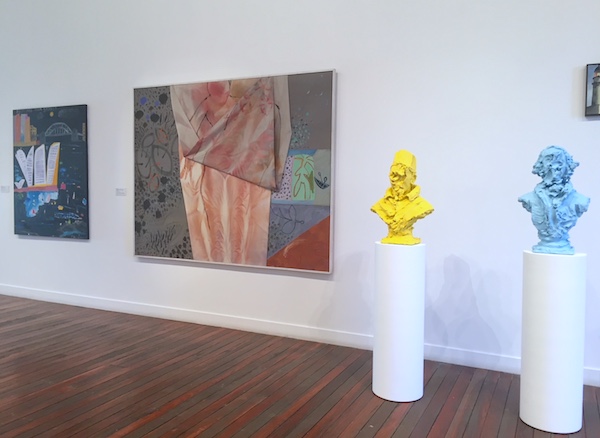 Installation view National Art Part One (2018) at NAS Gallery; L-R: Ken Done, Guy Warren, and Guy Maestri; Photo ArtsHub
Whilst cast in bronze, Maestri's busts are rendered to look like plasticine – malleable and their features erased. 'I didn't intent to mock tradition, more to present a traditional standard in a version that better aligns itself with the material values of the 21st Century,' he said.
There are also significant works in the upper gallery by Anne Zahalka, Julie Rrap, Michael Johnson, Guy Warren AM, Peter Powditch AM – a student in the 1960s who retuned as a teacher – and a suite of works by Ken Unsworth AM – who has a major survey exhibition opening at the National Gallery of Victoria later this month.
Powditch writes that it was in teaching that he fully appreciated the environment of NAS. Many past students went on to become teachers at NAS, which taps back into the philosophy of the school as an independent studio-based teaching model.
Perhaps this is why this alumni community is so strong. They have bonded together to make this collection now. They have fought to save the school in the past.
Luke Sciberras speaks of his time at the school straddling the changeover from East Sydney Technical College to the National Art School, what he described as a 'a time of turmoil but also excitement'.
He continued: 'Some teachers battled against the formation of NAS to secure their tenure; others fought valiantly to uphold the integrity of studio-based training… students rallied and championed and protested.'
I am reminded of that same kind of alumni rallying more recently, as past and present students marched from the school in Darlinghurst to the NSW Parliament to protest against its threat of independence.
Artist Alan Jones says that his 'world changed' when he went to NAS. Critic John MacDonald writes in the exhibition catalogue: 'Art is a leap of faith, not a job. The majority of artists in this exhibition have already stood the test of time, some have become Australian icons. For the younger artists it's a very different world, but certain aspects of an artists existence must remain the same from one generation to the next.'
The National Art: Part One celebrates and recognizes artist's journeys. It is a phenomenal slice of history, and it is an astonishing gift that will continue to shape the careers of many generations to come.
Rating: 4 stars ★★★★

National Art: Part One
National Art: Part One list of artists:
Charles Blackman, Les Blakebrough, Euphemia Bostock, Bill Brown, Mitch Cairns, Sophie Cape, Kevin Connor, Lucy Culliton, Elisabeth Cummings, Karla Dickens,
Ken Done, Merilyn Fairskye, Fiona Foley, Todd Fuller, Adrienne Gaha, Peter Godwin, Sarah Goffman, Fiona Hall, Michael Johnson, Alan Jones, Jan King, Juz Kitson,
Ildiko Kovacs, Fiona Lowry, Guy Maestri, Tim Maguire, Dani McKenzie, Marie McMahon, Reg Mombassa (Chris O'Doherty), Idris Murphy, Catherine O'Donnell, Robert Owen,
Peter Powditch, Leslie Rice, Joan Ross, Julie Rrap, Bill Samuels, Jeffrey Samuels, Luke Sciberras, Garry Shead, Gria Shead, Nicola Smith, Michael Snape, Tim Storrier,
Ann Thomson, Ken Unsworth, Justine Varga, Guy Warren, Coen Young and Anne Zahalka.
15 August – 27 October 2018
NAS Gallery, Darlinghurst