Amy Hack, Ashleigh Rubenach, Bronte Florian in Cry-Baby. Photo by Robert Catto.
The Hayes Theatre is not a big theatre but you wouldn't know it from watching Cry-Baby. Putting on an extravagantly exuberant show in the small space, it's but another great musical from this ever-reliable company.
An adaptation of the John Waters-Johnny Depp outlandish 50s comedy about a group of delinquents from the wrong side of the tracks taking on the self-ascribed upper-class. There's very little if anything here that is not exaggerated amidst the colourful costumes and increasingly loud numbers.
Staged against a red and white-striped diagonal backdrop, the simple and deceptively shrewd design serves the psychedelic hits but also doubles as the less than modest, straight-laced abodes. With figures leaping out of trapdoors or panels appended to the backdrop, it's a welcome change from the traditional stage-right exits as characters scurry around the varied avenues, only to occasionally use the environment immediately below the stage and in front of the audience to great effect.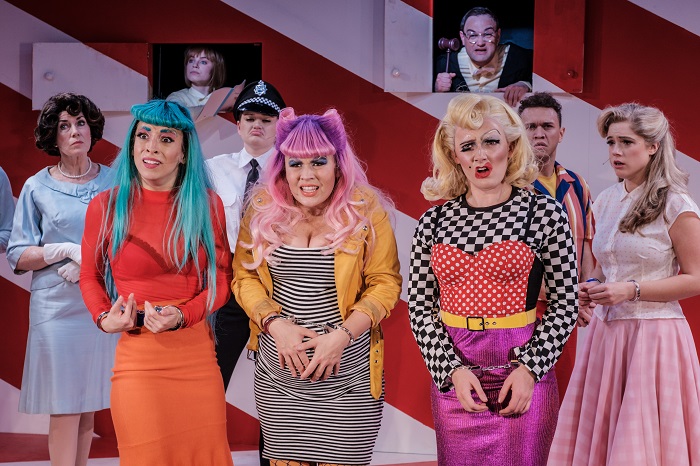 Amy Hack, Bronte Florian, Manon Gunderson-Briggs in Cry-Baby. Photo by Robert Catto.
Complementing the design – the play's far and above best sequence, occurring at the commencement of the second half – features a tiny bed as a prop. Leading to some fantastic visual humour as lead-character Allison (Ashleigh Rubenach) flounces about the bed or fluffs a tiny pillow; it's one of many laugh-out-loud moments which are accompanied by the ensemble's best harmony.
On the matter of props, this production is notable for its lack of unnecessary additions or crowding, with each serving a function throughout. The effect achieved by the bed is flipped for a later sequence involving humungous license plates, a creative, Carroll-esque innovation regretfully absent throughout lengths of the play.
Christian Charisiou as the titular Cry-Baby is perfectly capable of pulling off the larger numbers, among them 'Baby Baby Baby Baby Baby (Baby Baby),' a highlight, even if he is not nearly so endearing as his counterparts. Among them Rubenach and most notably Beth Daly as the matriarch of a high society clan. Getting all the best lines in the play, Daly is Cry-Baby's most memorable addition, pulling off recurringly hilarious bon mots with marked aplomb and exceptional comic timing.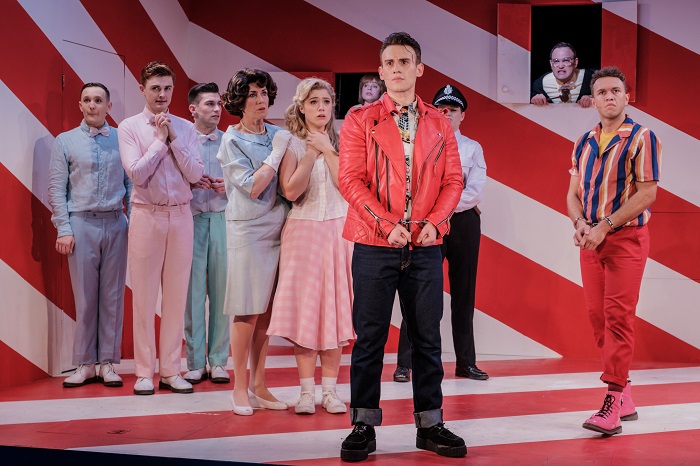 The cast of Cry-Baby. Photo by Robert Catto.
Laura Murphy matches the considerable stage presence of just about any other performer for her standalone number 'Screw Loose,' while conversely Joel Granger's somewhat more reserved turn as upper-class twit Baldwin bears some of the strongest resonance. Contending with one exaggerated performance upon another, Baldwin is the only figure throughout even nominally grounded. It is these moments, when contrasted with and seamlessly upended by one of Granger's more outrageous additions, which best recommend his performance and renders his character that much more unnerving.
The production's best dance number, akin in many respects to 'Jailhouse Rock' and featuring Charisiou front and centre, benefits from the synchrony between the performers amidst several heavily frenetic ensemble sequences. Featuring too what can only be described as a theatrical attempt at a post-credits sequence and an uproariously awkward one to boot, Cry-Baby nails it more often than not in yet another quality Hayes production.
Rating 4 stars ★★★★

Cry-Baby
Based on the Universal Pictures film written and directed by John Waters
Presented by LPD in association with Hayes Theatre Co
Director & Lighting Designer Alex Berlage
Musical Director Nicholas Griffin
Choreographer Cameron Mitchell
Designer Isabel Hudson
Costume Designer Mason Browne
Sound Designer Tegan Nicholls
Associate Lighting Designer Veronique Benett
Assistant Director Ruby O'Kelly
Producer Lauren Peters
20 July – 19 August 2018
The Hayes Theatre, Potts Point