The line that was floating around in the lead up to this 2020 Biennale of Sydney was that it was 'the biennale we had to have'.
Curated by Wiradjuri man, artist Brook Andrew, NIRIN (meaning edge in Wiradjuri) aims to rebalance the narrative around First Nations representation, and to rethink the contested histories that have shaped the power structures of our contemporary society.
Andrew said in an interview with Create NSW: 'There is a very strong First Nations focus, although it's more about the quality of how we look at art practice and creativity more generally, across the globe. Europe and other major artistic western centres have a particular genre of art practice, which often inserts First Nations artists…as a token of representation. So, I've been very conscious to really balance it out.'
He continued: 'I didn't really go out to say "okay, let's make a First Nations Biennale", because it's not just a First Nations Biennale… It's artist-led, it's community-led.'
We see this played out in varying tones across the six venues for this biennale, showing some 101 artists – predominantly from First Nations backgrounds – and first time representations from nations such as Nepal, Georgia, Afghanistan, Sudan and Ecuador.
Andrew's biennale also included 39 Australian artists; a high percentage, sitting at 38.9%, well above recent editions. How does that play out in shifting the scales, and does the exhibition's tone feel obviously different because of its lens?
Ester Grau Quintana, Retaule dels penjats (Altarpiece of the Hanged People) Installation detail. Nirin: 22nd Biennale of Sydney, AGNSW. Photo: ArtsHub.
The helicopter view
To take a cursory helicopter view, the collection of works at Campbelltown Arts Centre (C-A-C) have a strong political spine, and a documentary tone. The space is dark and brooding, and forces viewers to navigate it in unexpected ways, through built walls and scrims. It demands time.
Standing strong as the highlight of NIRIN, for the Art Gallery of NSW (AGNSW) Andrew has staged an intervention with the colonial galleries or Grand Courts. On the surface, it is a stunning hang aesthetically, but is also deeply considered, rethinking histories and reclaiming sovereignty by interweaving artworks, while not ostracising the viewer with a heavy political glove.
The galleries are punctuated with symbolic black scrims and veils by Madagascan artist Joel Andrianomeasrisoa, who describes his intervention as 'creating a liminal edge space'. I love the way he covers paintings such as Julian Ashton's The prospector (1889), a hardy pioneer reaping the land's riches and feeding mythologies of identity.
Joel Andrianomeasrisoa. Installation detail. Nirin: 22nd Biennale of Sydney, AGNSW. Photo: ArtsHub.
While Ester Grau Quintana's three-story textile draped scaffold, Retaule dels penjats (Altarpiece of the Hanged People) (pictured above), sits within the hallowed halls of the colonial wing – a site metaphorically in (re)construction.
However, the visitor experience at AGNSW starts at the vestibule with a provocative work by Wiradjuri woman Karla Dickens, which moves into the gallery's expansive foyer with an AR-activated work of suspended banners by the late Pitjantjatjara artist, activist and leader Kunmanara Mumu Mike Williams, created with young men from Mimili Maku Arts on the APY Lands, his widow, and collaborator Sammy Dodd.
Collaboration Mimili Maku Arts.Installation detail of Augmented Reality artwork. Nirin: 22nd Biennale of Sydney, AGNSW. Photo: ArtsHub.
The hangs at the AGNSW and Museum of Contemporary Art Australia (MCA) felt most in sync across this biennale, regardless of Andrianomeasrisoa's black veils that continued across the two venues.
Here they channeled the viewer towards an end gallery and an incredible installation of photographs by South African visual activist Zanele Muholi, boldly black and white and larger than life, they face issues of race and gender square in the eye. 
Zanele Muholi, Installation view MCA. Nirin: 22nd Biennale of Sydney. Photo: ArtsHub.
The tone across the MCA is mixed – at times quiet and contemplative; at others political and punchy. If anything it acts as a kind of axis point across this exhibition. 39% of the artists presented at MCA are also shown at the other biennale venues, and you get a real taste of the breath of ideas and mediums Andrew has chosen.
The National Art School (NAS) and Artspace in contrast are more compact hangs, but not lacking in impact. The upstairs galleries of NAS were a talking point – a poetic installation by Mexican artist Teresa Margolles laced with a dark history of gender-based violence, while Artspace similarly used an aesthetic genre to open a conversation.
Fatima Rodrigo Gonzales's installation had all the lights and patterns of a popular television show, Sabado Gigante (Gigantic Saturday), who's host was repeated accused of harassment, humiliation and even rape.
Fatima Rodrigo Gonzales, Sabado Gigante (Gigantic Saturday), Installation view Artspace. Nirin: 22nd Biennale of Sydney. Photo: ArtsHub.
These are examples of the multi-layered experience of Andrew's biennale, one that could be enjoyed on the surface, but one that often masks the stuff that runs deep within – should one care to stop, listen and ponder.
Cockatoo Island, by its very nature as a site, calls for the more scaled works – aka the spectacular punctuations – however, for this edition of the event, I would argue they take a softer approach. The pace is slower this year.
Taking a deeper dive
One is always loathe to draw such surface summations as the fly-thru, but in this case it feels apt as each venue feels quiet separate as an exhibition in itself. This is underlined by the fact that some artists are represented across venues; less a case of stitching ideas and connections across venues, and more a feeling of repetition.
Such the nylon stripe bags stereotyped for their low-cost itinerant use, which have been painted with equally iconic landscapes by the Namatjira School of Art collective and can be seen across venues form C-A-C to AGNSW to Cockatoo Island, or Nongirrna Marawilli's Larrakitj (bark poles) at C-A-C and a suite of hovering barks at the MCA.
Namatjira School of Art collective, Installation view / detail, Cockatoo Island. Nirin: 22nd Biennale of Sydney. Photo: ArtsHub.
This feeling of repetition is strangely also given to work a that is touted as the headliner of this biennale, Ghanaian artist Ibrahim Mahama's installation at Cockatoo Island, where he has draped the turbine hall with sewn hessian coal sacks (pictured top), while a connected work at Artspace, A Grain of Wheat (2015-28), stacks collected first aid stretches around the gallery.
They speak to histories of human mobility and suffering, and while fantastic in these sites so imbued with their own histories, it is almost as though Andrew has hedged his bets that audiences wont head out to the island, but still experience Mahama's work.
Other repetitions are the installations of Tennet Creek Brio collective, a group of poker machines made out of cardboard and found materials both at Artspace and Cockatoo Island; and well as projects by Barbara McGrady, Aziz Hazara, Tony Albert, Misheck Masamvu and Shaheed/Witness/Kashmir across multiple venues.
Where this biennale does get interesting, is the subtle way Andrew's own aesthetic tone as an artist creeps in. Think of it as a manipulation of site. There is a connection to the way Andrew has long interrupted the hangs of our state galleries, played out as a shoulder jostle of Indigenous works with "white art". It is most successful in NIRIN, as mentioned, at AGNSW.
One can't help but be impressed as Prefete Duffaut, Mostaff Muchawaya and Emily Karaka's paintings interrupt the flow, while sculptures by Andre Eugene and Haitian artist Karim Bleus created from salvaged materials sit alongside precious bronzes.
Installation view AGNSW. Nirin: 22nd Biennale of Sydney. Photo: ArtsHub.
Another device Andrew has used is the way he foils navigation of cultural material. C-A-C has a heavy build of angled walls and anti-chambers that both disorientate and focus the viewer's consideration; we see it also at Artspace with the work of Colectivo Ayllu / Migrantes Transgresorxs, who have created an incredible viewer journey with a minimal spend – posters printed in Australia and video portals. It is smart making; and smart engagement.
Andrew's hand is also clearly felt in the project Powerful Objects, which again populates each venue with cultural objects and documents drawn from collections and placed in vitrines. The didactics describe that when placed within the broader context of NIRIN, 'these are resilient pieces of evidence, modes of storytelling, clues and traces, all reminding us of forgotten or ignored ceremonies, histories and trajectories set forth by communities artist … silent witnesses and healers – some un-named or un-recorded.'
Powerful Objects, 2020. Installation view / detail, MCA. Nirin: 22nd Biennale of Sydney. Photo: ArtsHub.
For this writer, it is this subtle incursion that best captures what I imagine was Andrew's agenda – proximity that invites acknowledgment in new ways.
This tone of museological authority and documentation also comes through across a number of projects, such as John Miller and Elisapeta Heta, and Shaheed / Witness / Kashmir (9 photojournalists) installations that re-frame notions of witness from lens, to news to popular mythology at C-A-C; or Hannah Catherine Jones's audio-visual work using pop-cultural and archival material, poetic motifs and provocative imagery to tell a story of the African diaspora at the National Art School.
John Miller and Elisapeta Heta, Installation view C-A-C. Nirin: 22nd Biennale of Sydney. Photo: Zan Wimberley.
Spring-boarding from this conversation of presentation and documentation, it is interesting to consider video  in the context of this biennale.
It was a six-channel video work by Barbara McGrady that dominated the hang at C-A-C, and also the conversation, with a strong political pummel. Pairing elitist views of culture and sport alongside race, it was a fast pace edit overlaid with text: 'I always shot with a black lens…the trauma is deep…sick and tired of mainstream media controlling the narrative,' – the visual onslaught perhaps a metaphor of the persistence of negativity faced by black Australia.
For some it was a tough five minute watch; for others a tough 250-year history.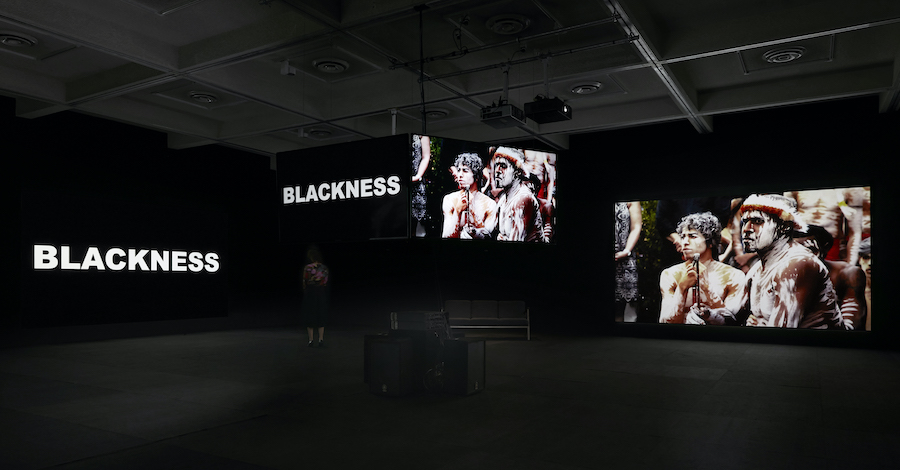 Barabara McGrady. Installation view / video still. 22nd Biennale of Sydney, Campbelltown Arts Centre. Courtesy the artist. Photo: Zan Wimberley.
Taking a different approach, Colectivo Ayllu / Migrantes Transgresorxs, as mentioned, created a great experience at Artspace working with the Australian Print Workshop to extend their video with political wallpaper, forcing the viewer into a more intimate engagement that the standard floating screen.
It is interesting when you consider both of these in contrast to the triangulated three-screen video by Ahmed Umar at the MCA, or Aziz Hazara's five-channel work Bow Echo (2019) also at the MCA, which seemingly cocooned viewers in a space created by suspended screens honing one's aural experience, it is perhaps in sync with Hazara's narrative about five boys in Kabul's hills region attempting to signal their community's repression through the use of toy bugles.
Then to throw a curve ball, across Cockatoo Island small video portals scatter the island, while S.J. Norman's intimate video installation, which focuses on the removal of Indigenous hair as a colonial act of power takes another approach, to the almost benign confessionals from everyday Indigenous communities when objects and remains are repatriated – a video research project by Austrian artist Katarina Matiasek titled Far from Settled, to the other scale with Lisa Riehana's multi-channel work and first dive into 3D cinematics and a woman's story that bridges the cultural collisions of convict ancestry and Maori beliefs.
When you plot it out there is a lot of video, but the variety of scale and presentation diffuse the "biennale blur".
Katarina Matiasek Far from Settled, Installation view / detail, Cockatoo Island. Nirin: 22nd Biennale of Sydney. Photo: ArtsHub.
All that said, it is probably an "old fashioned" painting that captured the spirit of NIRIN for this writer on so many levels. Anders Sunna's expansive mural in the gallery's foyer SOADA, which was created on-site and linking the political tropes between Sapmi land to the colonial project of Lieutenant Cook, working with the local community in Campbelltown. I particularly like the smarting bum-cheek of Cook over the knee of a Sapmi elder.
It seemingly also captured Andrew's intent to keep the conversations welling from the grass roots.
Andrew said in an interview leading up to the exhibition: 'There is a great divide in the world: those who have money or live in a so-called first world nation, and then those who maybe don't have access to homelands or who are on the journey escaping war, or don't have food or water quality.
'One thing I'm interested in is, how do they create this social change, and how can art be an experience of power? It's not just an aesthetic power, but a power that can relate to people in ways that, when they're juxtaposed or put together, they can really bring out anxieties we're feeling today or about positive futurism. It's turning histories, identities, and stereotypes on their heads, but they're also carving out new ways to relate to each other and possibly create a different kind of future.'
Overall, this 22nd Biennale of Sydney is pretty successful in reaching that conversation. To some level it has surprised me that it does so with such a gentle touch – not always – but in majority, and that perhaps suggests these conversations are slowly advancing.
If we can manage to ward off the coronavirus in the wake of the exhibition's opening and catch it before its June closure, then we can all play a role by taking time to listen through these artworks.
UPDATE: As of 17 March, the 2020 Biennale of Sydney was still fully open to the public across all venues. Additionally they will live stream artist talks, interactive sessions and also provide a virtual walk through of the exhibition.
★★★★ 4 out of 5
NIRIN: 22nd Biennale of Sydney
14 March – 8 June 2020
Artistic Director: Brook Andrew
Art Gallery of NSW, Artspace, Campbelltown Arts Centre, Cockatoo Island, Museum of Contemporary Art Australia and National Art School