Directed by Karen Francis, this production of The Little Mermaid was created by Stray Cats Theatre Company in community partnership with Mandurah Performing Arts Centre. Based on the Hans Christian Andersen story and the 1989 Disney film, it was exceptional in its interpretation of the source material. Cheerier than the original tragic fairytale, this adaptation (written by John Musker and Ron Clements) tells the story of a headstrong mermaid named Ariel (Eibhlis Newman) who falls in love with a human, enlists the help of a sea witch and trades her voice for a pair of human legs. With the assistance of an infatuated guppy and a reluctant crab, the mermaid eventually becomes part of her human prince's world.      
Palpitating with pure nostalgia, this show was a journey well worth taking. The Act One Overture aurally transported audiences to a world below the waves, as ripples of light created the illusion of being submerged. The watery backdrop for Ariel's first solo 'The World Above' rose to reveal the sailors in 'Fathoms Below' introducing the audience to wistful Prince Eric (Braeden Geuer) and comical Grimsby (Aidan Thomas). 
Geuer was the perfect Prince Eric, playing a more fully-realised version of the character than the cardboard prince of the Disney film. In this version, Eric, like Ariel, was portrayed as an outsider in his own world. He would rather be sailing with his buddies than getting married and running a kingdom, much to the chagrin of Grimsby. Headstrong Ariel is drawn to the human world and falls in love with the prince, despite dire warnings from her father and six singing mersisters.
Heart-stopping set changes made this fictional world seem gigantic. From glittering castle columns to the beautiful simplicity of the scenery during 'Kiss the Girl', the backdrops, lighting, costumes and props were wonderful throughout the entire production. Ariel's grotto of treasures included a treasure chest, gold and seaweed, beautifully setting the scene for Ariel's iconic song, 'Part of Your World'. The mersisters' costumes sparkled with fun, framed by gorgeous set dressing, especially during 'She's in Love', which showcased the voices of the cast, and benefited from the energy of young Flounder (Luis Proctor).
Sails, rigging and a steering wheel brought the ship scenes to life. The vibrant colour and movement during 'Under the Sea' utilised flowing fabrics, sequins, tulle and complex headpieces to fill the stage with aquatic costume fun that partially functioned as setting. A video backdrop of an oceanic rescue led seamlessly to that infamous post-rescue beach scene. 
The second act opened on the same beach, with Ariel finding her out-of-the-sea legs. Scuttle danced and squawked, full of 'Positoovity', before Ariel was found by Eric, who took her to the castle for a bath. The set transformed impressively quickly to the castle kitchen for the hilarious 'Les Poissons', in which Chef Louis (Scott Hansen) was psychotically entertaining, with a stand-out performance enhanced by a knife-happy ensemble.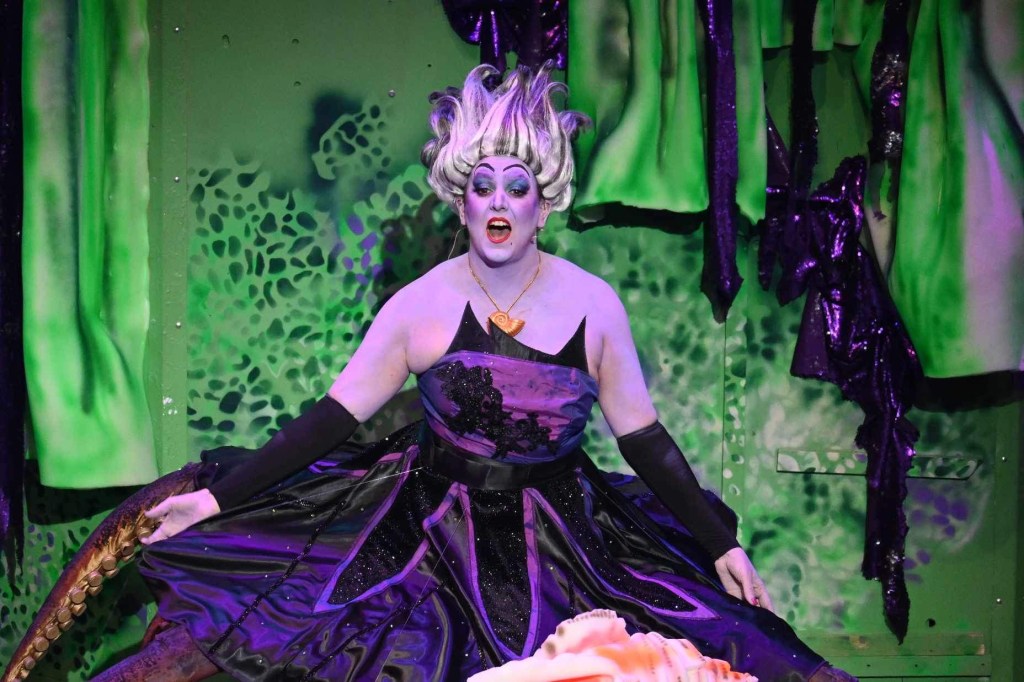 A green and purple lair was the perfect environment for an underworld cephalopod-villain. Kristie Corbishley was mind-blowing as Ursula, with moving tentacles (mechanics by David Hartley), purple skin and gravity defying hair. Her attitude and stage presence were captivating, leaning into the right combination of darkness and glitter. Corbishley put her own spin on the role of Ursula, while remaining true to the character. The character's minions, Flotsam and Jetsam (Scott Hansen and Cody Fullbrook), were fantastic, with glam-creepiness, shiny outfits and articulated hand/fin pieces.
Ariel's infamous voice transfer at the end of Ursula's main song was magnificently eerie, with massive reverb, spooky lighting and dramatic music adding to the chaos of Ariel's transition to human form. Eibhlis Newman beautifully embodied the spirit of Ariel, moving the audience with the sweetness and strength of her voice.
Crowd favourite Sebastian the crab (Jioji Nawanawa) had everyone in stitches almost every time he appeared on stage. Nawanawa's performance was executed with comedic expertise, excellent characterisation and masterful movement. His vocal work – in both dialogue and song – was superb for this specific, and therefore challenging, role. 
Paul Hayward gave a nuanced performance as Ariel's father, King Triton, managing to simultaneously portray an almighty ruler and doting-but-relatively-helpless father. This was particularly impressive during Triton's destruction of Ariel's grotto, as Hayward was able to channel Triton's protective rage without losing sight of his heartfelt motivation.
Read: Exhibition review: Justin Williams, COMA
This magical musical was perfectly cast, exquisitely choreographed and aesthetically executed. The orchestra shone as brightly as the lighting design, and the breath-taking costumes featured Heelys for a swimmingly-smooth glide. Playful puns and catchy tunes punctuated this imaginative love story about not fitting into the world you live in, wishing for a different life and overcoming obstacles against all odds. Emotional, powerful and vocally impressive, every moment of this timeless tale was captivating. It was, as more than one member of the audience was heard to declare, better than Broadway.
The Little Mermaid
Mandurah Performing Arts Centre, WA
Produced by: Stray Cats Theatre Company and Mandurah Performing Arts Centre
Director: Karen Francis
Musical Director: Vanitha Hart
Vocal Director: Kristie Corbishly
Head Choreographer: Rhiannon Francis
Head Artist: Bronwyn White
Set Design: Bronwyn White, Karen Francis
Lighting Design: Justin Crossley, Karen Francis
Head of Costumes: Linda Lowry
Cast: Eibhlis Newman, Braeden Geuer, Paul Hayward, Kristie Corbishley, Jioji Nawanawa, Luis Proctor, Sky Kettle, Aidan Thomas, Scott Hansen, Cody Fullbrook, Alyssa Murakami, Paris Meares. Jocelyn Scatturo, Rhiannon Garnham, Remy Deleo, Holly Vandeervant
The Little Mermaid was performed 28 September – 1 October 2023.