Immersive biographical exhibitions are not a new thing. They are, however, shifting beyond the mere 'digitally surround and awe', to pushing the range of engagement in the way they capture audiences.
Frida Kahlo: The Life of an Icon is a great example. Presented at The Cutaway at Barangaroo for Sydney Festival, the exhibition blends the now standard 360-degree digital projections with holography, virtual reality experiences, replicas of Kahlo's dresses and hands-on activities. It is also complete with a pop-up cantina and program of traditional Mexican music performed live, after visitors exit through the 'Kahlo-Mexicana' gift shop.
Co-created by the Frida Kahlo Corporation and Spanish digital arts company, Layers of Reality, the exhibition is perfect for the festival circuit – and, while it is premiering in Sydney, we can only expect that it will travel.
One of the nice things about this experience is that it starts by creating a cultural foundation. Visitors begin by approaching an altar of the dead, which nods to Mexican traditions and Indigenous ritual, but also adds a broader frame to the role of symbology for Kahlo.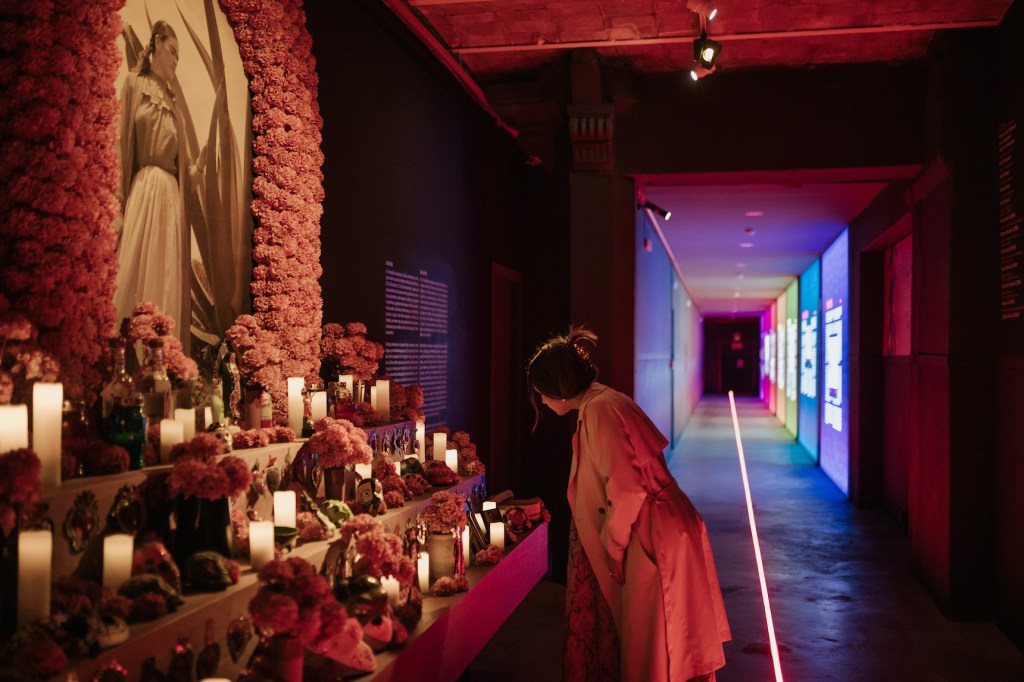 Illuminated bilingual didactic panels then accompany the viewer into the space. There is a lot of almost cultish mythology around Frida Kahlo, and this easy passage of facts grounds her practice within the sociopolitical moment – as well as her own physical trauma.
The first piece aptly encountered, The Incident, is a multilayered holograph depicting the trolley car accident that smashed Kahlo's pelvis and spine. Her body hovers almost ghost-like within a field of shattering glass. It is bewitching and beautiful.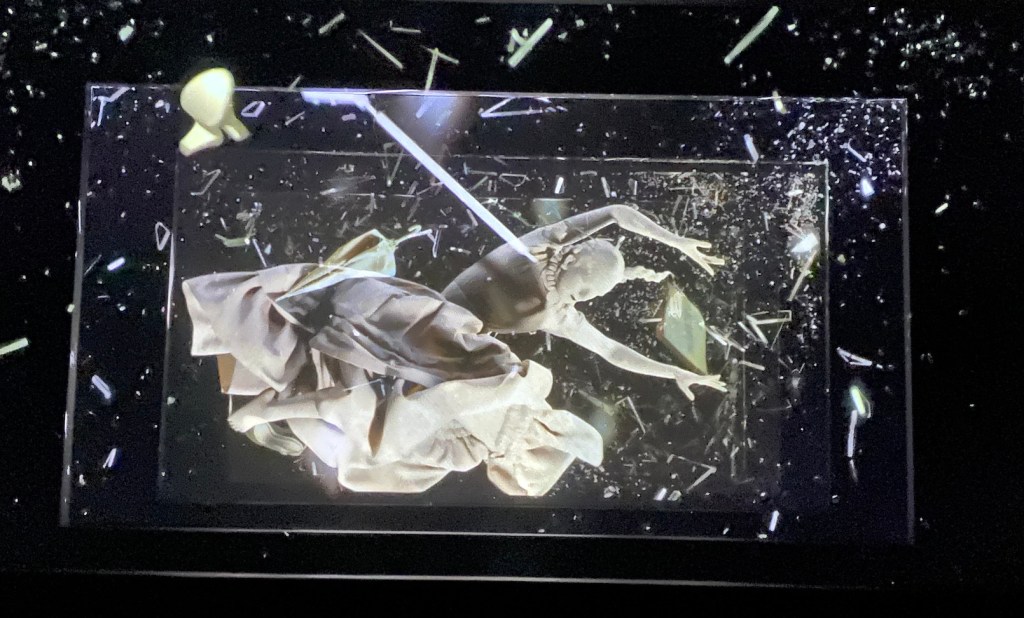 The standard is high across this exhibition. It continues with The Dream, a projection that takes elements from her paintings that speak of her broken body, radiating out from her as an alternative life source, as she lies in bed recuperating.
It is followed by the interactive projection Endless Symbology, where the viewer 'falls' deeper into Kahlo's world by becoming an active agent, moving the graphic elements as they stride across the space. One sends a torrent of flowers, skulls and foliage into an eddy with each footstep, and sheer delight.
Central to the exhibition is a large room that extends Kahlo's journey through the cities and circles with which she engaged, and elements of her artworks that have become signature. The loop is half an hour and you can lose yourself in this section, which was compiled by Barcelona-based Martes Studio utilising photographs, animation, poetry and graphics.
Read: Exhibition review: Peter Tyndall
Where this immersive exhibition takes it up a notch, however, is through an embedded VR (virtual reality) experience, where one is invited to enter Kahlo's world via a headset. Starting in the place where most things did for Kahlo – her bed – the viewer can take in her room, as if convalescing with the artist, and then move beyond its walls, eventually finding themselves transposed into her paintings. It is loaded with intense colour and a transfixing soundtrack, and is every bit as surreal an experience as her artworks are – familiar and yet fantastical.
And, for those who are less interested in VR, a quick digital play is offered via 'Photobooths' that recreate a viewer's image as a Kahlo-inspired portrait. The hands-on quality of this exhibition continues in another space, where visitors can colour their own Kahlo portraits, and have them projected within the room. There is even a space within the exhibition where it's possible to create your own Kahlo-inspired floral headwear (for a fee).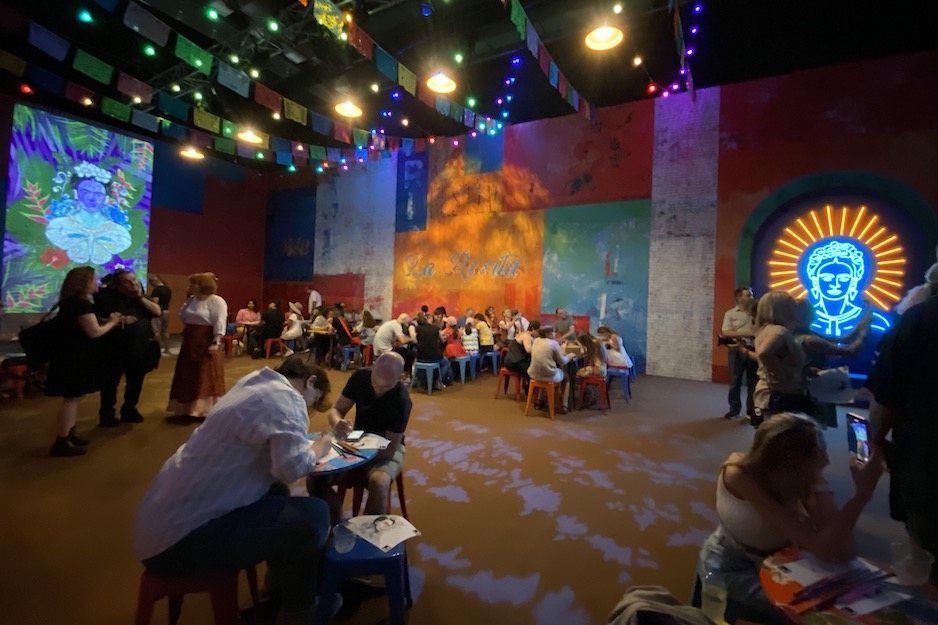 It is easy for arts aficionados to dismiss these art events as too pedestrian, but it is impossible to fault this exhibition. It is historically rich, visually exciting and engaging, memorable – and best of all – it gyrates with energy as throngs of everyday punters physically enjoy themselves and actively engage with 'art'.
Frida Kahlo: The Life of an Icon
The Cutaway, Barangaroo
Sydney Festival programming
Production by Layers of Reality
4 January – 7 March
Cost: $39-$49
Each Friday and Saturday night between 5.30pm and 9.30pm, dancers perform live inside the exhibition.