2022 is the international year of glass. You would expect, then, a flurry of exhibitions that would explore the perceptions, boundaries and current trends in the medium. To date, there have been fewer than expected.
This exhibition at Canberra Glassworks, Upending Expectations: Contemporary Glass, attempts to broaden that lens, touring nationally this year and into 2023. Curated by Frances Lindsay AM, an independent curator and former Deputy Director at the National Gallery Victoria (which has an amazing glass collection), the exhibition pits the work of eleven artists working in / and with the medium today, from neon to cast and kiln formed glass, installation adapting found glass, as well as blown and lampworked glass.
It is hardly an almanac of technique, however. If anything, the focus here is on sculptural form and narrative – the connecting tissue just happens to be a shared material.
To try to get a cohesive exhibition with such diversity, and in such a small snapshot, is a challenge for any curator, and this exhibition – while offering a sensitive viewing experience – suffers that challenge.
Rather awkwardly, the exhibition starts in the busy foyer of the Canberra Glassworks, vying for attention with punters jostling to see the blowing action upstairs and shop displays. In some ways, the especially quiet cane works of Cobi Cockburn are poorly placed, and are overlooked as a result.
While Cockburn's work is a mind blowing realisation by a non-glass community that, "hang on, that's glass!", for an exhibition that pits itself as shaking up expectations, it feels a safe rather than ambitious choice.
Cockburn's work would perhaps have made better sense placed in conversation with the equally subtle and sublime works of Mel Douglas, sitting inside the small designated gallery space.
In contrast, it is a work that bookends this exhibition, and situated in the Glassworks' unique smokestack round gallery, by Kirstie Rea that seems to embrace the premise of 'Upending Expectations'. Titled Complacent Complicity (2021), black glass seemingly drips from a kiln formed object – the emotional trigger being the bushfires that impacted the Canberra region. Here glass captures both the fragility and the strength of that moment, and is able to bridge conceptual grounding and the presence of an object.
It is this bridging that again is a solid link across all the works on show. From those foyer works to the internal gallery, the exhibition maps the possibilities for the material, taking a broad geographic sweep from the ACT, NSW, SA and (arguably) a token work from UK (the only international inclusion).
British glass artist Annie Cattrell's work Capacity (2000) is sure to be a crowd pleaser. A pair of lungs delicately crafted using lamp working techniques, and the use of breath itself, is presented in a Plexiglas box like a specimen caught between the physical and the intangible. It captures her interest in the intersection of art and science, and is particularly timely as the world navigates a pandemic that attacks the respiratory system.
What makes sense, rather, in terms of exploring glass on an international platform, is the place these exhibiting Australian artists respectfully hold abroad. Rea currently has a major survey exhibition at the Toyama Glass Art Museum in Tokyo (until 26 June), while Douglas was recently announced a finalist for the 2022 Loewe Foundation's international craft prize, selected from 3,100 works from over 116 countries, and to be shown at the Seoul Museum of Craft Art, opening 1 July.
In a nice choice, a less 'obvious' wall work by Douglas is presented from her methodically surfaced open vessels.
The gallery is small enough that sight lights connect most of the works from French born Nadège Desgenétez, who is currently a glass lecturer at the ANU School of Art and Design, and is included with a pair of works from her Elemental Bodies series (2022). They are technically complex, blown, hot sculptured, mirrored and coldworked form, then completed with custom folded metal pedestals, which position the objects strategically.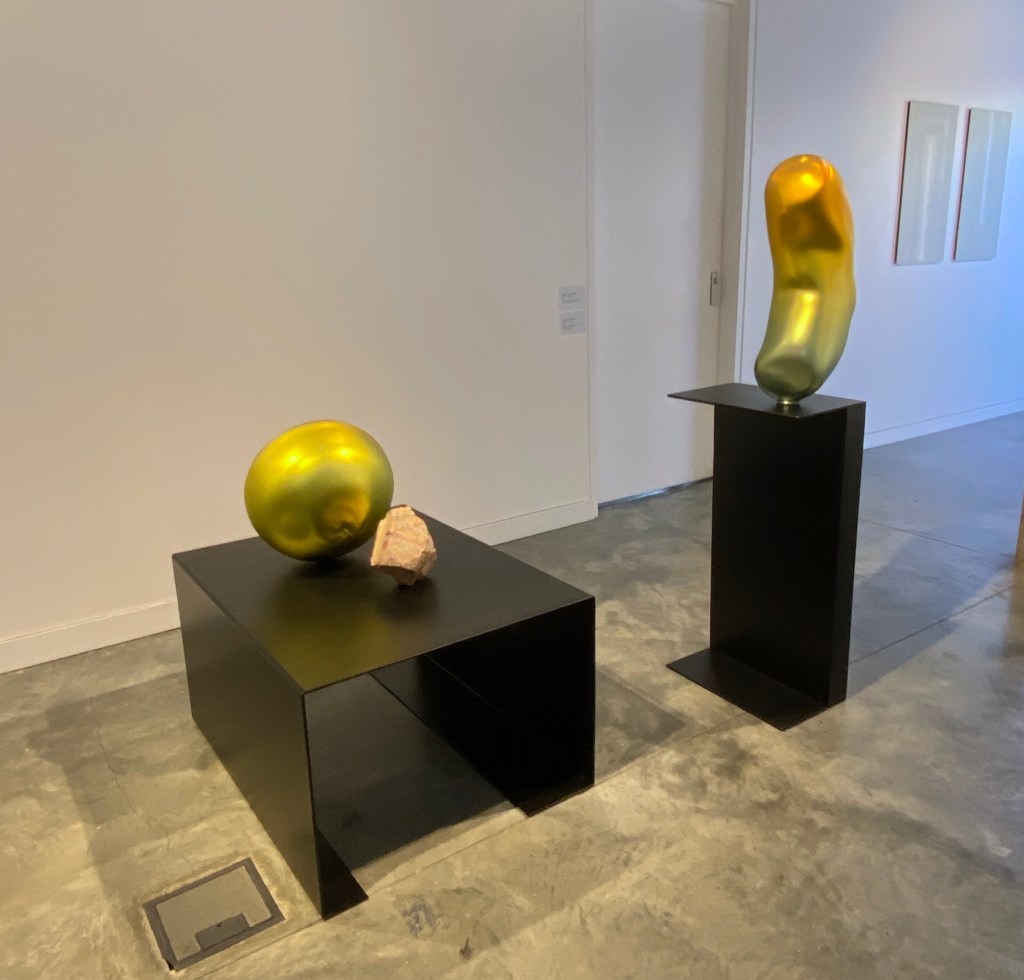 They explore 'the relationships and the importance of the hand-made in a time of mass-production', the curator describes. It is a more conceptual rendering than a literal one, perhaps leaving viewers pondering the techniques rather than the idea – a kind of alluring candy that belies the hours and cost that goes into fabricating most glass artworks.
There is no confusion, however, with Nicholas Folland's wall based installation, which clearly is a reuse of old crystal and cut-glass objects, with some rather swanky light fittings. Whether it is the familiarity of the objects or the seduction of their shadows, they have an easy appeal for viewers, and their conceptual framework is still rigorous and within reach.
A number of works across the exhibition dig deep – from production and reuse, to the environment and the landscape. The body is also fleshed out, from the aforementioned piece by Cattrell, to a suite of neon reactive blown hearts by Harriet Schwarzrock – which have quickly become a staple signature for her work – to orb like abstract forms by Gabriella Bisetto, from her Cell Structure series (2021).
Among the roll call of established artists is Rose-Mary Faulkner, an emerging artist who has created an ethereal portrait with decal photographs on kiln formed glass, presented in a traditional format as one would view a portrait. There is a nice push and pull between our expectations of reading the image, and Faulkner's desire to blur the boundaries between genres.
A noticeable inclusion in the exhibition is the work of Brendan Van Hek (and later to join the exhibition our Indigenous artist Jonathan Jones) – artists who don't blow glass themselves, but work with glass artists to realise their concepts. It shows how the medium is pushing outside the silos of its perception.
This is where we come back to the premise of this touring exhibition and its title, Upending Expectations. Overall, it does well within its scale to reach, push and pull with the definitions of contemporary glass. It is presented beautifully, with the exhibition design and pedestals working well to extend a sense of play and experimentation. Walking away it feels like a great first chapter of a long overdue extended conversation. Bring on the next chapter.
Upending Expectations: Contemporary Glass
Canberra Glassworks
14 April to 5 June 2022
Following the Canberra season, Upending Expectations: Contemporary Glass will be touring nationally through 2022-2023.