Artback NT's touring exhibition Some Like It Hot has arrived at the Flinders University Museum of Art (FUMA), bringing a blast of tropical heat to the chilly Adelaide autumn. This intersection of 'sweat, sex, desire and discord' features work by Therese Ritchie and Franck Gohier: two Northern Territory artists whose paintings and prints explore the popular conception of Darwin as a stifling, hyper-masculine frontier town. Ritchie and Gohier are particularly interested in interrogating the gendered stereotypes that have developed in this context.
The sense of place conjured here is vivid and playfully magnified. Ritchie's digital prints and collages are suffused with haze and smoke, peopled with sweat-drenched, bare-chested men, and feature tropical vines and flowers swollen to menacing proportions. Gohier, meanwhile, draws inspiration from a familiar 20th century comic book aesthetic, referencing artists such as Roy Lichtenstein. Animal print-clad jungle queens stalk through rainforests, wrestling oversize cartoon beasts.
In an accompanying video interview, Gohier and Ritchie reflect on their relationship with the Northern Territory, which they see as a place of extremes. Ritchie notes the isolation and 'tyranny of distance', but also the 'quality of surrender' to the intense climate and vast landscape: 'you're not as big as the environment, and the environment dominates you'. Tally marks are etched across the background of many of Gohier's paintings (such as his 2019 piece Jail break), suggesting a feeling of interminable waiting or entrapment.
The artists' pieces hang opposite each other on the two main walls of FUMA's small gallery space – Gohier's glossy-haired heroines staring down Ritchie's macho musclemen. Rather than reinforcing a traditional binary, however, the juxtaposition of these works highlights the constructed nature of gender roles.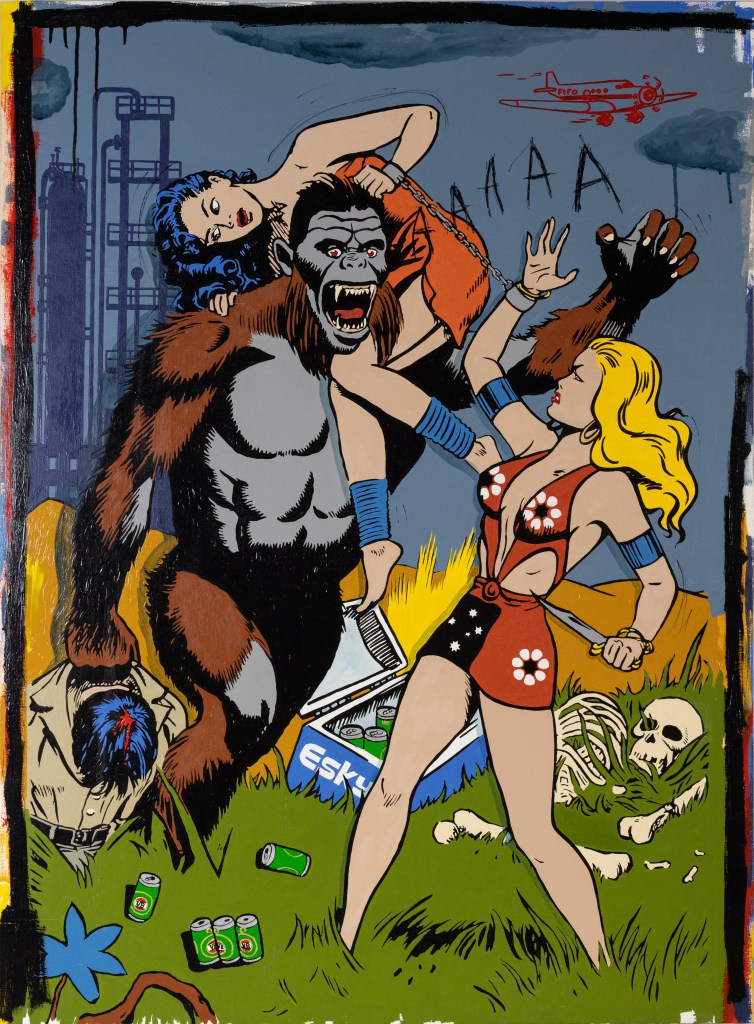 Gohier's comic-book references acknowledge the way pop culture has shaped our understanding of femininity. By layering unexpected imagery over these scenes and giving his characters a voice in ironic speech balloons, he fashions a new narrative.
Ritchie, in the video interview, explains the process of creating her digital prints (including the male figures that feature in them) from collages of various images. The masculinity on display in her pieces is thus quite literally a construct. As in Gohier's work, the images Ritchie draws on recall – and subvert – cultural touchstones that have informed our ideas about gender (Crocodile Dundee, for instance, or action film and pulp romance heroes).
Read: Exhibition review: Michael Cook, Jan Murphy Gallery, Queensland
With irreverence and sharp wit, these Territory artists probe cultural myths and explore questions of identity on a national and personal level.
Some Like it Hot, curated by Wendy Garden, is touring nationally and was exhibited at Flinders University Museum of Art from 20 February-6 April as part of Adelaide Fringe.