Kate Bohunnis was announced the winner of the Ramsay Art Prize 2021 last Friday, the biennial prize presented by the Art Gallery of South Australian (AGSA) to an artist under 40 and worth $100,000.
Bohunnis won it with a kinetic silicon and mechanical sculpture titled, Edges of Excess (2020), which has been described in the past week as everything from sagging skin to stretched-out bubblegum.
The winning piece was shown off to a side gallery – going against prize exhibition conventions – an exhibition that included 24 finalist works selected by judges artist Karla Dickens, Carriageworks' director of programs Daniel Mudie Cunningham, and Rebecca Evans, AGSA curator of decorative arts and design.
Bohunnis' installation was presented alongside a video work by First Nations artist Dean Cross – which all but shared a relationship on the colour wheel, a distinctive pink hue.
His moving image work is described as 'a double portrait, where Cross' body collides with the figure of Sidney Nolan and the rhetoric that surrounds this Australian Modernist. At once, Cross presents himself as Nolan's surrogate, and reprimands Modernism's active erasure of Aboriginal Australia.'
In a nutshell, it is about inserting First Nations artists into the art historical canon (not as subtext or footnote) but as a central figure equivalent in status to Nolan. It is currently also on show in On Earth, at QUT Art Museum, while Bohunnis' Edges of Excess was originally commissioned by ACE Open for its 2020 South Australian survey exhibition, If The Future Is To Be Worth Anything. 
It is another reminder of the role that ARIs (artist run initiatives), small to mediums (S2M) and university galleries play in the arts ecosystem, and their value at supporting and shaping the careers of artists 'as feeders'.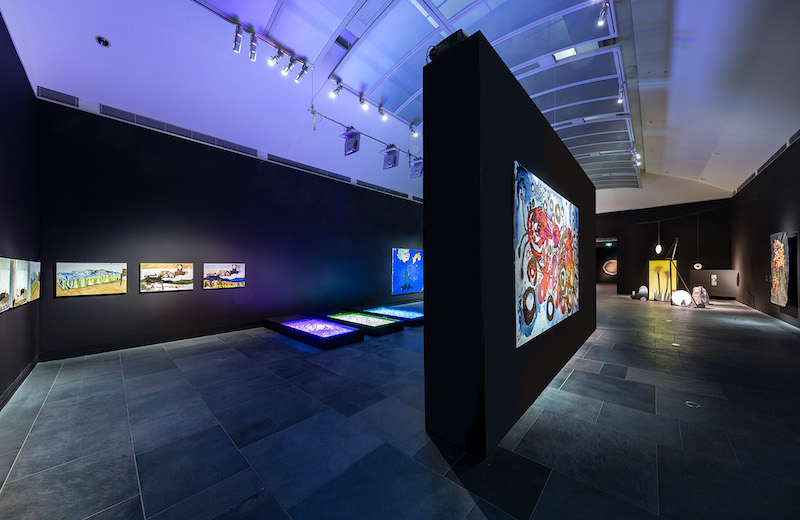 Installation view Ramsay Art Prize 2021, Art Gallery of South Australia. Photo Saul Steed.
RAMSAY'S REPUTATION FOR MATERIALITY
The Ramsay has quickly garnered a reputation for its bold and broad embrace of materiality. As AGSA Director Rhana Devenport described at the prize's opening, 'You see an incredible cavalcade of materiality, of depth and expression reflecting our times … If you look around today you can see there are no limits in medium or materials.'
The message is that textile art, glass, drawing and collage are every bit as current as 3D digital imagery, drone footage (embraced by Ella Barclay), multiscreen projections and silicon – used in both Bohunnis' winning work and a sculpture by WA-based Nathan Beard.
The inaugural winner in 2017 was Sarah Contos with a feminist textile work, The Long Kiss Goodbye. In this edition visitors explore the contemporary edges of material through textile works by Anna Madeleine Raupach, Julia Gutman and Kasia Tons, as well as a luscious jewel-like glasswork by Liam Fleming, titled Post-Production.
Appropriately, Fleming's work explores the complicated relationship between craft, art, design and architecture.
Witness to that currency held in the intersection of material and idea, is Raupach's work Slow Violence (Gospers Mountain) – among the first works encountered entering the gallery – translates data that visualises fire damage to vegetation in the 2019 Gospers Mountain bushfires, by hand-stitching vivid coloured thread into an emergency thermal blanket.
Similarly pushing the boundaries and perceptions is Kasia Tons' work After, which she created by rolling up her canvas and hiking in locations in New Zealand, Alice Springs and South Australia, drawing on it during the day and then stitching into it in the evenings. Created over several months it a contemporary twist on the tradition of en plain air.
It sits alongside Daniel McKewen's three channel video installation, A Rising Tide, which sadly overwhelms it in the space, which reads as rather cluttered. This juxtaposition, however, describes the reach of the Ramsay.
McKewen presents a post-apocalyptic near-future of flooded cities and crumbling skyscrapers, with the feel of Inception, the 2010 sci-fi action thriller which used the device of stacking and retracting environments, architectural and natural. The difference is that McKewen's video is not a dream-scape but an arresting and alarming proposed future reality.
McKewen's film was a magnet for audiences, deeply clustered around it and transfixed. Perhaps it is a sign of the collapsing world 'as we know it', which we have recently witnessed.
PANDEMIC PRESSURE POINTS
It is not surprising that a survey prize of making now should throw-up works that confront living amidst this tetchy pandemic.
One example is Julia Gutman's textile-based installation, No one told me the shadows could be so bright, which was made from clothing donated by friends during the 'panic of 2020' as she described it, with a new twang to conversations of intimacy, mourning and memory.
Another example is Queensland artist Sam Cranstoun's installation of archetypal watchtowers, titled Look Out! Cranstoun explains that it 'reflects the contemporary phenomena of surveillance culture and how it has dovetailed with the COVID-19 pandemic.'
Sam Cranstoun's installation of archetypal watchtowers, Look Out! Ramsay Art Prize 2021 finalist. Art Gallery of South Australia. Photo Saul Steed.
Adnyamathanha and Luritja artist Juanella McKenzie also shares a story in her work that 'isolation' is not a barrier to COVID-19. When the pandemic hit, she started to weave Yurndu (Sun) from emu feathers, which took more than 100 hours to make.  
Yurndu includes a garland of quandong seeds as emus play a critical role in the plants' regeneration, with each quandong seed representing growth and resilience. The weaving acts as a symbol of hope, the artist's wish that the sun will shine on a new day that is free of this pandemic.
SURE WINNING CONTENDERS
What, however, stands out in this exhibition is a pair of photographic series by Tehran-born Hoda Afshar and First Nations artist Hayley Millar-Baker.
Afshar's images of 'washout', or perhaps 'whitewashed', busts call on the authoritative vernacular of the museum, but use a 3D scanning process to create portraits of Australian whistleblowers and 'recognising the human faces who disrupt larger systems while echoing the surveillance aesthetic of facial recognition and body scanning technology,' she explained.The work is titled Agonistes and is paired with a 20-minute video.
Also reckoning with the body and the past, Millar-Baker's series I Will Survive, inserts multiple versions of herself onto familiar landscapes of her childhood to interrogate the way memories are made through acts of remembering and misremembering.
Both bodies of work are meticulously crafted and equally worthy as alternate winners to this prize.
Looking at the exhibition more broadly, it is interesting to consider Bohunnis' work in the swag of other sculptural works and installations, from the organic 'wonky crafting techniques' of Nabilah Nordin sculpture of found material Smudging Day (Family Grime), to the slick architectural 'playground' Cranstoun's Look Out!
Installation view Zaachariaha Fielding's A Question About Direction, Ramsay Art Prize 2021 finalist. Art Gallery of South Australia. Photo Saul Steed.

Big paintings in the mix were provided by Tom Polo with a splashy 'klein blue' jump of colour against the black walls of the gallery, a filmic inspired suite of paintings by Nicola Smith that wrap around a corner of the gallery like frames in a narrative, to incredible contributions by First Nations artists Zaachariaha Fielding and Ngen'gi wumirri man Kieren Karritpul.
Fielding said of her painting, A Question About Direction, that it 'acknowledges that the world feels weird and unsettling right now. It acknowledges pain and conflict (both historic and current) but also refuses to succumb to it. It asks how are we all going to go forward together?'
It is a good message for this year's Reconciliation Week.
Overall, the Ramsay Art Prize 2021 is a solid presentation of individual works. It doesn't work so brilliantly as an exhibition – but then that is to be expected with a finalist exhibition that aims at the broadest pulse.
4 out of 5 stars ★★★★
Ramsay Art Prize 2021
Art Gallery of South Australia
22 May – 22 August 2021
Finalists exhibited: Hoda Afshar (VIC), Cigdem Aydemir (NSW), Ella Barclay (ACT), Nathan Beard (WA), Kate Bohunnis (SA), Sam Cranstoun (QLD), Dean Cross (NSW), Zaachariaha Fielding (SA), Liam Fleming (SA), Julia Gutman (NSW), Solomon Kammer (SA), Kieren Karritpul (NT), Juanella McKenzie (SA), Daniel McKewen (QLD), Alasdair McLuckie (VIC), Hayley Millar Baker (VIC), Nabilah Nordin (VIC), Tom O'Hern (TAS), Tom Polo (NSW), Anna Madeleine Raupach (ACT), Anna Louise Richardson (WA), Lisa Sammut (ACT), Nicola Smith (NSW) and Kasia Tons (SA).
The writer travelled to AGSA as guest of the gallery.