The Art Gallery of Ballarat is presenting two interweaving exhibitions, Pre-Raphaelites: Drawings & watercolours and In the Company of Morris with works spanning 19th century London to contemporary Australia.
Unlike the usual art history jargon that may accompany works by the Old Masters, Pre-Raphaelites succeeds in providing an accessible overview of the rebellious collective. It's refreshing how the exhibition and its accompanying labels bring out the youthful energy of the Pre-Raphaelite Brotherhood (PRB), and highlight the ways in which they pushed conventional standards of beauty and intimacy.
Works in Pre-Raphaelites are drawn from the University of Oxford's Ashmolean Museum, a large number of which are delicate and rarely exhibited works on paper. The exhibition walks visitors through the PRB's philosophy, inspirations and methods, as well as their way of life.
A section is dedicated to art critic John Ruskin, who was a strong advocate for the Pre-Raphaelites and drew throughout his life. In 1871 Ruskin founded the School of Drawing, now University of Oxford's Ruskin School of Art. In the exhibition are his drawing studies, some of which Ruskin donated to Oxford for training art students.
What drew this reviewer in Pre-Raphaelites are the portraits of women, who are often portrayed with a calm, steady gaze. A centrepiece is Cloister Lilies (1891) by Marie Spartali Stillman (1844-1927), who not only modelled for Dante Gabriel Rossetti (1828-1882) and Edward Burne-Jones (1833-1898) but later became an artist in her own right. There is softness and beauty in the young Florentine women depicted, but the slightly pursed lips suggests worry and contemplation.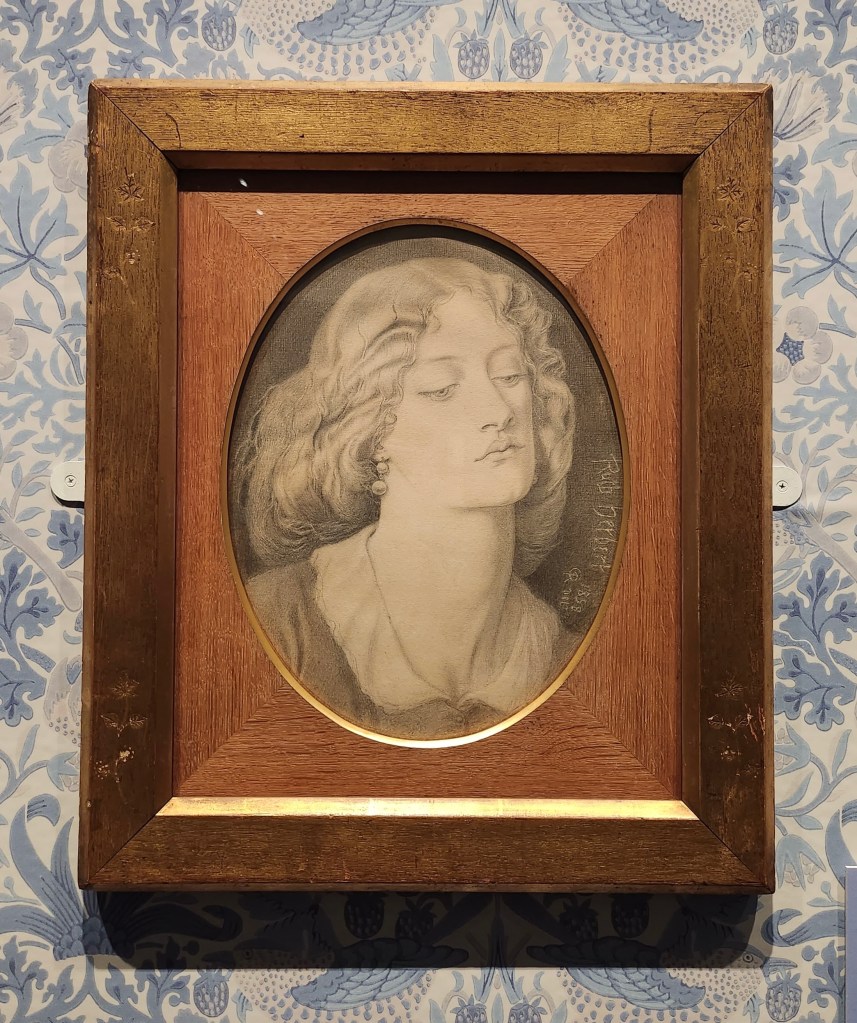 In Rossetti's Portrait of Louisa Ruth Herbert (1858), the actress exemplifies physical beauty and what Rossetti called 'stunners'. The almost masculine jawline and downcast gaze (supposedly from the perspective of when Herbert was on stage) embody a quiet confidence, which Rossetti described as 'the most varied and highest expression I ever saw in a woman's face beside abundant beauty'.
Overall, Pre-Raphaelites is an exhibition that is in depth, without being overwhelming. The display also features a blue and white wallpaper design by William Morris. The wallpaper used in the exhibition is a modernised version of Simply Strawberry Thief by Morris & Co.
A revolutionary thinker, advocate, designer and artist, Morris is often associated with the British Arts and Craft movement, and played a significant role as a member of the Pre-Raphaelites.
In the Company of Morris
In the Company of Morris highlights Morris' continuing influence and legacy on thinkers, artists and makers in Australia. Several members of the Pre-Raphaelite Brotherhood travelled to the Victorian goldfields in 1852, and the Art Gallery of Ballarat was among the institutions that purchased early works.
This second exhibition include a wide-ranging selection of works from the Gallery's Collection. Some thread tightly with the Pre-Raphaelites, while others offer more contemporary interpretations of Morris' philosophy. Contemporary artists, including Deborah Klein, Paul Yore, Carole Wilson, eX de Medici and Kate Rohde, exhibit alongside peers and acquaintances of the Pre-Raphaelites such as Bernhard Smith (1820-1855), and Norman (1879-1969) and Ruby Lindsay (1887-1919).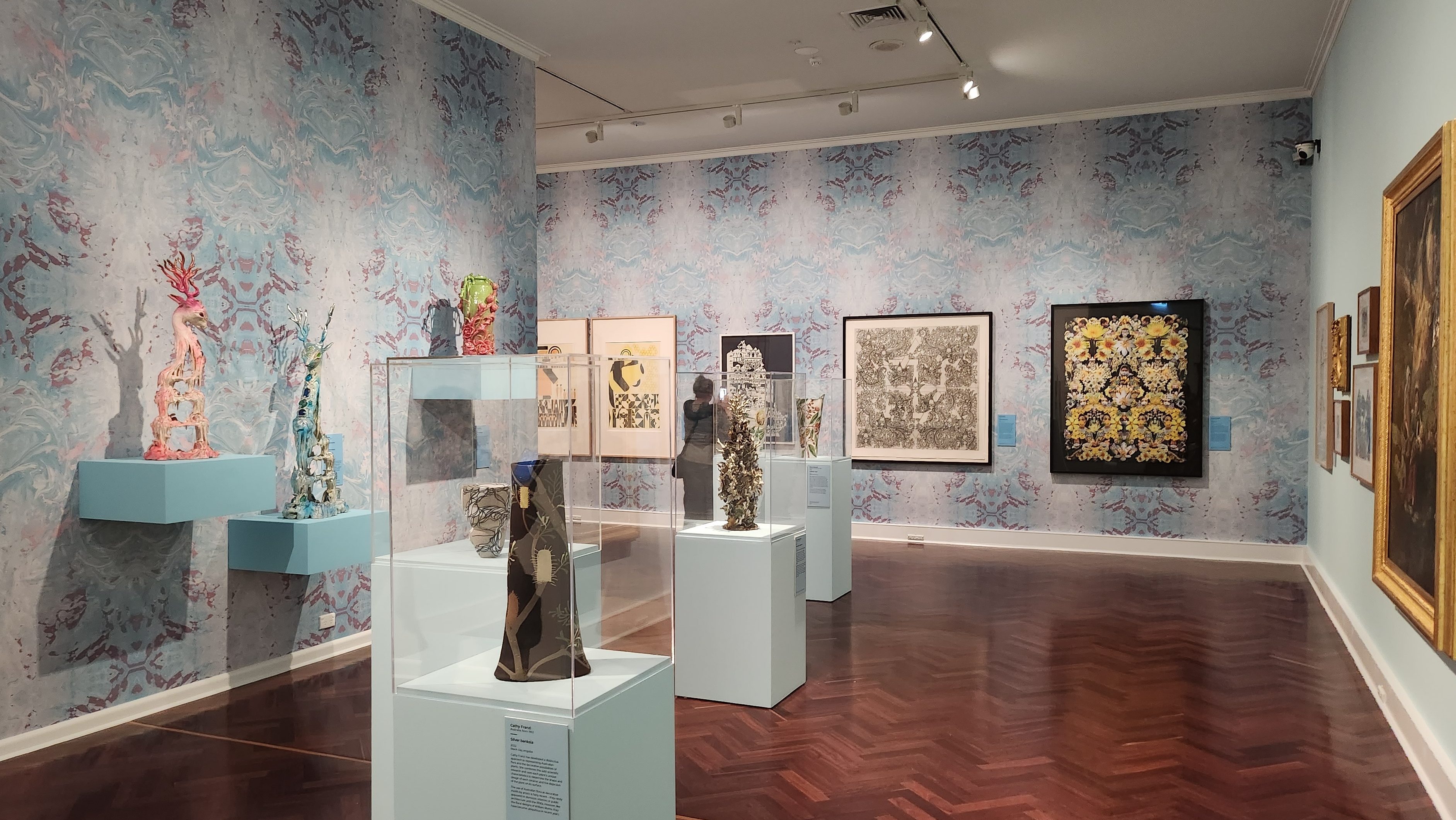 For this exhibition, Rohde has created a blue wallpaper that resonates with Morris' design in Pre-Raphaelites, but responds to the more fluid and abstract aspects of his ideology.
Major installation pieces such as Elizabeth Pulie's Italian (1994) and Carole Wilson's Amphorae (2006) continue to test the boundaries between art and craft, while examining Morris' lasting influence.
In the Company of Morris also brings in contemporary discussions around colonisation and cultural appropriation, such as via Emma van Leest's All matter that exists (2009), which acknowledges Indian and Chinese influences in textiles, craft and design.
Read: Exhibition review: Pierre Bonnard: Designed by India Mahdavi, NGV
In pairing the two exhibitions, Pre-Raphaelites and In the Company of Morris, the Art Gallery of Ballarat is staying true to its founding principle of art for all. At the heart of these works are stories of people, whether they be artists, makers, models, writers, communities or revolutionaries.
Pre-Raphaelites: Drawings & watercolours and In the Company of Morris are on view at the Art Gallery of Ballarat until 6 August; one ticket grants entry to both exhibitions.