Pierre Bonnard: Designed by India Mahdavi opens this Friday 9 June at the National Gallery of Victoria (NGV) as part of its Melbourne Winter Masterpieces exhibition this year.
Organised by the NGV in partnership with the Musée d'Orsay, Paris, the exhibition features more than 100 works by French Post-Impressionist artist Pierre Bonnard (1867-1947) and selections by his peers and early contemporaries.
Rather than a usual masterpiece exhibition in a 'white cube' gallery setting, international award-winning architect and designer India Mahdavi has created a bespoke scenography to showcase Bonnard's works in a different light.
Mahdavi is an Iranian-French designer known for creating lush and sensuous environments, such as the sensational 'pink room' at Michelin-starred tearoom and bar, sketch London with works by British visual artist David Shrigley.
Mahdavi said at the media preview on Thursday 8 June that the exhibition is 'an opportunity to have a conversation with Bonnard but also a conversation between art and design'.
Director of Musée d'Orsay Christophe Leribault added that 'seeing Bonnard through India's vision is a revelation' and the exhibition offers 'am immersion into Bonnard's sensibility'.
A look inside Pierre Bonnard: Designed by India Mahdavi
Significant works on loan from Musée d'Orsay include Bonnard's paintings Twilight, or The croquet game (1892), Bourgeois afternoon, or The Terrasse family (1900), In a boat (1907) and The dining room in the country (1913), alongside a selection of self-portraits and intimate photographs.
Also included are pieces by Bonnard's frriends and contemporaries in the Nabi circle (Les Nabis, active from 1888-1900), such as Édouard Vuillard, Maurice Denis and Félix Vallotton.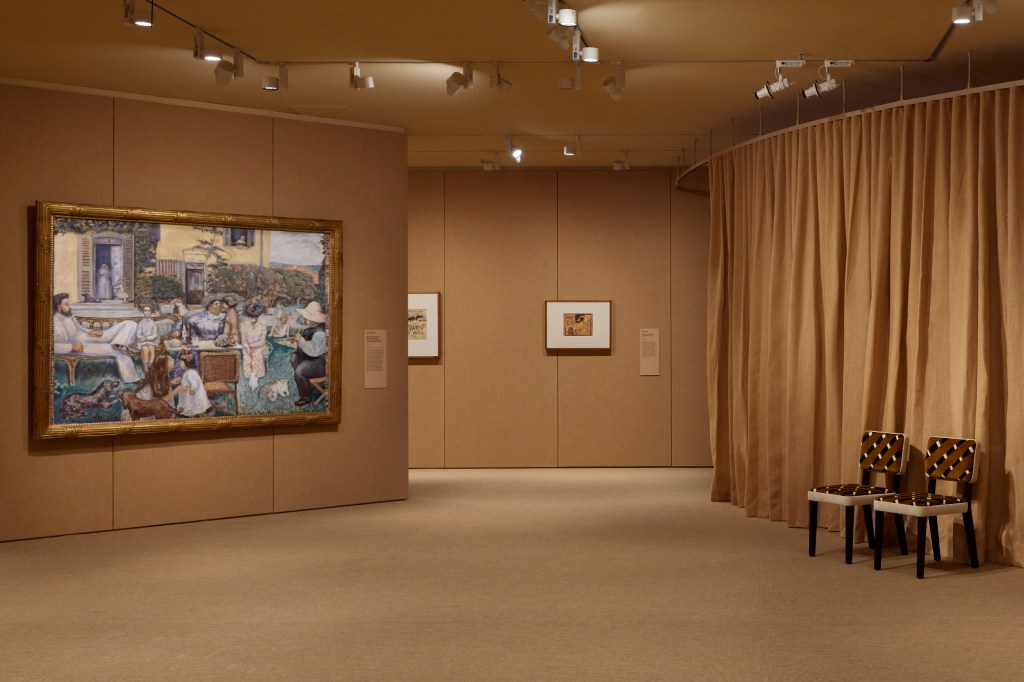 Pierre Bonnard: Designed by India Mahdavi traces Bonnard's role in Post-Impressionism and his varied artistic influences, including theatre, set design, and Japanese prints and patterns. What is most apparent is his fascination with the everyday – casual moments that are often transformed with rich colours and unconfined forms.
Several sections of the show dwell on Bonnard's engagement with theatre and music, including his involvement in creating some 300 puppets for performances of Alfred Jarry's controversial Ubu Roi, when the live action version was banned after just two performances (one of which being the dress rehearsal).
Rather surprising is the inclusion of a collection of photographs from 1899-1901 taken by Bonnard or his lover and life-long companion, Marthe de Méligny (aka Merthe Boursin). A series of nudes where the two took turns as model and photographer offer a more intimate glimpse into their relationship. On the opposite wall is the painting Siesta (1900) of de Méligny lying in bed, revealing how Bonnard took inspiration from the photos, but also consciously reconstructed them.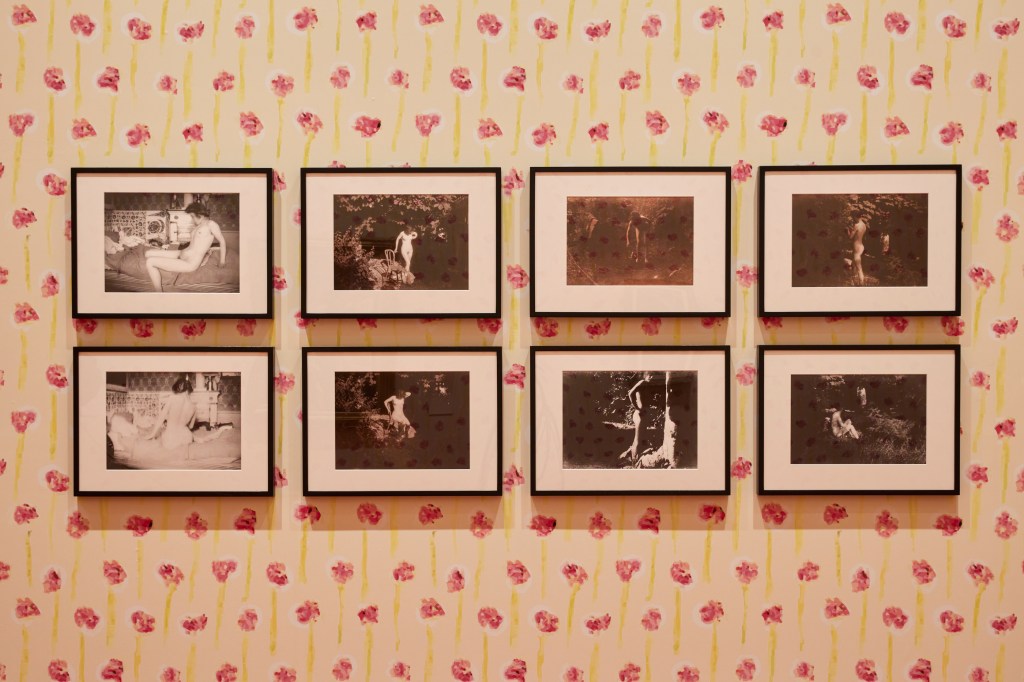 Towards the end of the exhibition are later landscapes completed after Bonnard's move to the south of France. View of Le Cannet (1927) is one of these sublime works, where dense foliage in muted colours surrounds a bright townscape.
Also included in this space are two of Bonnard's self-portraits from 1931 and 1938-40 with rather contrasting perceptions. Bonnard painted The boxer (Self-portrait) at the age of 64 in a representation that is rather child-like. The artist is seen in a boxer stance, but his expression seems to be one of worry and anxiety. In comparison, the Bonnard in the Self-portrait seven years later appears much more calm and stable, reflecting a time when the artist was at peace.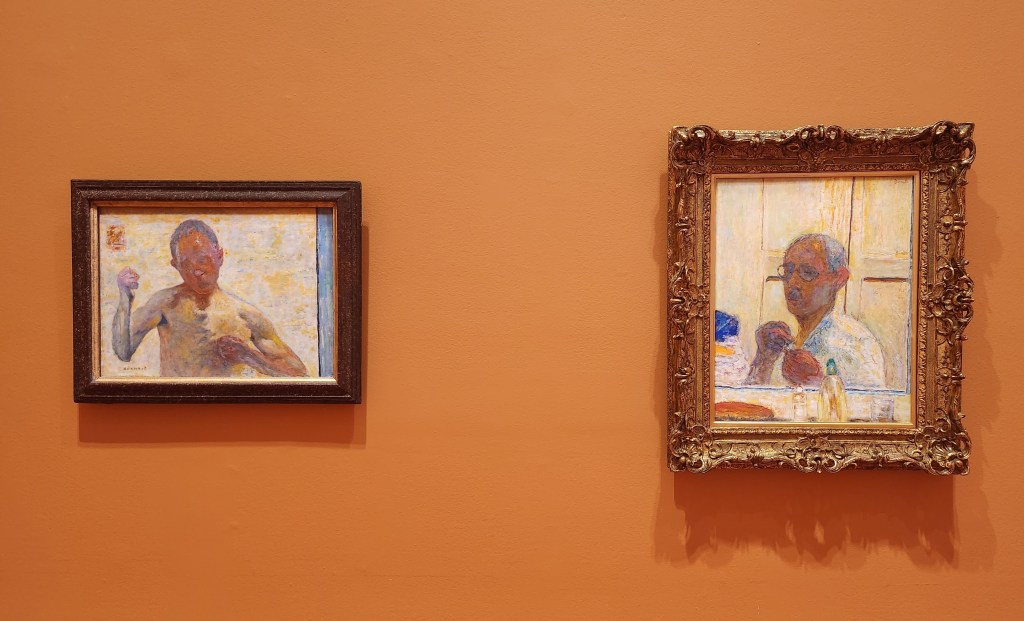 Pierre Bonnard: Designed by India Mahdavi is an opportunity to see the scope of Bonnard's oeuvre, and discover new encounters with the celebrated artist. In some ways, unexpectedness has become a cherished aspect with these kinds of masterworks exhibitions, and it is something that the exhibition certainly delivers.
In an earlier ArtsHub interview, Senior Curator of International Exhibition Projects at NGV, Miranda Wallace, said: 'Often with those shows, the calibre of the paintings [is such] that you want to present them in as invisible a setting as possible… [but Bonnard's works have] allowed – demanded – a breaking of the rules.'
So, does it work?
In this effort to not only combine art and design, but for design to add to art, Pierre Bonnard: Designed by India Mahdavi opens with a room that gives too much of everything – shapes, colours and patterns on top of an already dense selection of artworks mean that the eye has nowhere to land. And neither can your feet in a situation where crowds gather near the doorway.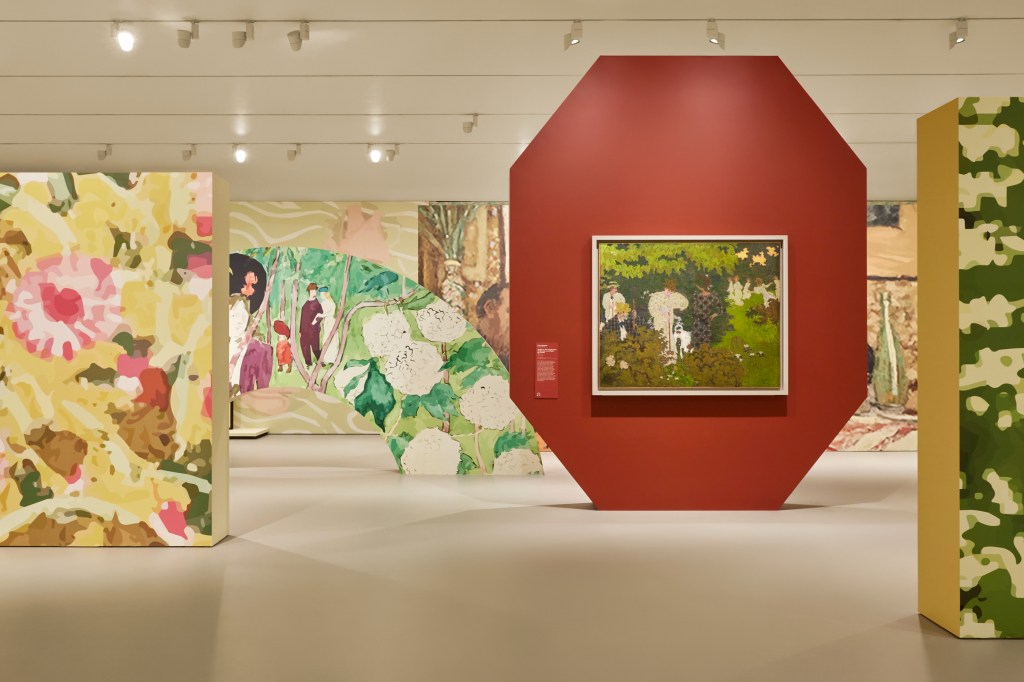 Yet, this non-linear trajectory is rather intentional. As Mahdavi said, the first room represents 'a landscape of time' that aims to capture how Bonnard and his peers were exploring new painting elements.
Moving forward, it becomes clear what the show does get right is colour theory, and using this to pair with and capture the essence of Bonnard's paintings. Mahdavi has selected hues and tones to delicately bring out details that may have otherwise not been picked up.
However, the same can't be said regarding patterns, which have been created through enlarging elements in Bonnard's work, sometimes to a pixelated degree. In the second section of the main gallery space, roses, checkers, stripes and dots scream for attention, like in a candy factory that uses too much artificial sweetener.
Perhaps it is in this setting that the importance of the frame feels the most pronounced, creating a physical barrier for the eyes to adjust between the wallpaper and the artwork itself.
Overall, the exhibition presents fewer design objects than expected, where perhaps some thinking has been lost in the gaps between object design and exhibition design. Even so, when visitors do encounter Mahdavi's furniture pieces, they appear out of the blue, like in a corner below the exit sign or lined up in front of paintings (it's unclear whether they are to be looked at or sat on).
This sparseness means that where there are furniture pieces and lighting fixtures, the space instantly feels like a showroom rather than an exhibition – especially with the memory of the NGV-hosted Melbourne Design Fair still lingering from a couple of weeks prior.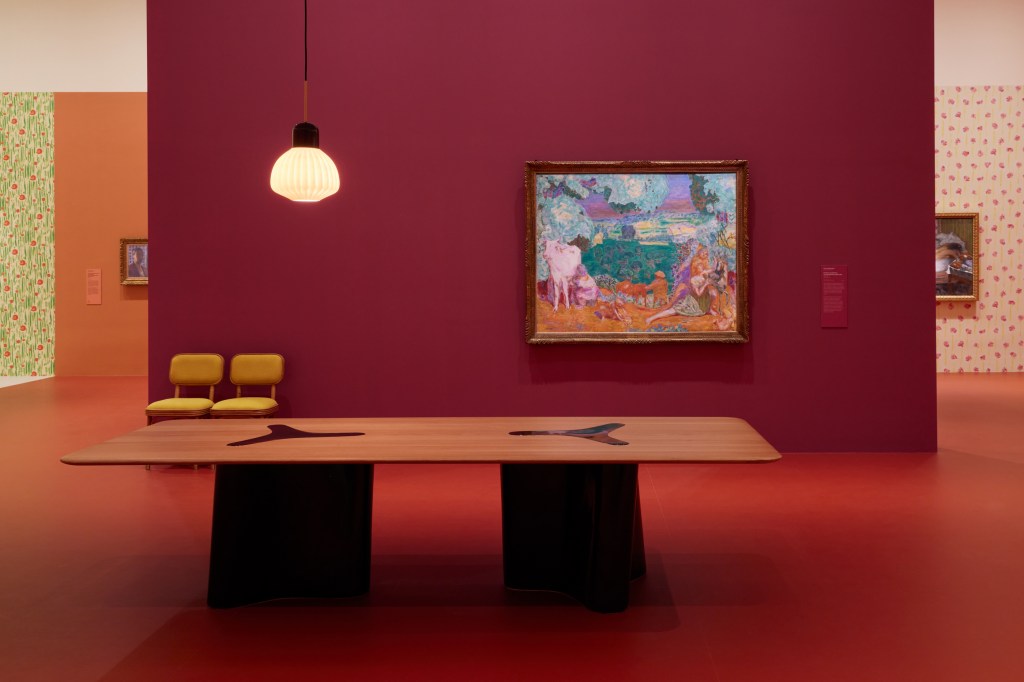 It's also curious as to why the furniture pieces haven't been better integrated into the experience of the exhibition, such as to replace the regular hard benches placed in front of video screenings with the beautifully arched sofa in the adjacent gallery.
As a viewer, it is perhaps the in-between spaces that are the most satisfying and where Post-Impressionism and contemporary art and design work in harmony rather than collide. For example, the soft subtlety surrounding Bourgeois afternoon, or The Terrasse family, and the simple but effective arrangement of colour and furniture for 'In the Studio', where Bonnard's two self-portraits hang in juxtaposition.
Pierre Bonnard: Designed by India Mahdavi is on view from 9 June to 8 October 2023; admission fees apply.