MIRKA, the artist's largest survey staged by the Jewish Museum of Australia, is more than an art exhibition; it's scraps of life lovingly gathered in what makes Mirka Mora (1928 – 2018) one of the most beloved artists to this day.
'Untitled (Tolarno Mural)' (1966) makes for a theatrical opening with Mirka's signatory vibrancy and doll motifs as visitors are guided into a room full of family memorabilia, ranging from childhood photos to collected teddies.
Segmented into interconnected spaces each with a coloured thematic, the exhibition continues in this style showcasing a breadth of artefacts that conjure stories, memories and aspirations. From the establishment of the Mirka Café in 1954 (shared in one of Mirka's journal entries) to the meeting agenda for the Contemporary Art Society, the collection documents the struggle, persistence and innovations of George and Mirka Mora.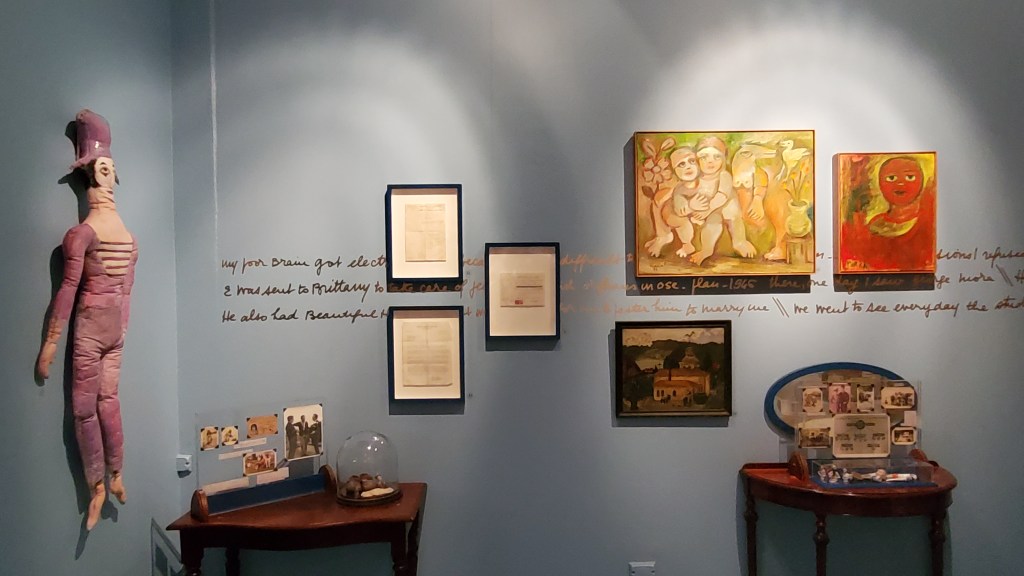 A show of this scale would be sure to include the lesser seen side of the artist, and MIRKA is no exception, featuring tapestries, patchwork, sketches, and later in the show, theatrical designs where Mirka let her imagination run wild.
Several large and significant paintings also make an appearance, including the charcoal diptych 'Adam and Eve' (c. 1967), 'Admiring the Black Sun' (1980), and 'Piglets at Anlaby' (1968-92), complete with a fabric installation that makes you feel like an adventurer in the Mirka jungle.
Read: Book review: Danged Black Thing, Eugen Bacon
While being a visual feast dabbed with Mirka's own handwritten notes, the ambiguous categorisation and grouping of artefacts can quickly become confusing if approached without context.
Due to the lack to curatorial text (said to better channel Mirka's own voice), visitors who come with a bit of knowledge of Mirka and her history are able to better appreciate the scope of this exhibition and delve into the intricacies of a life lived in full.
However, if life was ever a coherent story, you can expect more than a timeline from this exhibition. Mirka's unwavering resilience, dedication, and the love for life and art can be felt without delving too deeply into identifying the objects or their chronology.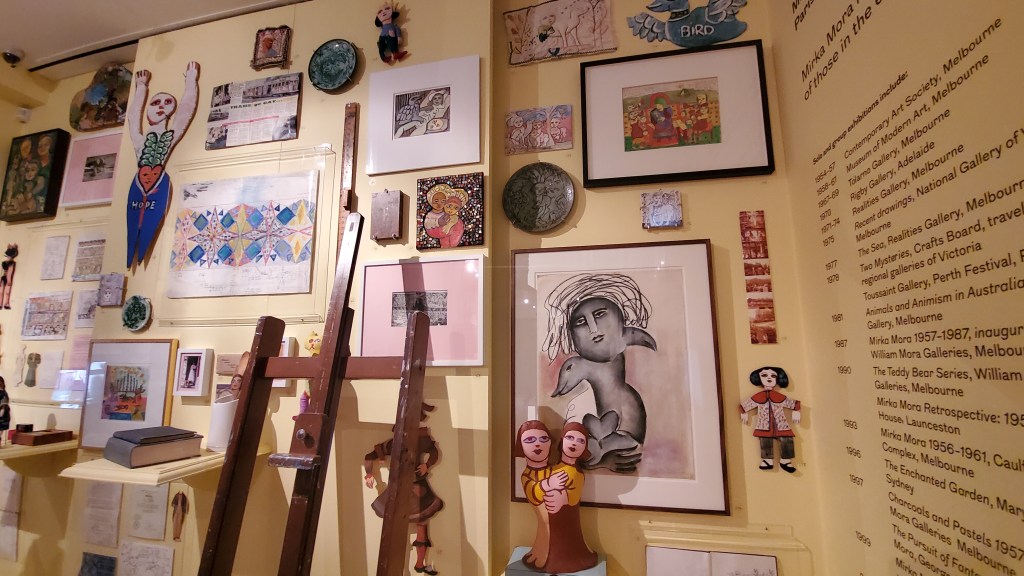 Within the compact space of the Jewish Museum's upstairs gallery, the visit can range anywhere from 30 minutes to hours – very much in the Mirka spirit of choosing your own adventure.
Overall, the multi-faceted exhibition brings together close to 200 documents of Mirka's life not only as an artist, but as a holocaust survivor, migrant, businesswoman, family member, and adored community icon.
MIRKA is presented by the Jewish Museum of Australia, in partnership with William Mora Galleries and supported by Heide Museum of Modern Art, until 30 January 2022.