Melbourne Now 2023 opened for its second edition this past weekend at NGV Australia: Ian Potter Centre. This power-boosted survey exhibition of over 200 Victorian artists, designers and creative collectives (should it be called Victoria Now?) is understandably exhilarating …and exhausting. So how do you start to break it down, and make sense of what you are seeing?
The answer to viewing Melbourne Now is to not try and force it to fit into any one box, as one may do, say with a themed biennial or blockbuster exhibition, but rather allow its holistic philosophy to seep into your viewing experience. Simply, it's a less spectacular thwack and a more connected nuance.
Ten years on since Melbourne Now was first staged in 2013, Greater Melbourne has grown by more than a million people, dramatically impacting the look, function and priorities of this urban landscape. On top of that, how we make – and live with – design has also dramatically changed, as studio concerns have a deeper sustainability and social lens.
It is fitting, then, that the first work visitors encounter is Gathering Space: Ngargee Djeembana (N'arweet Carolyn Briggs and Sarah Lynn Rees), originally commissioned by the Australian Centre for Contemporary Art (ACCA) as part of Who's Afraid of Public Space? (2021-22), and now acquired by the NGV.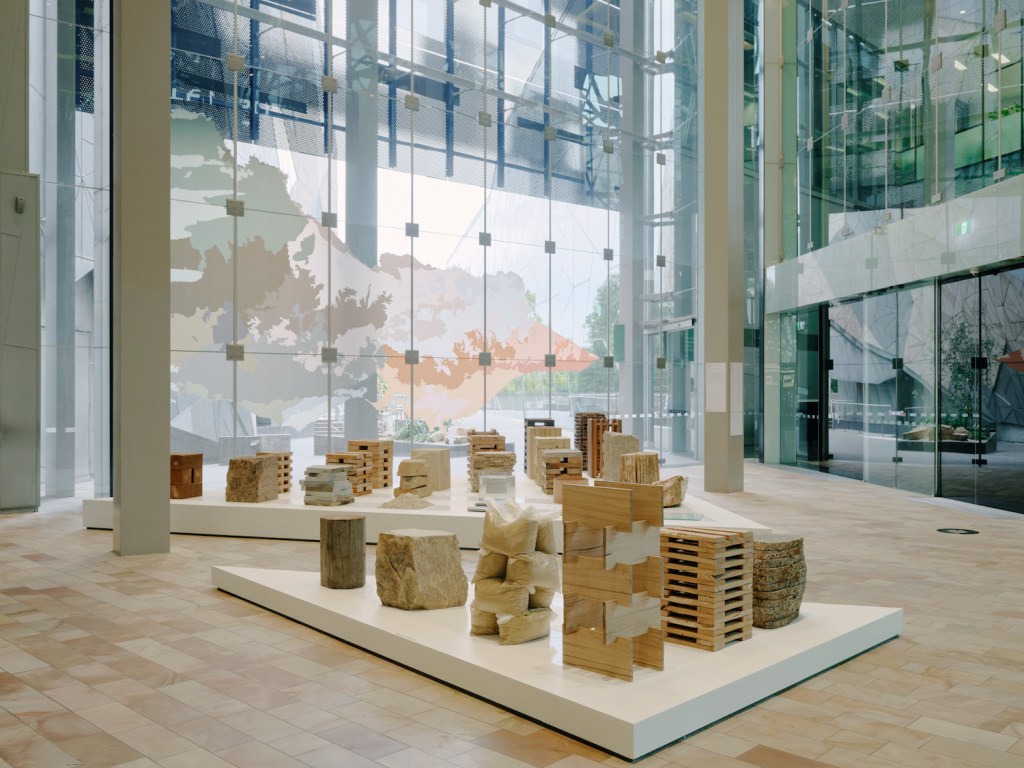 Combining more than 55 construction materials sourced in Victoria, the installation invites one to consider what it means to build on top of, and with, materials from Country. It is a great launching pad to how we may unfurl the complexity of ideas across Melbourne Now – ideas that have become blurry in our contemporary times as architecture rubs shoulders with fashion, as jewellery blurs into performance, and photography contests accepted ground alongside new narrative technology.
This inseparability of the social in design is most literally mapped out in the return of Design Wall, where 35 consumer products – from electric motorcycles to garden hoses and pillows – are pitted as agents for change. It's an easy read – a tick for Melbourne Now as a design portal – but where this exhibition gets deeply interesting, is when the curatorial hand extends the artist's narrative.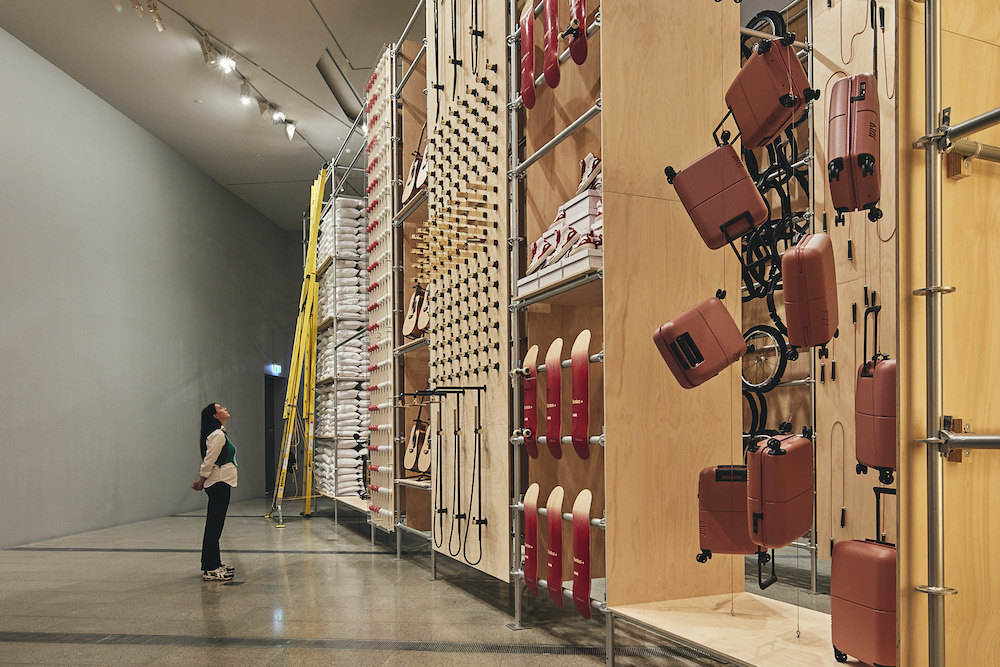 For example, Drew Pettifer's video works Untitled (Ruel) and Untitled (Bram) 2020 (presented earlier in NGV's recent QUEER: Stories from the NGV Collection exhibition), unpacks brutal gender and sexuality exclusions and is situated within the 19th century galleries alongside paintings of the same period of Dutch colonialism, offering a porous flow between histories and ideas. Presented as a performed work, it sutures gender politics of our day (and a lot has changed since the last edition of Melbourne Now with same-sex marriage, #MeToo etc) with equally resonant current conversations of colonial power structures.
Another great example is Helen Johnson's double-sided work Foundation (2021-22), which includes imagery produced around the time of Australian Federation and is suspended in the Joseph Brown Collection, aptly questioning our understanding of Australian history.
We see it again with the incredible The wills project by megan evans, presented in the 19th century galleries and loaded with colonialist tensions. Her delicate over-painting of native feathers and birds that have been deposed from their lands, on the very legal documents that transfer ownership of property, makes for a quiet, but very powerful message.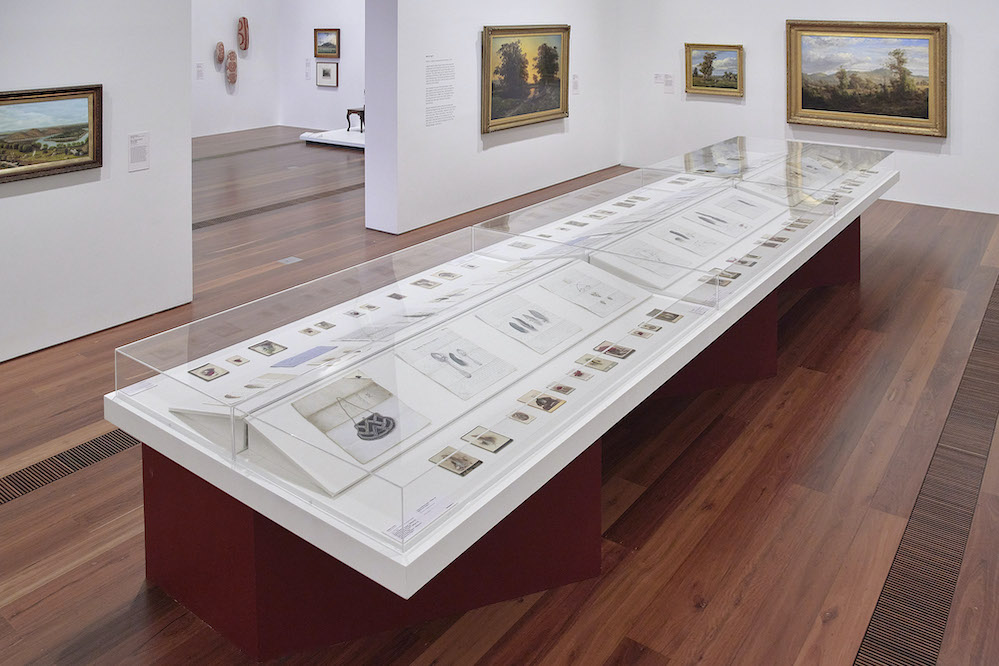 While these threads demonstrate a dialogue with the Gallery's Collection – and the role of artists today as whistle-blowers and agitators – there is also an irreverence at play across the exhibition that is typically Melbourne 'edgy', offering a kind of kaleidoscopic counterbalance and jostle of mediums.
There is a sense of 'anything goes', notes NGV Curator of Contemporary Design and Architecture, Timothy Moore in the exhibition catalogue. 'Melbourne is booming, but the urban development resulting from this unprecedented population explosion appears messy, unruly and wild, and it often seems like no style or rules are guiding the growth … anything goes.'
In many ways this sentiment feels like the backdrop to this massive show, which allows for that creative freedom and socially alert practice. It is extremely broad and nuanced, occupying all four levels of the gallery – as opposed to its first edition in 2013, when it was diluted across the Gallery's two venues. This adds a focus.
Every curatorial department was involved in the creation of Melbourne Now, with 70 new commissions unveiled. While the exhibition has been structured around medium-based sub-themes, it has not been hung that way, with works instead peppered across the Gallery spaces, drawing lateral connections. In some ways, this forces the visitor to work harder to pull Melbourne Now together as a cohesive exhibition, finding themselves questioning, 'is this part of it, or not?' I don't mind, however; reality is never neat.
One of the most successful of those sub-themes is Slippery Images, which explores that 'messy zone' between familiar and unfamiliarity, and challenges photography as a straightforward representation of the world around us. From cutting and collaging, to painting over and piercing through, weaving, suspending and sculptural – photography has a physicality in Melbourne Now that is refreshing.
Perhaps one of the best examples is Māori Wahine artist, Kirsten Lyttle's Kahu Whakaahua (2022-23), a traditional cloak constructed from collaged images. Another is Kelly Koumalatsos's dress Portrait of sister in laws; Wemba Wemba Great Aunty Frieda Stewart and Wergaia Great Grandmother Eleanor Stewart (2019), constructed from possum fur-printed tissue paper, in a subversive takeover of colonial costume and power.
This kind of remix and compositing is not exclusive to digital media in the exhibition. Those ideas nicely link across works, such as Jan Nelson's impressive installation, Black River Running, which is made from hundreds of protest T-shirts crocheted into a four-metre circle – a rug that effectively corrals the social causes that have shaped us, not as alarming headlines, but with domestic wholesomeness.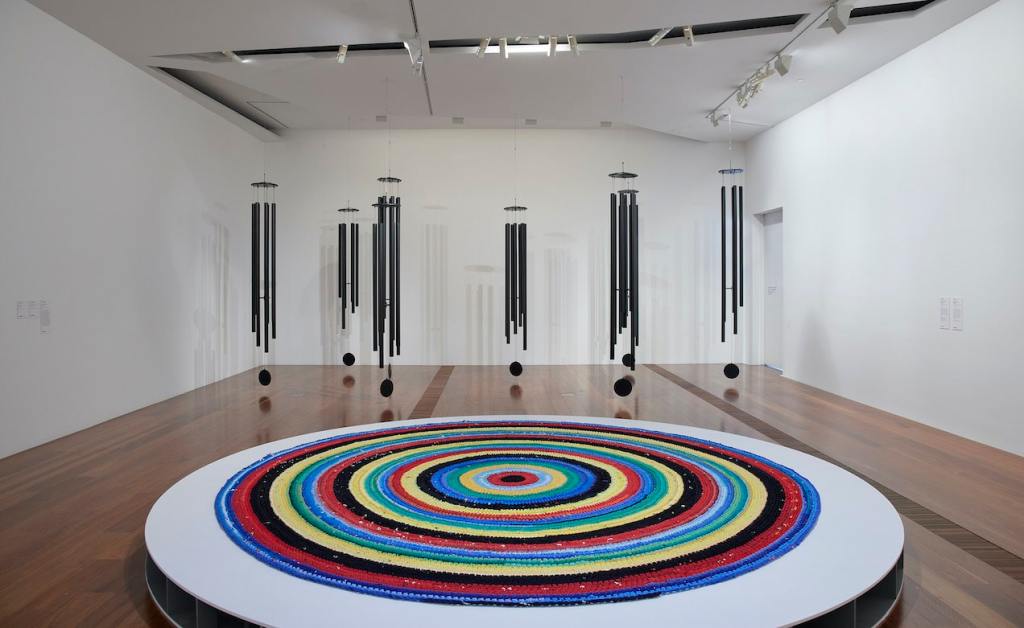 It is presented adjacent to eight hanging wind chimes, that can be activated by the viewer to play protest songs. Threads can be found across the exhibition to Christian Thompson's illuminated red room, Burdi Burdi (Fire Fire), which is a sonic lament for the loss of First Nations languages; to Sean Hogan's Volume 1 (2022), a wall-sized redacted text from the Mueller report investigating Russian interference in the 2016 US presidential election and Donald Trump's obstruction of justice; to Gracia Haby and Louise Jennison's wallpaper, The remaking of things (2023), a digital collage created from a hundreds of works held in the NGV's Collection and accompanied by a sound- and lightscape, in a message of restored habitat.
While technology has an underlying aspect to these works, the palpable catalyst of 'the now' is left to such artists as Shaun Gladwell, Kiron Robinson, Rel Pham, Georgia Banks and James Lemon, whose works utilise extended reality (XR), QR (quick response) codes, reality TV tropes, social media and avatars. Each uses technology to offer pathways for understanding the human condition.
Most extreme is Gladwell's newly commissioned installation, Passing Electrical Storms, which simulates the experience of dying through XR and medical technology to offer an 'out of body' experience, and potentially a moment for recalibration.
Also searching for meaning, Rel Pham's new commission TEMPLE (which extends an earlier work commissioned by 4A Centre for Contemporary Art) is described in the catalogue thus: 'Pham yanks this digital landscape out of the screen and into the physical realm, blurring the boundary between the two.'
Entering this room-sized neon piece, visitors are caught in an overwhelming world of computer fans and gaming references, drawing on parallels between Taoist cosmology and iconography, with computing language, asking, 'Is there a culture to our digital experience, and how do we humanise the digital object to badge connectivity?'
Kiron Robinson, similarly, turns to an avatar for his Crawling Man project, inviting visitor participation through a QR code, as does James Lemon in his installation, Swarming. It is not surprising this thread of searching for connection is an undercurrent across the exhibition, with Melbourne Now coming off the heels of Melbourne's 'recent' now, aka pandemic lockdowns.
This is where, in a wry and kooky way, we are permitted to find linkages across this exhibition, with works such as Kenny Pittock's 52 ceramic replicas of shopping lists, found while working in a Melbourne supermarket during COVID. It is these lateral leaps that offer this exhibition its depth, and strength.
Thankfully, it's not a COVID-heavy exhibition, but rather it perhaps signals a next wave of making 'now' that is the ricochet of those experiences – a more human lens to this world that nudges, bustles around and bullies us.
NGV Director Tony Ellwood says, '[Melbourne Now 2023 offers us] an invaluable opportunity to pause and reflect on who we are as a city. This exhibition looks inward at the concerns of artists and designers, but also outwards at the world that wraps around us – a world of beauty, a world of complexity. This is what Melbourne creativity looks like right here, right now.' One can only agree.
I am compelled to mention a number of other standout works in Melbourne Now: Meagan Streader's light installation Sky whispers (2023); Jenna Lee and Kojima Shōten's stunning light installation of culturally cherished and contrasting notions of light in Balarr (To become light), Hannah Gartside's Forest summons (for Lilith) (2022-23), Elvis Richardson's lolly pink Settlement and the Gatekeepers (2022), Lou Hubbard's soft installation of deflated Zimmer frames, Walkers with Dinosaurs (2021-23), Beverley Meldrum's thought-provoking jewellery, Peta Clancy's Confluence (divulging narratives of place where the Merri Creek and the Birrarung meet) and, of course, so much more.
The exhibition is up for five months. It has been a decade in coming. And especially with it showing concurrently with other major survey exhibitions – The National 2023 (NSW), Portrait23: Identity (ACT) and the TarraWarra Biennial (Vic) – this is a unique moment for anyone interested in contemporary art to take the pulse on where art is directing us.
Melbourne Now 2023
NGV Australia: Ian Potter Centre
Federation Square, Melbourne
24 March – 20 August 2023
Free; daily public programs.