Samstag Museum of Art has a history of pulling out the big stops during Adelaide Festival – a moment to place international contemporary art projects alongside homegrown ones. Sometimes this pairing is more seamless, and at others – like this year's edition – they are largely standalone exhibitions.
In one camp there is Adelaide-born Helen Fuller, with a meaty, quirky and gutsy room-scaled installation of hand-built ceramics. She is the kind of artist that speaks to notions of collegiality, to legacy and a fearless passion to experiment over decades.
In the other camp, the big international name is British artist Isaac Julien, who is no stranger to Australian audiences. His offering pairs what could be described as his signature work, a 9-channel video installation Ten Thousand Waves (2010), with his more recent video, A Marvellous Entanglement (2019).
There is an odd synergy, however, that makes sense of the pairing. Fuller's assemblages were shown in the 1998 Adelaide Biennial and Julien's video, Ten Thousand Waves had its Australian premiere with the 17th Biennale of Sydney. Editions of both contemporary surveys open concurrently with Samstag's 2022 presentation, and underscore these moments as frontiers of discourse.
Where this gets interesting is when one considers Fuller and Julien's work in tandem, and what they might mean for our times now; and for Adelaide.
While the initial response might be that Ten Thousand Waves (2010) is a bit stale, the reconfigured work takes on fresh narratives 12 years on, especially when paired with Julien's latest video installation, and in the context of the 2022 Biennial's theme Free/State, just across town.
Read: An exhibition that restores artists' agency in contested times
Julien's video installation remains all-engulfing and impactful in Samstag's lower galleries; its nine floating screens conveying the story of 23 Chinese cockle-pickers who died in what become known as the Morecambe Bay immigrant labourer's tragedy of 2004.
It explores the movement of people across countries; journeys predicated on hope and risk. Julien fuses this global contemporary story of immigrant labourers with an ancient Chinese fable from the Fujian Province (where the cockle-pickers originated). The goddess Mazu (played by Maggie Cheung) leads fishermen, lost and in danger at sea, to safety.
In prompts viewers to recall Australia's own history of indentured workers, and asylum seekers who also turned to journeys over sea in hope of a better life, and are still held in detention centres; not to mention thousands of immigrants fleeing the Ukraine at the time of its screening. It is a kind of universal, conceptual portrait that Julien constructs.
That idea is taken further in his second video – a 3-channel piece – which takes the buildings and visionary wisdom of Brazilian architect and designer Lina Bo Bardi (1914–1992), and uses them to tell a much broader socio-political story, and the role culture plays within that.
Linear time is a western invention; time is not linear, it is a marvellous entanglement, where at any moment points can be chosen and solutions invented without beginning or end.

Lina Bo Bardi
Bo Bardi's buildings play out her pantomime of new thinking. Narrated across modernist architectural icons: the São Paulo Museum of Art (MASP), SESC Pompéia, Teatro Oficina, Museum of Modern Art of Bahia, the Coaty Restaurant and the Gregório de Mattos Theatre – with an ethos of bringing culture to the masses, again this video has currency as Australia faces a spike in expanding its cultural infrastructure over the past few years. And then on the flipside of that, there have been many debates around how our government places value (or not) upon the arts while we live through the recent waves of the pandemic.
It is a fantastic artwork – poetic, beautifully framed, thought-provoking and universally current in its subtle questions. The ideas are further echoed in its presentation; the screens sitting on concrete modernist blocks.
Julien celebrates Bo Bardi in her prime – a mature creative spirit – as is the work of Fuller here. This is where we can take the leap across the space and find a visual connection to Fuller – another artists who, as Ross Wolfe describes in his exhibition text, 'is inventive and productive, unafraid to explore or to experience change.'
Both women reinvent themselves and extend their creative passions as equally as the day they started making.
We see this beautifully played out by Fuller in her exhibition titled Off road. All the vessels – or 'pots' as she calls them – are hand-built, organic, and yet confident, despite the artist coming to ceramic late in her career. The pots defy easy crafty classifications and are sculptural and organic. They sit in a darkened gallery on custom pedestals that continue the sense of hand with their surfaces washed with clay slips. The walls carry a custom wallpaper. It is an incredibly cohesive body of work.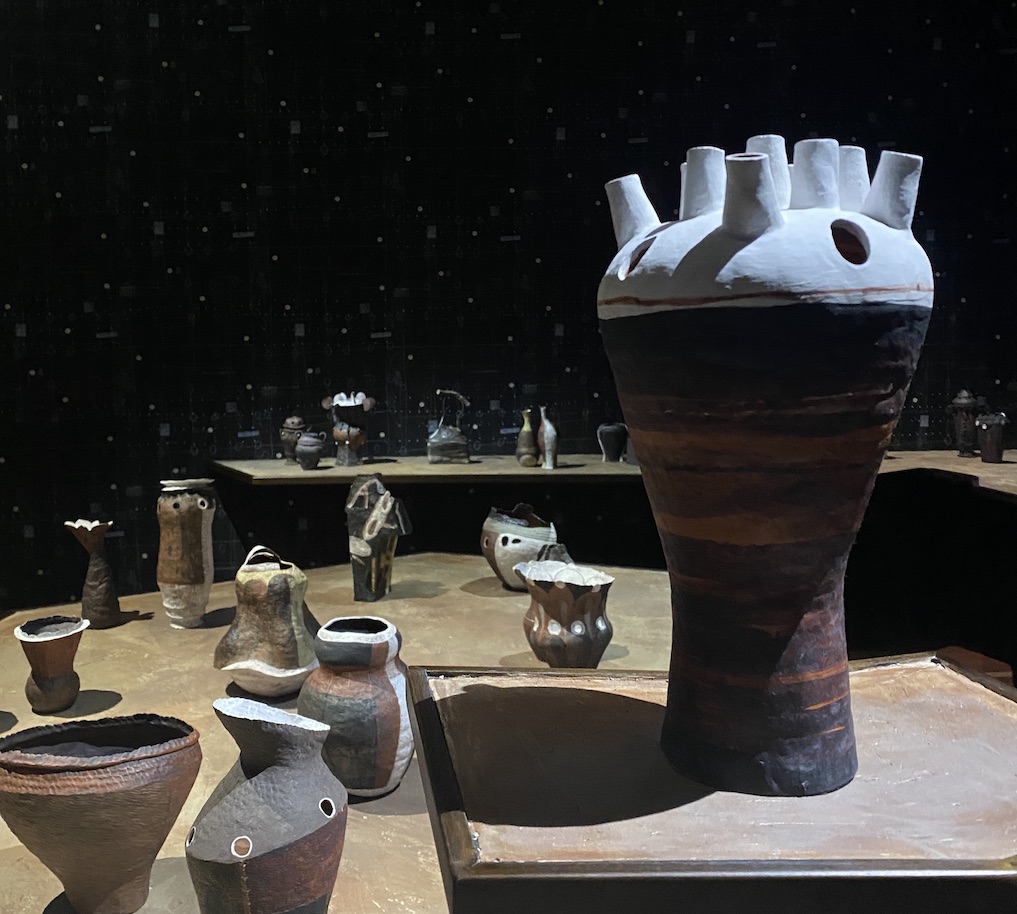 While each of these pots seems to capture an emotion or aspect of Fuller's personality, so too do each of Bo Bardi's building reach out to the viewer with a fresh approach. Julien has structured the film so it is part homage, part poetic journey played out by Brazilian actresses Fernanda Montenegro as Bo Bardi, and her daughter Fernanda Torres. The viewer is entrapped as part voyeur, and part cheer squad for her revolutionary wins.
However, Julien also makes the point that culture (and architecture) remain perilous unless nurtured. Which brings us back to the impact of these exhibitions in our times. They scream the need for culture to be supported; for culture to deliver us with the narratives to help understand our world, and mostly, to remove the kind of geography and silos that society likes to impose and to encourage us to embrace the free spirit that leads us forward.
Isaac Julien and Helen Fuller
Samstag Museum of Art
University of South Australia.
Adelaide
Free admission
Isaac Julien and Helen Fuller will be on display until 27 May 2022