Why is it that we often feel a sense of surprise when we see great art in regional galleries? It is such an antiquated position, and yet it prevails. Ingrid Morley's exhibition at Orange Regional Gallery is a case in point – it could have been presented in any gallery in the world and still impress.
The Oberon-based artist has created a new body of work that moves between small drawn studies to large-scale sculptural pieces in steel and other materials. They are largely a processing of loss – after her studio was destroyed by fire and the death of a friend – and are what Morley describes in the room sheet as "restorative", through their making.  
Morley's drawings, which are elegant, abstracted gestures in matte black on handmade paper, are first encountered as they usher viewers into the small gallery. There is a hint of the mechanical form, which is distilled down like silhouettes against a setting sun. They are not laboured over, their repetition freeing them into a confident minimal gesture.
Curator Lucy Stranger writes that they are, 'like an anamorphic alphabet … part machine and body … [and that they] carve meaning when other systems have failed/fallen away'. Grief, and loss, forces us to recalibrate our emotions and actions, and Morley's drawings offer something of a profound Haiku.
Looking at them, I can't help but think of Robert Motherwell's Elegy to the Spanish Republic – the repeated poetic gestures of black on white, over 200 works that dig deep into that cycle of life and death. Living regionally, that cycle is ever-present.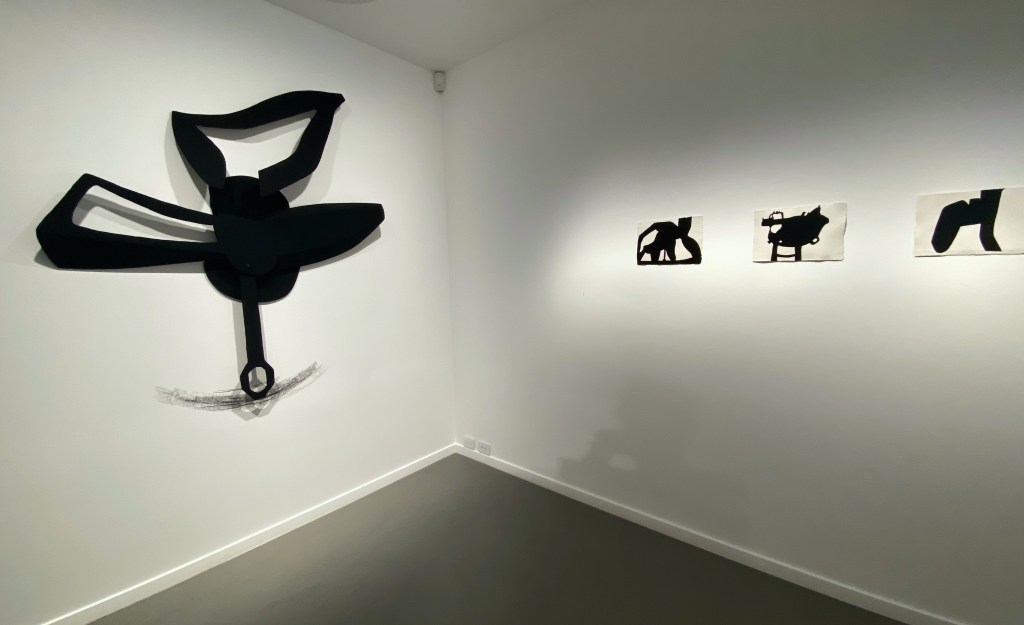 The Past is Just Behind Us II (2023) expands those small drawings into a large wall work, and element leaving a skidded drawn mark on the wall – not unlike the way a plough adds a line to the land.
Morley lives on the land; her home is surrounded by the skeletons of heavy machinery, which she dissects and reforms into her sculptures. Stranger adds of Morley's sculptures that they, 'appear as relics from the future, using materials from the past'. The patina on these pieces adds a humanity to their heavy structures.
Read: Exhibition review: Two Girls From Amoonguna, ACMI
Morley eloquently moves across scale, and has a confident grasp on her materials. It is amazing the number of sculptors who get scale wrong. She also has the capacity to breathe a lightness and fluidity into these rigid materials, using a pop of colour to emphasise form and pause, within the individual pieces.
This is a stunning exhibition, and I walked away feeling it had been a gift to have been introduced to Morley's work.
Ingrid Morley: The Past is Just Behind
Orange Regional Gallery
15 July – 10 September 2023