From room-sized installations to performed gestures, videos and soft sculptures, drawing today is energised, experimental and engaging. There is no better forum to explore the porous boundaries across mediums than the Dobell Drawing Prize, which comes around every two years and is staged by the National Art School.
This year's exhibition features 64 finalists (drawn from 1062 submissions), with Queensland artist Jane Grealy announced as the winner of the 23rd edition of the $30,000 prize.
In some ways, Grealy's drawing is the intersection of two threads across this year's prize – a passion for realism, and an interest in the natural environment. Practising as an architectural illustrator, Grealy overlays a 'frame' of white lines atop a delicate rending of the meandering garden of her neighbour Maria. It is a relic of the past as a migrant's suburban garden, and yet is a kind of ode to sustainable living for a better future.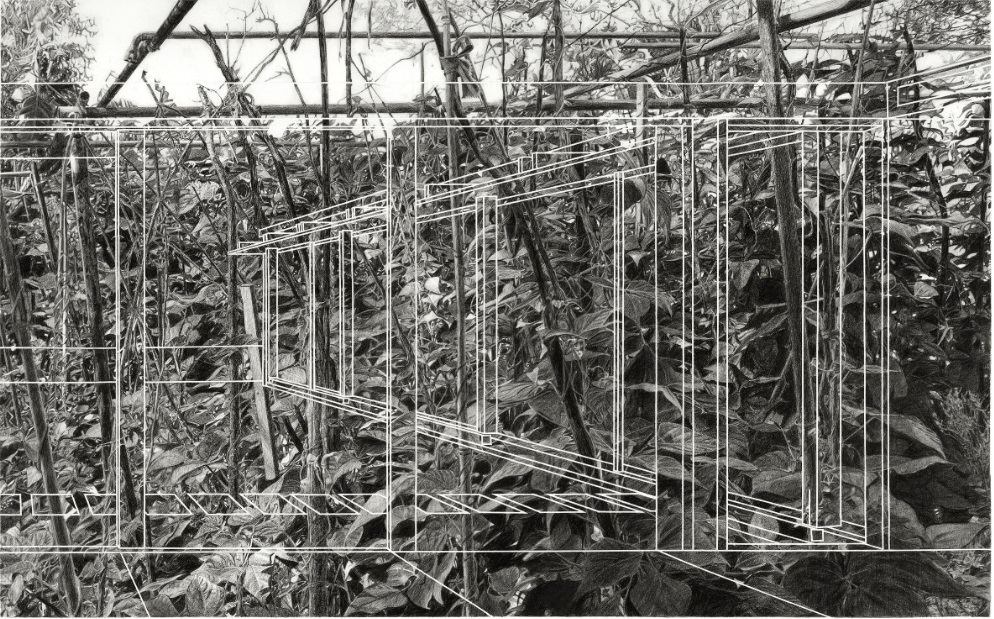 While it feels less edgy than perhaps some of the other drawings exhibited – such as Fiona Currey-Billyard's drawing Last Time I Swam With My Father II, created from salt, staples and rust on paper, or Jayanto Tan's The Waterfalls in the Moon Garden, created from used teabags and tea stain – Grealy's work reiterates the very high standard of technique that is a foundation to this prize.
It is also interesting in comparison with Hannah Quinlivan's exhibition, Conjunctures – a satellite solo exhibition on the National Art School campus. Restricted to a black and white pattern, Quinlivan's work also riffs off a grid formation to 'frame' the work. It has an uncanny connection to Grealy's work – both essentially talking about a spatial engagement.
Quinlivan delivers an exquisite exhibition, instructively walking audiences through an expansive understanding of drawing, with her works writhing across the space as studies in acrylic strapping, LED lights, shadow and also salt.
Audiences first encounter the enormous work Seepage, which feels part river/part contour map as LEDs cut through an inky woven field. Quinlivan uses the word 'tracery' to describe these new pieces – a tracery of cultural patterns, of lived anxieties, of shared emotions and generational connections.
These ideas are expanded in the main gallery space, where two major installations play off one another – a collection of plant-like, woven black forms serge skywards in Nocturne, while Fluency, also moving upwards, hovers as a single plane, cutting through space. Its materials are listed as acrylic, woollen yarn, salt and shadow.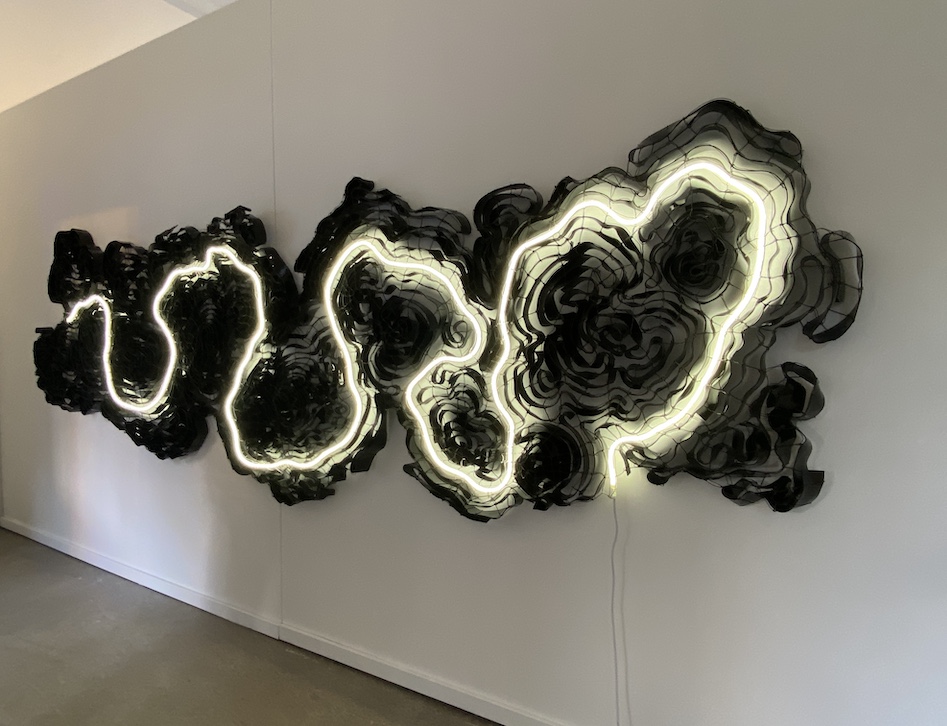 Around the walls these ideas and forms are further fleshed out – and there is an sense of stepping into a laboratory for new expression. As with any experimentation there is an element of trepidation, of fragility and tensions. Quinlivan brings these emotions into her play of light and dark worlds; they read as energy forces both as human expression and natural phenomena – interwoven and inseparable.
In the exhibition text, it is revealed that these new pieces are informed by cultural theorist Raymond Williams' concept of the 'structure of feeling, proposing that each generation's patterns of thought share characteristic impulses, restraints and tones, similarities structured by their social conjunctures and geographical circumstances'.
Quinlivan's spatial drawings offer that permeable, porous bleed between material and sensory, social and emotional. It is a stunning and maturely nuanced exhibition.
Hannah Quinlivan: Conjunctures
Dobell Drawing Prize #23 Exhibition
Hannah Quinlivan is a Canberra artist, and this work was commissioned by NAS Galleries to coincide with the Dobell Drawing Prize.
Both exhibitions are showing 31 March –10 June 2023
NAS Galleries