Regardless of how great a new building might be, it is only ever as good as the programs it delivers.
With Bundanon – the gifted property of Arthur and Yvonne Boyd in NSW's South Coast – opening with a rolling soft opening since mid-February, all eyes are on how the building functions.
Read: Inside Australia's first fire-proof gallery
We have heard much of Australia's first subterranean, fire-proof gallery, but does its savvy design take the visitor on a claustrophobic bunker-style journey? Thankfully not. The space is lofty and light-filled. In some ways, it pushes new museum thinking by way of using natural light thanks to advances in glass technology, thus allowing a more human (and less deer- in-headlights) experience of viewing artworks on show.
The surprises continue with this inaugural exhibition. If you head to Bundanon in the hope of a collection show of lyrical Boyd landscapes, you will be disappointed.
Read: Book review: Revenants, Adam Aitken
But if you take the journey (and it is a journey!) to embrace the ethos with which Boyd painted, then your mind will be opened in a delightful, unpredictable and totally fulfilling way with the exhibition From impulse to action.
Curated by Sophie O'Brien, the exhibition pairs prints and drawings by Boyd from the 1960s through the 70s, with contemporary responses to his work and the site. This is perhaps best illustrated in the opening work, a neon by First Nations artist Dean Cross titled, Axiom #1 – hardly 'Boydesq'. But its slogan, 'There is nothing to be afraid of', says it all; to take the punt, and be brave creatively.
It is this very creative rethink that taps into the genesis and ethos of the Bundanon project at large – from residencies, to First Nations knowledge and Boyd's passion for the landscape.
The exhibition is structured around 12 new commissions that take Boyd's drawing practice as their starting point, and push the boundaries of definition into performance, endurance, ephemeral, video, sound art, and more.
Walking into the main gallery with its nine-metre high ceilings, at polar ends is a cosmic, magical suite of drawings by Skye Saxon that take their cue from scribbly gums on the property to an expansive video/dance work by Jo Lloyd – an ode to Boyd's stage set from Robert Helpmann's ballet Elektra, created in 1963. No two works could be more different.
And everything in between adds to a slightly overwhelming, cacophony of creative outpouring.
Izabela Pluta's installation Counter forces (pictured top), seems to brace the rear wall of the gallery – a collage of photographs taken over the building of the museum are pinned to the wall by timber repurposed from old studio easels, which are anchored by cast bronze hands – as if gently holding on to this legacy.
Ceramicist Kate Jones presents a weighty array of forms on a low set pedestal that has an uncanny stage reference and bodily feel next to Lloyd's single channel video Death role (2021).
The slab-built forms are created from clay and ochre sourced from Bundanon and have a fleshy feel in their slips and surface. One can almost feel them breathing in the space.
In the work she reflects on the characterisation of women in Ancient Greek texts, such as Elektra, and in this we start to see how this discombobulated suite of works are conceptually very tightly played out. This is the strength of this exhibition – its capacity to take viewers on a leap from Boyd's work to something totally left of field – but strangely still humane in its connection to the viewer.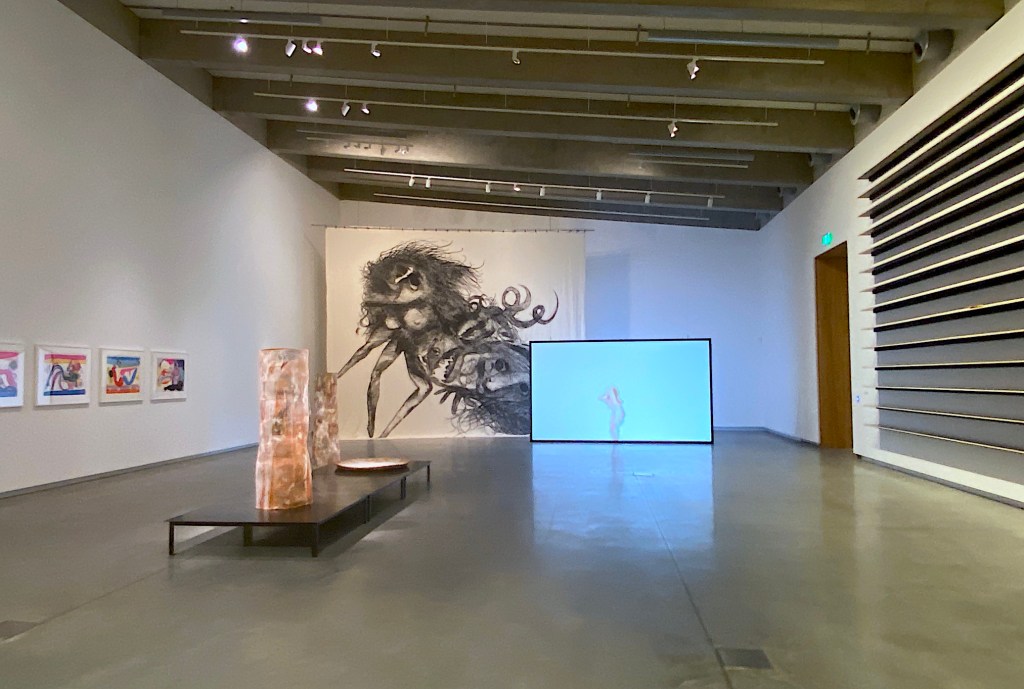 We have to remember Boyd's painting and drawings of the day were rigorous, at times experimental, and bold in finding their own language. This ricochet of images – a slide between past and present – starts to slowly seep into viewers' conscience, persistently anchored by his own drawings peppering the show.
Lloyd's video is a clear stand-out, projected seven metres high and echoing the central backdrop from Elektra. Performing the work herself, Lloyd's face is obscured, adding to the kind of primal, writhing quality – it is totally entrancing work.
Body and gesture continue in the second gallery with works by Tina Havlock Stevens and Rochelle Haley.
Havlock Stevens again picks up on Elektra and a Malcolm Arnolds score, improvising with a post-punk flavour. It is experienced as a kind of voyeuristic peep through glass into the collection store of the gallery (yet to be filled), almost as an apparition where past and present fuse.
Haley's interactive installation centres on the intersections of dance, drawing and painting – here using colours adopted from Boyd's palette used in the 60s, while responding to the new museum's architecture.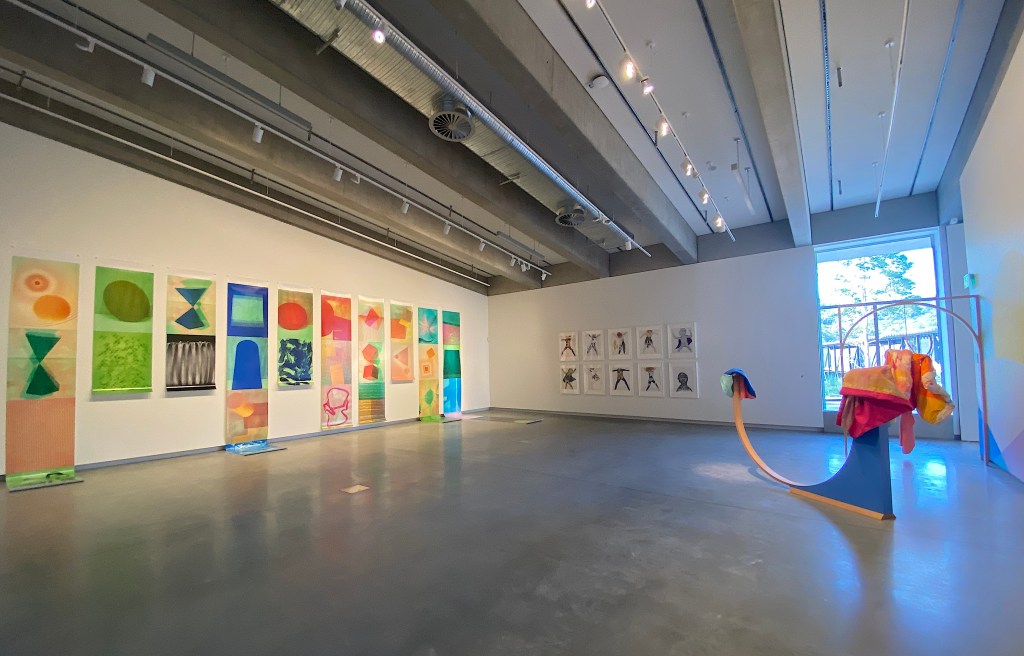 Collaboration and First Nations messages
This exhibition finds its full circle from past to present to future in a number of collaborative works with First Nations Elders, Uncle Steve Russell and Aunty Phyllis Stewart. Collectively they share knowledge of this particular place.
That connection was always important to Boyd, and one he nurtured. It is in the DNA of Bundanon and it is projects such as these which will continue to shape its future.
Taking up an impressive amount of gallery real estate is a wall of stacked shelves. At the time of viewing they were all but empty. The vision by artist Dean Cross is to fill them with woven bowls created in traditional weaving workshops during the exhibition period.
In 700 bowls, Cross has 'rematerialised' an entry from the list of provisions devised from the First Fleet, making the point that that First Nations technologies and enterprise would have made these items available to the new settlers.
Other works include the passing on of knowledge to young men through the making of a nawi (canoe) and fishtraps; and a suite of wall-based writings and sound by Kaitlen Wellington, to communicate an experience of intergenerational trauma and healing. They sit opposite drawings of Boyd's studies for Elektra, an opera plagued by trauma.
O'Brien captures both the genesis and future of Bundanon in this exhibition as an important site for cultural production and experimentation. It is a considered exhibition and, I feel, brave in taking the less obvious route as its inaugural unveiling – rather choosing to pivot the gallery's future on our perceptions of Boyd's legacy.
From impulse to action
Bundanon, NSW
Curated by Sophie O'Brien
With Boe-Lin Bastoian
Cost: $12-$18. Children under 12 free

From impulse to action will be on display until 12 June 2022