While this exhibition occurs on the 30th anniversary of Bundanon – the property and collection that Arthur Boyd gifted to the nation in 1993 – it is not your typical 'anniversary show' taking a formulaic wander back through time. And yet, fantastic forms is still an exhibition embedded with legacy and vision, which are the cornerstones of Bundanon's 30-year journey.
Co-curated by Head of Curatorial and Learning, Sophie O'Brien, and Boe-Lin Bastian, the exhibition pivots from the work of Merric Boyd (Arthur Boyd's father), in particular his drawings from the 1940s and 1950s.
Boyd is often referred to as the 'father of Australian studio ceramics', but this exhibition takes the less likely path by reframing the movement through the eyes of many, which has quickly become a signature of the Bundanon program, forcing one to stop and ask, 'What am I looking at?'
It also encourages visitors to Bundanon to think beyond the blinkering celebrity of the Arthur Boyd brand, expected of a venue so steeped in his legacy, and to consider the idea of 'legacy' more holistically as a extended DNA of making through residencies, education, landcare and performance – all of which are part of this exhibition.
That point of championing the alternative lens is established from the outset in fantastic forms. Upon entering visitors face a painting by Arthur Boyd – a highly unlikely and somewhat unsettling painting. It depicts one of his father's wheel-thrown pots (which is on view in another gallery) alongside a floating head, a portrait of a three-month-old Arthur fashioned by his dad in clay – presented matter-of-factly in a flat, shallow perspective. It is a perfect threshold to step over into this exhibition, which positions three artists with very different practices, at very different stages in their career, and working at different scales and mediums, alongside Merric's drawings in an organic narrative of legacy.
The first gallery pairs Merric's drawings in what O'Brien describes as 'cloud formations', which drift in a cluster to link to Nabilah Nordin's bold new sculpture presentations. There are three in the main gallery, and I've deliberately called them 'presentations' as their pedestals act as stages – exaggerated and theatrical – with Nordin's works sitting atop as players in a narrative of shared gesture, line and colour.
In their most extreme, fabric wraps and writhes skyward, dwarfing the object on top; another is animated with charcoal collected from the property following the recent bushfires, connecting site and landscape as integral to both Arthur's and Merric's practices.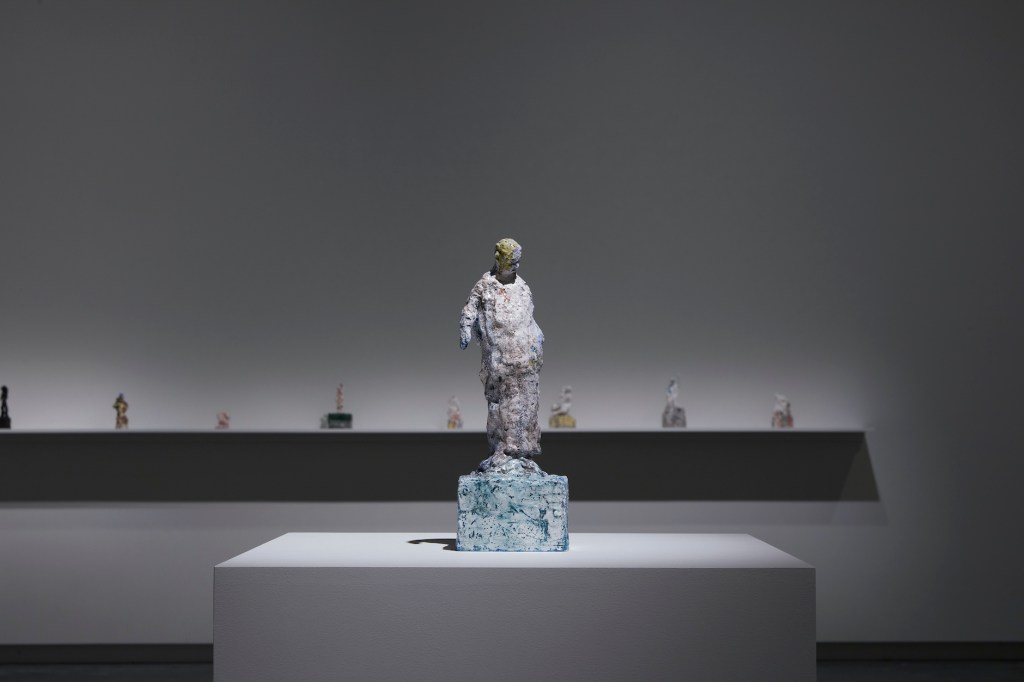 From the macro to the micro, the narrative of gesture continues in the next gallery with the work of Melbourne ceramicist Stephen Benwell, perhaps better known for his large pots with delicate glazing (the choice not to include these removes a point of unwarranted comparison with Merric's own studio practice).
For fantastic forms, the curators have corralled Benwell's tiny ceramic portraits – most no larger than 20 centimetres tall – and marched them around the corner of the gallery. They sit at a height allowing for a bodily engagement that emphasises a human connection.
They are anonymous psychological studies – all male – and their delicate gestures are deeply introspective and speak of human frailty, an unhinged vulnerability that Merric knew well, as a person who lived with epilepsy and a lack of bodily control.
Similarly, these portraits are seemingly caught in mid-action or mid-thought, and have the quality of being unfinished or 'unrefined'. Created from 2015-2023, they are here being shown together for the first time, and they offer a natural flow into the next gallery, which celebrates Merric's 'unrefined' works.
O'Brien makes the point that while Merric's work would have looked 'eccentric at the time – it is exactly what a contemporary artist does, to draw all sorts of connection together, and have an absorption in their own world. How Merric inhabited that role – that unselfconscious absorption – was so far ahead of his time,' she says.
It is this unguarded expression with which Arthur grew up – a legacy that Bundanon continues today through its residency program. This is what fantastic forms endeavours to communicate over, say, a more conventional milestone narrative with an anniversary show.
Benwell describes being influenced by Merric in this idea of not having to stick to a production line – that an object could be both functional and sculptural. For viewers, that vibrancy of a lived expression – call it legacy if you want in this instance – is palpable.
Consider this another way. In this room throbbing with colour and gesture, across sketchbooks and vessels by Merric, there is an open vitrine. Preciousness gives way to the lived object. In it is a collection of Merric's functional pottery (O'Brien speaks of having to clean out the tea leaves in order to exhibit a teapot) – these were the jugs on the family dining table or used for flowers.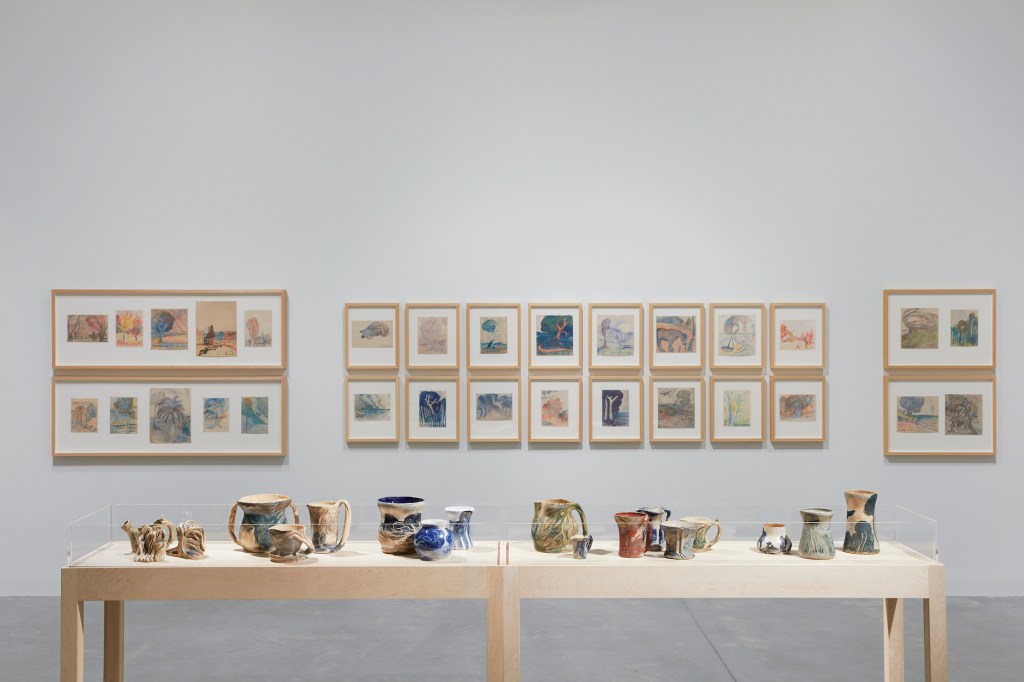 Looking around this gallery of Merric's works, one starts to see those meaty, gestural lines carry across from a pot to a drawing, tree branches 'heaving up' in the clay form, or the scratchy energetic lines ricocheting into the adjacent galleries, to Nordin, to Benwell and to emerging Bundjalung artist Rubyrose Bancroft's stop-motion claymation videos. (Bancroft, like Arthur, also grew up in a parent-artist relationship.)
Just as viewers have been witness to a confidence in experimentation – tinged with vulnerability in Benwell's and Merric's work – Bancroft's claymation forms were made during the pandemic in a home studio. She embraces the rough edits in real time, charting thoughts and a malleability of gesture and materiality that is honest.
The message this exhibition delivers is clear. All these artists, and the lineage of which they are part, remind us that the truest creative journey is one of confident, free expression and experimentation. Legacy can be in our DNA as an intuitive family bond, but it can also be in the lineage of a studio practice that, while one's own, is always part of a stream of others that have come before, and will come again.
fantastic forms
Bundanon
Shoalhaven, regional NSW
1 April – 18 June 2023
Curated by Bundanon's Head of Curatorial and Learning Sophie O'Brien and Curator Boe-Lin Bastian
Artists: Merric Boyd, Arthur Boyd, Nabilah Nordin, Stephen Benwell and Rubyrose Bancroft.
Bundanon is presenting an extensive public program over the course of the exhibition.
Entry is ticketed.
The author travelled to Bundanon as a guest of the organisation.