Lighting can make or break a painting exhibition. It can make the artworks sing with a luminosity, or snuff out their energy. And yet, so often it is an afterthought.
David Serisier's latest exhibition, Here and There at the Orange Regional Gallery, is an example of the former. Known for his minimal paintings of fields of colour, Serisier large canvases almost pulsate with an energy, and cast a glow across the gallery's polished concrete floors.
Walking into the "newish" wing of this regional gallery, visitors see that the central dividing walls have been removed. Their absence allows for natural light from skylights to be evenly cast across these expansive studies by Serisier – and when I say expansive, I mean huge. Some of these pieces are nearly seven metres long, so large that, when standing in front of them, one seemingly is absorbed into their aura.
The exhibition has been confidently hung with a sparseness and intent. Serisier writes in the exhibition's catalogue, 'Painting is complex. It starts with an idea, a perception, a feeling, and evolves through material transformation into paradox.' That paradox in Serisier's case stemmed from stumbling across a photograph of the US conceptual artist James Lee Byars, taken in the gardens of shogun palace in Kyoto. It echoed a photograph taken of Serisier in the very same spot and was a trigger for him to revisit Byars' work, subsequently coming across images of his artworks presented at Benrath Palace in Düsseldorf (Germany) in 2010-11. Byars' palette riffed off the palace's ancient architecture and gardens – a kind of formalism enlivened through colour.
This chance coincidence led Serisier to this new body of work – his Benrath paintings. They take their cue from that same palette of shimmering golds, silvers, and black and white, a decade apart. Byars' paintings had an earthing familiarity for Serisier, who had moved to Summer Hill just outside Orange around the same time. Here Serisier's studio is surrounded by sun-bleached landscapes accented by the deep hues of the surrounding ranges and night silhouettes, the architecture offering another kind of formalism within the scene. One starts to see the kind of osmosis between "here and there", as the exhibition's title suggests.
Colour a starting point and an end point
While colour may be a starting point – and an end point (call it his subject if you like) – for Serisier the Benrath paintings are every bit about how a mark sits on the surface of a canvas, and beyond just a heady connection to some distant palace or artist. They are a studio exercise of great rigour, and a very individual pursuit.
This is perhaps best observed in a suite of five triangular canvases that are tightly abutted. Their surface has a pearlescence, which is animated in the light. While two of the canvases (yellow and pink) have lost a bit of their surface tension in the shifting climate, the overall form across this band remains tight and resolved.
They have a great relationship across the gallery with another suite of five diamond shape paintings, which stretch along a 21-metre wall. Collectively, they have a strong object feeling, and hold the room. By turning each a half rotation to stand on their "tip" a completely different visual and cerebral engagement is offered – it seems to reboot us with fresh eyes. Serisier tells ArtsHub they are hung in the order that they were painted.
Offsetting the natural light spilling down onto the paintings, LED lighting has been used to spot fill the lower section of these paintings, ensuring an evenness, while also bolstering their reflections. Another highlight is on an end wall – three paintings sit on the floor and graduate in scale, moving across bold colour. Just like Byars' works pointed to architecture, so too does this work, alert to proportion and placement.
What is new in these works, however, is that many of the paintings have a meatier quality to them. At times the paint sits like a thin veil over thick linen, while other works build many layers of subtle colour, radiating a luminosity and warmth from deep within. They have an inherent texture and are quite painterly.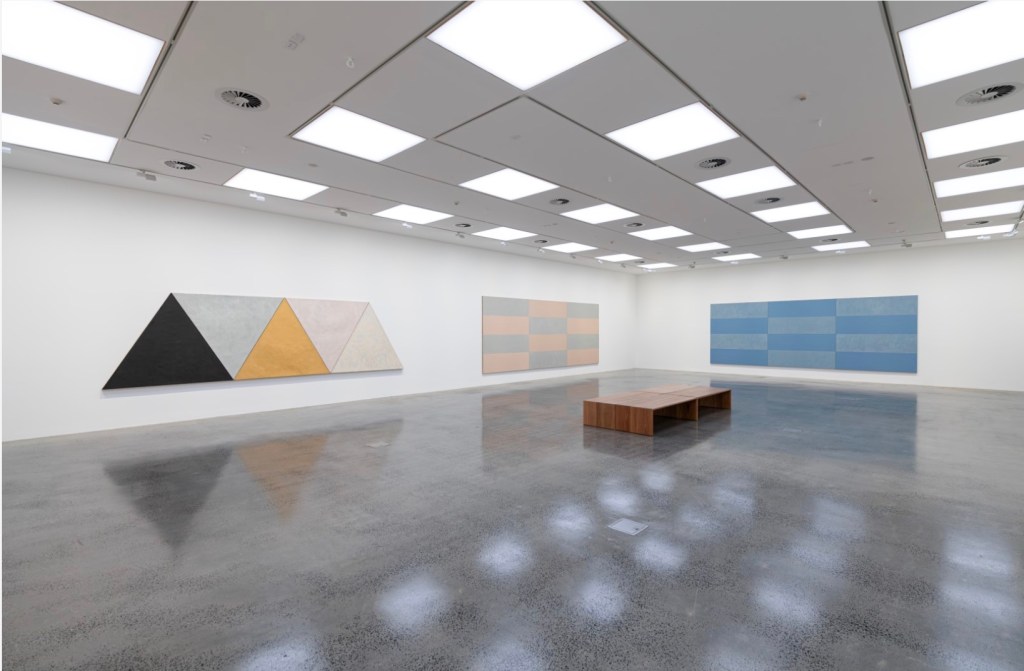 The textures are created by the addition of marble dust and wax with the oil paint, applied by a palette knife. In a strange way, they feel "earthier" than what we expect of Serisier's painting. That surface acts in pulling the eye in and along their length.
Overall, the exhibition is hung low to the floor, grounding these paintings – and grounding the viewer within them. The exhibition was painted either side of Serisier having heart surgery. Did it spur the level of ambition for this show? Perhaps. Walking ArtsHub through the exhibition, Serisier says simply, 'They're actually all quite frankly painted.' One almost feels that freshness of honest painting.
Read: Video work review: Angela Tiatia: The Dark Current, ACMI
Serisier has always delivered a slow exhibition, and this is no exception. The longer one spends with these paintings, the more their retinal read sharpens and the subtle shifts become more apparent. This activates the viewer – moving in to view the surface and then pulling back to read the whole – a micro macro rigour that is very satisfying. On every level this is a deeply resolved show, and a credit to both artist and gallery.
David Serisier: Here and There is at Orange Regional Gallery, NSW from 16 September – 12 November 2023.