The main space at the Wollongong Art Gallery is difficult, dominated by columns and angled walls. Add to that a survey exhibition of video works, and the challenge to create an engaging experience for visitors ratchets up a level. Working closely with artist Daniel Mudie Cunningham (who has also enjoyed a curatorial practice), James Gatt has done a fantastic job at pulling it off, creating nuance, punch and gentle consideration in this exhibition titled, Are you there?
The title itself comes from a 2020 Twitter post by Cunningham, and acts like a haiku to his voracious practice that is concerned with how identity is seen, performed and remembered. Not anyone's idea of identity – but his own.
By their very nature, Cunningham's works are emotive – performed, diarised and documented as a self-charted journey of growing up queer in Australia. They have often been referred to as "durational self-portraits". The survey tracks Cunningham's 30-year practice. It's a lifetime for any artist working professionally – but one that requires an incredible stamina under that self-directed lens. As viewers, we take a voyeuristic role and step into a world that both connects us and divides us.
A great example is the video work/s first encountered entering the Gallery, Gender is a Drag (1993). It was produced during his first year at art school and reperformed two decades later in 2013, the year his brother died. As Cunningham states in the room sheet: 'Those who can't forgive the past are condemned, not without pathos, to reenact it.'
In this piece, Cunningham sits in a shopfront viewed by others; he shaves his head, applies lipstick and writes on the window, 'Look, if I used to love you it was because of your hair, now that you're shorn I don't love you anymore.' Like every video in this exhibition, its placement is extremely well-considered – sitting opposite the Gallery's glass doors that offer their own fishbowl voyeurism and point of separation. Do we enter, or do we walk away?
Gatt picks up on Cunningham's original intention to push, flirt and challenge that threshold between performer and audience, transformation and observation, acceptance and denial.
The title of this video, Gender is a Drag, points to both seminal texts in queer theory and also Frida Kahlo's 1940 painting Self-portrait with cropped hair – a kind of doubling that exists across Cunningham's work, which finds its touch points in popular culture, music and art history. Music is a thread across the exhibition that opens a door to a broader sweep of audiences – and acts as an equalising force.
That mapping of a normalcy is at times fraught, and at others rubs shoulders with the bland. Either side of the entrance are vitrines of previously unexhibited photographs and archival material from 1993 to 2023. Photography is another consistent medium, usually presented as a suite rather than a hero image.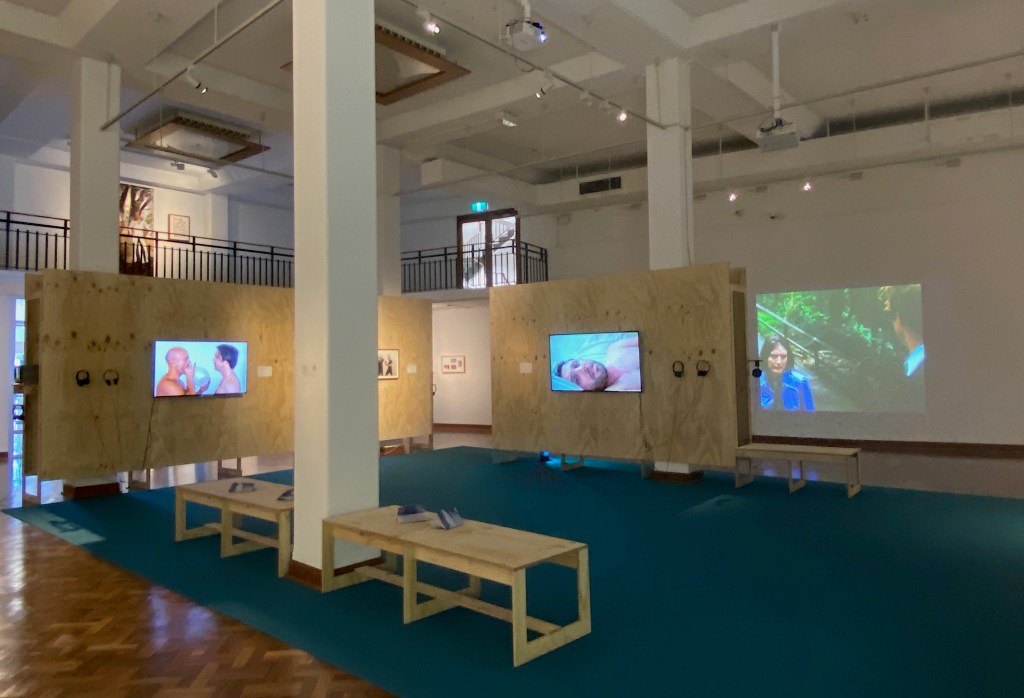 The central core of this exhibition (that difficult columned zone) has been so beautifully handled. Blue carpet tiles frame an area, while the gallery columns have been built out in plywood creating more intimate viewing spaces. And yet, Gatt maintains sight lines between the works that operate as memory itself does, suturing emotions and actions across time and place.
Within this eddy of emotional works are Tears Don't Come (2010), Drawing Breath (2022), Take My Breath Away (2012), Unstuck (2013) and Oh Industry (2009) among others. Some works are short, many are humorous, and all demand viewing.
Cunningham's signature serial video piece Proud Mary (2007, 2012, 2017, 2022) – which he recreates every five years – sits across time as a personal meter on the Gallery's rear wall. Here, it connects with Cunningham's work Funeral Songs (recording people's preferred exit tunes) – Tina Turner's classic hit being his personal request.
As Cunningham lip-syncs the song over the years, we are witness to a confidence taking hold over his life, as time is collapsed into a single moment, and a search for becoming becomes acceptance and eventually celebration. He describes this work as memorialising the life of a queer optimist, a "proud mary", adamant to roll on.
People can find their own memories in the song, but also its message challenges them to mark time proudly through their actions. It is wonderful to see this exhibition in a regional gallery where queer conversations among young adults can often be challenging, and finding one's "tribe" a hard path. Cunningham grew up in suburban adversity, where religious zeal ran roughshod over non-conforming positions. It is a great lesson to all to love yourself to survive.
Are you there? Daniel Mudie Cunningham
Curated by James Gatt
30 June – 10 September 2023
Wollongong Art Gallery
Free