Perth Institute of Contemporary Arts (PICA) opened four new exhibitions under the Bunuru program umbrella over the weekend: Robert Andrew's Held within a word, Rosa Barba's Emanations, Archie Barry's Scaffolding (Preface) and Elizabeth Willing's Roost. An outdoor celebration featuring music from DJ Mother Marls preceded public explorations of these four outstanding exhibitions.
Emanations
Barba is an Italian artist who lives and works in Berlin, experimenting with time-based forms in a multitude of mediums. Emanations – Barba's first solo presentation in Australia – is a collection of sculpture, film and text-based works spanning 10 years, through which Barba explores connections between film and astronomy, playing with concepts of light, time and distance.
Immediately upon entering PICA's Central Galleries space, the audience encounters Barba's Enterprise of Notations (2013), which uses clear film strips to draw attention to the process, rather than the content, of film projection. A few metres away, Drawn by the Pulse (2018) is a 35mm film sculpture that plays silently for just over three minutes using a modified projector, fitted with a lightbox.
Featuring annotated photographic plates filmed at Harvard College Observatory, this installation connects congruities between astronomical observations and the editing of film while simultaneously paying tribute to Henrietta Swan, a US astronomer who discovered a rule for measuring stellar distances. The large screen onto which the images are projected dominates the visual field, followed closely by the device itself, and the individual slides in neat rows of strips.
Also on display is Barba's Somnium (2011) – a 16mm film transferred to video, with colour, sound and a runtime of almost 20 minutes. This dreamlike tribute to astronomer Johannes Kepler depicts changing environments in mysterious tones, using a combination of soundscapes, voiceovers and archival footage. Pipes pump sludge into bodies of water against pristine backdrops, and the ocean drives the shore back with erosion displayed in sparse whites and ambiguous greys.
In the far back left of the Central Galleries reside The Color Out of Space (2015) and Language Infinity Sphere (Recording) (2018) both of which speak to the way language portrays the realities and mysteries of the universe itself, through representation, explanation and fiction. The Color Out of Space uses five coloured glass filters on a still base to filter a 36-minute colour video of digitally edited photographs of astronomical images captured through powerful telescopes, set to a soundtrack of readings, recordings and interviews, placing the science (and the fiction) in the term 'science fiction'.
Other artworks in Barba's exhibition incorporate lead letters rolled into a giant sphere (Language Infinity Sphere, 2018), the markings produced by the aforementioned once inked and rolled (Language Infinity Sphere (Recording), 2018) and Aggregate States of Matters (2011) – a glacial 35mm film accompanied by dissonant sounds and an implied invitation to reflect upon connection, distance and precarity.
Roost
Elizabeth Willing is a Brisbane-based visual artist whose works are performative and often participatory explorations of food and hosting. Primarily working in sculpture, installation and performance, Willing additionally produces concept dinners, collaborative performances that use the dining table as a stage for interactive designs and experiences. Her site-specific installation, Roost (2023), which includes a wall hanging and architecturally inspired wallpaper, was undertaken in response to the PICA building as 2023 recipient of the Judy Wheeler Commission.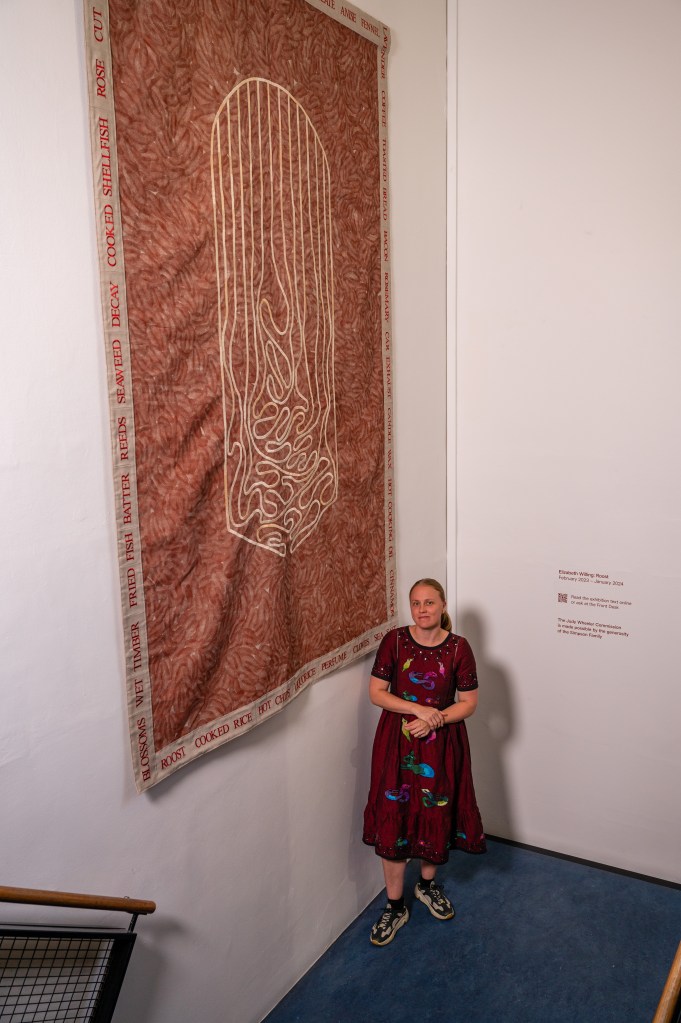 At an artist talk in the weeks prior to the Bunuru exhibitions opening, Willing described being visually struck by the entry arches of PICA, viewing them as teeth to a mouth that can swallow people whole. This thought informed processes and shaped the concept for Willing's artworks, including her impressive 295cm x 195cm wall hanging, located on the PICA stairwell. Acrylic paint – distributed via potato stamping techniques – decorates the bulk of the body, while machine-embroidered text evokes scents around the borders.
Willing, who sees art as an act of hospitality, often combines kitchens and studios as creative spaces and regularly works with food-based mediums. To Willing, language itself is a sensory experience or, at the very least, a translation of senses. The ephemeral and performative nature of food as a medium brings an active dimension to Willing's work – a connection emphasised by a focus on food-based multisensory engagement. Her installation Roost is the culmination of months of sewing and potato-stamping, seen by the artist herself as being acts of hospitality and service.
Scaffolding (Preface)
Up the stairs and to the left, Archie Barry's single channel 4K video Scaffolding (Preface) plays on a loop, lasting roughly 12 minutes. Commenting on the fact that humans have had access to their full vocal range for longer than verbal speech has existed, Barry proposes an imagined reality in which song, rather than words, is the predominant form of communication. Whether escaping the transactional nature of language or negating the ability of words to express pain, the concept is creatively explored more than it is seriously argued, and to good effect.
Combining 3D animation with microscopic planes, floating faces and half-built houses, Barry's artistic tone is deliberately Deleuzian. Philosophically symbolic and artistically dialectical, this intriguing installation invites multiple viewings and encourages transcendental thought processes.
Held within a word
Also upstairs, but to the right in the Bunuru exhibitions, Robert Andrew's Held within a word exhibition is on display. A descendant of the Yawuru people, Brisbane-based artist Andrew combines kinetic installations with programmable technologies and natural materials. This exhibition includes a mechanical plotter tracing the shapes of specific sentences, and is the fourth iteration of this particular kinetically-oriented concept.
The plotter in question is connected by complex wire webs to an array of organic objects, all of which exist in a state of constant motion. Rubbing up against the white walls of PICA's West End Gallery, these objects – rocks and branches collected from Noongar country – create a cumulative series of marks on the white gallery walls, extending the dialogue towards the city landscape.
'Nidja moondang boodja-k naariny koondaaminy kalya winin maladjiny koorliny dandjoo wer werniny bandang keny boora dordong kaaradjiny wer yanginy nidja boodja,' reads one of the plotted sentences, which translates to mean, 'Everything on this land since start of creation was always born, growing, moving and dying in harmony all together in a cycle of caring and sharing for this land.'
The second sentence reads, 'Ngalak djarnyak mindar nidja dordong aliny warn minditj ngolanga wadjella koorl ngalak djarnyak dandjoo koorl wer dandjoo korl-koorliny.' ('We must heal this cycle as it's been damaged after the non-Indigenous people came, we must come together and return to moving together.')
The plotted shifting of objects leaving marks where before there were none reflects the ways in which language shapes environment and culture, and challenges usage of the English language, which Andrew frames as a tool of colonialism.
Just as language can impress itself upon a landscape, so too can it cause erosion, as evidenced by Andrew's second kinetic artwork, Moving beyond the line (2022). This artwork plays with the concept of language erosion, using ironic, literal, symbolic and visual means. The words within a rock-strewn book are gradually and systematically eroded as water drips steadily onto its ochre-layered pages, courtesy of a pipe with electromechanical components
AO Neville's offensive 1947 publication, Australia's Coloured Minority: Its Place in the Community (which advocates for the erasure of Indigenous sovereignties and histories) is placed upon two rocks, which were collected from land near Toodyay. Andrew removes any implied authority the printed word has embedded into the book, in addition to cleverly commenting on the nature of linguistic and cultural erosion.
Movements of language and the marking of landscapes feature strongly in Andrew's Held within a word, but are thematically present in every PICA exhibition during this season. Each artist included in the Bunuru program brings something unique, with a cohesiveness casually straddling a shared emphasis on language, connectivity and a profound preoccupation with time, space and place. Multiple layers of meaning exist across these individual exhibitions, with subtle similarities and covert contrasts contextualising connections such as erosion, erasure, language and the search for abstract meaning in a concrete world.
Read: Theatre review: The Wharf Revue: Looking for Albanese, QPAC
PICA's Bunuru exhibitions, which include Robert Andrew's Held within a word, Rosa Barba's Emanations, Archie Barry's Scaffolding (Preface) and Elizabeth Willing's Roost, undeniably exceed the high artistic expectations the public anticipates in connection with Perth's Institute of Contemporary Arts.
PICA's Bunuru exhibitions 2023 (multiple exhibitions)
Perth Institute of Contemporary Arts (PICA), WA
Robert Andrew, Rosa Barba, Archie Barry, Elizabeth Willing
Free Admission
The Bunuru exhibitions will be on display until 23 April 2023.