The Wharf Revue is back with a flourish in its 22nd presentation as part of a 2023 national tour.  
The team are now onto their seventh Prime Minister and, alongside satirising Albanese and his shiny bunch of cabinet ministers, there is also an opposition and the newly increased Greens Party to take potshots at. Additionally, a selection of international figures who impinge on our lives in different ways have also become fair game. 
The Wharf Revue is the brainchild of Jonathan Biggins, Drew Forsythe and Phillip Scott, who co-created the show. Biggins and Forsythe are the Co-Directors, while Scott is the very capable Musical Director. They take many well-known songs and rewrite the lyrics to produce sketches with relevance, bite and wit. They are also the key performers and, for this tour, they are joined by talented actress and comedian, Mandy Bishop, who plays a variety of mostly female characters.  
True to form, this latest iteration of the Revue spares no one in a ruthlessly satirical march to highlight the absurdity of those who are nominally in charge of our lives. The four actors give us acute, razor-sharp portrayals of figures we love, loathe or have no feelings about either way. With some astonishingly accurate physical and vocal observations, imitating and parodying a wide range of public figures, the Wharf Revue team is at its steely best. It may just be their biggest and best Wharf Revue to date.
The Revue opens with just the heads of the four actors showing above a bench, like something from an absurdist Ionesco play. Playing sideshow clowns, their mouths open, they wait for balls to be thrown into them. Singing along to a satirised version of 'Happy Days are Here Again', denoting Labor's election win, is a brilliant opening.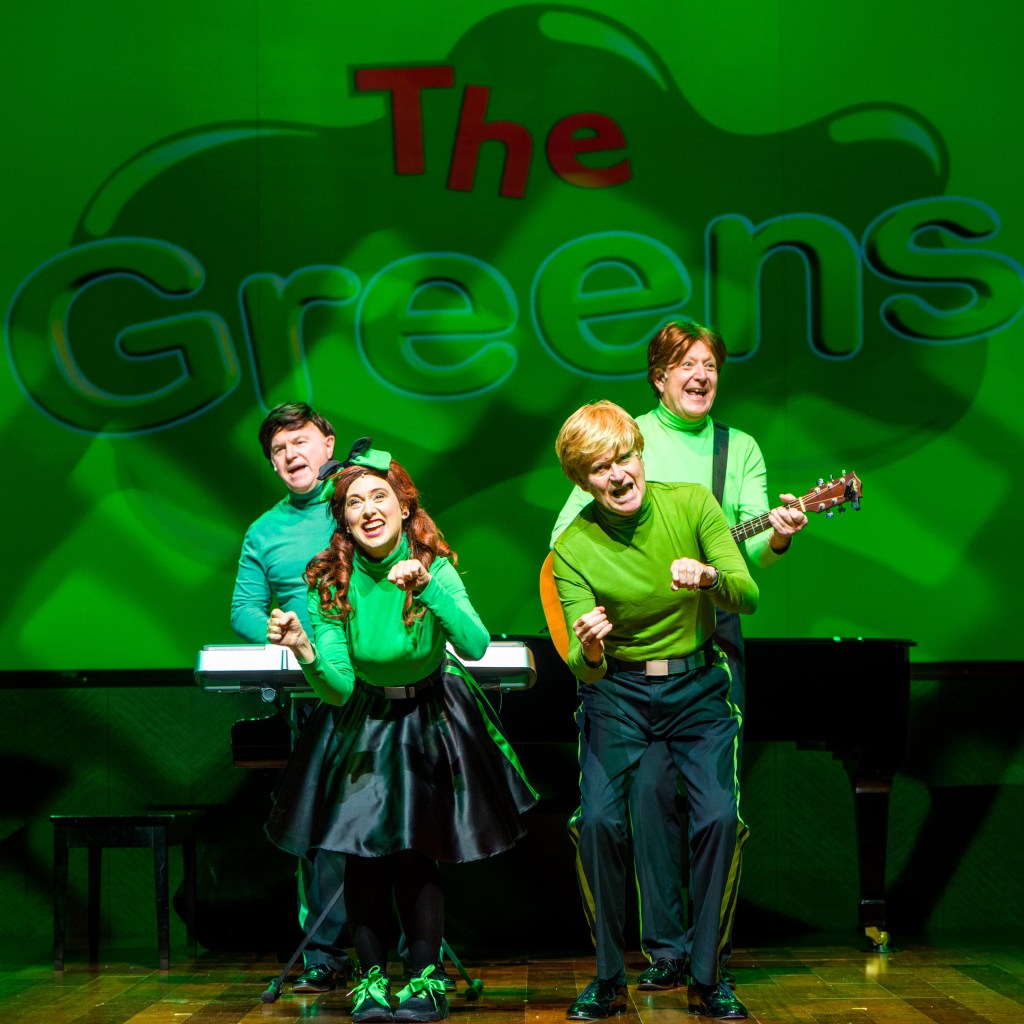 As they promptly morph into a jolly spoof about the Greens MPs in the Lower House, it is not lost on a Brisbane audience that, alongside leader Adam Bandt, three of those Greens (Max Chandler-Mather, Stephen Bates and Elizabeth Watson-Brown) are local members in the Griffith, Brisbane and Ryan electorates. Dressed in, you've got it, varying shades of green, and a cross between The Wiggles and Play School presenters, they sing their credentials to a variation of 'Hot Potato'. It is hilarious.     
Bishop has a number of great roles to get her teeth into. She delivers Finance Minister, Katy Gallagher, as a woman in a man's world, with an almost incomprehensible speech in Shakespearean-styled iambic pentameter that is well managed. In a Wentworth election scenario, she emulates Allegra Spender with a sexy rendition of 'Big Spender', including such lines as 'send your liberal votes my way'. 
A tough talking Jacqui Lambie follows, singing about the delights of her new Jacqui Lambie Network, while attending the country and western Tamworth Festival in boots and check shirt. 
There are many excellent sketches that place Albanese front and centre, mostly based around literary and film scenarios. Albo Baggins and the Mountain of Debt sees Scott play Albo the hobbit to Biggins' Jim Chalmers, complete with flapping ears. This is a brilliant sketch in which government policy is defined in Tolkien terms of dragons and dwarves with the 'Impasse of Stagnation' and the 'Blowhole of Despair' to name a couple.  Each member of the Cabinet is given a pithy nickname, including 'Wong the Ubiquitous'.
Set in 2050, Albo in Aged Care gives us Forsythe as a seedy ex-PM, complete with Zimmer frame, standing up to the advances of Biggins' Grim Reaper and ordering him to take Lachlan Murdoch instead. 
Albo in Wonderland is equally clever and witty, with the dress-wearing Alice/Albo of Bishop falling down the rabbit hole and meeting the 'mad Katter'. The latter is a delicious portrayal of Bob Katter by Forsythe with hat, perfect mannerisms and vocal cadences. Scott's Craig Kelly and Biggins' Clive Palmer appear as the ultra-stupid Tweedledum and Tweedledummer, while the Queen of Hearts is none other than Pauline Hanson.
Forsythe portrays this role with great attention to detail and a whining vocal tone full of malapropisms as funny as they are accurate. Such beauties as 'my incestors were buried here' and 'I wasn't inseminated, I'm an anti-waxer' with the final classic 'I'm not Miss Congeniality, I'm Miss Information' bring tears to the eyes.  
In the sketch Oh, It's a Culture War, sung to the songs of the First World War musical, Oh! What a Lovely War, religious references, gender and LGBTQI+ issues are all parodied and exploited. It ends with Biggins' wonderful parody of Peta Credlin, singing about attacking everyone – 'I'll put the boot in any one of you' to the famous recruiting tune. Additionally, Biggins gives us a finely crafted impersonation of King Charles III – the mannerisms, walk and vocal quality uncannily similar to the real person. A remarkable and very funny sketch.
There are a number of screen segments based loosely on the TV series You Can't Ask That, but now entitled Losers and starring Kristina Keneally, John Howard, Donald Trump, Rudy Giuliani, Hillary Clinton and even Vladimir Putin. Forsythe, in the guise of Joe Biden, declares his credentials singing 'who's got the last laugh now?' from the Gershwins' tune 'They All Laughed', which is effective, while the come-back party for Scott as Boris Johnson ends badly with a fine rendition of 'The Party's Over'.
On the night ArtsHub attended, this skit did not elicit much laughter. Neither did The Supremes sketch about the right-wing decisions of the US Supreme Court – good ideas that failed to resonate with the audience. 
Read: Performance review: Broadway Diva, Holden Street Theatres, Adelaide Fringe
A particularly apposite and greatly appreciated sketch was the Three ex-PMs with Bishop as Julia Gillard and Scott as Kevin Rudd. Biggins gives a marvellous impersonation of Paul Keating, a portrayal well-honed through his previous hit show, The Gospel According to Paul. The three of them sing 'Three ex-PMs Are We' to the tune of Gilbert and Sullivan's 'Three Little Maids from School' with great relish. The audience was in raptures.  
The final sketch is also masterful. All four artists brilliantly reenact Inner West Side Story parodying 'Jet Song' and 'Gee, Officer Krupke' from West Side Story. The witty, clever lyrics, include 'When you're in debt' to explain why urgent issues such as climate change and the arts have to wait. Both sketches are highlights. 
All in all, this is a terrific night of joyous humour with some excellent writing and delivery. The acid wit and acute observations of the cast was very well received. It may not be everyone's cup of tea but The Wharf Revue has created a loyal following that only seems to be growing and offers much delight to many.  
The Wharf Revue: Looking for Albanese
The Queensland Performing Arts Centre presents a Soft Tread Production
Playhouse Theatre, QPAC, Brisbane
Created by: Jonathan Biggins, Drew Forsythe and Phillip Scott
Performed by: Jonathan Biggins, Mandy Bishop, Drew Forsythe and Phillip Scott
Musical director: Philip Scott
Lighting designer: Matt Cox
Video designer: Todd Decker
Sound and video systems Designer: Cameron Smith
Costume designers: Hazel and Scott Fisher
The Wharf Revue: Looking for Albanese will be performed at the Playhouse, QPAC until 25 February 2023 before touring around Australia.