The Now or Never Art Trail, one of the hallmark events at Melbourne's new Now or Never festival, launched last night (17 August) along Dockland's Victoria Harbour Promenade. Art and technology intertwine in seven large-scale installations curated by Experimenta, from harmonic "knots and crosses" to fog bubbles and live-data projections.
Opening night saw adults and children alike stroll through the outdoor art trail with a sense of wonder and curiosity. Beyond the surface of delivering simple fun and entertainment, and driving foot traffic to the district, many of the works invite pause and observation.
Jon McCormack's Holon is a work that looks back at us – the audience, our interactions and surroundings – through sound and light. A swarm of circles, crosses and dashes are installed on top of posts that flash, hum and sing, mimicking the sound picked up from their habitat. The artist suggests machine-nature coexistence, but there is always a sense of melancholy in these types of interventions, such as the case with Julian Opie's Australian Birds outside the NGV.
The highlight of the night for many would be Theatre of Thunder's Berthing Place, Earthing Space, transforming the harbour into a cloudscape of bubbles and fog. An alien figure covered in soft bristles emerges from an airy cocoon, testing out the external world into which they are born. A soundscape by Luke Jaaniste leads viewers into full immersion.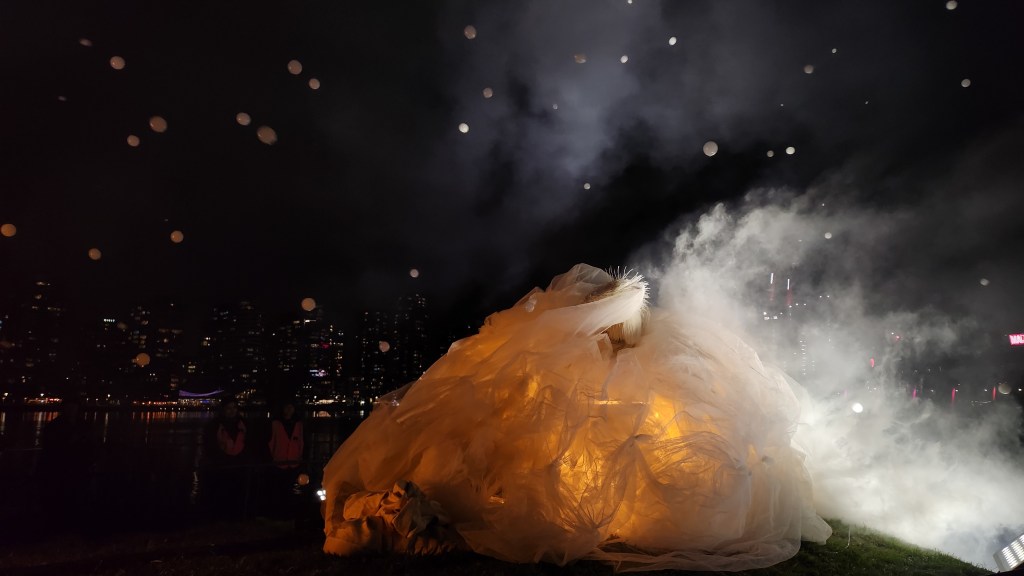 Infinity by Universal Everything with its parade of walking figures dressed in exaggerated bouncy, stringy costumes spurs joy. Created through generative code, the video evolves and changes, bringing something new with each glance. However, there is something about the bright display that doesn't sit quite right on the eyes in its dark surroundings, and the large video display will have to contend with the weather conditions.
Read: Does Melbourne need another festival?
Out of the seven works, three are newly commissioned for the festival, including McCormack's installation. Others are Jarra Karalinar Steel's expressive animation, Living Well, at Library at the Dock and Michaela Gleave's light beam Of sky and sea (this reviewer's mind immediately went to Ryoji Ikeda's Spectra at Dark Mofo this year). Gleave's work is more performative in nature, with the light beam pulsing in Morse code, sending a list of extinct and endangered human languages out into the solar system.
And, of course, how can it be a future-focused festival without a dive into machine learning? Georgie Pinn's ECHO/OHCE invites audience members to capture and alter their face through an interactive screen, and Justine Emard's Soul Shift features two generations of the robot Alter – Japan's first humanoid. For both, the ideas are fascinating, but execution less so. Pinn has achieved audience engagement through interaction (and there was a line on opening night), yet with Emard's video, seeing robots blink and move in slow motion (as compared to humans) is more compelling intellectually than it is visually.
As the first iteration of Now or Ever's ambition to activate the Docklands district, this art trail succeeds in bringing visitation and joy to the area, and opens up the possibilities of its future.
Now or Never Art Trail is on from 17-20 August along Victoria Harbour Promenade Docklands, Melbourne; free.