As its name suggests, this is an event that combines alcohol and painting – well, the booze is optional and you have to bring your own drop – but Pinot and Picasso is designed to invoke the latent creative drive in anyone who's ever been to a gallery, and figured, "hmmm well, I could do better than that". Even if, like this reviewer, you haven't picked up a brush since primary school and have no artistic ability at all, it's still a pleasant way to while away a couple of hours playing around with the palette.
Pinot and Picasso offers different artworks to emulate, ranging from still lifes to portraits and landscapes. All you have to do is turn up with some drinks and snacks. (There's a grazing board and canvas framing available for an added price). The centre ordinarily provides an apron, glassware, a canvas, a selection of paints and an easel, as well as a guide who helps you through the process. Apparently, the tipsier you become, the freer your creative expression.
Along with fellow ArtsHubber Celina Lei, I went to the inner west Melbourne branch in Yarraville – there are franchises across the country. We chose the "Lemoncello" theme (it couldn't possibly be that hard, I thought, even for our limited abilities, to draw some bulbous citrus). A ready-made painting was displayed and all the wannabe artists tried to copy it, with bubbly Ange, the resident guide, offering step-by-step instructions on how to create the lemons, leaves and background.
Fortunately, this class is not prescriptive – this is not art school and you won't be graded on technique or result. You can do whatever you want with your painting; innovation and experimentation are encouraged. So don't worry, your inner rebel is free to mix and mess up the colours and backdrop, and the lines can be as wonky as expected from any amateur dauber. I added an orange and Celina decided to be all fancy and put monstera leaves in her painting; others in the room changed the size and shape of their lemons and the background fill of their works.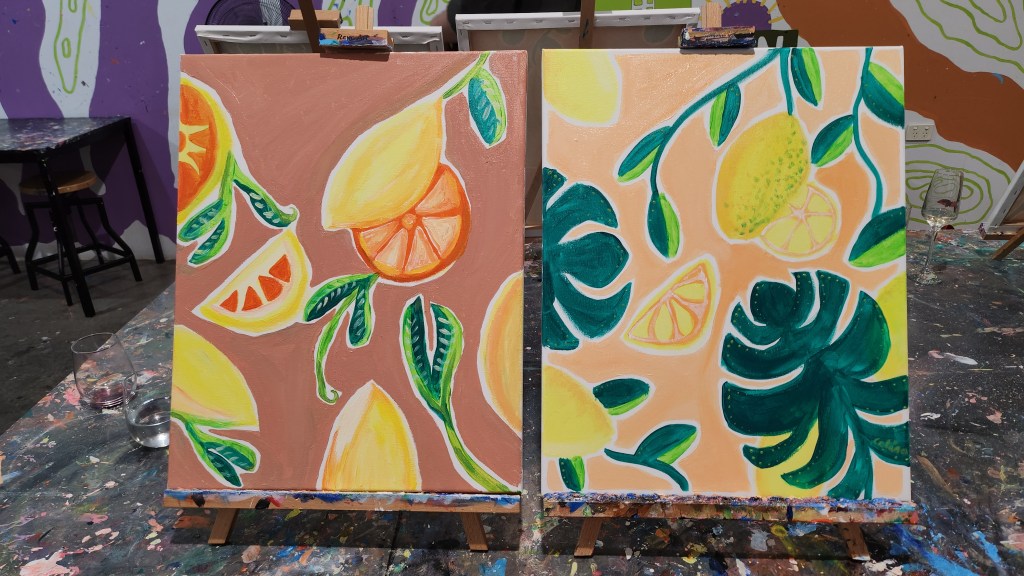 The whole session is three hours in duration, which is just enough time to paint and sip (you'll be too busy to do much eating). It's a fun, relaxing and therapeutic DIY experience, all the better if you bring a friend along – although the music played in the background (current popular hits) can be a bit loud and distracting.
I don't think either of us will be giving up our day jobs to pursue a life in paint, but it's really not about fidelity to the artwork proffered; Pinot and Picasso simply gives you a licence to tap into your creative side. I can imagine how entertaining and hilarious the night could be if it was to host a birthday party, work team-building exercise or even a romantic date.
Pinot and Picasso branches are available across Australia.