At most recitals, falling asleep during the performance would be considered gauche, even rude. At this one-off Dark Mofo performance of Max Richter's 2015 concept album Sleep, sleeping was actively encouraged.
Upon entering the cavernous and dimly-lit MAC2 building on Hobart's waterfront, each attendee was provided with a surprisingly comfortable camp bed, two pillows and a warm blanket (with further blankets available on request). Locals, and visitors in the know, carried their own pillows and doonas into the venue with them, ensuring a more comfortable night's sleep as Richter and the American Contemporary Music Ensemble (ACME), together with British soprano Grace Davidson took to the stage.
Given the volume of the performance at certain points in the night, actual sleep was not always possible – nor is a camp bed in a strange city surrounded by hundreds of strangers exactly conducive to sleeping well (this writer managed about five hours' sleep across the night: one hour here, two hours there). Nonetheless, at the conclusion of the concert, even though I still felt physically tired, mentally I felt refreshed and alert – a testament to the power of Richter's subtle, cyclic and meditative composition.
Inspired by the neuroscience of sleep and developed in collaboration with Richter's partner, the artist Yulia Mahr, Sleep comprises 31 variations in total, which range in duration from less than three minutes to over half an hour. Collectively, the mesmeric composition serves as a lullaby for grown-ups – an active antidote to our fast-paced, sleep-deprived, 24-hour news cycle world.
Running for eight hours, Sleep's multiple movements are designed to complement and connect with the processes of the sleeping mind. Featuring slow rhythms, deep notes and regularly repeated themes, Richter has described the piece as helping to provide 'a creative refuge' for his somnolent audience, where even those who are not fully asleep will find themselves in a relaxed liminal state removed from their usual stresses and concerns. Sleep is an 'invitation to dream … the complete antithesis of a rave,' the German-British composer says.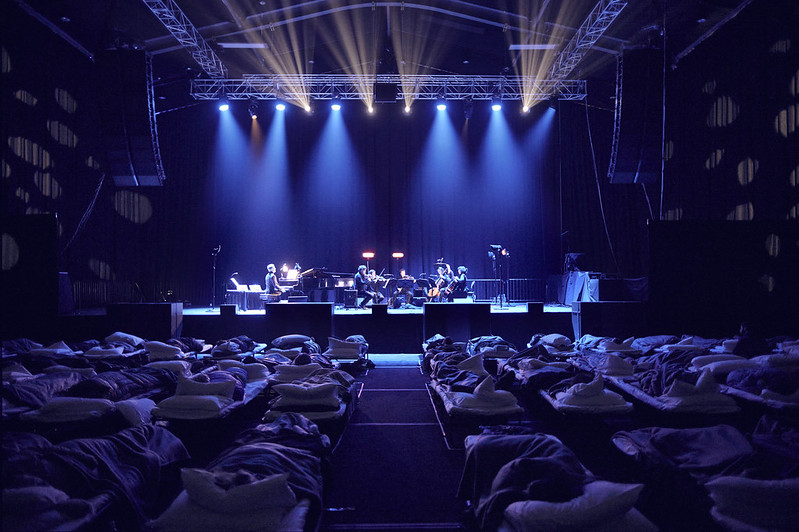 Performed live, it's clearly an endurance test for the musicians, with different members of the ensemble coming and going from the stage throughout the evening. This structure allowed different members of the ensemble to shine, with cello and violin highlighted in one section and vocals in another, as others had the chance to rest away from the public eye. Richter, who spends much of his time seated at a piano or manipulating sounds via nearby screens, also occasionally disappears from the stage – at least once taking the time to walk through his sleeping audience, based on my observations.
Read: Festival review: Dark Mofo 2023 Week One
Complementary lighting states helped reflect the mood of the piece and our passage through time, with blue lights dominating at the start of the concert and warmer, yellow lights towards the end.
As Sleep neared its conclusion, the heavy curtains hanging across the windows of MAC2 were opened, allowing the audience to look out across Sullivans Cove towards kunanyi/Mount Wellington as dawn broke across nipaluna/Hobart – an enchanting way to end a truly memorable concert.
Max Richter: Sleep
With the American Contemporary Music Ensemble
Soloist: Grace Davidson
MAC2, Hobart
Tickets: $249 plus booking fee
Sleep was performed for one night only on Wednesday 14 June.
The writer visited Hobart as a guest of Dark Mofo and Tourism Tasmania.