Emerging from months of Zoom classes and get-togethers, Tasmanian contemporary dancers have finally been able to share their work. Here's a short overview of the last two months of 2020. These shows highlight the range of positive solutions that were created to ensure work can go ahead after lockdown and even during restrictions. 
Part installation and part performance, 7 Deadly Sins premiered in the Long Gallery of Salamanca Arts Centre in early November. Created by Graeme Murphy with Janet Vernon (now based in Tasmania) with eight members of the MADE (Mature Artists Dance Experience) ensemble and guest Michael Fortescue, the work cohabited the space with Brisbane artist Judith Wright's Garden of Good and Evil sculptures and paintings. Small COVID-spaced audiences were guided through the work, which featured solos representing each vice, with a finale featuring Fortescue and ensemble. This was the second time Murphy has worked with MADE, saying the group inspired him to think differently about dance. The original score was composed by Christopher Gordon (Sydney). 
In Launceston, Stompin's Artistic Director Caitlin Comerford and choreographer Rikki Mace developed Out of Bounds with a group of young dance collaborators. Incorporating their ideas, movement and voices, the creation of the work focused on a simple processes with a social conscience, exploring the cast's understanding of rules and why they are important, how to break free of barriers that hold us back, as well as why setting boundaries for ourselves can be extremely useful. The venue for this work was a large tennis centre and marked the first time Primary Stompin had created a site-specific work.
In contrast, due to lockdowns and restrictions the Stompin Youth Choreographic Project had to shift from site-specific performance to film. Mentors Sofie Burgoyne and Gabriel Comerford offered in-person and online choreographic support to ten young makers over a two-week intensive and Stephanie Lake (Melbourne) Zoomed into a group provocation session halfway through the process. The outcome was the creation of ten films shot in ten different locations and edited by Melanie De Ruyter and Gabriel Comerford with Caitlin Comerford and Mary Shannon. Anna Whitaker created most of the original sound scores. One work, Try not to Break It by Ruby Howard, has already been acknowledged as Most Outstanding Duet at FORM Dance Project's Short Sharp Film Festival.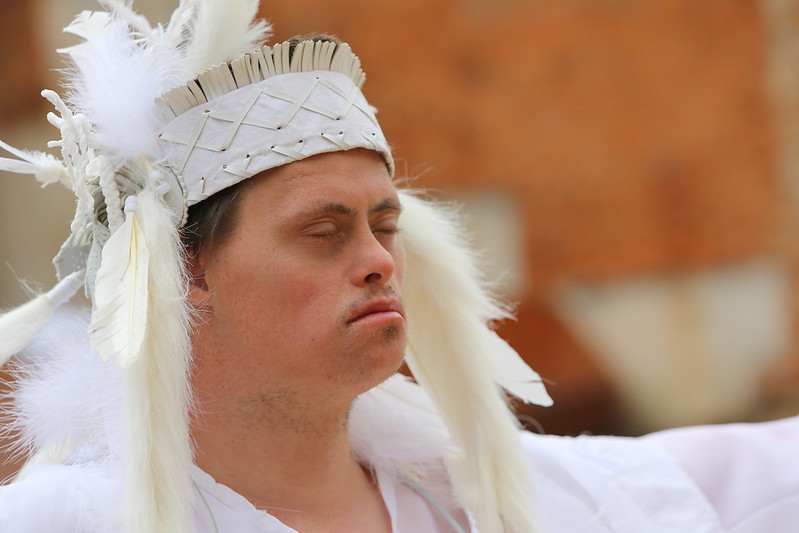 The Second Echo Ensemble with Heidi Latsky Dance in On Display Global at Tasmanian Museum and Art Gallery on International Day of People with Disability – Australia. Photo: Second Echo Ensemble.
At the other end of the island, Hobart's youth dance company DRILL Performance solved the many issues of social distancing by creating a performance in a cavernous space with individual audience seating 'bubbles'. By George and All of Us was created by DRILL's new AD Isabella Stone (who arrived in Tasmania to take the reins from Joshua Lowe only one week before lockdown), assisted by company member George Vaughn and in collaboration with the DRILL performers. This work took over the central gallery of the Tasmanian Museum and Art Gallery (TMAG). By George and All of Us was a delightful exploration of the unique interests of one company member expressed through the common experience of all. The work was performed in the round and many in the highly socially-distanced audience experienced very personal interactions during the solo and ensemble sections.
TMAG also offered opportunities for Second Echo Ensemble (SEE) to perform. The garden and surrounds of TMAG's Narryna Heritage Museum, Battery Point offered inspiration for An Afternoon at the Museum, during which members of the ensemble presented sections of dance, theatre and music projects they had been working on during COVID restrictions. 
SEE followed this with On Display Global in the TMAG courtyard. In recognition of the International Day of People with Disabilities, the company linked with Heidi Latsky Dance (NYC, USA) to perform a durational Zoom work with worldwide participation. On Display was a living sculpture court comprised of half a dozen very different bodies incorporating the worlds of disability dance and fashion. Audiences were invited to move around the slowly moving white-draped human sculptures and actively stare at each body. After this period of contemplation, AD Kelly Drummond Cawthon invited the audience to join in the meditation that inspired their movement, which continued accompanied by improvised double bass from Michael Fortescue.
Tasdance's contribution to the first festival of summer, MUSTER, was also in the open air. Despite restricted numbers the festival audiences spread themselves around Princes Square in Launceston and served to delineate the four spokes of the wheel that formed the entrance section of this work. Led by members of the Tasdance team, each of the groups of community dancers performed this section before mingling in a larger scale circular dance inspired by a supercharged version of a Johnny Cash classic performed by Emily Sanzaro.
The final dance offering of 2020 was Change by DRILL Performance's Junior Company at Moonah Arts Centre.  Choreographed by HK Vermeulen with Angela Barnard, the theme of this work was not surprising as 2020 pushed our ability to cope with change. The young company members used this opportunity to unpack social events of the year, the pandemic, changing of minds, the future of the Earth and the change we carry in our pockets. In line with strong youth dance practice, each performer's conceptual and physical contributions could be clearly seen as they challenged some changes and welcomed others, giving audiences examples of resilience and hope for the future.
7 Deadly Sins, MADE
Long Gallery, Salamanca Arts Centre, Hobart on 4-7 November 
Princess Theatre, Launceston, 16-17 November 
Out of Bounds, Stompin
Tennis World, Launceston, Sunday 8 November
Stompin on Screen, Stompin
Junction Arts Festival, Princes Square, Launceston, 28-29 November
Online, 9-13 December
By George and All of Us, DRILL
Tasmanian Museum and Art Gallery, Hobart, 20-22 November
An Afternoon at the Museum, Second Echo Ensemble
Narryna Heritage Museum, TMAG, Battery Point,  28 November
MUSTER, Tasdance
Junction Arts Festival, Princes Square, Launceston, 27-28 November
On Display Global, Second Echo Ensemble
Courtyard, Tasmanian Museum and Art Gallery, Hobart, 3 December
Change, DRILL
Moonah Arts Centre, Moonah, 3 December