With de facto election campaigns already in full swing, let's start the year by making some practical plans so that we're all ready once the federal election is called.
The first question to consider is: What level of personal commitment would you like to make? Will you share a post? Talk to family? Contact community leaders in other sectors? Get on the phone with a candidate? Get on the phone with many candidates? Or something more creative?
The first step to overcoming that sense of powerlessness that so easily engulfs us is deciding how much we can to contribute to a big, diverse national effort. Because disengagement is not an option: when we stop listening and stop participating, we give even more power to the politicians who disappoint us – and then political disengagement only deepens. Choose now how much or how little you're able to contribute.
Use all the tools at hand
More and more government arts agencies and industry peak bodies are offering straightforward ways to champion the value of arts and culture.
The Australia Council's Advocacy & Research pages present a range of tools and reports to bolster our advocacy, including the excellent Electorate Profiles, an indispensable tool ahead of any meeting with a federal politician or staffer.
Creative NZ go a step further with this comprehensive Advocacy Toolkit, connecting evidence to action with great confidence. A range of recent research reports also offer plenty of arguments backed by current data.
How can we give these meaningful context?
Our best start is to re-read Kate Larsen's excellent piece in Overland, where she guides us in critiquing the various 'plans to make a plan' that 'speak to the tantalising possibility of a new national cultural policy, but are not yet policies themselves'. Kate outlines a useful set of questions for us to consider in approaching this work, and encourages us instead to be clear and bold in making our policy expectations known.
Be clear, be specific
Effective advocacy during an election campaign makes a specific ask that's clearly connected to Australia's national priorities.
Tell any politician or candidate that you want more money for the arts, and they'll tell you in heartbreaking detail about all the appeals for funding that overwhelm them each and every day. There's no faster way to close the door to productive discussion than to find yourself arguing why we should get money that could be directed towards essential public health or aged care.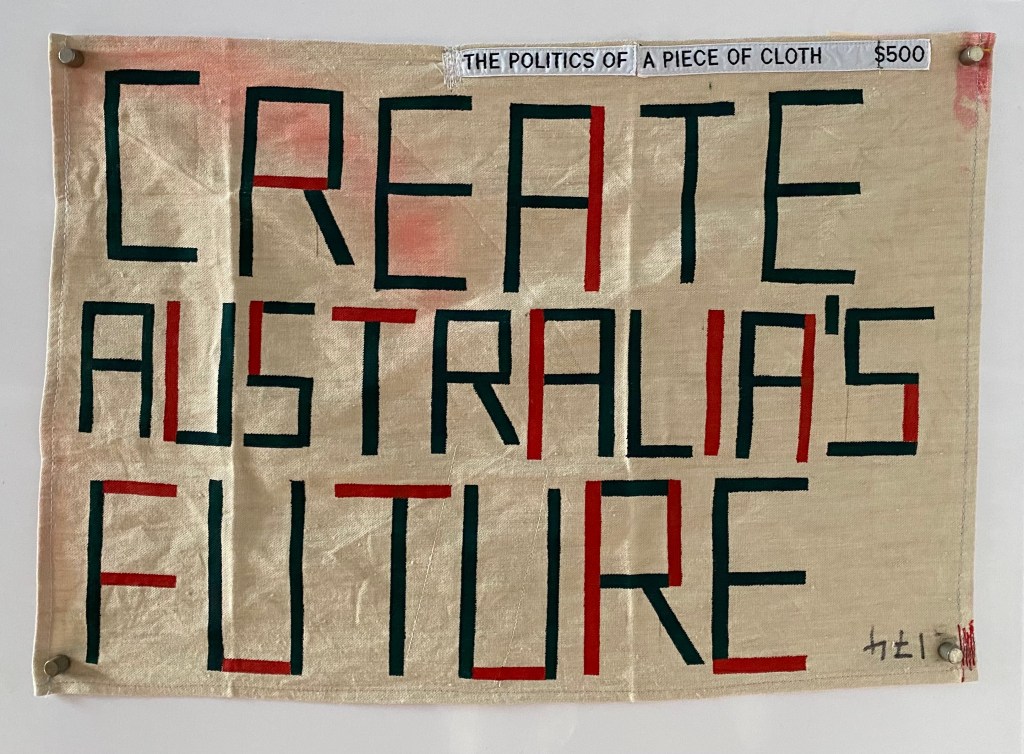 The 'essential' and 'everywhere' messaging effort makes a start, encouraging us to consider using positive statements on social media that invite people to reflect on the place of arts and culture in their lives.
It can be invigorating to participate in social media efforts that create a sense of national arts sector collaboration, promoting unity and cohesion. Having made that advocacy commitment, it's vital we don't stop there, with messages that only speak to one another without addressing decision-makers, political candidates or the public.
It's also vital that we don't risk undermining our efforts in this space. During a pandemic, a great many sectors of the economy and of society have shown us just how 'essential' they are: we've heard a great deal about the urgent needs of essential workers throughout this time.
And if we speak of a 'thriving sector' where art and culture are 'everywhere', we leave ourselves open to the questions of what's actually needed and why. This means being doubly sure that the numbers we're quoting are accurate.
When we're addressing the public, we need to consider that they're just as overwhelmed by messaging and appeals as political candidates are right now! If we just assert positives, we give no indication to people outside our in-group that there's anything wrong, anything we hope they will question, or any action they need to take. So we need to be clear and specific as we convey what's unique about arts and culture – and why this should factor into how they choose to vote.
Joining the dots
Ok. So we've got plenty of positive statements about the value of arts and culture. We've got plenty of plans to make a plan. And we've got no shortage of research and advocacy tools. Let's join the dots.
In short messages such as on social media, ask questions or use the imperative mood to offer direction. Make your post challenging, not ambient.
Could you last a whole day without music, stories, artworks? I could barely last an hour!
Let's invest in the people who inspire us most.
Rebuild our nation's creative strengths.
These are the kinds of messages that tie advocacy to action, helping motivate someone to learn more.
Engage people actively, then offer immediate steps they can take, with clear and specific ways to contact candidates and MPs. (More about that in upcoming columns.) An easy way is to link to your peak body's action page – here are some past examples from the Australian Society of Authors, NAVA and the WA Chamber of Arts & Culture.
Next month we'll look at what the Federal Budget tells us about how the government imagines it can create Australia's future. For now: let's consider our role as advocates and activists.