It's been a stultifying election campaign on the whole: rare moments of invigorating policy commitments from expert candidates following years of calculated culture warring disguised as affable blokeyness.
The ethical, cultural and mental health impacts of this campaign have been huge – and it's not over yet. As the nation's most visionary people, our arts communities rely on all Australians to use their voice between now and election day, having honest conversations with fellow voters about what's needed to create a better future for all.
What's the latest? Labor announce their policy
Released last night at iconic live music venue the Espy, Labor's 'landmark cultural policy' work reaffirms the party's long-term commitment to the comprehensive national approaches that have been the hallmark of Labor governments since Whitlam. Penny Wong and then Tony Burke once again demonstrated a comprehensive understanding of how artists live, work, train, develop and share their practice. By the end of the year, Burke announced, Australia's previous national cultural policy Creative Australia will be used as a starting point for consultative review and then implementation. Importantly, its key pillars will be reordered to put First Nations first.
Burke made it clear that 'fund the arts' is a misguided approach, referring to a 'lobby group purely focused as a test on how many dollars we put forward' when all we've had in recent years is large dollar-figure announcements that were politicised, not strategic.
'Every two months the situation's been radically different,' said Burke. 'If you want an example of when money alone just doesn't nail it, look at RISE… I do hope Guns 'n' Roses enjoy their time in Australia, but I do feel for the Australian artists who applied for RISE and were rejected for reasons that will never be explained to them.' A sophisticated approach to policy is what's needed, from which ambitious levels of funding must follow.
Within that strategic approach, Labor have committed to merging Creative Partnerships Australia back into the Australia Council, reaffirming and depoliticising arm's-length funding decisions, introducing an events insurance scheme, and restoring multi-tier government cooperation on cultural policy spanning multiple portfolio areas including education and international relations.
The Greens have also announced a 'Creative Australia', an ambitious set of initiatives that affirm their own fundamental commitment to artists and the arts sector. ArtsHub has already reported on its commitments including an Artists' Wage pilot program and more than $2b in new funding programs, and this week published a superb op ed by Greens Arts Spokesperson Sarah Hanson-Young.
There has been no statement from the Coalition. While Minister for the Arts Paul Fletcher wrote a piece for Limelight outlining their recent record, no future commitments are offered, while a Limelight piece just a month earlier had reported on the Coalition's latest public undermining of artists and the Australia Council, this time by the Minister himself. (Of course, just because a policy isn't written down, doesn't mean it doesn't exist.)
Independents have been crucial to raising the bar on policy and integrity during the campaign period and hopefully well beyond. With thanks to the MEAA for creating a platform that can capture busy non-party-aligned candidates, the Candidates' Pledge has been signed by independent, Labor and Greens candidates across the nation – scroll back on the MEAA's Twitter feed to see who's endorsed it. The Pledge asks candidates to support funding and integrity in public broadcasting, a comprehensive cultural policy to support the arts and creative industries, and restoring local content requirements for free, pay and streaming TV.
It's time to make it personal
Between now and Saturday – and of course, on election day! – think of ways to reach those people in your circles, in your neighbourhood, in your family, who may not share your convictions.
ArtsHub's Election Scorecard lays out the major parties' commitments towards artists, the arts ecology, and for all Australians. It's your handy guide and conversation-starter between now and 6:00pm Saturday.
ArtsHub 2022 Election Scorecard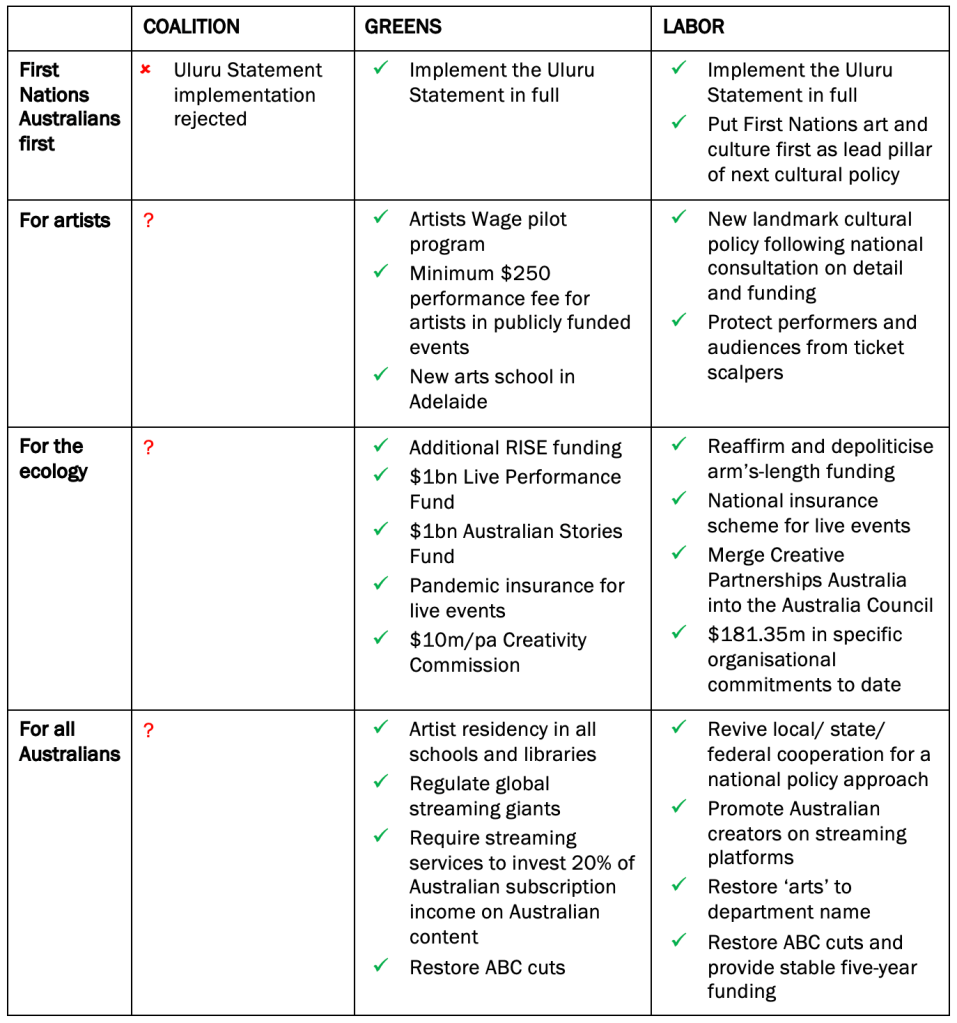 Note: Information is up to date as at Tuesday 17 May 2022. Commitments have been sourced from the major parties' websites and policy commitment releases. Parties showing incomplete information are welcome to contact Arts Hub to ensure their commitments are represented. While some commitments achieve more than one aim (for artists, the ecology, and for the public good), repetition has been avoided in the interests of clarity. 
This week, be specific and be personal.
Changing someone's mind is hard – and if we go into these conversations with that as our aim, we may be less likely to succeed; people can feel when their arm's being twisted, but everyone responds positively to a compelling story.
Impactful advocacy tells a story that's uniquely yours, in a way that's so compelling that the person you're speaking to feels compelled to repeat it – whether they agree with you or not.
Draw clear links between a Regional Arts Fund-supported festival and a small town's annual boom, or a writing grant and major success, or how an artist residency at your school when you were a kid inspired your career achievements decades later. Go into beautiful detail about what the experience of a particular work of art meant to you. And make the connections to policy commitments that resonate with you.
Successful advocacy harnesses the relationships we already have. So be yourself – and at all costs avoid generic, ambient, bland language. Enjoy some heartfelt, honest conversations that are all yours.
And after election day?
Save some energy for next week: time to get in early with welcomes, introductions and early invitations, as well as recognising and thanking outgoing parliamentarians. Make your list now, and then you can work through it more leisurely across coming weeks.
And most importantly, let's take some good time to download together on the impacts of this campaign period, talking through the harms and reinvigorating our resolve as artists and arts workers.
Together, we create Australia's future. Let's be sure to elect the people best equipped to champion this vital work.