Sam Dollimore, recipient of the Friends of Pātaka 2016 artist residency; photo courtesy of Pataka Art + Museum
It is not surprising at a professional summit examining the state of public galleries and museums that the microscope would be turned upon the health of institutional relationships with artists and the public.
Chaired by Alexie Glass-Kantor, Executive Director, Artspace, Sydney, she introduced this terrain of professional contact simply as, #itscomplicated.
Glass-Kantor continued: 'I am of the view that positive shared outcomes aren't always the best outcomes of a collaboration; it's often through challenge, through crisis, and through renegotiating the space of the relationship that we learn something more – the ways in which we can change the shape of an institution.'
For the opening panel discussion at this week's Public Galleries Summit 2018, three speakers from three differently scaled institutions, from three very different contexts and different countries, discussed how they broker curatorial collaboration, plan for succession, allow for culturally diverse voices, and simply, relate at all levels.
Their conversation indicated that while traditional models might be changing, we still have a lot to learn.
Image courtesy SFMOMA's publicknowledge.sfmoma.org project
Shifting perspective
Reuben Friend, Director of Pataka Art + Museum in Wellington (NZ), is one of two directors of cultural institutions in New Zealand with Maori heritage. In Australia, we have yet to reach that position, despite the hundreds of public funded institutions across our great nation.
He said that what distinguishes Pataka as a different kind of institution is that it took Maori concepts and put them at the core of the institution. 'So rather than a conversation about how to include Maori culture, or how can we decolonise our practices, we just put all that to a side and asked, how would Maori create an institution?'
From the museum's architecture – based on a traditional Marae atea or meeting house – to its programing, everything is done in the Maori way, said Friend.
He added that in New Zealand recently, diversity has become a bit of a 'dirty word'.
'It has become a bit clichéd that we have almost stopped saying it.' He said that in New Zealand, the use of the polarising term 'white' is also not used.
'We tend to say "our European settlers" or "our migrants". That framing is really pivotal in terms of how we present our shows at Pataka. I have worked in other institutions and have always been caught up with having to do "ethnic shows", but at Pataka we just do shows with people.'
Part of putting that philosophy into play has included handing over the presentation of the gallery's heritage collection of objects to Maori artists.
'We try to break those walls down between art and the museum and often invite a Maori artist to present those heritage displays to give a different flavour. The success is inconsistent, but it is all part of that Maori way of working,' said Friend.
Similarly, at a recent international symposium organised by Pataka, they decided to take it out of the gallery and conduct it on the Marae (meeting ground), and rather than art world academics invited to respond to the keynote speakers they had 'keynote listeners', giving that role over to artists to respond with art.
'The reviews we got from people is they thought it was clichéd, (claiming) "we do all these things on a Marae it is so clichéd", and I thought, how lucky am I where we do things so much in an Indigenous way that it can be clichéd,' said Friend.
It had resonance with a point made by Glass-Kantor in her introduction: 'Vulnerability is political. How do we as institutions allow ourselves to be vulnerable, to be wrong, to acknowledge when we have made mistakes, and to allow that to change and shape the way we move forward?'
She continued: 'Frankly, I don't think democracy works in collaboration but negotiated, transparent roles which allow a degree of trust, and that are established from the outset can enable everyone participating in a process to take a level of risk which they might not themselves.'
Part of that vulnerability sits with succession planning. Friend says that while he is lucky to have this framework at Pataka, he is conscious that should he leave, this way of working could be easily dissipated or disappear.
'I am currently looking at how I can embed that practice into the institution so it outlives me, or any director – something special that can't be captured in a word document, but can be captured in the institution,' he said.
Friend has been rewriting the institution's vision statement to include Indigenous positions and an Indigenous education and public programs team, to ensure that succession of vision.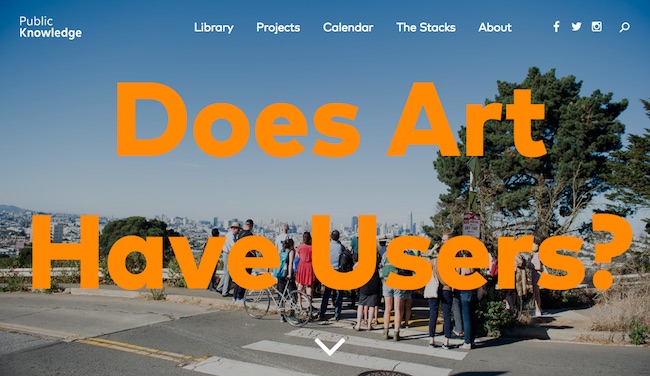 Image courtesy SFMOMA's publicknowledge.sfmoma.org project
Opening the doors in new ways
Coming from a very different perspective, Dominic Willsdon recognised that at the San Francisco Museum of Modern Art (SFMOMA), where he is the Leanne and George Roberts Curator, Education and Public Practice, diversity in the leaderships and trustees of the institution is 'not great'.
He continued: 'It is something that has been worked on for a couple of years, and recently the City Library was invited to become a trustee of SFMOMA under different terms. It signaled to me how the leadership was interested in thinking around how they compose it in a different way.'
The move, in part, grew out of a project Willsdon has been working on, publicknowledge.sfmoma.org, a collaboration with the City Library.
'The library is used by the homeless population and rather than seeking to separate its mission from that that usage, it chose to embrace it and became the first public library [in America] to start public services and expand their civic responsibility,' he explained.
'It is not about how to create new artist projects but what happens when you try and merge a public library with SFMOMA, which is a private non-profit organisation with a public mission,' Willsdon added.
SFMOMA turned a space in the museum over to the library project to see what happens when an institution attempts to mimic another with a different public profile.
While much of the tone of this year's Public Galleries Summit reflected on our cultural institutions in Australia with respect to an inherited colonial perspective, Willsdon spoke of new practices of extraction and expulsion prevalent right now, which we call gentrification.
It is particularly rife in San Francisco as technology companies forces artists and members of the public out of the city. It has become a topic of interest from an institutional perspective, where there is a responsibility to reflect its public.
Willsdon spoke of the work of Suzanne Lacy, who is currently showing in this year's 21st Biennale of Sydney on Cockatoo Island. SFMOMA will be staging a survey exhibition of her work next year.
Lacy is recognised as a pioneer of socially engaged art, often working with communities to generate a dialogue on social issues. The pressing question Willsdon is faced with, preparing for this retrospective, is how to change the work for the change of context?
For example, in our post-Black Lives Matter time, as a curator and institution, how do you present Lacy's work from the 1990s depicting young people of colour being mistreated by the authorities? By representing it, questions of authorship over those voices shifts.
Willsdon asked: 'How do you do justice to a multitude of collaborative voices in these projects? This is work that is evidence of a practice that took place in a series of relationships. How do you present work that is derived from a certain political impulse, and how do you reconcile that with the present?'
They are very pressing questions that impact all of us as cultural workers, curators and institutions.
Glass-Kantor made the point that, as a contemporary curator, you are working with living artists and that the more traditional definition of the role as a carer and custodian of objects doesn't apply, but rather the care you apply is to relationships – to ethical leadership and to forms of negotiation.
How curating is like the AFL
'Institutionally, because we have a strong mandate to attend to Maori and Indigenous views, quite often we will have artists who are very strong in their activism and the political content. But how do you facilitate those views while keeping the stakeholders appeased and not allowing them to wash down the content too much, so that it is palatable to audiences who do not want to have their world views challenged?' asked Friend.
This seems to be one of the most urgent questions our cultural institutions are facing globally.
Friend said that it is not unusual for an artist to change their mind, and with his background as a maker he can relate to that position. But as a curator and director you have to say, 'No, you are not doing that, you are doing what's written on the contract. That never happens. It is about advocating with the artist and with the best resources we have for their message to be heard.'
Glass-Kantor offered an alternative opinion: 'We say that we always supporting the artists but that's not always true. You want to do a project in a particular context, but actually that is not always achievable because that is not what that context or that community wants.'
She used an anology to explain the situation: 'I think of curating like a game of AFL – you go into the first quarter full of hope and it could go any way, and then in the second quarter you realise that things are not playing as you thought, and by the third it could be a disaster and you hope at the end to just get across the finish line.'
She left us with the very pressing question, and one that seems to have emerged as the trigger point across this summit: 'When do you have permission to speak on and for people?'
Artist Brigid Noone, Director and Co-Founder of Fontanelle Gallery & Studios, Port Adelaide was also on this panel. She spoke of negotiating the parameters of running an artist run space, which Artshub will cover in a separate article.
The Public Galleries Summit 2018 was held at Carriageworks and was organized by the Museums & Galleries of NSW and Regional and Public Galleries Association of NSW.