It was only the other week that the Art Gallery of Western Australia (AGWA) announced the first Australian solo exhibition of Japanese superstar artist Yoshitomo Nara, and its first blockbuster in about 20 years. For an exhibition of this scale and calibre, the unusually short fanfare of just three weeks created its own media attention, and raised many questions.
It was followed this week by a swag of announcements of major international exhibitions heading to Australia this year – a signal of confidence across the visual arts sector but, further, international affirmation of the standard of Australian institutions. This flurry of announcements has pushed ArtsHub to again consider how our diet for these major exhibitions has shifted, or not?
What's on the blockbuster diet
On Tuesday this week (14 February), RISING Festival announced its first major international commission, Euphoria – an exclusive cinematic presentation (and comment on capitalism) by the renowned Berlin-based artist and filmmaker Julian Rosefeldt. It is an edgy choice and repositions the 'blockbuster' in a cross arts environment. While major exhibitions often feature as part of festival programs – notably, both Adelaide and Perth Festivals have used them to bolster programming – they have largely been presented as satellite events.
Also on Tuesday, the Art Gallery of NSW (AGNSW) announced a 'double whammy' – the largest survey of important artist Louise Bourgeois ever to be displayed in Australia, coinciding with a second blockbuster surveying the work of Wassily Kandinsky, drawn from the collection of the Solomon R Guggenheim Museum in New York.
On the same day, the Museum of Contemporary Art Australia (MCA) celebrated its win, having secured the acclaimed contemporary artist Tacita Dean with the largest in-depth display of her work in the southern hemisphere. Both are part of the Sydney International Art Series, concocted in 2010 by Destination NSW to drive tourism through major exhibitions.
And on Thursday (16 February) on the Gold Coast, Pop Masters: Art from the Mugrabi Collection, New York opened at HOTA, Home of the Arts, which will be followed in a couple of weeks by Andy Warhol and Photography: A Social Media at the Art Gallery of South Australia for the Adelaide Festival.
Read: Don't underestimate the cold call: behind HOTA's Pop exhibition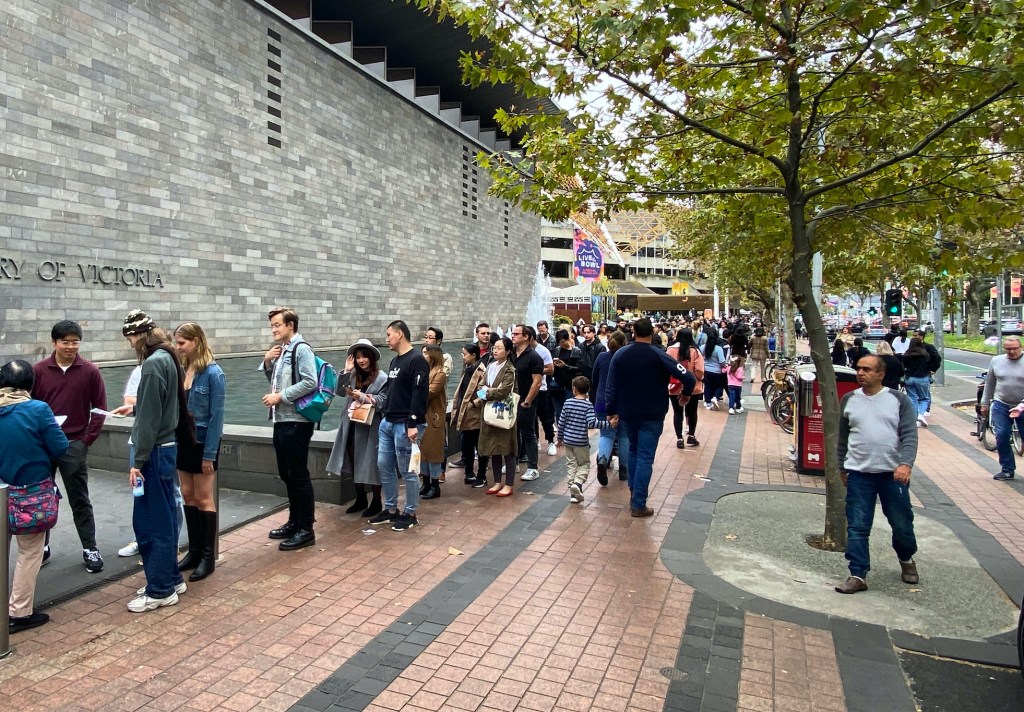 What role does the blockbuster – (rewrite) major exhibition – play?
Are we tired of blockbusters? Clearly not. But galleries are tired of us calling them 'blockbusters'.
The term was first used in Australia back in the '80s – perhaps even earlier – at a time when the former Director of the National Gallery of Australia, Betty Churcher, was whipping up audiences – so much so that she acquired the moniker, 'Betty Blockbuster'. The term literally refers to the thread of viewers queueing up 'around the block' to view an exhibition.
Shifting the language around these exhibitions is a tough nut to crack, especially given they are highly polished tourism machines; their announcements are peppered with statements by politicians and tourism stakeholders promising million-dollar contributions to local economic welfare.
They are also led with statements like 'exclusive' and 'first', each touting that the secured show cements its location as a 'leader' in the Australian art scene.
In the 1980s and 1990s it was not unusual for these exhibitions to tour to multiple venues in Australia, but this has clearly shifted. Badging blockbusters under government-supported initiatives such as the Melbourne Winter Masterpiece series (started in 2004) and Sydney International Art Series (created in 2010) has meant that the whole modus operandi has shifted to one of destination cultural tourism.
While we can be cynical over the rhetorical wrapping and delivering of these exhibitions, their function has not waivered or dwindled in that 40-year trajectory. They continue to drive audiences and, more importantly, new audiences to our galleries.
Back in 2015, ArtsHub took a thorough look at Australia's blockbuster diet, mapping attendance, historical trends and state-by-state competition over a six-year period from 2010 to 2015. A total of 63 blockbuster exhibitions were staged, plus an additional 10 biennales or triennales. At the time, ArtsHub found that Masterpiece-style exhibitions account for 27% of the blockbusters surveyed, and that NGV International showed more than any other institution, 41% of the category.
So with their function intact, what then does this recent crop of major exhibitions say about Australia's viewing palette today?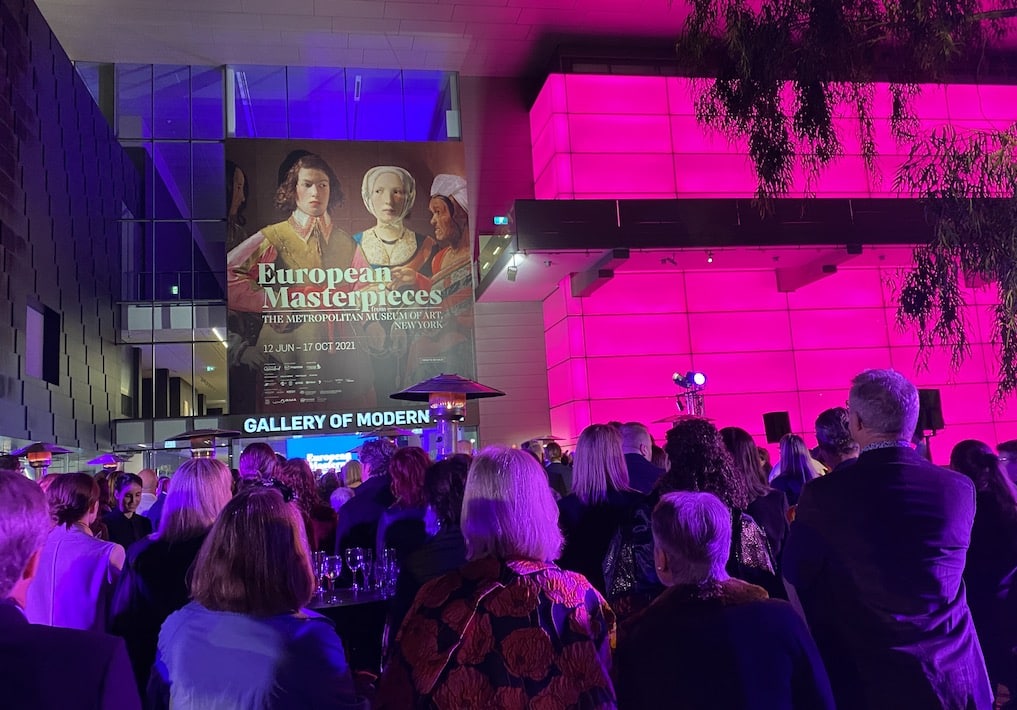 Has our palette for blockbuster exhibitions changed?
'What we are currently witnessing is the challenge of reinterpreting old subjects in new ways,' Dr Anna Lawrenson and Dr Chiara O'Reilly told ArtsHub in an earlier interview, on the occasion of the launch of their publication, The Rise of the Must-See Exhibition: Blockbusters in Australian Museums and Galleries (Routledge 2019). The authors said, 'There is still a great appetite for blockbuster exhibitions, and this is seen by the ongoing investment in staging such shows.'
However, they also made particular note of a model used, especially by NGV International, which combines established, well-known artists with a more experimental figure, such as Escher x nendo, Ai Wei Wei and Andy Warhol, or the Terracotta Tomb Warriors and Cai Guo-Qiang. 'It demonstrates an attempt to offer a new perspective on a familiar topic,' they told ArtsHub.
We witness that again with the announcement this week of AGNSW pairing Louise Bourgeois with Kandinsky.
Read: Your quintessential visual arts calendar for 2023
What feels new with this year's crop of major exhibitions, however, is a weighting towards survey exhibitions by female artists. It is not surprising, given these exhibitions take anywhere between four and 10 years to pull together, and the timeline would suggest a responsive recalibration in the wake of the #MeToo and #KnowMyName movements that impacted galleries globally over this same period.
Nara, Dean and Bourgeois, along with the earlier announced Melbourne Winter Masterpieces exhibition Goddess, to be presented by ACMI in April, and a spotlight on Frida Kahlo and Diego Rivera at AGSA in June, are testament to that trend in 2023 programming.
Further, this past year QAGOMA presented the celebrated Japanese artist Chiharu Shiota with The Soul Trembles, while AGSA took a deep look at the important Pakistani artist Nalini Malani.
Sustaining the trend for the Masterpiece-headlined blockbusters, in June, after COVID delays, NGV International will finally deliver Pierre Bonnard Designed by India Mahdavi (coming from the famed Musée d'Orsay, Paris), while AGNSW delivers Kandinsky up for Australian audiences.
In doing so, it returns to a subject it presented back in 1996, with the major exhibition Kandinsky and the Russian Avant-Garde, suggesting that we are still not clear of the cyclical tendencies of these exhibitions.
But the déjà vu ricochet is not exclusive to masterpieces. The 'masters' of the Pop era are also perennial favourites for driving crowds and new audiences. We need only look at this history: Andy Warhol Portraits (MCA, 1993), The Andy Factor (ACCA, 1997), Andy Warhol (QAGOMA, 2008), Andy Warhol's Jewish Geniuses (Jewish Museum of Australia, 2014), Pop to Popism (AGNSW, 2014), Andy Warhol and Ai WeiWei (NGV International, 2015), Keith Haring | Jean-Michel Basquiat: Crossing Lines (NGV International, 2019) and Lichtenstein to Warhol: The Kenneth Tyler Collection (NGA, 2020 and touring) – a list added to this year by HOTA and AGSA.
Lawrenson and O'Reilly put the statistic at 'one in 15 will turn out for the blockbusters'. It is what these institutions hedge their bets on and, at the end of the day, ensures the pervasiveness of the major exhibition model.
Blockbuster dates for the diary