Detail, Ben Quilty; Quilty presented by Art Gallery of South Australia and touring to Queensland and New South Wales
The tone across many of the exhibitions programmed for 2019 is a quieter one, with many of the exhibitions turning to surveys and single artist solo shows. Perhaps this is an answer to a need, long voiced, to not just "buy in" shows, but to celebrate our own artists in our own time.
2019 also appears to be a year in which we will remember and ask questions through exhibitions, and give greater prominence to activities at the edges – whether in remote areas, through collaborations, or through topics of gender, race and colonialism. As the year progresses, I am sure these conversations will continue to gain greater traction.
To do justice to the depth of regional programming, I will take a look at what is happening beyond our State cities in a separate article to come.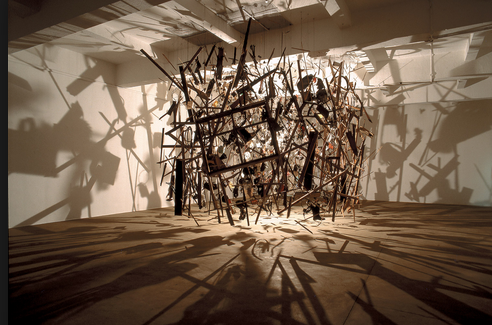 Cornelia Parker, Cold Dark Matter: An Exploded View, 1991. A garden shed and contents blown up for the artist by the British Army, the fragments suspended around a light bulb. Collection: Tate, image courtesy the artist and Frith Street Gallery, London. © the artist. Photograph: Hugo Glendinning.
Contemporary Blockbusters
The ultimate blockbuster would have to be the Venice Biennale. It returns again this year from 11 May – 24 November with Australian artist Angelica Mesiti representing Australia at the 58th edition in Italy with a multi-screen installation entitled ASSEMBLY.
Curator of the 2019 Australian Pavilion, Juliana Engberg said: 'Mesiti's work challenges the rancour and hostile politics of today with a work that is nuanced, poetic and which represents the ideals of a growing and evolving society that is open and attentive to new voices, ideas, desires and beliefs.'
A little closer to home, contemporary blockbusters on our own shores take a survey tone in 2019. The National 2019: New Australia Art returns for its second of three editions, presented across the Art Gallery of NSW (29 March – 21 July), Carriageworks (29 March – 23 June) and the Museum of Contemporary Art Australia (29 March – 23 June). The exhibition has been developed by a curatorium across the three institutions and is described as taking a look at now – in depth – rather than professing to be a comprehensive Australian survey.
For the Adelaide Festival, Samstag Museum similarly launches a three-year project, Adelaide//International – a new series of solo exhibitions and forums for the 2019, 2020 and 2021 Adelaide Festivals. In 2019 Brook Andrew and Eugenia Lim will be joined by international artists Lisa Reihana (New Zealand) and Ming Wong (Singapore). Showing 28 February – 17 March.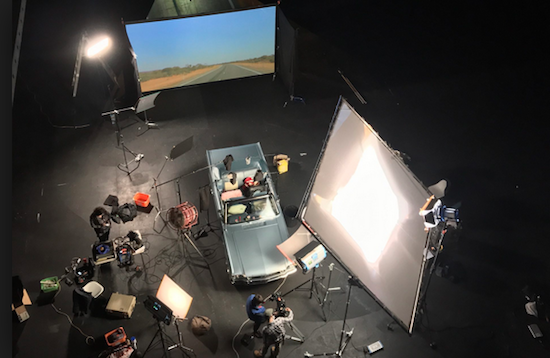 Anna Breckon and Natt Randall, Rear View 2018; The Theatre is Lying at ACCA
Also survey-like in tone is the Inaugural Macfarlane Commissions exhibition, The Theatre is Lying at Australia Centre for Contemporary Art (ACCA) – five new commissions by mid-career Australian artists who share an interest in the construction of alternative narratives and worlds through illusionary, illusory, cinematic and theatrical. It delves into the world of conspiracy theories, red herrings, smoke and mirrors, espionage and spy dramas, and misrepresentations of cinema and media. Very 21st century. Showing until 24 March.
In Sydney, British artist Michael Landy will create the exhibition Kaldor Public Art Projects: half a century in the public eye, which will survey artworks, archival materials and reconstructions of past projects. It will be presented by AGNSW 7 September – 16 February 2020.
Michael Armitage, Kampala Suburb (detail), 2014. Oil on Lubugo bark cloth. Photograph © White Cube (Prudence Cuming Associates Ltd) and the artist.
The MCA continues its focus on solo artist blockbusters. Following its summer survey of South African photographer David Goldblatt (until 3 March), it will turn to Kenyan-born figurative painter Michael Armitagewith his exhibition The Promise of Change (28 June – 22 September). Armitage's paintings respond to issues of gender, sexuality, news media, and mythology within Western and East African worldviews, working on Lubugo bark cloth – a traditional Ugandan material.
It is followed by the major MCA exclusive, Shaun Gladwell: Pacific Undertow(19 July – 7 October) – Gladwell's first major museum survey exhibition, which embraces the scope of his 20-year international career. And the MCA wraps up the year with the tenth Sydney International Art Series and a major retrospective of British artist Cornelia Parker, curated by Rachel Kent (8 November – 26 February 2020).
The Perth Institute of Contemporary Art (PICA) opens the year with post-conceptual artist and experimental musician Marco Fusinato's exhibition Lower Power (10 February – 21 April) for the Perth Festival. It features new works in which a protagonist is brandishing a rock in the decisive moment of a riot.
The Art Gallery of South Australia (AGSA) also leads this year with contemporary solo blockbusters. Its single-name titled exhibition, Quilty (2 March – 2 June) tours to Queensland Art Gallery | Gallery of Modern Art (QAGOMA) 29 June – 13 October, and AGNSW 9 November – 2 February 2020. Curated by Lisa Slade, 'Quilty presents a portrait of a socially engaged artist, a critical citizen, who wields paint to draw attention to our responsibility as human beings in an increasingly fraught world.'
Freak yourself out with the experience of walking through Dutch installation artist Julian Hetzel's cosmetics outlet and manufacturing space, which retails soap made from human fat extracted through liposuction (1-17 March). He donates proceeds and bars of soap to third-world aid and hygiene programs, literally re-purposing first world excess into third world aid. Schuldfabrik is showing for Adelaide Festival at a "mystery CBD location" to be revealed in February 2019.
In Melbourne, start the year by turning your world inside out in Melbourne with Escher X Nendo | Between Two Worlds which continues at NGV International until 7 April – the first exhibition in the world to feature the extraordinary work of Dutch graphic artist and master of optical illusion M.C. Escher in dialogue with Japanese design studio nendo, led by designer Oki Sato. It coincides with an exhibition of over 60 works by British artist Julian Opie (until 17 February).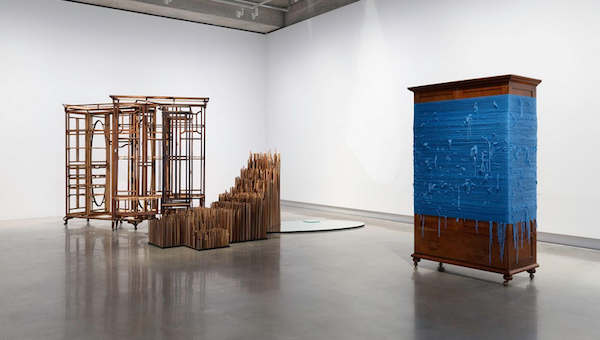 Installation view, The Garden of Forking Paths: Mira Gojak and Takehito Koganezawa, Buxton Contemporary, The University of Melbourne; Photography Christian Capurro
Across town, The Garden of Forking Paths brings together Melbourne-based artist Mira Gojak and Tokyo-based artist Takehito Koganezawa, in a new annual series of international exhibitions at Buxton Contemporary – Melbourne's newest contemporary art space. The exhibition is curated by Shihoko Iida, Chief Curator of the Aichi Triennale 2019 and Melissa Keys and opens 17 February.
And not to be missed is the Australian return of Christian Marclay's The Clock for its Melbourne debut at ACMI. The Clock is a 24-hour video installation created from thousands of clips of clocks, watches and other references to time from film and television and miraculously stitched Stitched from 100 years of cinematic history. I was totally transfixed by this piece and highly recommend it. Showing 23 January – 10 March.
Taking a soft social message but packing a big exhibition wallop are two continuing exhibitions: Nick Cave: Until at Carriageworks (until March 2019) digging deep on racial profiling, and the Australian National Maritime Museum's (ANMM) version of a summer blockbuster, On Sharks & Humanity, an environmentally-focused exhibition conceived by Chinese arts organisation Parkview Arts Action and curated by the internationally-renowned curator Huang Du. It addresses the issues of shark protection, ocean conservation and the harmful demands of shark fin products through a variety of art forms. Showing until 2 June.
The Terracotta Army, Qin dynasty (221-206 BCE) (detail) Earthenware (terracotta) Emperor Qin Shihuang's Mausoleum, Xi'an; Photography: Courtesy of NGV
Traditional Crowd-pleasers
While the Pre-Raphaelites are still on show at the National Gallery of Australia (NGA) in Canberra until 28 April with Love and Desire: Pre-Raphaelite Masterpieces from the Tate, and Russia is still in the house in Sydney with the AGNSW's blockbuster Masters of modern art from the Hermitage until 3 March – these 2018 flow-over exhibitions are continued in tone into 2019.
This year NGA will present Monet: Impression Sunrise(7 June—18 August) which features world-famous paintings from the Musée Marmottan including the 1872 work, Impression Sunrise, which inspired the term 'Impressionism'.
In contrast the NGV International turns to Asia for its Melbourne Winter Masterpieces – a dual presentation of China's ancient Terracotta Warriors alongside a parallel display of new works by one of the world's most exciting contemporary artists, Cai Guo-Qiang (24 May – 13 October).
Tony Ellwood, Director, NGV said: 'Thirty-six years ago, in 1982, the National Gallery of Victoria presented the first international exhibition of China's ancient Terracotta Warriors only several years after their discovery. History will be made again in 2019, when the Qin Emperor's Terracotta Army will return to the NGV – this time in a sophisticated dialogue with the work one of China's most celebrated contemporary artists, Cai Guo-Qiang.'
AGNSW also looks to Asia for its major blockbuster in 2019. Heaven and earth in Chinese art: treasures from the National Palace Museum, Taipeiis the first exhibition in Australia from the National Palace Museum exclusive to Sydney and presenting over 150 artworks, including paintings, calligraphy, illustrated books, bronzes, jade and wood carvings, and ceramics (2 February – 5 May).
Later in the year AGNSW will present the most comprehensive exhibition dedicated to Duchamp ever seen in the Asia-Pacific region, featuring 125 works and related documentary materials spanning the artist's six-decade career, drawn from the Philadelphia Museum of Art. The essential Duchamp will be showing 27 April – 11 August.
NGA will delve into the paintings, portraits and sketchbooks of seminal Australian artist Hugh Ramsay (30 November —March 2020); while the big regional blockbuster for Bendigo Art Gallery is the massive Tudors to Windsors: British Royal Portraits from the National Portrait Gallery. The exhibition opens 16 March – 14 July and is sure to be another huge crowd pleaser and a jewel in Bendigo's crown.
Shirley Macnamara, Erkel (Vessel) 2010 / Twined spinifex (Triodia longiceps) with nylon thread, red ochre, galah feathers and synthetic polymer fixative / 14 x 31 x 25cm / Purchased 2010 with funds from the Bequest of Grace Davies and Nell Davies through the Queensland Art Gallery Foundation / Collection: Queensland Art Gallery | Gallery of Modern Art / © Shirley Macnamara
Indigenous Insights
One of the highlights of the calendar year is the TARNANTHI festival presented by the Art Gallery of SA and other Adelaide venues. It returns 18 – 27 October. Key to this year's program will be a major exhibition coming out of the US (from the Kluge-Ruhe Aboriginal Art Collection of the University of Virginia) and charting seven decades of Yolngu bark painting in northeast Arnhem Land. Titled Madayin it will be presented at AGSA 18 October – 27 January 2020, before touring to New York, Los Angeles and Washington DC.
Also turning to international partnerships to amplify the First Nations voice, the NGA will launch a suite of major new commissions to be unveiled in October, then toured throughout Asia with particular focus on Singapore and China in 2020.
In Brisbane QAGOMA, traces the role that Goobalathaldin Dick Roughsey played in transitioning traditional Aboriginal art from Mornington Island into a contemporary practice. Roughsey is a legendary figure in Aboriginal art and also known for his children's picture books, The Rainbow Serpent (1975) and The Giant Devil Dingo (1973). Jointly curated with Cairns Art Gallery, Stories of This Land is showing from 30 March to 18 August.
And turning to stories from an elder, QAGOMA will present a solo exhibition by Queensland artist Shirley Macnamara, capturing the full span of her practice from 1997 to the present and showing from 21 September 2019 – 1 March 2020.
The Tasmanian Museum and Art Gallery (TMAG) in Hobart presents another solo by a Queensland artist. Michael Cook: The Mission was created using a range of archival imagery, including family photographs and documents from his personal collection. Showing until 3 March.
Across the country, the Art Gallery of Western Australia (AGWA) unveils its long-track project Desert River Sea: Portraits of the Kimberley, opening 9 February to coincide with the Perth Festival. It comprises eight new commissions.
Bendigo Art Gallery also make First Nations voices a priority in its 2019 program with the new parallel biennial project Going Solo: First Nations – which will coincide with the Going Solo program that supports the development and exhibition of an exemplary contemporary artist. 2019 is the first time the program focuses on a First Nations artist living and working in regional Victoria. Artist announced March and exhibition November 2019 – February 2020.
Turning to Pacific First Nations artists, NGA and Campbelltown Art Centre (CAC) lead this dialogue in 2019. Māori Tā Moko: Tā Moko (23 March—25 August) looks at the traditional skin and face markings in a contemporary context alongside its historic significance at NGA, while CAC will bring together women of iTaukei (Indigenous Fijian) heritage in Western Sydney with iTaukei female artists from Australia and New Zealand in a collaborative exhibition, ERA YALOVATA NA MARAMA (Fijian Women Gathered Together) in August.
Arthur Boyd, Hanging rocks with bathers and Mars, c. 1985 oil on canvas; Bundanon Trust Collection
The Individual Voice – Solos & Surveys

Kicking off the year at the NAS Gallery, at Sydney's National Art School, is Arthur Boyd: Landscape of the Soul, curated by Barry Pearch and drawn from the Bundanon Trust (10 January – 9 March). It will tour nationally for three years.
The Australian Centre for Contemporary Art (ACCA) in Melbourne will present a survey of works by Tom Nicholson, titled Public Meeting opening in April – again with new commissions.
In Perth, the year kicks off with Andrew Nicholls' WA Now solo exhibition, showcasing his recent Hyperkulturemia series, created over the past five years, and the outcome of a series of residencies in Italy between 2014-2017. You can catch Hyperkulturemia at the Art Gallery of Western Australia (AGWA) from 15 December – 15 April 2019.
Also in WA, the Fremantle Arts Centre is putting up a great solo exhibition for Perth Festival by London artist David Noonan. A Dark and Quiet Place (7 February – 24 March), typically draws from black and white photographic images collected from books and periodicals, juxtaposed, edited and collated to conjure a range of possible narratives.
The MCA in Sydney will present a mid-career survey from one of Australia's most important contemporary artists. Janet Laurence: After Nature (1 March – 10 June) spans three decades and a broad range of materials, and deals with the critical issues facing the environment and the natural world.
Later in the year the MCA will present the blockbuster survey of Shaun Gladwell (19 July – 7 October), and a major 18-meter long multi panelled painting by Chinese Australian artist Guan Wei, alongside key works drawn from the MCA Collection (11 October 2019 – 2 February 2020).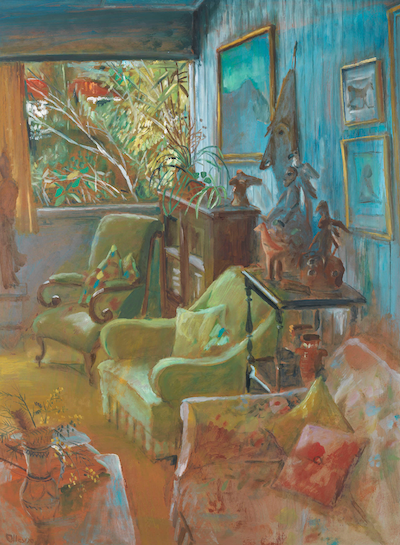 Margaret Olley, Interior IV 1970, Oil on composition board; Gift of the Margaret Olley Art Trust through the Queensland Art Gallery Foundation 2002 / Collection: Queensland Art Gallery | Gallery of Modern Art / © Marget Olley Art Trust
In Brisbane, QAGOMA turns to two major survey exhibitions for 2019. The first is Margaret Olley: A Generous Life – an in-depth examination of Olley's formative career in Brisbane, her influences and legacy (15 June -20 October). QAGOMA also takes a deep dive into the work of John Molvig this year with the exhibition Maverick, the first major survey of works by the late Queensland artist in 40 years (14 September – 2 February 2020). Molvig dominated the art scene from the mid-50s through the 60s and was a charismatic teacher with an uncompromising commitment to painting.
Across town at the IMA, it is Dale Harding that is the focus with the exhibition Current Iterations (9 February –30 March) which considers his practice that looks at objects dislocated by museum practices. The gallery will also present a solo exhibition on the work of Agatha Gothe-Snape (29 June–31 August)
On top of launching the Quilty tour, AGSA will also present Sonic Blossom by Lee Mingwei, a Taiwanese-American artist based in Paris and New York in October; and Perth artist Tarryn Gill's Guardians (23 March – 5 May), which the gallery acquired from the 2016 Adelaide Biennial, following her residency at Freud Museum in London.
Also in Adelaide, ACE Open will premiere leading Australian artist Sally Smart's installation, The Violet Ballet, as part of the 2019 Adelaide Festival (2 March – 27 April). The Violet Ballet continues Smart's investigation into avant-garde dance company the Ballets Russes, and their experimental choreography, costume and theatre design in an immersive and layered installation.
The NGA will also present an interactive exhibition of collage, cut-out assemblages and dance by Sally Smart, taking over the National Gallery Play space from 10 November 2018—27 May 2019.
In Melbourne, Monash University Museum of Art (MUMA) takes a look at New Zealand artist Michael Stevenson with the exhibition Serene velocity in practice: MC510/CS183 (22 May – 6 July), including a major commission. Later in the year MUMA presents Mexico-born, Berlin-based artist Mariana Castillo Deball (5 October – 7 December) with a gallery wide commission produce insitu.
The NGV Austrealia takes a look at Darryn Sylvester – the first large solo by the Melbourne-based artist, titled Carve a Future, Devour Everything, Become Something (1 March – 30 June); while NGV International turns to the iconic Alexander Calder with Radical Inventor – an exhibition of ninety sculptural and pictorial compositions lent by the Calder Foundation, New York. (5 April – 4 August).
Another Victorian survey is presented at TarraWarra Museum of Art – an exhibition on the work of Katie West curated by Anthony Fitzpatrick (23 March – 19 May). The exhibition is comprised of floor to ceiling textile works, cushions and seating, all naturally dyed using plants collected from the local region. This new installation has been commissioned by TarraWarra as part of ART+CLIMATE=CHANGE 2019.
TarraWarra will also present Tracey Moffatt: Body Remembers (23 March – 19 May) the first Victorian showing of Tracey Moffatt's photographic series from 57th Venice Biennale.
Other solo exhibitions to put in the diary: Roger Ballen – an Australian exclusive retrospective of 50 years at GAG Projects for Adelaide Festival (27 February – 31 March); a posthumous survey of Debora Porch's work at UNSW Galleries Sydney (21 June – 7 September); Gemma Smith also at UNSW Galleries, Sydney (15 March – 1 June); Nusra Latif Qureshi's first Australian institutional solo presented by 4A Gallery, Sydney 23 August – 29 September); Jess Johnson and Simon Ward at Heide Museum of Modern Art (9 November 2019 – 1 March 2020); Campbelltown Art Centre looks at five decades of Suzanne Archer's work (March);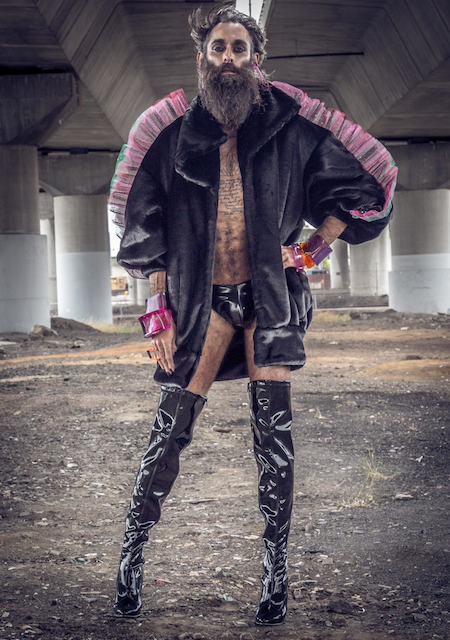 Gun Shy: Circe de Merde AW18 "I'm Ready" Jacket. Photographer: The Furies. Model: Sam Carew-Reid; MUA/SPFX: Lou McLaren; Stylist: Rose Chong Costumiers; Accessories: Alexandra Blak; Model Undergarments: Bryn Meredith
Makers and Designers
Fashion and design have increasingly become an annual feature in the exhibition programs across our nation, and while 2019 takes a lighter touch, it continues to fuse these genres in the gallery space. Heide Museum of Modern Art – which bought us Featherstone in 2018 – will present Gorman: Ten Years of Collaborating (5 –17 March) to coincide with the 2019 Virgin Australia Melbourne Fashion Festival
Ceramics continues to be a strong trend in 2019, Heide presenting An Idea Needing to be Made: Contemporary Ceramics (27 July – 20 October) and the 2019 Sidney Myer Fund Australian Ceramic Award (SMFACA) returning to the Shepparton Art Museum from 22 June – 1 September, Australia's premier acquisitive ceramic art award. With few surprises the 2019 shortlisted artists are Julie Bartholomew, Stephen Bird, Greg Daly, Lynda Draper, Juz Kitson, and Isadora Vaughan.
The Newcastle Art Gallery (NSW) presents its important collection of Japanese Sodeisha ceramics SODEISHA: connected to Australia from 2 March to 19 May, supported by the Dobell Exhibition Grant.
The AGSA takes an interesting angle on the medium with its exhibition Honor Freeman: Ghost Objects from 27 July 2019, where Adelaide-based artist Honor Freeman, working primarily in porcelain, echoes original objects in the collection.
In Melbourne it is RMIT leading the way in 2019, with the exhibitions Melbourne Modern: European art & design at RMIT since 1945 (21 June- 17 August), followed by MasterMakers (6 September – 9 November) – the latter looking at two decades of leading Australian and international Gold and Silversmithing artists – and the continuing exhibition, Pleasure & the Grotesque: Decorating Bodies 1980s to Now (until 7 March), which takes a look at fashion and sexuality, decoration to enhancement from the flamboyant 1980s to contemporary times.
Sydney Design Festival returns with the theme Accessing Design, from 1 – 10 March, while Design Canberra returns with the theme Utopia from 4-24 November and Melbourne Design Week is slated for 14-24 March with the theme Design Experiments, presented at NGV and various other locations.
The Victorian Craft Awards return in 2019, established in 2015 and described as the largest biennial exhibition of Victorian craft. Applications will open in March 2019, with an exhibition of selected finalists taking place in July and August.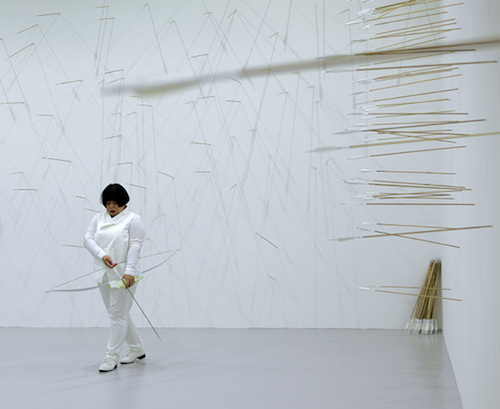 Melati Suryodarmo Transaction of Hollows 2018, durational performance, National Gallery of Australia, Canberra, proposed acquisition © Melati Suryodarmo
Beyond our borders
The 9th Asia Pacific Triennial (APT) – the quintessential pulse on the art and culture in the region – continues at QAGOMA in Brisbane until 28 April, and given that it only happens every three years, is an exhibition not to be missed.
Also turning to the region, but with a narrower lens, the NGA will unveil the much anticipated Contemporary Worlds: Indonesia (21 June—27 October), bringing together practitioners from Bali and Java's key artistic centres of Yogyakarta, Jakarta, and Bandung. Presenting new acquisitions and commissions from artists such as Melati Suryodarmo, FX Harsono and Eko Nugroho. A major one-day symposium will be presented alongside this exhibition.
Casula Powerhouse in Sydney's west starts the year also turning its focus on Indonesia; looking here looking north is an exhibition by Woven, a collective who have continuing personal connections to Indonesia (12 January – 10 February). It is partnered with a show by Indonesian-Australian artist Jumaadi that presents video works drawing on Wayang Kulit. Casula celebrates its 25th anniversary in 2019.
And tapping into the moment Darren Knight Gallery (Sydney) has worked with collector John Cruthers and Indo Art Link to present Termasuk – Contemporary Art from Indonesia (19 January – 16 February) to showcase recent work from this vibrant art scene.
Xiao Lu, One, performance, 5 September 2015, Valand Academy, University of Gothenburg, Sweden. Photograph by Lin Qijian, courtesy Xiao Lu.
Turning their focus to China, 4A Gallery will present Xiao Lu's Impossible Dialogue (19 January – 24 March) – the first retrospective of the leading contemporary Chinese artist and which examines interest in deep emotion, extreme action, and chance and the artist's ongoing connection with Australia. They will present a suite of talks both in Sydney and Melbourne including the topics art and activism, gender and art in Asia, the Chinese Avant-Garde.
The iconic Sydney space, White Rabbit Gallery rolls out its next show Hot Blood from 15 March – 4 August featuring 24 artists working in the post-internet era and who are described as 'not afraid of risk'.
AGSA will open the year with Export Empire: Japan and the modern world (26 January – 21 July) looking at a period when Japan was defined by innovative media and the creation of opulent and extravagant export wares for western tastes.
Later in the year AGSA turned to its first comprehensive survey of Islam's extraordinary artistic heritage, spanning a medieval 'golden age' of Islam until the contemporary era, from Morocco to Indonesia. No god but God: Art of Islam opens 24 August.
In Melbourne, RMIT will present Bruised: Art Action and Ecology in Asia (12 April – 1 June 2019), looking at the ways artists address ecological issues from gentle activism to bold action.
Curator Pedro de Almeida has turned to Singapore – another close neighbour – with the exhibition By All Estimates (12 April – 26 May) at 4A Gallery. The exhibition explores how artists give form to narratives obscured by the city-state's rapid urban and social development.
The OzAsia Festival continues to play a significant role in introducing new contemporary arts from Asia to audiences in Australia, and will return again to Adelaide during October.
History, diaspora and change
Sydney's ARTSPACE opens the year with an exhibition that should set the tone for 2019 conversations. Just Not Australia (18 January – 28 April) is an inter-generational exhibition that deals with the implications and complications of nationhood.
Across town at UNSW Galleries, Zanny Begg's The Beehive(5 January – 23 February) kicks off their program with a twist on the unsolved murder of Sydney anti-development campaigner and journalist Juanita Nielson, using an algorithm to offer 1344 random versions of the account.
In Brisbane at the IMA, an exhibition Haunt (13 April–8 June 2019) tackles the idea of home in our contemporary diaspora. IMA writes of this exhibition: 'In an age marked by mass migration, technologically accelerated dislocation, and rapid urban development, notions of home and belonging need to be imagined anew. At once located and displaced, how to live together is one of the crucial questions of our time.'
Later in the year IMA will present Beirut-based artist Lawrence Abu Hamdan's Earwitness Theatre (21 September–21 December) which examines the politics of listening. Throughout the year, the IMA will be working with Liquid Architecture on a series of experimental sonic events titled Contra Listening that will culminate during Abu Hamdan's exhibition.
Gender and body
The year kicks off with an important exhibition curated by the Campbelltown Arts Centre (CAC) – an all female exhibition drawn from their collection. Borrowed scenery(2 January– 10 March) explores what happens when the subjects of the male gaze look back, step outside the frame, and assert their own vision and experience of the world.
'I feel that it's important to address the traditional and systemically patriarchal methods of forming and growing a collection and those systems we default to, and those that underpin contemporary arts and museums practices,' said Jasmine Kean, Curator and Collections Officer CAC.
The Sydney ARI Artreal Gallery in Rozelle also turns to an all-female show to start 2019. Nevertheless, she persisted (6 Feb – 2 March) profiles the work of ten unrepresented female artists / engaging with recent discourses around the visibility / invisibility of female artists in the art world.
The IMA turns to art history to make similar points. It presents an exhibition by the iconic Cuban American artist Ana Mendieta. Connecting to the Earth (9 Feb–30 March) looks at Mendieta's idea of feminised nature and has been curated by Prof. Susan Best, Queensland College of Art, Griffith University.
And All about women returns to the Sydney Opera House on 10 March, asking questions about gender, justice and equality. It will be streamed for those who cannot attend.
New frontiers / technology
A few exhibitions that jump out in 2019 for their experimental art forms, new thinking, and fusion of new and digital medias, largely come from the university gallery sector this year.
UNSW Art and Design will consider the field of image production surrounding video games. Focusing on the culture of hacking and "modding" with an exhibition by Nicholas Aloisio-Shearer(15 March – 1 June). The artist uses commercial 3D modelling software to create objects hacked from games, re-photographs them and then prints in the darkroom on discontinued black and white paper.
Across town, the UTS Gallery (Sydney) presents the group exhibition After Technology (26 February – 18 April), which considers how artists have registered the rise of technologies since the 1990s, and then in July takes a look at Australian artists and designers working at the nexus of art and science with the exhibition Spectra: The Art and Consequence of Collaboration (16 July – 6 September).
Locust Jones, Back to the Dark Ages II, 2016, Installation Contemporary; courtesy of Dominik Mersch Gallery. Photo Jacquie Manning
Market watch
If you want to get a broad grasp quickly then make sure you head to an art fair in 2019. Sydney Contemporary will return to its signature venue Carriageworks (12-15 September) for its fifth edition. Also in Sydney this year, The Other Art Fair will return to The Australian Technology Park from 14-17 March.
Indigenous art fairs are a great way to meet combat distance and meet artists and art centres first hand. The Cairns Indigenous Art Fair returns to Queensland 11-14 July in a big splash for its 10th anniversary; the 13th Darwin Aboriginal Art Fair is scheduled for 9 – 11 August; Desert Mob 2019 will be presented in Alice Springs from 5-7 September – this year coinciding with the Museums & Galleries National Conference – while Tarnanthi Art Fair will be presented in Adelaide from October as part of the Tarnanthi Festival (18 – 20 October).
And if you want to dip you toe into international waters, then there is nothing better than Art Basel Hong Kong and Art Central, which will be held this year from 29-31 March (VIP preview 27 March and Vernissage 28 March).
4A returns to Art Central with a series of interactive and live works that address contemporary concerns of excess and dispossession. Participating artists include: Caroline Garcia (Australia), FJ Kunting (Indonesia), Sam Lo (Singapore) as well as artist duo Sampson Wong & Lam Chi Fai (Hong Kong).
Bricks and Mortar
The National Portrait Gallery in Canberra will close for a six month period from April to September in 2019 to allow scheduled work to be completed, while across the green the NGA will open a new permanent Children's gallery supported by an online resource centre for teachers, and a creative learning centre in mid 2019.
In Melbourne, the $14.5 million Housemuseum Galleries next to Kew's Lyon Housemuseum is on track for a March opening. Architect Corbett Lyon and wife Yueji's Housemuseum has only been open to the public on a limited basis since 2009, but the new adjacent gallery will be open six days a week for a small entry fee.
And the Sydney Modern Project is scheduled to break ground in early 2019.