Table of contents
This week's opportunities
Awards:
City of Sydney Australian Life photography competition
The City of Sydney is calling on photographers from across the country to submit their best take on life for the chance to win a $10,000 cash prize and be included in the finalist exhibition at Circular Quay from 14 September to 8 October. Judges include 2022 winner Matthew Abbott, Indigenous artist and producer Travis De Vries, documentary photographer Sandy Edwards and prominent Australian photographer Liz Ham.
Children aged three to 12 are also encouraged to enter the Little Sydney Lives photography competition with a photo taken in Sydney over the past year. There are two $500 photography prizes up for grabs, as well as enter the finalist exhibition in Customs House, Circular Quay.
Entries for both competitions close 21 May; learn more and enter.
The inaugural MAKE Award: Biennial Prize for Innovation in Australian Craft and Design is open to Australian designers and makers with a first prize of $35,000 and second prize of $10,000. The judges are Hyeyoung Cho (Chairperson, The Korea Association of Art and Design and Jury Member Loewe Craft Prize), Brian Parkes (CEO, JamFactory), Jason Smith (Director, Geelong Gallery) and Lisa Cahill (CEO and Artistic Director, Australian Design Centre).
Entries close 9 June; learn more and enter.
The York Botanic Art Prize (WA)
The York Botanic Art Prize is held in the historic Wheatbelt town of York in WA and this year has announced environmental scientist, landscape designer and sustainability advocate Professor Josh Byrne as patron. Artists are invited to respond specifically to native West Australian flora and to work in any medium – expanding the field of what botanic art can be. Entries will be accepted from international artists for the first time.
EOIs open 13 May to 17 July; learn more.
2023 Victorian Museums and Galleries Awards (Vic)
The 30th anniversary of the Victorian Museums and Galleries Awards will be delivered in partnership between the Australian Museum and Galleries Association Victoria (AMaGA Victoria) and Public Galleries Association of Victoria (PGAV). New Awards in 2023 include First Nations Project of the Year, Change-maker of the Year and a dedicated Lifetime Achievement Award.
Nominations close 3 July; learn more and nominate.
Commissions:
VACS Major Commissioning Projects
These grants deliver investment to individuals and groups as part of the Visual Arts and Craft Strategy. Each year a designated number of grants are available to each state or territory reflecting the population spread of the country in which the Strategy is based. In this round, grants of $100,000 are available for ACT, NSW, NT, Qld, SA and Vic.
Applications close 6 June; learn more and apply.
Read: Eleven artists awarded $100,000 each in Australia Council commission
Grants and funding:
Natalie Miller Fellowship Catalyst Grants
With the announcement of Sasha Close as the new President of the Natalie Miller Fellowship (NMF), five NMF Catalyst Grants ($5000 each) will be awarded to assist female and female-identifying members of the Australian screen industry. To be eligible, applicants must have at least three years' professional experience in the Australian screen industry (including formal unpaid internships) and cannot be enrolled full- or part-time in an undergraduate program.
Applications close 26 May; learn more and apply.
Callouts:
BIGSOUND Support Package (Qld)
BIGSOUND (5-8 September) has announced a Support Package for showcase artists, including a travel assistance fund that each BIGSOUND artist will be eligible to apply for. Each act invited to showcase can access a $500 grant to assist with transportation and accommodation costs to attend. An additional pool of $30,000 will be accessible via application by First Nations-identified artists, artists living with disability and artists from regional and remote areas for travel to showcase at the event.
Applications close 2 May; learn more and apply.
YAVA YouthArt 2023 (Vic)
Healesville-based YAVA is calling for local, budding artists aged 15 to 25 to exhibit in its YouthArt 2023 exhibition, with the chance to win a People's Choice prize. YouthArt is an opportunity for local, young artists to exhibit and sell their artwork in a professional gallery setting.
Submissions close 16 May; learn more and apply.
Professional development:
Carclew Fellowships offer financial support to emerging cultural and creative artists and arts workers, for career building, skills development, exploring new art form practice and research towards creative development. Applicants practising in all creative mediums (as well as the technical, administration and production areas) can request financial support of up to $10,000. Non-Indigenous applicants up to 26 years of age are eligible; Aboriginal and Torres Strait Islander applicants up to 30 years of age are eligible.
Applications close 5 July; learn more and apply.
Want more? Visit our Opportunities page for more open competitions, prizes, EOIs and call-outs.
This week's winners
Visual arts:
Chantel Bates, Elizabeth Close and Jonathon Saunders are the artists selected for NEW LIGHT 2023, presented by Illuminate Adelaide and ANAT (Australian Network for Art and Technology). The new commissions showcase experimental and diverse moving image works by contemporary First Nations artists. Bates' Echoes draws on commonly shared experiences of Indigenous people in Australia and focuses on the artist's intrinsic relationship with land and Country. Close's Beneath is an extension of her large-scale public arts practice built on increasing the visibility of Aboriginal arts and culture. One Minute to Midnight by Saunders spotlights Indigenous superhero Zero-Point, creating the change on mainstream screens that he wishes to see. These works will be exhibited on the media screens at the entrance to Adelaide Festival Centre as part of Illuminate Adelaide's City Lights program.
Sydney artist Andrew Tomkins has won the 2023 Gallipoli Art Prize – an $20,000 acquisitive prize presented by the Gallipoli Memorial Club. Tomkin's Ray's Room is a poignant work depicting his uncle's room in his grandparents' house. Tomkins says: 'As a child, Ray's room was off limits. It was his space. Raymond Tomkins was a participant in the Battle of Slater's Knoll, Bougainville in 1945. He went away a young man but returned a very different person. It was always expected that personnel returning to civilian life from active duty "just got on with it". More often than not, the only support came from each other… Ray did get on with it, leading a productive life and supporting fellow servicemen and their families.'
Tomkins began painting at the age of 12 and was the winner of the inaugural Burwood Art Prize in 2017. He has exhibited across Australia, including in Sydney Contemporary 2017-2019, and has also exhibited at Art Central Hong Kong 2018 and 2019. Tomkins was selected to exhibit at the Beijing International Biennale at the National Art Museum in Beijing in China in 2019 and his work is in the collection of the National Art Museum of China in Beijing.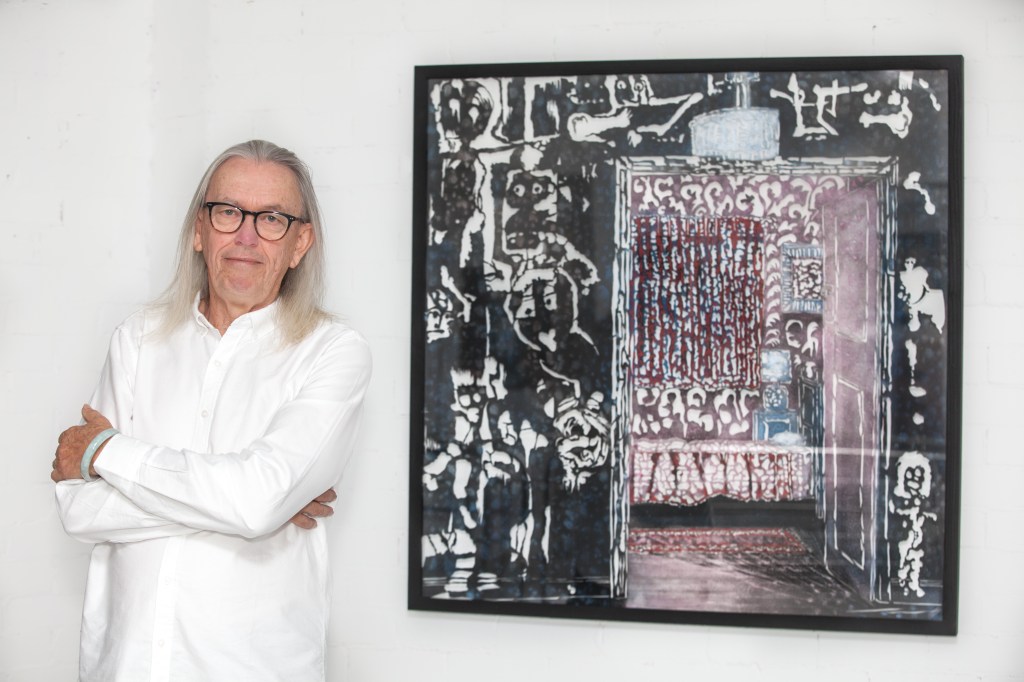 The 2023 Highly Commended went to Richard Crossland for his painting 24 Days, Simpson and his Donkey depicting Private Simpson who came to fame at Gallipoli for rescuing wounded men with a donkey. Simpson was killed by sniper fire after 24 days at Gallipoli. The 2023 Gallipoli Art Prize exhibition is on view at The Rocks, Sydney until 14 May. View the works online.
All:
Screen Australia and the Australian Writers' Guild has announced six participants for The Creators, a career acceleration program for high-calibre Australian screenwriters. They are: Jane Allen, Kodie Bedford, Judi McCrossin, Sam Meikle, Suzie Miller and Tommy Murphy. Established to support the creative and professional growth of Australian writers in an increasingly global screen market, The Creators will see the group travel to Los Angeles in May 2023 to attend Content LA and to participate in tailored project and pitching development to sell their stories in domestic and international markets.
Shortlisted and finalists
The Australian Publishers Association has announced the shortlist for the 2023 Australian Book Industry Awards (ABIA). The ABIA Academy, comprising more than 250 publishers, booksellers, agents and media and industry representatives, has selected books published over the past calendar year across 14 categories. For the first time, the shortlist includes a new category: Social Impact Book of the Year. Julia Gillard's Not Now, Not Ever (Penguin Random House Australia, Vintage) and How Many More Women by Jennifer Robinson and Keira Yoshida (Allen & Unwin) are among those shortlisted in the new category.
Titles with multiple shortlists include Hannah Gadsby's Ten Steps to Nanette (Allen & Unwin), The Boy from Boomerang Crescent by Eddie Betts (Simon & Schuster Australia) and Dirt Town by Hayley Scrivenor (Pan Macmillan Australia). See the full 2023 ABIA shortlist. Winners will be announced on 25 May at a red carpet event.
The Institute of Professional Editors (IPEd) has announced the shortlist for the 2023 Rosanne Fitzgibbon Editorial Award (the Rosie) with a cash prize of $4000. The award is presented to a dedicated editor who has helped an author deliver the best possible outcome on a fiction or non-fiction publication. The shortlisted editors are: Bronwyn Mitchell for Wetlands of Queensland, Emma Rafferty for Dinner with the Schnabels and Cathy Vallance for The Way of Dog. Kathryn Tafra received an honourable mention for Tea, War and Crocodiles: Tales from an extraordinary life. The 2023 Rosie winner will be announced at an online awards event as part of the 11th IPEd Editors Conference.
Finalists have also been announced for the Ramsay Art Prize 2023, which awards a $100,000 acquisitive prize for contemporary Australian artists under the age of 40. This year's finalists are: Abdul Abdullah, Carla Adams, Badra Aji, Tom Blake, Yuriyal Eric Bridgeman, Emma Buswell, Jacobus Capone, Sundari Carmody, Ida Sophia, Corban Clause Williams, Henry Curchod, Sarah Drinan, Zaachariaha Fielding, Aidan Gageler, Olive Gill-Hille, Pascale Giorgi, Nadia Hernández, Alana Hunt, Alfred Lowe, Gian Manik, Daniel McKewen, Amy Perejuan-Capone, Alison Puruntatameri, JD Reforma, Teho Ropeyarn, Yasmin Smith and Katie West.
This year's finalists were selected by a judging panel of contemporary art specialists comprising Aaron Seeto, Director of the Museum of Modern and Contemporary Art Nusantara, Jakarta; Perth-based visual artist and creative producer Erin Coates; and Nici Cumpston, OAM, AGSA's Artistic Director of Tarnanthi: Festival of Contemporary Aboriginal and Torres Strait Islander Art and Curator of Aboriginal and Torres Strait Islander Art. All finalist works will be exhibited at Art Gallery of South Australia (AGSA) from 27 May until 27 Augusta, with the winner to be announced on 26 May.
Check out previous Opportunities and Awards wraps for more announcements.