On 9 December, ArtsHub will examine the state of the arts in Australia in our Visions 2020 conference, exploring the sector in all its richness and vitality – as well as the challenges it faces, both now and in years to come.  
Visions 2020 will bring our sector together to celebrate the voices of First Nations artists, People of Colour and people living with disability, as well as the ideas and passions of artists and arts workers from across the country. It will be an event by the arts sector, for the arts sector. 
The conference will span multiple artforms and feature artists and art workers from around the country, discussing such topics as: how have our festivals changed with COVID? What are the most creative ideas for survival? What will the arts look like in the future? 
We'll look back on our history of reporting about the sector and holding it to account but we'll also look to the future as well as contextualising 2020 – the year that brought so many changes and challenges to our community. 
Building community is more important than ever in the arts, and we want to create a virtual space for critical discussion, networking and knowledge-sharing among organisations and arts practitioners.
Tickets will be free for members and available soon. And because the event will be online, it will be accessible across the country as well as captioned – so everyone can join us at Visions 2020.
Meet our Program Advisory Group
As a small arts organisation we know we can't speak for everyone, so our Program Advisory Group will help steer Visions 2020.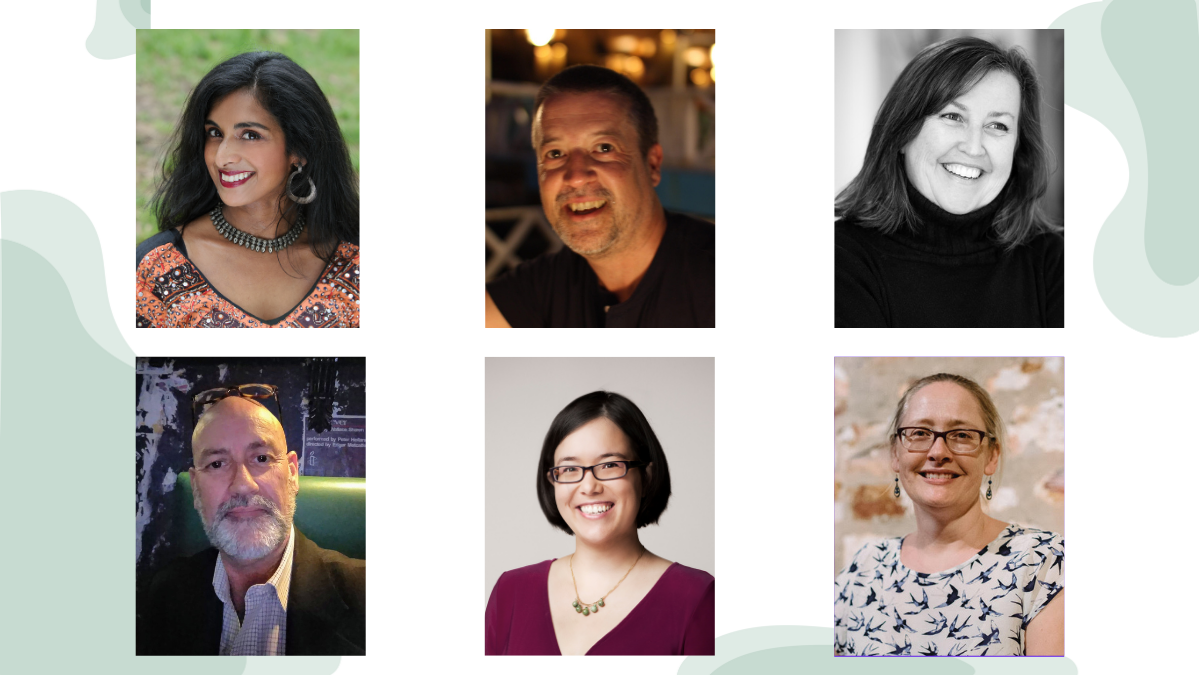 Visions 2020 Program Advisory Group so far (top l-r, bottom l-r): Sonya Suares, Matthew Hall, Annette Downs, Peter Kift, Dr Jackie Bailey, Sally Bothroyd.
Sonya Suares is a multidisciplinary performer, dramaturg, director, producer and arts activist who made her screen debut in Ocean Girl in the 90s. Sonya has led several performing arts organisations including Red Stitch Actors Theatre, Poppy Seed Festival and Watch This, which she founded in 2012. Sonya works to change the face of our live performance sector through her (largely voluntary) work on panels, committees, in forums and via campaigns like the #justnotthatmany national visibility initiative, which she led in 2019. 
Matthew Hall is the Chief Executive Officer of Arts Access Australia, the disability-led peak national body for arts and disability in Australia. Matthew has deep and diverse experience in the arts sector as well as 20 years of management experience. Matthew has been Chair of the Brisbane Writers Festival and the Queensland Conservatorium within Griffith University, and a Board member of Queerscreen. He also played a key role in setting up the Namatjira Legacy Trust working with family and community in Alice Springs.
Annette Downs has worked as a university lecturer, performer, director, television presenter and for seven years was Artistic Director of the international touring Company Terrapin. Since 2006 Annette has been the Senior Producer at Tasmania Performs supporting artists to create work and engage with touring opportunities. Her work has been acknowledged with the 2016 Tasmanian Theatre Impresario Award, and in 2019 the national Facilitator's Prize at the Sidney Myer Performing Arts Awards.
Dr Jackie Bailey is the founder and Principal of the award-winning research, strategy and evaluation consultancy BYP Group. Jackie has a PhD (Creative Writing) from the University of New South Wales, a University Medal, BA (First Class Honours) from the University of Queensland, a Masters of Theology from The New Seminary and a Postgraduate Diploma in Digital Media from the University of Melbourne.
Peter Kift is an Associate Fellow of the Australian Institute of Management, a member of the Institute of Public Accountants and a member of the Theatre Communications Group (USA). Peter has been a production accountant on many independent film & television productions. He was also a member of the Financial Advisory Committee for Yirra Yaakin up until the middle of 2011 and the Treasurer and President of Kulcha – Multicultural Arts from November 2007–June 2013. Peter is humbled to be the General Manager of Yirra Yaakin Theatre Company and bringing world-class First Nations theatre from WA to Australian and global audiences.
Sally Bothroyd has lived in Darwin for 20 years, and is the executive director of the NT Writers' Centre (which also produces the NT Writers Festival). She recently won the ASAHQ prize for Commercial Fiction, and as a result her first novel will be published in 2022.
We'll be announcing more members of the group along with other ways to get involved soon.
Look out for our program and save the date, Wednesday 9 December, for Visions 2020. Sign up for the latest program announcements and early bird ticketing offers here.