Newcastle-born painter John Olsen (1928-2023) was known for his beret-wearing, his vibrant lyrical landscapes, his deep generosity, his charisma and his infectious joie de vivre.
Olsen died on Tuesday evening (11 April) surrounded by family and loved ones. He was 95.
In the flood of tributes that have rolled out following the news, Olsen has been described as 'a landscape poet', a 'titan of the Australian art world', 'the Picasso of Australia' and, by the late Director of the Art Gallery of NSW, Edmund Capon, as 'up there in the stratosphere' of Australian artists.
In an earlier ArtsHub conversation, artist Ben Quilty described Olsen as 'an unbelievably optimistic human being'.
Sitting in Olsen's kitchen at Bowral, on the occasion of the last major solo exhibition to be mounted during his lifetime, John Olsen: Goya's Dog, Olsen was – as always – delighted to share his life passions of art, food and poetry.
Read: Painters John Olsen and Ben Quilty in conversation
The Goya's Dog exhibition was conceived by the late curator William Wright AM and bought to life years later by National Art School (NAS) Director Steven Alderton. It showed there in June 2021, before touring to Bowral last year, at the regional gallery Ngununggula. Olsen had studied at NAS (then East Sydney Technical College) where he also taught in 1960 after returning from his travels. In 2008 he was made a National Art School Fellow.
This love of teaching and sharing continued at the Bakery Art School, which he set up in 1968.
Ngununggula Director, Megan Monte, says, 'It was an important exhibition that celebrated the work of one of the most prolific artists of our time, and his legacy will be held close by many for years to come.'
That regional connection to landscape was a constant throughout Olsen's long career – whether engaged as large sweeping aerial gestures, or intimate details from his rural home – and honing that macro view down to a celebration of the micro, such as his love of frogs.
Some of Olsen's most loved works are from his Lake Eyre series, a landscape he regularly visited.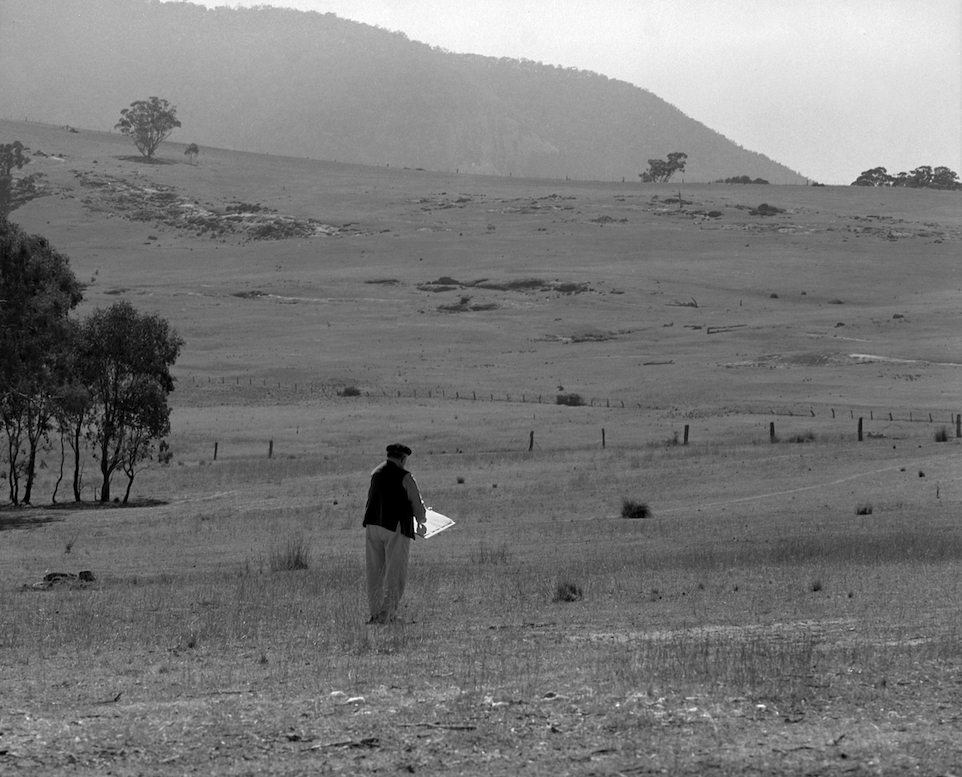 Shaping a vision of Australia
Director of the National Gallery of Australian (NGA), Nick Mitzevich told the Sydney Morning Herald on the news of Olsen's death, that his work held a 'quintessential Australianness'. Mitzevich added, 'He harnessed a great sense of intimacy in his subjects and drew people in and kept them captivated. He was also a poet, a pragmatist and a man of great wisdom.'
Tim Olsen wrote of his father's work: 'Watching the work at firsthand, I can say that the iconic fluidity of his line, his seamless pleasure (and success) in life, and what seemed like a rolling cavalcade of great and major works of art took tremendous drive and concentration.
'Everything my father touches is full of passion, intensity, truth and curiosity,' wrote Tim. 'So often he has been known by his motto, 'I am in the landscape and the landscape is in me'. That line, over time, became indivisible with his artistic identity and in the process he changed the face of how we see this terrain.'
While Olsen moved across mediums – from painting to drawing, ceramics to tapestries and printmaking – his most famous work is a 21-metre mural that hangs in the Sydney Opera House's concert hall foyer, Salute to Five Bells, commissioned by the Dobell Foundation in 1970-73.
It was inspired by Kenneth Slessor's epic poem Five Bells, and was a tribute to their shared friend, Joe Lynch who had drowned in Sydney Harbour. It captures how Olsen's love of poetry is often intertwined with his making; the artist would often break into recited lines from his favourite poems during casual conversations.
Olsen's visual diary documents his progress making the mural, and is now held in the collection of the National Library of Australia.
This iconic work offers a nice synergy at this moment, with Vivid Sydney recently announcing that a tribute to Olsen's long career will be beamed on to the Opera House sails for the May festival. The projection will distil his career of 60 years, in a light work titled Lighting of the Sails: Life Enlivened, curated by Dr Deborah Hart – who was author of Olsen's 1992 self-titled monograph (Craftsman House) – and animated by creative technologist company Curiious.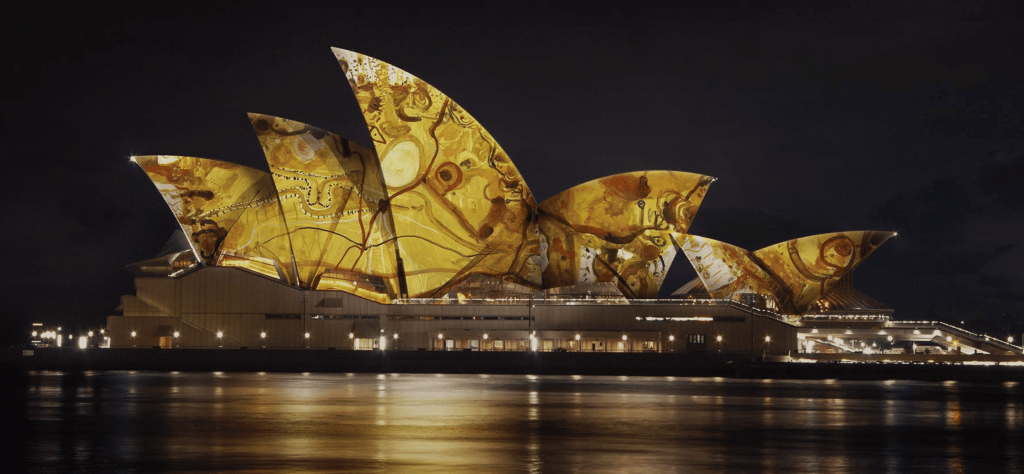 In a formal statement today, Hart said of Olsen's work, 'One of his greatest achievements has been the way in which he transformed our conception of the environment with great vitality and insight. In the 1960s he brought a revolutionary approach to painting shaped by the dynamism of his line, the vibrancy of his colour and the multiplicity of his mark-making.'
Stepping back in time, it was the exhibition John Olsen: The You Beaut Country at The Ian Potter Centre: NGV Australia (2016-2017) that really cemented the moment when Olsen was recognised as a living Australian icon with a major museum survey. It was the largest display of his work at the time.
In a conversation with ABC presenter Phillip Adams, Olsen said: 'I believe in a sense of place … real art has its roots somewhere. Can one imagine London without Dickens? Can one imagine Russia without Tolstoy? Can we imagine Picasso without a Mediterranean world? This sense of place is what you are and what you respond to.'
Today, one could add to that: 'Can we imagine Australia without Olsen?'
The art of the long lunch, and Olsen's loves
Almost equally as his love of art, Olsen is known for his love of poetry and food. He lived and worked in Europe in the early years of his career – from 1956-60, when he first travelled to London and then Paris, where he studied printmaking at Stanley William Hayter's Atelier 17 etching studio in 1957, followed by two years in his beloved Deià in Spain. He then made return trips in 1965–67.
Returning to Australia, he took his young family to live in a commune in Victoria. It is easy to describe Olsen's life as idyllic, but it was often tumultuous and far from ideal.
He married four times. His first wife was Mary Flower (their daughter Jane Olsen died in 2009). In 1962 he married the artist Valerie Strong – the mother of gallerist Tim Olsen and Louise Olsen (co-founder of Australian jewellery label Dinosaur Designs with Stephen Ormandy). Tim Olsen published his account of his life as the son of a painter in the candid memoir Son of the Brush (2020), which spoke of his struggles growing up under his father's fame.
The following year there was a very public profile aired on ABC Television's Australian Story.
Olsen's third wife was artist Noela Hjorth (until 1986), and his fourth was Katharine Howard (married in 1989), both of whom died in 2016.
Above all, Olsen's greatest love was to be in his studio, where he continued to work into his 90s.
Of his studio practice, Olsen told ArtsHub: 'Really it is a chapel; there are works there that are unfinished and it is your private world. That doesn't exclude people from coming, but the point is you've got to know them. I can't let anyone in because it is a sacred site.'
He added: 'I usually work from the flat out, and I just work around it. I'm a kind of a hunter gatherer, and I'm just looking for possibilities that are inherently in the painting – the exciting thing is, I don't know the end of it.'
Writers have also come out in tribute on the news of Olsen's death. Stephen Feneley, who interviewed Olsen on a number of occasions, posted on social media today: '…oh boy, it gives me the irrits that journalists, who clearly know little about Olsen, cite his Archibald win in '05 as one of his greatest achievements. In his career spanning seven decades, winning the Archie was but one entry in a very long CV.'
In the late 1950s, Olsen spent two years in Deià (Spain), where he fell in love with cooking (which he attributes to Elizabeth David's A Book of Mediterranean Food). He also developed an interest in Eastern philosophy (specifically D T Suzuki's Zen and Japanese Culture and Eugen Herrigel's Zen in the Art of Archery) and poetry through his friendship with the poet, Robert Graves.
Also on social media, writer Juno Gemes added: 'He was warm, generous and philosophical, great company… He loved Poets and Poetry', a view shared by Amanda Nicholdon, who wrote: 'I admire him as a wordsmith in his own right, an orator of the bard.'
A career unreservedly celebrated
Few Australian artists hold the level of recognition that Olsen accumulated over his six-decade career.
At age 41, he was awarded the 1969 Wynne Prize (Art Gallery of NSW) for his work The Chasing Bird Landscape. But it was not his first accolade. At 32, Olsen won the 1960 Rockdale Art Award (NSW), followed in 1961 by the H C Richards Memorial Prize at the Queensland Art Gallery for his painting Journey into the you beaut country No 2, now held in the QAGOMA Collection. And in 1964, he was awarded the Launceston Art Purchase Exhibition Prize, Tasmania.
He was again the recipient of the Wynne in 1985 for A Road to Clarendon – Autumn. A couple of years later, Olsen received the Sulman Prize with Don Quixote Enters the Inn, in 1989, and an Australian Creative Fellowship in 1993.
For his services to art and culture, Olsen was awarded the Order of the British Empire in 1977, the Centenary Medal in 2001, and in the same year was appointed to the Order of Australia. After receiving his AO, Olsen described art as a form of compulsion, which he started developing at the age of four. 'Artists are born, not made,' he told the ABC.
But the accolades continued. In 2003 he received an honorary doctorate of letters from
both the University of NSW and the University of Newcastle (2011). In 2005, at the age of 77, he won the prestigious Archibald Prize with Self-portrait Janus Faced. He was the oldest ever winner of the award for portraiture at the time. Not surprisingly, he was made Life Governor of the AGNSW in 2010.
Of an exhibition of works his father painted on the death of his fourth wife, Katharine Howard, Tim Olsen said: 'In death brings new life. This work is a celebration of human life and nature. Through melancholy there is subsequent rebirth and its reward is truth and substance in joy.'
Those very same words could be applied now, as we pause to celebrate the great gift that John Olsen leaves this nation.
Olsen's artworks can be found in numerous international collections and all Australian state galleries, as well as many regional galleries – including important ceiling works. The first came in the 1960s, Summer in the You Beaut Country, a commission from art dealer, Frank McDonald, which is now held in the NGV Collection. This was followed by Darlinghurst Cats, Sea Sun and Five Bells (gifted to the Newcastle Art Gallery by Ann Lewis AO), then Five Bells (1963, AGNSW), another gifted to the Art Gallery of Ballarat in 1976, 1988's Big Sun and the Sydney Summer, the large mural for the Darling Habour Convention Centre, Sydney, 1989's Light Playing with Evolution for the University of Melbourne … and the list continues into the most recent decade, when Olsen often worked with the Australian Tapestry Workshop in Melbourne to realise his large commissions.
Among his gifts to the nation, of the 128 works held in the AGNSW collection, 87 were donated by Olsen personally. You will also see listed across many regional gallery collections – such as Orange Regional Gallery (NSW), Mosman Art Gallery (NSW), Gold Coast City Gallery (Qld), Bathurst Regional Art Gallery (NSW), TarraWarra Museum of Art (Vic), Heide Museum of Modern Art (Vic) – works gifted by Olsen, demonstrating just how much he valued the work of regional galleries.
Olsen published his diaries, under the title Drawn From Life, in 1997.
Olsen died in the Southern Highlands of NSW, where he had lived for many years.
Further reading about John Olsen on ArtsHub:
Gift grows gift: Olsen donates painting inspired by Streeton
'We're going to knock the socks off them'