ARTEXPRESS celebrates its 40th anniversary this year. The ever-popular annual exhibition of works from NSW high school graduating students is currently presented at the Art Gallery of NSW (AGNSW).
It has become an invaluable tool for upcoming students to take the pulse on expectations, and has also been the launching pad for many artistic careers, including Archibald Prize-winning artists such as Ben Quilty, Jasper Knight, Tom Polo and Julie Fragar, among others.
This year's AGNSW exhibition features 43 pieces selected from 266 student works, selected from the 2022 higher school certificate cohort of 8028 submissions. ArtsHub catches up with Louise Halpin, curator of ARTEXPRESS 2023, who offers her advice and a few highlights from this year's exhibition.
The shifting lens of ARTEXPRESS
Halpin has curated the past five ARTEXPRESS exhibitions, and says she has noticed a growth in the professionalism and standard of these young artists over the history of the exhibition.
'I've noticed student artists have a genuine connection with key themes that are relevant and important to the world in which they live,' she says, adding, 'these students are working within the visual arts in unique and sophisticated ways.'
Today, pretty much any art material is on the table for creative expression. 'We show full bodies of work by each student, as well as ensuring that there are artworks across all expressive forms. So, yes, it's fantastic to see students experimenting with different approaches to materials and pushing their ideas in new ways,' Halpin tells ArtsHub.
She says the COVID pandemic has been challenging for students, particularly for those cohorts facing their final years at school.
'The expectation of what Year 11 and 12 was supposed to be like, compared to the reality of what they experienced, is something that only they can fully comprehend. We have seen students examining this experience through their art-making over the last couple of years of ARTEXPRESS, and 2023 continues that trend.
'Themes such as isolation, the importance of human connection and exploring interior spaces, as well as finding beauty in the domestic and mundane, continue to feature in works,' says Halpin.
She adds that especially strong themes this year were, 'ideas around home and place, linking these ideas to their own identity'.
Advice for students
Halpin's advice to any student wanting a creative career is 'be curious and interested in the wider arts community… go to art galleries, visit community arts centres, ask questions, volunteer and be open to new opportunities'.
She continues: 'In terms of art-making, I think focusing on experimentation, process and practice is something that is beneficial for students looking to pursue a creative career. Working through ideas, making mistakes and finding their own creative voice.'
Highlights to seek out
Halpin has offered six highlights that show the future of art-making among HSC students.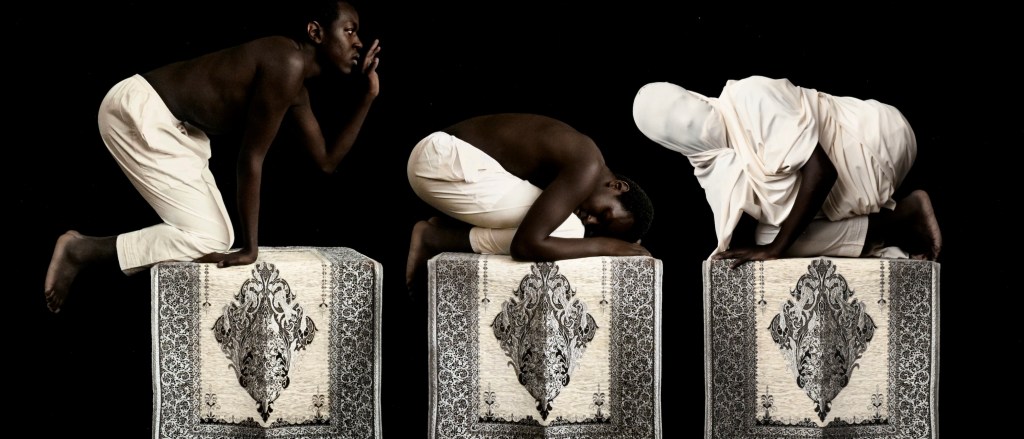 Sabry Beshir Mohamed, Ashfield Boys High School
Titled Peace be with you, this photographic series is described by Halpin as, 'a powerful, personal work exploring the complexities of identity and human connection', and says it is a definite highlight of this year's exhibition.
Sabry Beshir Mohamed says his body of work 'represents my contortions of identity in questioning my faith, and how I found peace, not through or with others, but within myself'.
'It expresses the past – where I've come from and what I've learned – as well as previewing the future – where I'm going.'
He adds that he was influenced by the artists Anya Anti and Bruno Catalano, as well as Renaissance art.

Rebekah Ju Eun Lee, Tara Anglican School for Girls
Halpin says Rebekah Ju Eun Lee's work, Books, buildings & a biography of things, is a complex and layered exploration that is both engaging and intriguing.
The artist adds that she is influenced by MC Escher and uses architectural forms and optical illusions to explore her personal and cultural values.
'I used buildings to represent how identity is a construct, as we are shaped by our experiences of our world. Our life path is rarely clear. We traverse the landscape and, as in books, enter new chapters or rooms of our life. My intent was to create a visual biography that invites observation and reflection as understandings develop over time.'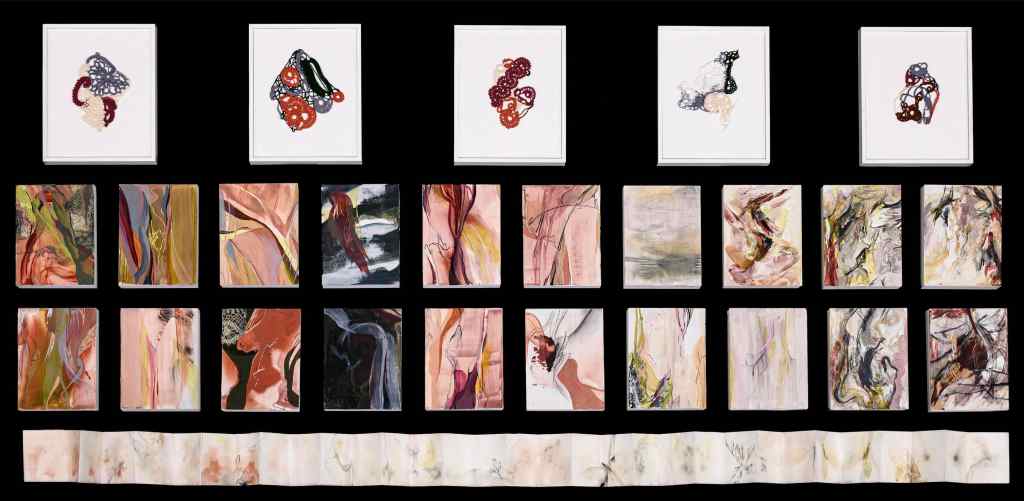 Imogen Kate Ladmore, Chatswood High School
Titled Meanderings and memories, Ladmore's work is 'a great example of the collection of work expressive form,' says Halpin. 'Imogen has used a variety of mark making materials and approaches, pushing through her personal memories of environment and experience.'
Moving across materials adeptly, the piece consists of paintings, a concertina panel and laceworks of the experienced landscape and triggered memories of expeditions. Her influences were Luke Sciberras, John Wolseley, Sophie Cape and Helen Frankenthaler, among others.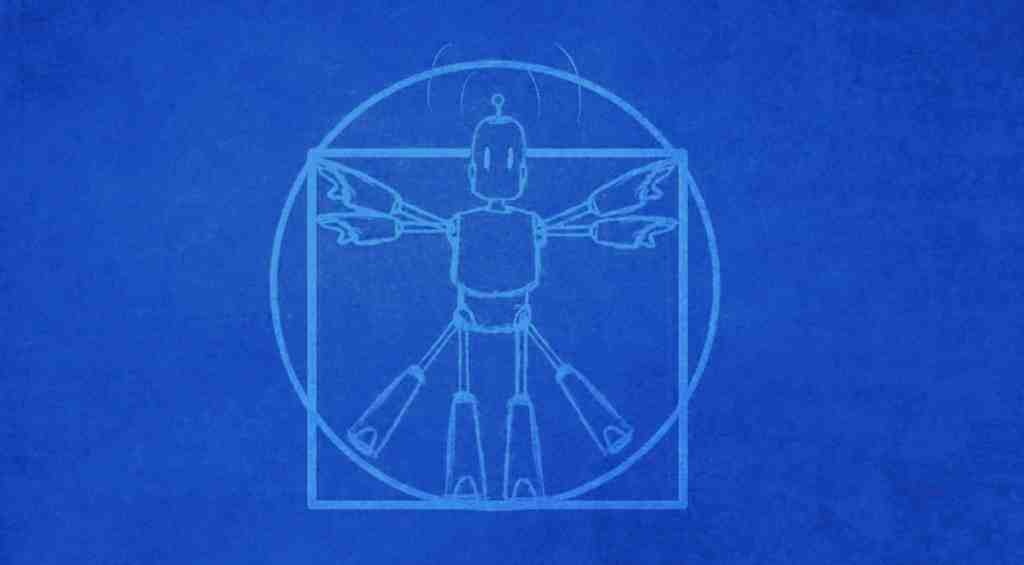 Tom Buckingham Shum, Turramurra High School
'Tom has created a fantastic time-based body of work, exploring the very topical idea of Artificial Intelligence using animation in homage to human creativity,' says Halpin of Tom Buckingham Shum's work, including it among the highlights.
Using both 2D art-making and AI, and titling his piece The artificial intelligent artist, Shum says his work was inspired by the 'growth of AI in the creative arts' calling it 'a blueprint for society'.
'Creativity is slowly being removed from our lives, says Shum, who quotes Walt Disney among his influences.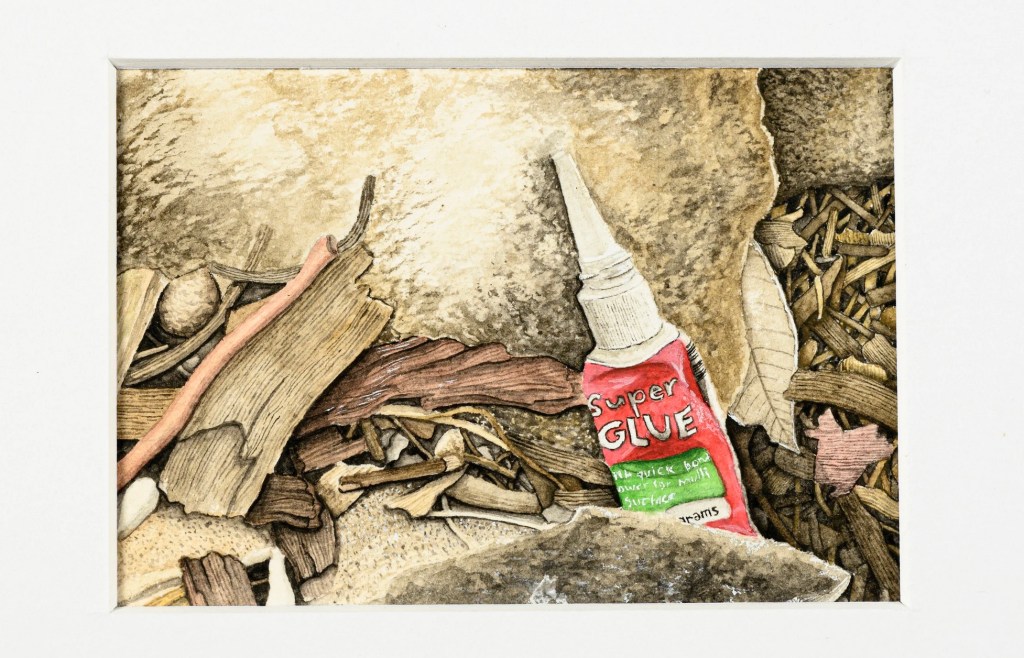 Alicia Foley, Cheltenham Girls High School
'In this body of work Alicia demonstrates a strong connection between material practice and conceptual practice, using small scale to express how little thought people give to the items they discard,' says Halpin.
Creating minuscule works, she says that she chose this scale 'to express how little thought people give to the items they discard in contrast with the huge impact this litter has on our environment'. This series is entitled Left behind.
Isabella Molinari, Sydney Girls High School
Citing Mimoza Haska as her influencing artist, Isabella Molinari says that she 'crocheted with toilet paper and paper towels to represent travel-related objects, such as a suitcase and headphones, with ironic humour arising by referencing the lockdown toilet paper shortage'.
Molinari says, 'My work makes a connection between the commodities lost in lockdown and the fragility of personal relationships under the strain of times of hardship and distance.' She was separated from her family in Italy during COVID-19 restrictions.
Halpin says, 'Although Isabella is exploring themes that are very personal and emotional, she is also using humour and irony to connect directly with the experience of the audience,' making it another highlight of the exhibition.
ARTEXPRESS 2023 is showing at the Art Gallery of NSW, 2 February – 7 May. Free.
Correction: ARTEXPRESS is no longer a single touring exhibition. In 2023, there are 10 unique exhibitions, each curated by their own gallery curator from the 266 ARTEXPRESS artworks for 2023. For location and dates of all exhibitions.
ARTEXPRESS is a joint project between the NSW Department of Education The Arts Unit and the NSW Education Standards Authority in association with exhibiting galleries.