At this time of year readers are faced with a deluge of lists that promise to change you beyond belief in the year ahead, from the must see 'shopping list' of cultural events to arts wellness tips to add balance to your life in 2020.
At ArtsHub we embrace the list for its simple practicality of corralling information in one place – an easy reference to post on the fridge or transfer to the diary.
This is our list of major exhibitions and biennales that are worth making the journey for in 2020.
2020 BIENNALES
There are four Australian Biennales this year.
On 29 February, Australia's longest running survey of Australian Art will open at the Art Gallery of South Australia (AGSA) – the 2020 Adelaide Biennial of Australian Art: Monster Theatres – marking its 30th anniversary. Curator Leigh Robb has chosen 23 artists to probe our understanding of fear, horror, strength and survival in the post-internet Anthropocene. Until 8 June. Free.
Abdul Abdullah, Understudy, 2019; 2020 Adelaide Biennale of Australian Art, Art Gallery of SA. Courtesy the artist and Yavuz Gallery.
In Sydney, Indigenous artist Brook Andrew takes the reins of the 22nd Biennale of Sydney, which he has titled NIRIN. Meaning 'edge', Andrew is putting the issues facing indigenous and First Nation peoples, along with the planet's most urgent concerns, centre stage – the first Indigenous lens in the Biennale's forty-year history.
Comprises work by 98 artists, including artists from Nepal, Georgia, Afghanistan, Sudan, and Ecuador for the first time, it will be staged across six venues: AGNSW, Campbelltown Arts Centre (C-A-C), Cockatoo Island, Museum of Contemporary Art Australia (MCA) and the National Art School. 14 March – 8 June. Free.
Of a different scale but equally important for its contemporary dialogue, Real worlds: Dobell Australian Drawing Biennial 2020 will be presented by the AGNSW from 24 October. Just eight artists selected – Martin Bell (Victoria), Matt Coyle (Tasmania), Nathan Hawkes (NSW), Danie Mellor (NSW), Peter Mungkuri (South Australia), Becc Ország (Victoria), Jack Stahel (NSW) and Helen Wright (Tasmania) – they will create new works that speak to drawings complexity in our times.
And a later comer to this list, located in the Yarra Valley, the TarraWarra Biennial also returns in 2020, from 15 August – 3 November 2020. Curator Nina Miall takes the meaning of 'Tarrawarra'—a Woiwurrung word that translates approximately as 'slow moving water'—as its departure point for the TarraWarra Biennial 2020 to explore ideas of duration, suspension, withdrawal, stillness and the elasticity of time.
Featuring 24 artists and set against the backdrop of the hyper-accelerated rhythm of modern life and a 24–hour news cycle, the artworks will mark a very different sort of time—one which connects with deeper natural cycles, geological and cosmic currents.
BIENNALES TO TRAVEL FOR
And if you are a biennale fan, why not consider planning your annual leave in 2020 to coincide with one of these giants of the global biennale circuit. There are a great way of putting Australian practice in context. This is our baker's dozen for 2020:
The fifth edition of the biannual Dhaka Art Summit (Bangladesh), titled Seismic Movements, will re-examine established art histories, borders and fault lines. 7–15 February.
Sydney's Artspace will premiere a new co-commission by Australian/Bougainville artist Taloi Havini as part of an ongoing collaboration with DAS. Curated by Diana Campbell-Betancourt, Alexie Glass-Kantor & Michelle Newton, Havini will collaborate with her community in Bougainville, creating a monumental, site-specific installation for the DAS 2020. 
Glasgow International returns in 2020 with the theme Attention. 24 April – 10 May.
The roving European biennial Manifesta 13 will launch in Marseille (France); its theme asking us to move beyond co-existing and to unite in solidarity. 7 June – 11 November.
The inaugural Helsinki Biennial opens in June with the title The Same Sea, and will take place on a former military base on the city's Vallisaari island. 12 June – 27 September.
Four South American curators have been charged with delivering the 11th Berlin Biennale with a focus on intergenerational and gender identifying practice. 13 June – 13 September.
Yokohama Triennale is on trend picking an art collective to curate its 2020 edition, Delhi-based Raq Media Collective with an exhibition titled Afterglow. 3 July – 11October.
The UK's largest festival of contemporary art, Liverpool Biennial returns for its 11th edition from 11 July – 25 October.
The 13th Gwangju Biennale coincides with the 40th anniversary of the city's Democratic Uprising, and will investigate the world's co-evolution with technology. 4 September – 29 November. Occupying the Gwangju Civic Centre, Artspace (Sydney) has curated the group exhibition Everything Not Saved which considers anxiety and unstable futures where architecture as something to inhabit, reconsider, disrupt or reject altogether.
Brazil's São Paulo Biennial will explore the concept of relation. It's changed format this year includes a series of consecutive solo shows leading up to vernissage. 5 September – 6 December.
Delivering its fifth edition this year, the Casablanca International Biennale will be held 24 September – 1 November.
In our region, the Bangkok Art Biennial will add temples to its list of venues this year. 10 October – 21 February, 2021.
Curators of the Taipei Biennial 2020 have taken a topical position positing the gulf between Donald Trump and Greta Thunberg in their exhibition, You and I Don't Live on the Same Planet: New Diplomatic Encounters. 24 October – 28 February, 2021. 
The Singaporean artist Shubigi Rao will curate the fifth edition of India's leading biennial Kochi-Muziris Biennale – always a great one for the diary. 12 December –10 April, 2021.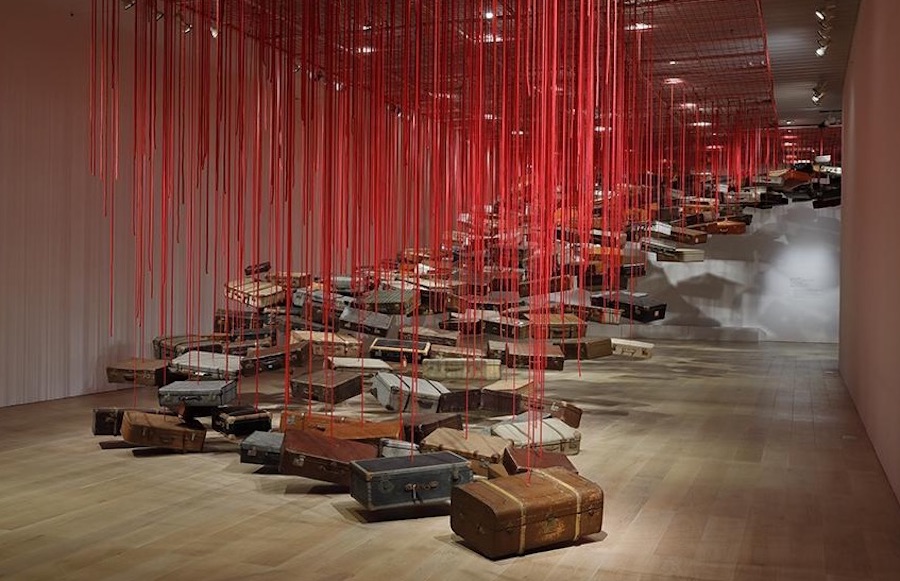 Chiharu Shiota, Accumulation – Searching for the Destination, 2014/2019. Courtesy: Galerie Templon, Paris/Brussels. Installation view Shiota Chiharu: The Soul Trembles, Mori Art Museum, Tokyo, 2019. Image courtesy Mori Art Museum. Photo: Kioku Keizo.
MAJOR EXHIBITIONS
While we still use the term 'blockbuster', there has been a move in recent years towards replacing it with 'major exhibitions', in an attempt to dismantle some of the perceptions that surround these shows as just commercial buy-ins.
Regardless of vernacular, these big dollar exhibitions by nature are spectacular and are usually ticketed, aimed to draw the general public into our art museums shoulder-to-shoulder alongside more siloed arts audience. 
Will tastes change in 2020? Not really.
As part of the Melbourne Winter Masterpieces series, NGV International will present Pierre Bonnard (pictured top) in partnership with the Musée d'Orsay, Paris. Described as 'the most comprehensive exhibition of Bonnard presented in this country', the National Gallery of Victoria (NGV) has commissioned award-winning Iranian Paris-based designer India Mahdavi to design the exhibition experience. 5 June – 4 October.
Travelling to QAGOMA in June is the internationally celebrated exhibition Chiharu Shiota: The Soul Trembles, which has enjoyed an incredible season at Mori Art Museum. Curated by Mami Kataoka, Shiota's powerful installations and performances give material form to the intangible and explore the boundaries of the human body. 27 June – 5 October 2020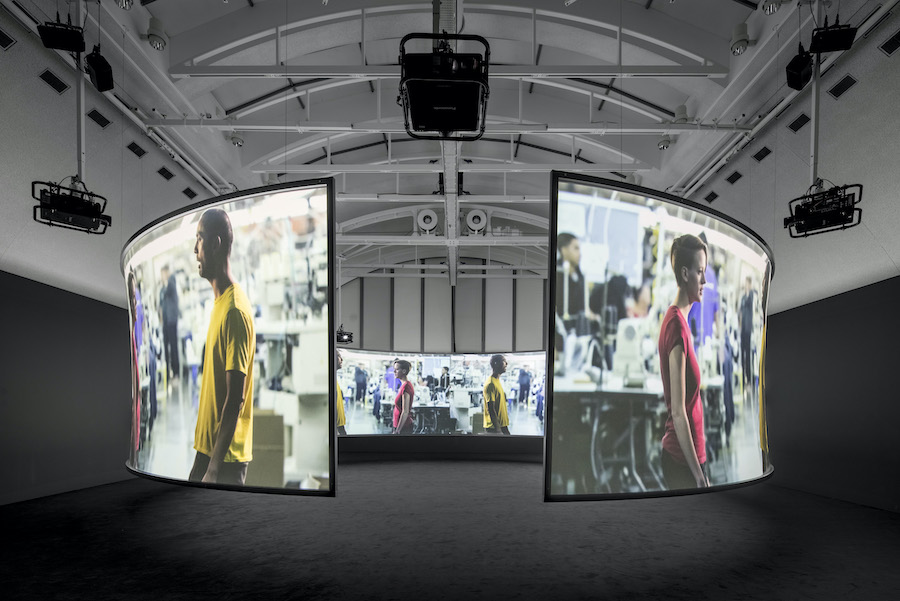 Doug Aitken, SONG (still) 2012-2015, installation view. Showing at MCA. Image supplied.
In Sydney for the 2020/2021 Sydney International Art Series, the Museum of Contemporary Art Australia (MCA) will present internationally recognised American artist Doug Aitken. Aitken is internationally recognised for his ambitious practice that incorporates objects, installations, photographs and vast, multi-screen environments that envelop viewers within a kaleidoscope of moving imagery and sound. Aitken's interest in light, reflection and multiplication is extended through his sculptures that incorporate language and text, cut from mirror, or rendered in neon. Curated by Rachel Kent catch it, 30 October – 21 February 2021.
Across town at the AGNSW, Matisse will be its Sydney International Art Series headline. Matisse: Life & Spirit, Masterpieces from the Centre Pompidou, Paris will present over 100 works spanning six decades in a Sydney-exclusive exhibition, described as 'the greatest single exhibition of Matisse masterworks ever to be seen in Sydney'. Reaching from his early adventures in colour as a Fauvist through to the serene and distilled designs for his chapel in Venice, the exhibition follows Matisse's search across six decades. November 2020 – March 2021
Read: Hot blockbuster exhibitions to catch this summer
The same month, Botticelli to Van Gogh: Masterpieces from the National Gallery, London will be unveiled at the National Gallery of Australia (NGA). Spanning 450 years and offering up more than 60 paintings by some of Europe's most revered artists, including Titian, Rembrandt, Vermeer, Velázquez, Goya, Turner, Renoir, Cézanne and Gauguin, this exhibition is an exclusive to Canberra, it comprises the largest group of works to travel outside of the United Kingdom in the history of the National Gallery, London. 13 November – 14 March 2021.
NGV International is also presenting a major solo exhibition of Paris-born, New York-based artist Camille Henrot, Splendid Isolation. One of the most compelling contemporary artists working today, Henrot draws upon wide-ranging disciplines including anthropology, mythology, cinema, literature, museology, religion and evolutionary biology.
The exhibition features key works from the past decade including The Pale Fox (2014), a companion piece to Grosse Fatigue (2013), for which Henrot was awarded the Silver Lion at the 55th Venice Biennale for most promising young artist. Henrot was shown in the NGV Triennial in 2017; this is her first major survey exhibition in Australia. 22 May – October.  Free.