It was only four years ago that Australia legalised marriage equality, making it 16 years behind the first country to do so – the Netherlands, and four years behind countries like Brazil and New Zealand.
This monumental decision, which is noted by the National Museum as a defining moment in Australian history, rode on the wave of decades of relentless struggle and courageous advocacy. The arts stand at the epicentre of these efforts towards greater autonomy and visibility of people who identify on the spectrum of LGBTQIA+.
Majors events such as the Sydney Gay and Lesbian Mardi Gras (first held in 1978) and Melbourne's Midsumma Festival celebrate queerness in full force, while the National Gallery of Victoria will soon open its exhibition QUEER which draws on stories and retellings of over 300 works.
Curators Melissa Ratliff and Francis E Parker of Queer Readings of the Collection at the Monash University Museum of Art (MUMA), a project which invited a group of writers and artists to contextualise a selection of Monash collection works through their lens of experience, told ArtsHub what solidarity can look like for the queer community and how artists play a vital role.
'I think sometimes artists operate in a different temporality – poised with one foot in the present and the other stepping into the more just and exciting future that they are busily imagining, and even modelling that, through their works,' said Ratliff, adding that 'MUMA's Queer Readings project is not alone in its ambition to widen the interpretative lenses applied to understandings of art and material heritage.'
'Art history should not be static, as personhood and society is not.'

Monash University Museum of Art Curator (Research) Melissa Ratliff.
Parker said visibility itself can be incredibly powerful: 'I think there is enormous value in certain kinds of revelation – looking into histories that are embodied in certain artworks that may have been concealed or are perhaps not readily legible to a broader audience, or indeed to successive generations of LGBTQIA+ people who are interested to learn about the experiences of those that went before them.
'In a way, it's no different to what good art history does, to speculate on the meanings that an object had to the people who made it and for whom it was made and use that process to illuminate an understanding of where we have come to since that moment.'
LOOKING BACK, LOOKING FORWARD
Looking back to the historic moment of Australia's marriage equality law in 2017, artist and curator Bowen Halkett said the exposure, support, and flood of emotions around that time led to the founding of the YES exhibition in Sydney, which just had its third and largest iteration.
'All of a sudden, my rights were the main point of discussion everywhere I went,' Halkett reflected. 'I felt more visible, but not in a positive way.'
'It was easy to get caught up in those moments of hate,' Halkett continued. 'But I wanted to focus on the love and support. That's how YES was born; a need to acknowledge and celebrate the LGBTQ+ community, so that our voices become louder than those that spread hate.'
Ratliff agreed that its important to continue to champion positive voices of those who may have been silenced by history: 'While the struggle and achievement of this period is incredible and a source of pride and power, we need micro-histories and multiplying histories. Artists, curators and writers like Léuli Eshrāghi and SJ Norman are doing amazing work to broaden our cultural frames of reference and centre Indigenous practices.'
In addition, Parker pointed out that 'Australia, just like the other countries that grew out of colonies and the countries that colonised them, will need to grapple with the legacies of colonialism before any real equality can be achieved.'
This is where ideas of intersectionality might come into play, referring to the multitude of individual identities that can make it possible for a person to simultaneously experience privilege and oppression. Factors such as race, gender and sexual orientation can all play into this structure.
When reflecting on intersectionality around Australia's marriage equality bill, Parker noted that 'the benefits of campaigns like the one for marriage equality are probably not felt equally by LGBTQIA+ people of colour as compared to their white peers.'
Though when handled thoughtfully, intersectionality need not cause further divides. Rather, it can highlight how structural inequalities can be interlaced to prompt greater solidarity.
On the other hand, not thinking critically about these complexities can be disastrous and drive people away from the original cause, as the recent protests against the Melbourne Queer Film Festival for engaging in 'pink-washing' shows.
While it is clear queer representation didn't end with the marriage equality decision, Parker pointed out that despite the treacherous journey, 'the [voting] result did provide a measure of how much more accepting Australia has become, which came as a comfort.'
TOWARDS SOLIDARITY
'From the outside looking in it may appear as though LGBTQ+ voices are being heard in the arts, but there are often barriers that are less visible,' curator Bowen Halkett noted. 'Support for LGBTQ+ artists can often be superficial or inauthentic, almost on the verge of tokenism.'
Halkett also mentioned an example of a transgender artist being commissioned for the Trans Awareness Week (13 – 19 November) only to have the work's depiction of gender confirmation surgery scars censored – taking away the artist's pride in the work.
'The threat of censorship of certain kinds of artwork is still present,' Parker echoed, signalling that the LGBTQIA+ community don't have control over their stories and their representations are being sanitised.
While marriage equality marks a significant achievement in our history, Ratliff also warned that 'it can be easy to see these moments as closing a chapter on the fight for LGBTQIA+ rights.'
Ratliff quoted Clear Expectations: Guidelines for Institutions, Galleries and Curators working with Trans, Non-Binary and Gender Diverse Artists as an invaluable resource. Co-authored by Archie Barry and Spence Messih in 2019, it highlights the pros and cons of visibility and representation.
Ratliff also noted that 'for instance, there can be a tendency for the works of trans, non-binary and gender diverse artists to be tokenised or reduced to a gender identity-based reading that overshadows the complexity of their practices.'
Queer Readings is about acknowledging and embracing difference for diversity, where 'by sinking different voices into the fabric of our organisations – literally into the files and digital spaces where words and texts become attached to artworks and circulate as truths – we can create the conditions for representations of human experience that are more complex, and more encompassing of difference.
'When different accounts exist and proliferate, more and more people will have their identities affirmed and be able to move with more ease in the world,' Ratliff concluded.
Similarly, Halkett said: 'A part of the ethos of YES exhibition is there aren't any limitations put on the artists on the stories they tell or how they tell them. I hope that, in the future, people from the LGBTQ+ community have full autonomy over their stories and that society is more willing to listen and learn.'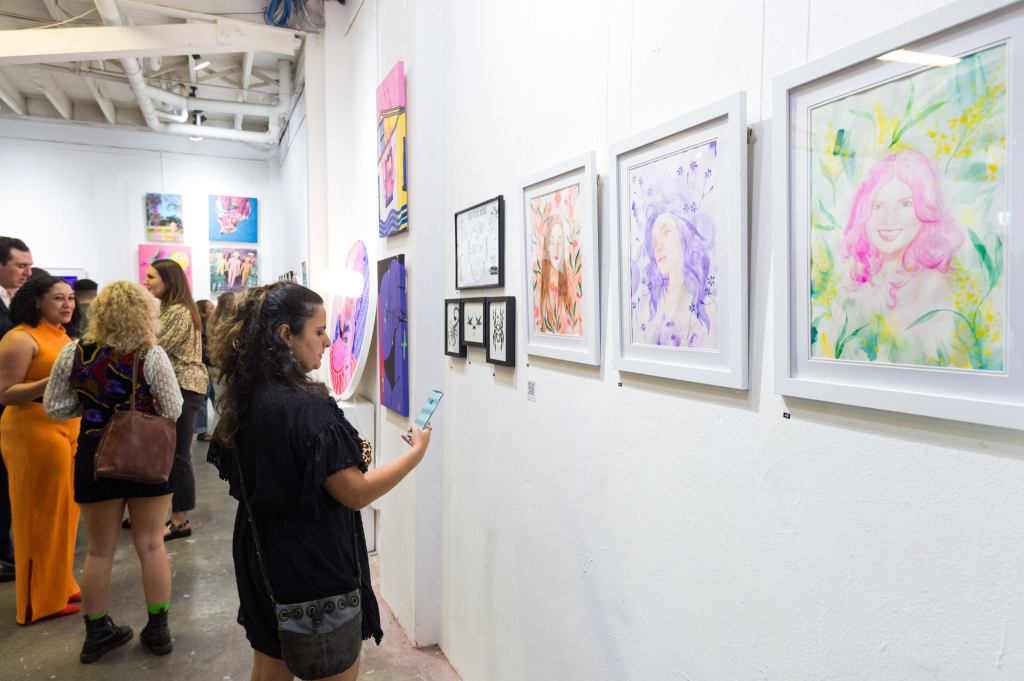 Parker added: 'Just as we are beginning to realise that a great deal can be learnt about sustainability from First Nations peoples, to listen to trans or non-binary people's experiences of gender might go a long way to help society cure toxic masculinity and its attendant ills, for example.'
Ratliff believes in solidarity with the future that artists are imagining, and 'this might also look like stepping aside – acknowledging that white, cisgender and heteropatriarchal ways of being can block the power, means and rights to expression of others.'
This is why LGBTQIA+ led spaces and initiatives are such vital infrastructure for not just artists to showcase their practices, but for the community to amplify their voices.
Halkett envisions YES to grow in scale and always provide a safe space for artists involved: 'I would like to go beyond the yearly exhibition, and find new ways to showcase queer voices. Possibly an online platform that also includes biographies and interviews, things that focus on the artists themselves. Watch this space!,' he said.