Whether your New Year resolution was to level up your writing career, or to read every shortlisted book published in the country, we've got you covered: here's a list of dates to add into your calendar for 2020.
Please note that some opportunities are listed based on when submissions are open, while other awards are listed by the date on which winners are announced.
January
Furious Fiction
monthly
Kickstart the year with the Australian Writers' Centre's Furious Fiction Challenge, which starts on 3 January. On the first Friday of every month, a new set of story prompts will be revealed, and you'll have 55 hours to submit your best story under 500 words for a chance to win $500. Entry is free.
ABR Peter Porter Poetry Prize
announced 16 January
Worth a total of $9,000, the very alliterative Peter Porter Poetry Prize will be announced at a free-to-attend ceremony and the shortlisted poems will appear in the January/February issue of Australian Book Review.
Victorian Premier's Literary Awards
announced 30 January
One of Australia's richest literary prize offers $25,000 for each of the main award categories, plus $100,000 for the overall winner. There's also a $2,000 People's Choice Award that you can nominate and vote for until 5pm Monday 20 January. Details for how to enter the awards in 2020 (which include a $15,000 award for an unpublished manuscript by an emerging Victorian writer) will be released later in the year.
ABR Calibre Essay Prize
With $7,500 in prize money, the Calibre Essay Prize is one of the world's leading prizes for a new non-fiction essay. Entries close on 15 January.
Cornish Family Prize for Art and Design Publishing
The prestigious $15,000 international book prize is being offered as part of Melbourne Art Book Fair at the National Gallery of Victoria, 13-15 March, with additional $1,000 prizes for five finalists. Applications for the Cornish Family Prize close on 17 January.
ABR Elizabeth Jolley Short Story Prize
Worth a total of $12,500, the prize is open to anyone in the world writing in English for short stories between 2,000 and 5,000 words. Entries open on 20 January.
Winners of the 2018 Victorian Premier's Literary Awards Clockwise from left: Demet Divaroren, Michele Lee, Alison Evans, Sarah Krasnostein, Bella Li, Melanie Cheng. Image: Connor Tomas O'Brien. Courtesy Wheeler Centre.
February
Adelaide Festival Awards for Literature
Winners of the Adelaide Festival Awards for Literature ($100,000 total prize money) will be announced during Adelaide Writers Week, 29 February to 5 March.
Overland Judith Wright Poetry Prize
Worth $9000, the 2020 prize has closed for entries but Overland will announce winners in February.
Overland Neilma Sidney Short Story Prize
Worth $5000, the 2020 prize has closed for entries but Overland will announce winners in February.
Overland Nakata Brophy Prize for Young Indigenous Writers
Presented by Overland magazine, in 2020 the prize will be awarded to the best poem by an Indigenous writer who is 30 years or younger at the closing date of the competition. First place is a $5,000 prize, publication in Overland's print magazine, and a writing residency of up to three months at Trinity College, the oldest student residence at the University of Melbourne. Two runner-up prizes of $500 may also be awarded. Entries close 2 February.
Carmel Bird Digital Literary Award
Auspiced by Spineless Wonders, the Carmel Bird Digital Literary Award is for short story collections up to 30,000 words in length. The winner gets $3,000 cash and two runners up will get $1,000 each, as well as digital publication. Entries close 2 February.
Newcastle Short Story Award
With $7,800 up for grabs, the Newcastle Short Story Award accepts entries of up to 2,000 words. Entries close 3 February.
black&write! fellowships
The State Library of Queensland's black&write! program offers two fellowships for unpublished manuscripts by Aboriginal and/or Torres Strait Islander writers. The winners receive $10,000 in prize money, manuscript development with black&write! editors, and publication opportunity with Hachette Australia. Applications close 28 February, and entry is free.
Western Australian Premier's Book Awards
With four categories and more than $100,000 in total prize money, the awards support excellence in West Australian writing. Entries are now open and will close on 10 February. The winners will be announced in July during the Disrupted Festival of Ideas.
Prime Minister's Literary Awards
The PM's literary awards celebrate Australian talent and literature with winners in each category awarded $80,000 tax free. Shortlisted entrants are awarded $5,000 tax free. Entries close 28 February. The 2019 winners were announced in October.
March
Ada Cambridge Writing Prizes
Celebrating 19th-century Australian writer Ada Cambridge, the prize runs as part of Willy Lit Fest. The poetry and biographical prose prizes for adult writers close on 9 March while the Young Ada Writing Prizes are open to 14-18 year-old writers who live in the western suburbs of Melbourne and submissions close on 29 March.
Indie Book Awards
announced 23 March
The Indie Book Awards reward the best Australian writing as chosen by Australian Independent Booksellers. The longlist was released in December (pdf).
April
NSW Premier's Literary Awards
announced 27 April
Entries for the 2020 awards have now closed. The shortlist in each category will be announced in March and the winners will be announced at the State Library of NSW.
Australian Book Industry Awards
announced 29 April
The ABIA award ceremony is Australia's book industry's night of nights. Nominations are open from 14 January, with the longlist announced on 2 March.
The Stella Prize
The Stella Prize awards the best book by an Australian woman, fiction or non-fiction, with $50,000 for the winner. Entries for the 2020 prize have closed. The longlist will be released at a party on 6 February 2020, followed by the shortlist in March, and finally the prize will be announced in April.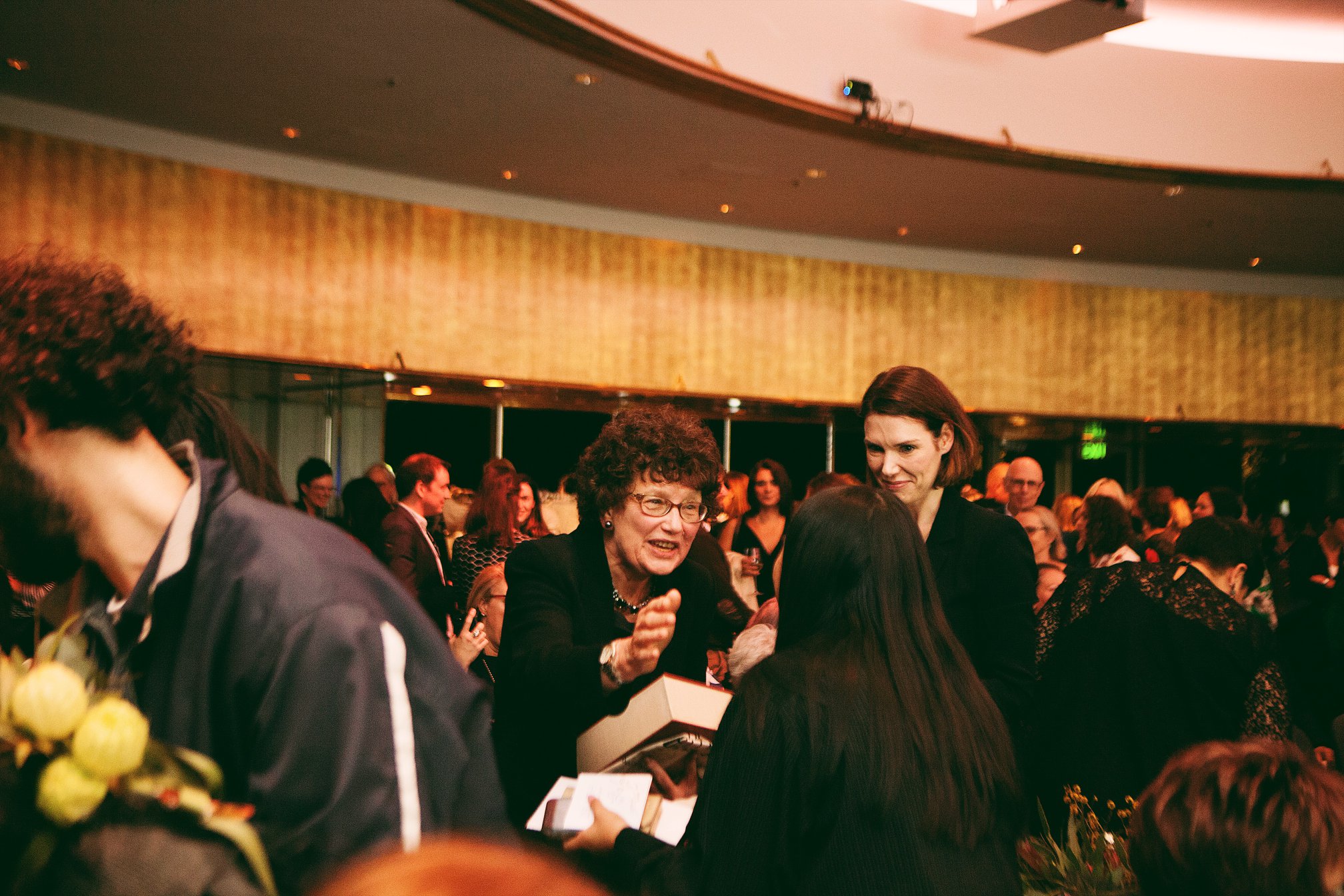 2019 Stella Prize winner Vicki Laveau-Harvie (centre) at the award ceremony. Photo: Laura Du Ve.
May
Questions Writing Prize
Part of the Future Leaders initiative, the prize recognises a young Australian writer aged 18 to 30. Both fiction and non-fiction submissions are accepted (1,500-2,000 words), with a $2,000 prize for the winner. Entries close 1 May.
The Australian/Vogel's Literary Award
One of Australia's richest and the most prestigious awards for an unpublished manuscript, the Australian/Vogel's Literary Award offers a $20,000 prize and publication with Allen & Unwin to a writer aged under 35. Entries for the 2020 award are now closed but entries for the 2021 award will be open from 21 January to 31 May 2020. See entry conditions for the Vogel's here.
Read: No award: writers on the Vogel prize kerfuffle
The Next Chapter
The next round of applications for the Wheeler Centre's development scheme will open in May 2020. Each of the 10 successful applicants will receive $15,000 and a mentorship.
July
Miles Franklin Literary Award
Often touted as Australia's most prestigious literature prize, the 2020 Miles Franklin will be announced in July, with a longlist released in May and shortlist in June. Applications from publishers are typically open through October and November.
August
CBCA Book of the Year Awards
announced 21 August
The Children's Book Council of Australia will present its Book of the Year Awards across six categories. Before the announcement in August, notable entries will be released on 25 February and a shortlist on 31 March.
September
Inky Awards
The Inky Awards are Australia's only teen choice book awards. Voting will open in July when a shortlist is announced, then the winners will be announced in September.
October
Colin Roderick Literary Award
One of Australia's oldest literary awards, the $20,000 prize recognises an original book, verse or prose, that deals with any aspect of Australian life. The shortlist will be announced in July ahead of the winner in October.
November
Most Underrated Book Award
Sponsored by the Australian Booksellers Association, the MUBA is an award from the Small Press Network that celebrates the hidden gems of Australian publishing. The 2019 award was announced in December but this year's winner is likely to be announced during the 2020 Independent Publishing Conference running 26-28 November. Entries open in February and any book published by a member of the Small Press Network is eligible.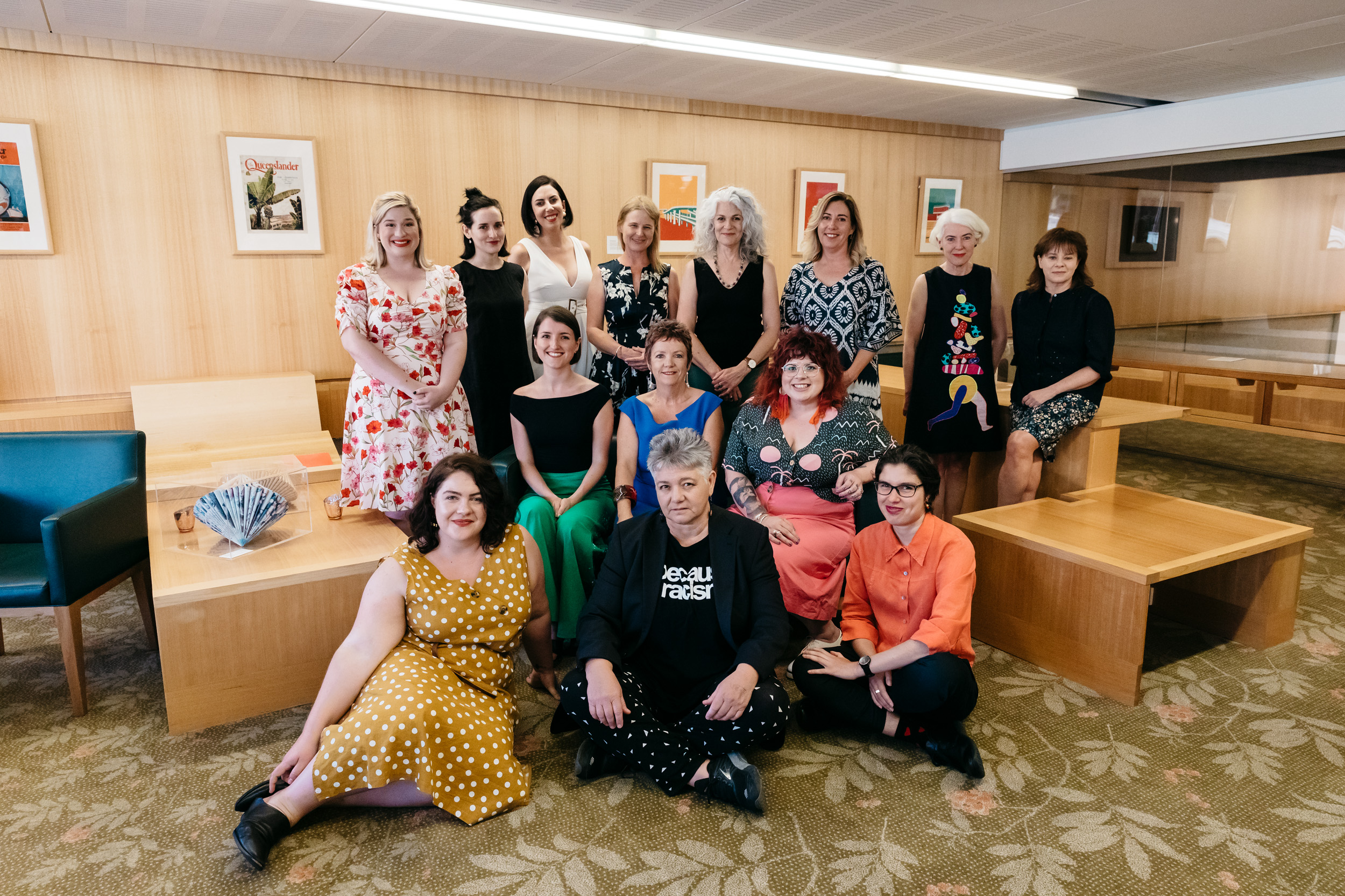 2019 Queensland Literary Award winners: Alison Whittaker, Melissa Lucashenko, Ellen van Neerven (front); Ella Jeffery, Lindsay Simpson, Claire Christian (middle); Rhiannon Ratcliffe Wilde, Emily O'Grady, Sarah Holland-Batt, Jaclyn Moriarty, Debra Adelaide, Karen Foxlee, Mary Hoban and Carrie Tiffany (back). Photo: State Library of Queensland.
To be advised
Several prizes and opportunities have not yet announced dates and details as of January 2020.
ACT Book of the Year
The 2019 winner will be announced in early 2020 with the prize usually closing later in the year.
Overland Victoria University Short Story Prize
Worth $8000. Will reopen in 2020. The 2019 prize was announced in August.
University of Canberra Vice-Chancellor's International Poetry Prize
Entry dates and details will be announced in early 2020. The 2019 winners were announced in October.
Queensland Literary Awards
Presented by State Library of Queensland, these awards celebrate outstanding Australian books and authors. The top prize is the Queensland Premier's Award for a work of State Significance, for which the winner receives $25,000. Nominations will open in early 2020 for books published between 1 June 2019 and 30 April 2020. The 2019 winners were announced in November.
Lane Cove Literary Awards
Lane Cove Council offers literary awards across several categories, including short stories and poetry. In 2019, the awards were announced in November.
Walkley Awards
The Walkley Awards for Excellence in Journalism recognise and reward the best in the craft. The 2019 winners were announced in November. Entries usually close around August.
Richell Prize for Emerging Writers
Presented by Hachette Australia in partnership with The Guardian Australia and The Emerging Writers' Festival, the Richell Prize remembers Hachette's former CEO, Matt Richell. It's open to unpublished writers of adult fiction and adult narrative non-fiction, and the winner receives $10,000 in prize money and mentoring and manuscript development with Hachette. The 2019 prize was announced in December, with entries open from April to July.
Tasmanian Premier's Literary Prizes
The Premier's Literary Prizes recognise both Tasmanian writers and literature with Tasmanian content, with the biggest award, the Tasmanian Book Prize, offering $25,000. The 2019 prize was announced in December.
Overland Fair Australia Prize
Worth $20,000, the Fair Australia Prize will reopen in 2020. The 2019 prize was announced in December.
Voss Literary Prize
Funded from the estate of historian Vivian Robert de Vaux Voss, the prize is awarded for an Australian novel and judged by the Australian University Heads of English. The 2019 prize was announced in December.
Deborah Cass Prize
The $3,000 Deborah Cass Prize is awarded to a writer from a migrant background. The 2019 prize was announced in December.
Nita B Kibble Literary Awards for Women Writers
The awards include both the $30,000 Kibble award for an established writer and the $5,000 Dobbie award for a debut. The biennial prize will be offered in 2020 but no details have been released as yet.
Watch this space
There are also several awards that don't appear to be running in 2020:
The biennial prize will be back in 2021.
Melbourne Prize for Literature
Awarded every three years, the Melbourne Prize for Literature is scheduled to return in 2021 as the last prize was given in 2018.
Other resources
Joining a writers' centre will keep you updated on opportunities relevant to your practice, while Books+Publishing keeps track of news with more of a publishing industry focus. The Australian Society of Authors also has a handy list of organisations and industry bodies that support writers of all stripes.
Libraries, local councils and state governments typically have newsletters promoting their grants, competitions and other opportunities so you can sign up to hear what's out there. There is also funding and support available through the Australia Council.
What did we miss? Email updates to editor@artshub.com.au.