From a mob assault against peaceful queer activists by Sydney's Christian Lives Matter group in March, to multiple legal attacks on LGBTIQA+ freedoms in the US, the current climate globally is increasingly hostile towards the queer community.
Such attacks are driven by 'a perfect storm' of right wing, ultra-conservative and conspiracist thinking according to long-term queer activist Simon Hunt (aka Pauline Pantsdown).
'You essentially have a collusion, I'd call it, of four groups that are separate in some ways, but historically have a lot of connection as well,' says Hunt.
Leading the charge are conservative Christians in the US, Hunt believes. 'They're the ones with the money; they're the ones who have been funding most of the organisations running all the [anti-queer] bills in the [US], and then that just gets exported directly to Australia.'
Read: Queer community the latest target of culture wars
Such activity, which is focused on 'the reestablishment of a patriarchal worldview,' according to Hunt, is then feeding three other distinct but related groups.
'You've got the far right, the Nazis. Obviously, their main game is anti-Semitism but, as was the case in the late 1920s and the early 1930s in Germany, transgender people are used as a recruitment tool, essentially,' he says.
'Then you have what we might broadly term the cookers, which is the … source of a lot of the memes and general disinformation about transgender people. But a lot of that QAnon stuff is very deeply rooted in anti-Semitism and tends to use a lot of anti-Semitic tropes. So that's why the Nazis are trying to recruit from the cooker segment,' Hunt continues.
'And then you have the fourth arm, which might broadly be termed the gender critical movement. I think essentially, they're less important than all of the other groups because they're just operating on the fear that's being stoked by the other three groups.
'They're the wealthier people in positions of power, particularly in relation to the Murdoch media in Australia, but they're essentially publicists and amplifiers of the other three groups, so philosophically less important – but obviously they're the ones with the power, they're the ones with the voices, they're the ones who try to run for politics,' Hunt tells ArtsHub.
Culture wars find a new target
To date, the main targets of these queer culture wars have been drag kings and queens and the trans community, with right-wing rhetoric playing off old and poisonous slurs about 'grooming' to manufacture a new moral panic.
However, drag is not the only art form under attack: queer-themed Young Adult fiction – and especially graphic novels – has also been singled out as being somehow inappropriate for children, especially in the US, where a report by PEN America found that 41% of the 1648 recently banned book titles explicitly address LGBTQ+ themes (this includes a specific subset of titles for transgender characters or stories – 145 titles, or 9%).
According to US media outlet CBS News, the most banned book of the 2021-2022 school year was Gender Queer: A Memoir by Maia Kobabe.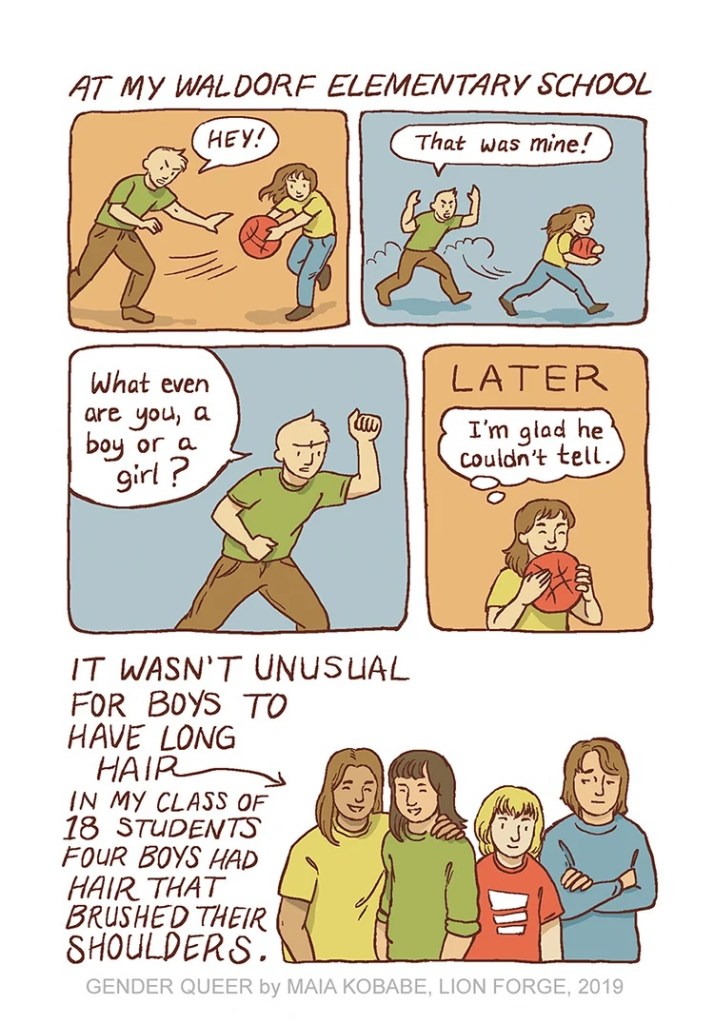 Kobabe's richly illustrated graphic novel recently made headlines in Australia after conservative activist Bernard Gaynor (who was dismissed from the Australian Defence Force in 2013 after making anti-gay comments) tried to have the book removed from Queensland libraries – a perfect illustration of US-style culture war trends making their way into Australia.
After investigation by the Australian Classification Board, Gender Queer was subsequently classified as unrestricted with the rating 'M (Mature) — Not Recommended for Readers Under 15 Years'.
James Baker is the Secretary of the Australian Library and Information Association (ALIA) Graphic Novels and Comics (a special interest group that's part of the wider ALIA body representing librarians, library workers and the library industry).
He says that ALIA and Australian library workers are being proactive in preparing for this particular aspect of US-style culture wars being imported into Australia en masse.
'Hopefully, the stuff that we've been seeing so far isn't a sign that the floodgates are going to open, but we have to prepare for it. And even though we haven't seen much so far, ALIA and the library industry is being proactive,' Baker tells ArtsHub.
'ALIA is talking to other industry bodies: the public libraries networks for the various states, the state library associations, all of those, and we're in the early stages of putting together information that can be put directly into library policy to help protect librarians who are challenged … to help support them, and for Councils [that] aren't sure how to support their libraries.
'Hopefully, we won't be seeing the same sort of thing happening here as we've seen happen overseas, but if [we do], we'll be in a position to support people from the get-go,' he says.
Read: 8 Australian graphic novels everyone should read
Unlike the US – and even countries like Ireland, where library staff have recently had to undergo training on how to respond to far right protesters attempting to directly and physically remove books from library shelves – Baker says Australia has been relatively lucky to date.
'So far in Australia we haven't seen the sort of stuff that we've seen in [the US]. We have a much more consistent approach. We have the Australian Classification Board and we have a whole range of things in place that don't put the power into the hands of people without expertise, the way that you see in American school boards, where it tends to be parents who have the time and resources, and all those advantages, to take on voluntary positions on school boards, on library review committees, all of this sort of stuff.
'In Australia we're lucky enough to have maintained enough funding – just, I think – to continue to have paid experts filling those roles,' he says.
Moral panics have a long history in Western society. Reading novels was once said to cause female depravity; comic books were identified as a corrupting influence on young people in the 1950s; and in the 1980s (as recently portrayed in the Netflix hit Stranger Things) it was claimed that the tabletop role-playing game Dungeons & Dragons turned its players into Satanists.
Is one of the reasons that graphic novels have been especially singled out in this latest manufactured moral panic a hangover from the days when German-American psychiatrist Fredric Wertham claimed that 'comic books are an important contributing factor in many cases of juvenile delinquency'?
'Because graphic novels in [the US] have been challenged more often, we believe it, because it's very easy to say, "Well, this image that I'm going to take out of context, it doesn't look right." Whereas to try and do that with text is more difficult. So we think there is a suggestion that that may be part of why they are challenged more, but I think the research is still being done on that,' Baker says.
Read: Queer culture is under attack: fighting back
The increased popularity of comic books and graphic novels – driven in part by the success of superhero narratives on screen – may also be adding to the unwanted attention the medium is attracting, Baker suggests.
'We're in a very good point for graphic novels at the moment – there are more complex stories that are being told and being told in really innovative ways, and really challenging some ideas about what can be told as a comic or graphic novel. And it's really great that we're seeing that.
'But with that greater attention comes a greater focus from people who are against the medium, and there's still, in the English speaking world, a stigma that comics are for kids,' he says.
Young queers at risk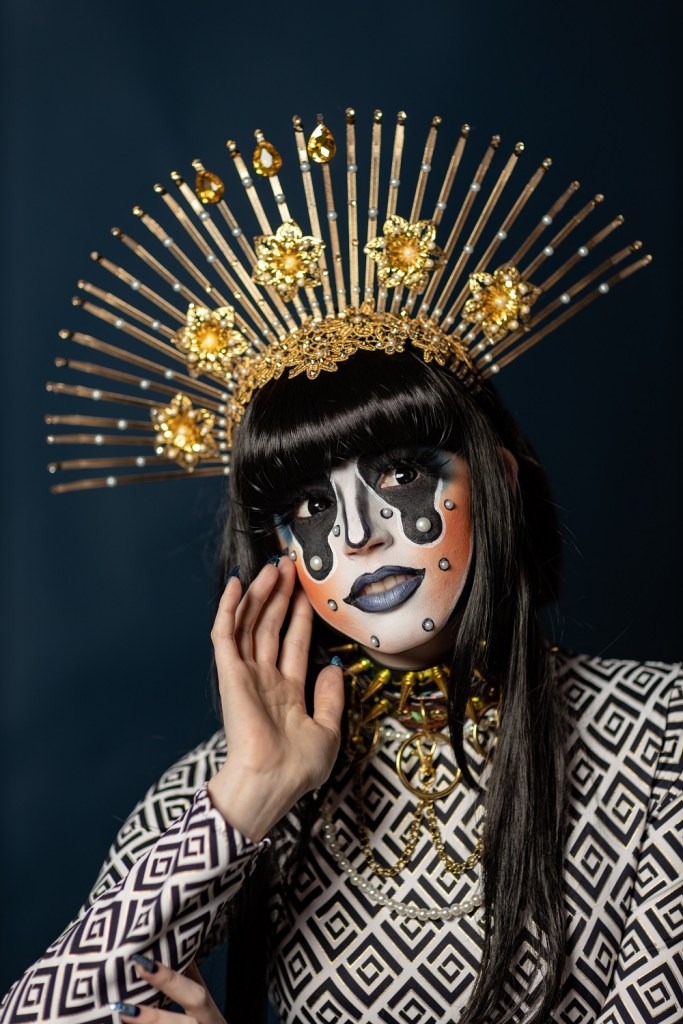 Drag king Belial B'Zarr (whose carefully calibrated drag workshop series for teenagers and adults was recently cancelled after the City of Casey was targeted by the far right and religious right) fears that young LGBTIQA+ people will be the ultimate victims of the current culture wars.
'Every time that a council cancels [a drag event], it sends a strong message that, "Hey, if we jump up and down enough, we can take away kids' ability to connect community",' they tell ArtsHub.
'That's the part that scares me most. If these kids are thinking, "Oh, finally we are being listened to, we're being respected", and then suddenly that's snatched out from under them, that's potentially devastating.
'And, look, when I was growing up, there was no support whatsoever. So I can't imagine what it's like to be given that [support] and then to have it immediately taken away. That must be really affecting them,' B'Zarr concludes.
This is the third and final article in a three-part series exploring the current attacks on the queer community occurring globally. Read part one here, and part two here.