In some cities, such as Edinburgh and Adelaide, Fringe Festivals spring up organically, in response to an apparent lack of opportunities for local artists in a major international arts festival. Elsewhere, they are created by design, filling a perceived gap in the local arts ecology.
Whatever their origins, Fringes – like those held annually in Darwin, Perth, Adelaide, Melbourne and Sydney – exist in theory to showcase and support local and visiting independent artists. But not all Fringe Festivals thrive.
Both Hobart and Canberra currently lack Fringe Festivals of their own, with the last, peripatetic Canberra Fringe held in October 2017 and presented by The Village Festival as part of Floriade. In previous years the Canberra Fringe had run alongside the National Multicultural Festival (2004 to 2009) and then the National Folk Festival.
A post on the Canberra Fringe Facebook page from October 2017 says the festival 'is not going ahead in the foreseeable future', with this claim confirmed this week for ArtsHub by an Arts ACT spokesperson.
Hobart Fringe ceased operations even earlier, winding up in 2009 in large part due to burn out among its volunteer staff and board. Competition caused by the larger and better resourced Ten Days on the Island and MONA FOMA has also been cited as a factor in Hobart Fringe's demise.
Brisbane also lacks a Fringe Festival, though not for want of trying.
'Brisbane did have a Fringe Festival, even way back – Libby Lincoln actually started one in the late 90s. So it's something that's been tried and tested a few different times in Brisbane,' said Katherine Quigley, Artistic Director and CEO of Brisbane's Backbone Youth Arts.
Read: Why Fringe Festivals are the centre point of our culture
In the early noughties, a new Brisbane festival sprang up, in part inspired by Newcastle's This Is Not Art. Called Straight Out Of Brisbane (SOOB), this curated festival of arts, culture and ideas – which Quigley was Program Manager of for a time – ran from 2002 to 2006.
A new Brisbane Fringe Festival (BFF) sprang up the following decade, in 2012. But it was short lived, with the last Brisbane Fringe presented in 2015.
'BFF was hatched in 2013 by Stu Barry as a response to a need in the community for grassroots representation of the incredible diversity and quality of local arts happening in our streets and local venues. I came on as co-director the following year and Pauline Maudy took over from me in 2015,' said former Fringe staffer Kylie Southwell.
'We were thrilled to help BFF grow and find its own voice, but after losing some essential funding early in 2015, we found ourselves exhausted and facing the reality that the next steps were going to require much greater levels of funding and support than we could secure while volunteering in our spare time around gigs and other projects.'
A new team is currently exploring the possibility of resurrecting the Brisbane Fringe, but the question needs to be asked: why has the city been unable to maintain a Fringe Festival to date?
'Part of it might be that Brisbane is just that little bit too big for a Fringe to really take over. It's no accident that the big Fringes of the world are all in small cities – Adelaide, Edinburgh, Perth …. and I think that's part of how they gain momentum; their public profile is so high in small cities,' said David Berthold, Artistic Director of Brisbane Festival.
'So it might be that Brisbane is that little bit too big … and spread out,' he said.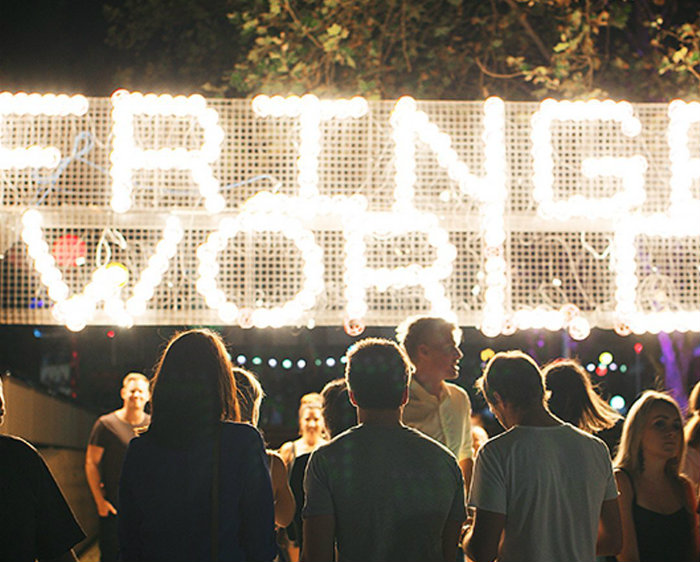 Audiences at Perth's Fringe World are booming. Photo credit: Matt Tarrant.

In terms of population, Brisbane (home to some 2.42 million people) is not that dissimilar to Perth (population 2.20 million), where Fringe World is now the third-latest Fringe Festival in the world. So if Perth can support a thriving Fringe culture, why can't Brisbane?
Jo Thomas, Creative Director at Brisbane's Metro Arts, said: 'You do have to wonder if it is because there's no need for it, because there's no requests coming from the artists.'
She also noted: 'Brisbane people also just seem to operate differently. I remember when we brought the first Speigeltent to Queensland Music Festival back in 2003; it took many, many festivals, both through QMF and Brisbane Festival, before people got what that concept was and started to come out in force. So I think our populations work differently, our arts and culture works differently up here.'
She also questioned the need for a Fringe in a city which, among other factors, lacks a healthy culture of arts criticism.
'Why do artists go to a Fringe Festival? It's for exposure, it's to get reviews, it's to get picked up hopefully for further seasons, it's to test out work. If we don't have the reviewers – and if we don't have the presenters coming up from interstate to see the work – where is the value to the artists? And I'm not convinced that we have a large enough population to provide the audiences for a Fringe,' Thomas said.
NATURE ABHORS A VACUUM
In the absence of a thriving Fringe, other events and activities have evolved in Brisbane to fill the gap in the arts ecology.
One such event is Wonderland Festival at Brisbane Powerhouse; another is the Anywhere Theatre Festival, first held in 2011 and which encourages artists to stage work 'anywhere but a traditional theatre'.
Heidi Manché, the founder and director of Brisbane independent theatre company Room to Play, said Anywhere does 'a lot of the things that the Fringes around the world do for audiences and performers'.
She told ArtsHub: 'Careers are starting to be forged through Anywhere, talent is spotted, risk is taken, ensembles are formed, exposure and solidarity and community, shared resources and building bridges – it comes together in the way a Fringe Festival works and it's uniquely Brisbane. And people come from interstate to do their work in the Anywhere Theatre Festival. And the excitement about that festival – and I've taken part in it over the years, off and on – is that it also activates Brisbane's spaces.
'Brisbane takes a while sometimes to find its magical spaces, and they're sometimes subterranean or up top, or around corners or in vegetation, or in old, old retro buildings in the burbs – so you can discover Brisbane through spaces, activating places, as well as performers popping up – and it's amazing. This is what makes it. Brisbane has so much creative fire, and it throws itself up at Anywhere and then sort of disappears again.
'So I guess it's less about, "Oh, we don't have a Brisbane Fringe," and more "How do we sustain this creative energy?" Because for me the Anywhere Theatre Festival feels like a Fringe and it performs in that same way, except it's not got the name, which most big cities have – they have a Fringe next to their big festival,' said Manché.
'Brisbane has so much creative fire, and it throws itself up at Anywhere and then sort of disappears again.'
Other events are still in the process of taking root, according to Anywhere's co-founder and CEO, Paul Osuch.
'Valley Fiesta has traditionally been an October event and this year it will be actually changing to be just before and overlapping with Brisbane Festival, and it's actually taking on more of an emerging arts focus,' he said.
Without an independent Fringe currently taking place immediately prior or alongside the Festival proper, Brisbane Festival has created its own Fringe-like event, Theatre Republic, a curated mini-festival of independent works clustered about La Boite's Roundhouse Theatre and its neighbour, Queensland University of Technology (QUT) in Kelvin Grove.
'Yes, the Theatre Republic is a very, very clear response to the lack of a Fringe Festival in this city, and if you look at the work that has been in that site for the last five or six years, it's very much the cream of the shows that you would find in independent spaces around Australia or indeed the world,' Berthold told ArtsHub.
By presenting the likes of Fag/Stag and Bali by Perth's The Last Great Hunt, Mother's Ruin: A Cabaret About Gin from Sydney, and the lesbian rom-com musical Romeo is Not the Only Fruit from Melbourne, Theatre Republic exposes Brisbane's performance makers to the sorts of work they might otherwise only see by travelling interstate.Such exposure is particularly valuable for younger artists who are in the first stages of developing a creative practice.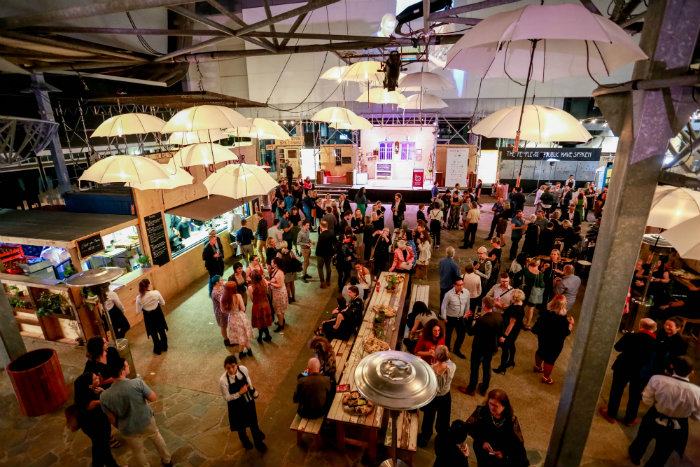 Audience members at Theatre Republic. Photo credit: Brisbane Festival.

Establishing a new Brisbane Fringe could help strengthen connections between tertiary students who are just beginning to experiment as artists, and those who have developed more professional careers in Brisbane, said Daniel Evans from The Good Room, whose latest work, I've Been Meaning To Ask You premieres in Theatre Republic this year.
'There's actually a really healthy tertiary culture here, and there used to be a really healthy youth arts culture as well, but it seems to me that there's a gap between people's tertiary art collectives and evolving into independent practitioners. And I think that's because the platforms kind of disappear, because so many companies are looking for really established or highly professional aesthetic product from the independent companies, and you don't really find that in your first years of practice; you're kind of figuring out who you are and what you want to be. So that's the platform that's missing at the moment, or isn't quite there anymore,' Evans said.
Co-founder of The Good Room, Amy Ingram, added: 'Brisbane is quite great for independent artists because of the waves of funding that comes through, because of various attempts by various companies to also start to foster independent companies more, but that is short lived,' she said.
'With us in The Good Room, we've had a lot of support, which means we've been able to produce more work, but what happens once you hit that mid-point and beyond? What happens when you're first starting out and no-one's picking you up or no-one's fostering your work? There's nowhere to go and that's why I think people hit a wall and think they need to go to another city or go overseas.'
Read: Plugging Brisbane's brain drain
Others are less positive about Brisbane's support for its independent artists. Backbone's Katherine Quigley believes that what's needed are more fully supported programming opportunities for the city's artists.
'Not for the trying and testing of ideas,' she stressed. 'I think we've got the trying and the testing down. [We need] places where theatre-makers in Brisbane, who still live here, are taken seriously and programmed.
'La Boite does it now in a really innovative way with Todd's direction, where they test ideas in one year and then program what worked in the following year. Having spent a month at the Battersea Arts Centre (BAC), I can say that is exactly how BAC has made some of the most impressive works that have gone across the world. Inviting people in early, testing ideas and getting to a point where it's actually scalable,' she said.
What's missing in Brisbane is respect for local artists, Quigley continued.
'Theatre artists in this town are not respected by the major theatre company and have not been for donkeys' years; it's been our major complaint for the whole time I've been working in the industry. I'm totally happy going on record saying that. That's the problem. If you want to look at theatre, that is the problem,' Quigley said.
SO WHAT'S MISSING?
Quigley points to the example of Queensland's music industry development association, QMusic, as an example of providing the right sort of support for grassroots practitioners.
'We've got some of the best bands in Australia coming out of Brisbane because they're all so well supported and respected by venues, and by a service organisation like QMusic that's making sure that they're leveraging opportunities for national and international contacts for the local bands. And we've got some of the best managers in the country living in Brisbane – and that's really the mix. That's what you want. You want presentation opportunities,' she said.
Quigley also pointed to Brisbane's circus sector as another example of how to best support local artists.
'The work that's coming out of the circus community here – you can barely get them in Brisbane. Natano [Fa'anana, co-founder of Casus] was here for what, three weeks this year? And the rest of the time he's touring because they've developed the work and then they just go around the world touring it.'
Read: How to make a circus city
She would prefer not to see a new Brisbane Fringe, noting, '[That] would really just place the emphasis back on the artist to take the financial risk. We have that opportunity in Brisbane. We only have that opportunity. We are so good at developing work that we need to take it interstate or overseas to present it instead of leveraging local resources.
'I would love to see Brisbane Festival, QPAC and Queensland Theatre adopt a model like those at BAC and Manchester Festival for example. There they have an ethos of co-creation with communities and artists of every calibre and background. It is the exciting focus of their programming. They have such respect for artists of all ages and backgrounds and really spend the time to get to know the artist and develop work alongside them. As a producer, it is so exciting when you connect artists and their audiences – and I think if we can get that happening on a larger scale in Brisbane, rather than leaving all of that work up to the smaller venues and festivals, it will really improve things – not just for local artists, but absolutely for local audiences and communities. I am excited even thinking about the potential of this,' Quigley said.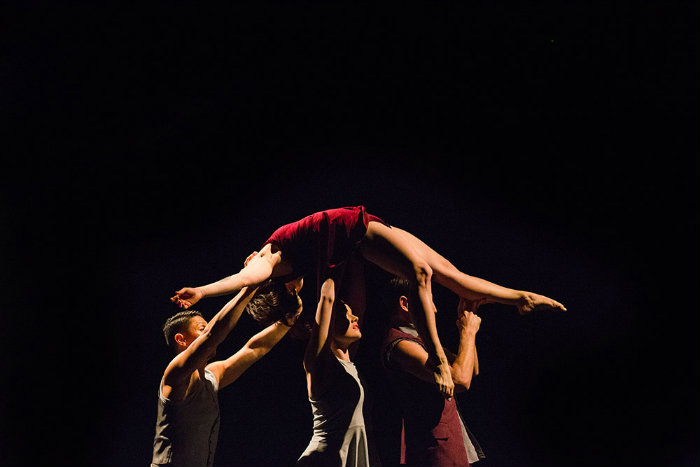 Casus Circus' Driftwood. Image via casus.com.au.

A New Model
If the Brisbane Fringe is to return, what might it look like?
Merindah Donnelly, the Executive Producer of the national peak body for Indigenous dance in Australia, BlakDance, has some ideas: 'We think the concept of a Fringe Festival in Brisbane is tough for a lot of reasons. There is so much to consider – is the lack of culture empowering the independent sector a result of the legacy of mining in Queensland? Or is it the Joh Bjelke-Petersen hangover? His appointees still hold senior positions in Brisbane. Is it a space issue? Does it go as far back as living under the Act, where the government controlled every element of Aboriginal people's lives?
'If there was a Fringe, we'd put forward this concept – there needs to be a preceding First Nations led industry model across the performing arts, it must be self-determined and ambitious – resulting in a strong, Indigenous led, owned and operated performing arts sector in Queensland.
'Why? Since the collapse of Kooemba Jdarra in 2008, Queensland has no funded, producing and making, First Nations contemporary performing arts organisation. In 2018, through consistent and ongoing investment into ACPA, Queensland has more First Nations graduates than job opportunities to support their employment,' Donnelly said.
Alethea Beetson, Artistic Director of Digi Youth Arts, notes: 'Due to the operational location of both Digi Youth Arts and the Aboriginal Centre for Performing Arts, Brisbane is one of the leaders in developing the youngest generation of First Nations artists and arts workers. Without pathways for these artists and producers in First Nations led organisations, projects and initiatives, the retention rate of our emerging First Nations artists is going to continue to recline as they leave Brisbane or the arts all together. Investment in First Nations led arts initiatives ensures that Brisbane remains the innovative hub that the young people of Digi Youth Arts hope it to be.'
Metro Arts' Jo Thomas does not believe a Brisbane Fringe Festival would benefit Brisbane's cultural sector at this point in time; she would rather see something new.
'I think we all need to look at new models. So if you look at Edinburgh Fringe now, you have to ask: who is getting advantage out of that? It's great for a city's brand, it's great for accommodation, it's great for food and beverage, and all of that has a socio-economic value, but are the artists, the majority of artists getting the value? Is there a better model? Can we tweak the model? We're all smart and creative folk. We like to test things out, to find new ways or different ways, so I think that's a possibility – that we can come up with something new. I really do believe that, and maybe that's what will come out of Brisbane,' Thomas said.
Room to Play's Heidi Manché believes that perhaps what Brisbane needs is a small performance space – akin to Melbourne's La Mama Theatre or the Kings Cross Theatre in Sydney – where artists can stage work and see one another's work all year round.
'I'm interested in sustaining the creative fire that pops up in Brisbane, in Anywhere. It is there, but then after that, how do we sustain it? Metro [Arts] does a brilliant job but it's not enough … It's about sustaining that practice so artists they can grow it and then force their way into the Brisbane Festival or main stages or other festivals in Edinburgh or wherever they want to go in the world,' she told ArtsHub.
'Certainly a permanent space is something that would make a massive difference and that's something I'm working on currently, because I know that something has to happen.'
'A permanent space is something that would make a massive difference and that's something I'm working on currently.'
Osuch also recognises the value of more permanent performance spaces.
'It's one of the reasons why, after this coming 2019 Anywhere Festival, we'll actually be extending past just a festival program and having something that enables smaller works to be presented all year round. Of course they'll be in lots of different spaces but we'll be aiming very much at that 30 to 40 seater type thing. I think that's very important and that's why we're going to have a crack at it, but it won't actually be a specific venue, it will be a number of different venues,' he said.
Manché reiterated her belief that what Brisbane needs now a permanent new presentation space. 'Because that's when artists can feel safe and can grow together. So I'm excited – I think you'll see a change in Brisbane. Yes there's people saying, "These are the problems," but we've also got enough pioneers who go, "You know what, I'm interested in making a change." So watch that space in the next five years,' she concluded.
Brisbane Festival
www.brisbanefestival.com.au
8-29 September 2018