Despite being related concepts, the differences between the law (a system of regulations and standards set out by governments and enforced by the police) and the idea of justice (the collective concept of what is right and fair) are not always clearly understood.
A new play opening this week at Canberra's The Street Theatre sets out to explore these concepts and the distinctions between them.
Co-written by two internationally renowned law academics, Twenty Minutes with the Devil tells the fictionalised story of a drug lord and the two poorly-paid police officers who have arrested him, as they sit anxiously in a hotel room waiting for whoever arrives first – the police officers' military backup, or the drug lord's violent foot soldiers.
Rather than presenting a theatrical equivalent of Narcos, Scarface or ZeroZeroZero, the play situates drug wars as part of a broader and deeper global crisis of justice; a parable for the many crises – of politics, of inequality, of power – that confront us in Australia.
The play's co-writer, Luis Gómez Romero, a Mexican-born academic who migrated to Australia in 2013, said the concept of Twenty Minutes with the Devil was inspired by the 2016 arrest of notorious Mexican drug lord El Chapo.
'When El Chapo was caught, he was initially detained by two police officers who were not well paid, and these two police officers stayed with him in a motel room for 20 minutes. That's the real story of his arrest – not El Chapo's safe houses and the soap opera star he was attracted to [which are the elements of his arrest that are often focused on by the media],' said Romero, a senior lecturer at the University of Wollongong's School of Law.
'The real story I think is those two police officers. According to Mexican accounts of events, El Chapo first tried to bribe them and then he tried to threaten them and they just stayed put, until the army arrived with backup. So in that room, what was discussed? What was said? What happened in that room in those 20 minutes? That's the real story that needs to be told.'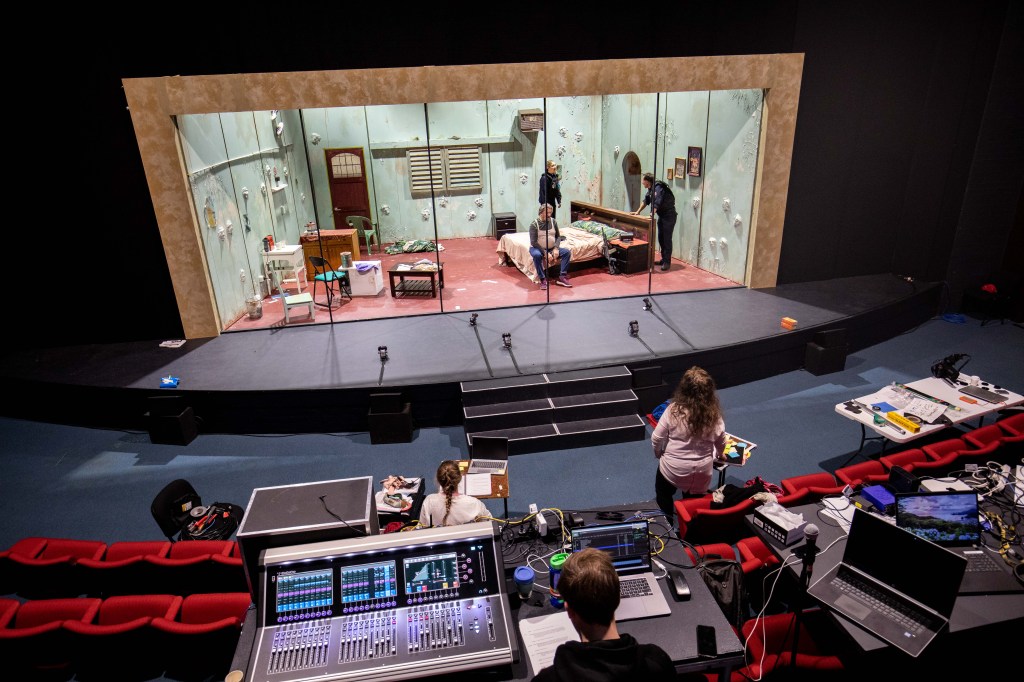 Romero's collaborator on the script, Desmond Manderson, is a former playwright and musician turned academic who is currently a Professor at both the ANU College of Law and the College of Arts and Social Sciences, and also Director of the Centre for Law, Arts and Humanities.
After Romero told him about El Chapo's arrest, Manderson was electrified, he told ArtsHub.
'Here was a story which on one level is about drugs, but on another level is about how you deal with law and justice in societies – including our own – in which there is an enormous gap between those two [concepts],' Manderson explained.
'How do these people, who all have very particular experiences of the legal system, of law and justice in a place like Mexico, how do they navigate those problems at a moment in which nothing could matter more to them? They're in this crisis, this emergency! The army is coming. The drug lords are all coming for them. Nobody knows who's going to live and who's going to die. They have to work out what this is all about and how, if at all, they're going to get out of this. And that's our predicament – that's everybody's predicament,' Manderson said.
An illuminating drama
Caroline Stacey OAM, Artistic Director of The Street Theatre, is directing the world premiere season of Twenty Minutes with the Devil, which was twice delayed by COVID.
'This play brilliantly illuminates the space between law and order, morality, ethics, justice, injustice, and no justice through the global war on drugs with a narco narrative that talks directly to race, class, gender and the "Atlantic gaze",' she explained.
'It rejects mainstream narco tropes of good cops, bad cops, sadistic whimsical narcos, the rational and fair North and the irrational and corrupt South. The border, the centre and the periphery are at war and ordinary people (our characters) are collateral damage.
'The law is forensically dissected through all those lenses and Australia's complicity in the human misery and suffering that comes from this are there for all to see. Twenty Minutes is frightening in its portrayal of the future of democracy and offers comfort by revealing the solidarity that can emerge from uncertainty,' Stacey told ArtsHub.
Theatre as metaphor
Twenty Minutes with the Devil is a deeply personal work for Romero – the violence unleashed by the Mexican drug war is also the story of his antipodean exile. While recognising that not everyone who sees the play will have his perspective, Romero says the production's central drama serves as a metaphor for many of the challenges in life today.
'We have all these big problems: about inequality, about precariousness, about climate change that the law is not adequately addressing. And each of us has agency in changing things and improving things,' Romero said.
Manderson agreed, saying the play is 'a parable for the problems of a particular place and a particular people that are of universal significance … Ultimately, the play is about placing the audience within a predicament that they have probably never thought of before, and getting them to feel that predicament, to wonder what they might do in that situation – and why.
'And then, once they leave the theatre, to think that maybe the predicament that we're all in now is not so far removed from the predicament that we showed them, about two cops and a dangerous man in a love hotel in the middle of the desert,' he said.
Read: Book review: Australia in 50 Plays, Julian Meyrick
So why use theatre to tell this story instead of exploring it in non-fiction or an academic text?
Stacey answered by saying: 'Theatre – that mix of sound, light, space, bodies – allows us to enter "the law" viscerally. To experience how it is used, misused or ignored. How privilege and power or the lack of are carried by us, how our shared histories of colonisation create the experience of the collective.
'The clock is ticking for all of us and theatre gives us a very human way into the complexity at the heart of deeply personal moral decisions,' she said.
Manderson said the choice to explore such complex themes as Twenty Minutes with the Devil presents is because 'theatre is direct, it's intimate, it's empathic.'
He continued: 'I've always been attracted to the kind of haiku nature of theatre; the way in which it presents you with problems that require creative solutions. How can we evoke this world? How will the sets work? How will the lighting create this alternative universe within what is basically a black box? Those opportunities for creativity I think also engage the creativity of the audience. And I think the one thing that that I've certainly learned a lot from this experience is just how collaborative a process the theatre is.
'But the final act in this collaborative art is the audience itself. And I think by bringing the audience into this collaborative space we're actually trying to engage them emotionally – and as citizens – in the questions that we care about. So theatre, by its collaborative work involving audiences themselves, is about citizenship in a way that is, I think, unique in the arts,' he said.
Engaging the audience as active observers of Twenty Minutes with the Devil also connects deeply with the questions of justice the play explores, Romero noted.
'The thing about justice and injustice is that we cannot achieve justice by ourselves. We need other people. Justice always involves community,' he said.
'Justice cannot be achieved in solitude. It always, always needs connection – and we need others.'
Twenty Minutes with the Devil runs from 18-25 June at The Street Theatre, Canberra.