This week, curators at the National Gallery of Victoria (NGV) made a significant statement by placing an exhibition surveying the contemporary work of 11 women bark painters from Yirrkala central to the NGV International public atrium (Federation Court) and its ground floor galleries – a space usually reserved for big blockbuster imports for the summer season.
The decision arguably carries greater weight with this presentation overshadowing the concurrent exhibition, Gabrielle Chanel: Fashion Manifesto – which has travelled from Paris – foregrounding a perfection shift around bark painting as worthy of international contemporary validation, and the role women have played in advancing this genre.
The gallery's director, Tony Ellwood said the exhibition, 'brings together some of Australia's great singular master painters.' What is interesting about Ellwood's statement is that it doesn't preface these artists by gender, by location, Indigeneity, age or even perceptions of contemporary and traditional. It pits Yirrkala as every bit 'single name celebrity' as Chanel.
Upon encountering this exhibition one can see that Ellwood's position is palpably resonant.
Viewers first witness the large-scale, floor-based work by Naminapu Maymuru-White depicting Milŋiyawuy, also known as the Milky Way or River of Stars, as it extends across the entire floor of Federation Court. Here sea, country and sky swim around you, floor to ceiling, wrapping you in this continuum and allowing a mirrored ceiling to reflect us all in this world.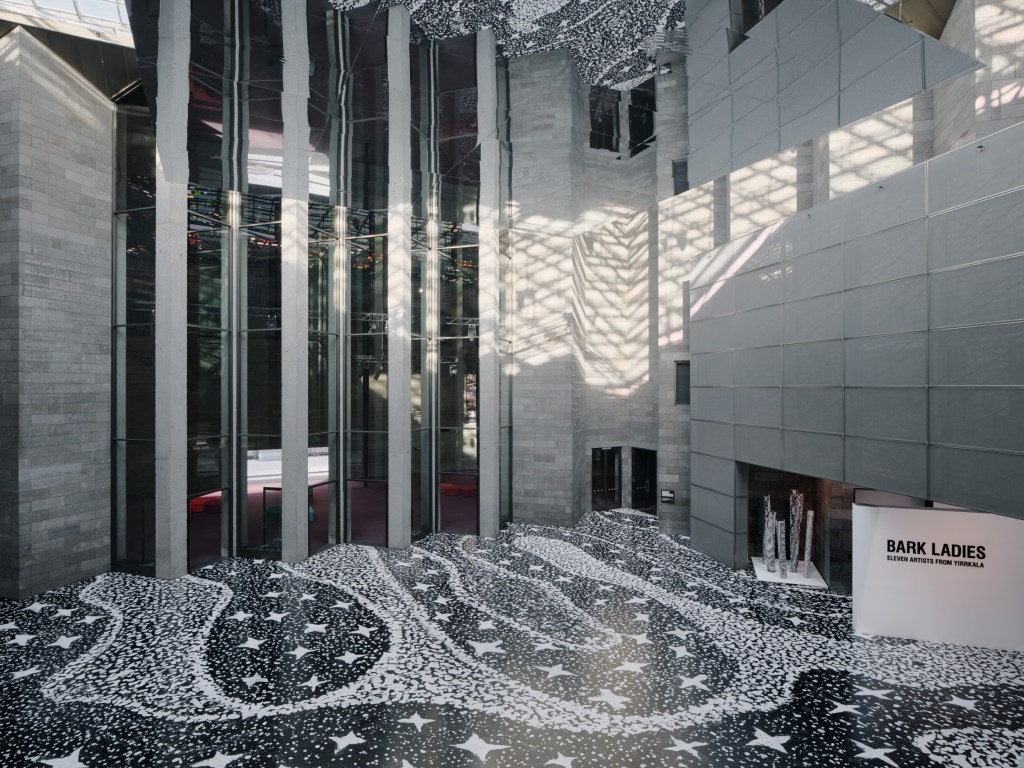 Curated by Myles Russell-Cook, in collaboration with the Yolŋu-run art centre, Buku-Larrngay Mulka Centre (Buku), situated in Northeast Arnhem Land – or about 700 km east of Darwin, everything about this exhibition bucks trends in a big way.
Before 1970, no Yolŋu women painted sacred themes on bark or larrakitj in their own right. Moving into the galleries, Russell-Cook sets an important anchor from the outset with the work of Nancy Gaymala Yunupinu. Baru story (1990) captures the Ancestral being of the crocodile, the carrier of gartha (fire) – a profoundly important totem – and is the earliest bark painting in NGV Collection by a woman.
Over the ensuing two decades, the NGV has established one of the most significant collections of work by Yolŋu women artists, and this is their first significant outing.
The diamond design of the fire in Nancy Gaymala's hands is more spontaneous and bold in gesture, than its representations by men, whose barks were more ordered and tight at that time.
It's used in works by the five Yunupinu sisters, including Nancy Gaymala, Gulumbu Yunupinu (or Star lady as she is known) – who was the first Yolŋu woman to gain significant international acclaim for her bark paintings, Barrupu, Ms N Yunupiŋu (who only recently passed away) and Eunice Djerrkŋu Yunupiŋu.
Between the spaces are perforations in the gallery wall that allow the eye to cut across and connect their work – the 'windows' are each housed with a larrakitj (hollow bark poles) and lined with mirrors to seemingly amplify this sense of infinity or timelessness.
A standout highlight of the exhibition is the installation Gana (self) (2021), comprised of 16 single sheet barks as well as nine irregular larrakitj that hover in space. There is also a rare Pink diptych from 2015 and a ghostly abstraction titled Circles from 2016, demonstrating her constantly evolving practice, which increased in both scale and bold innovative complexity.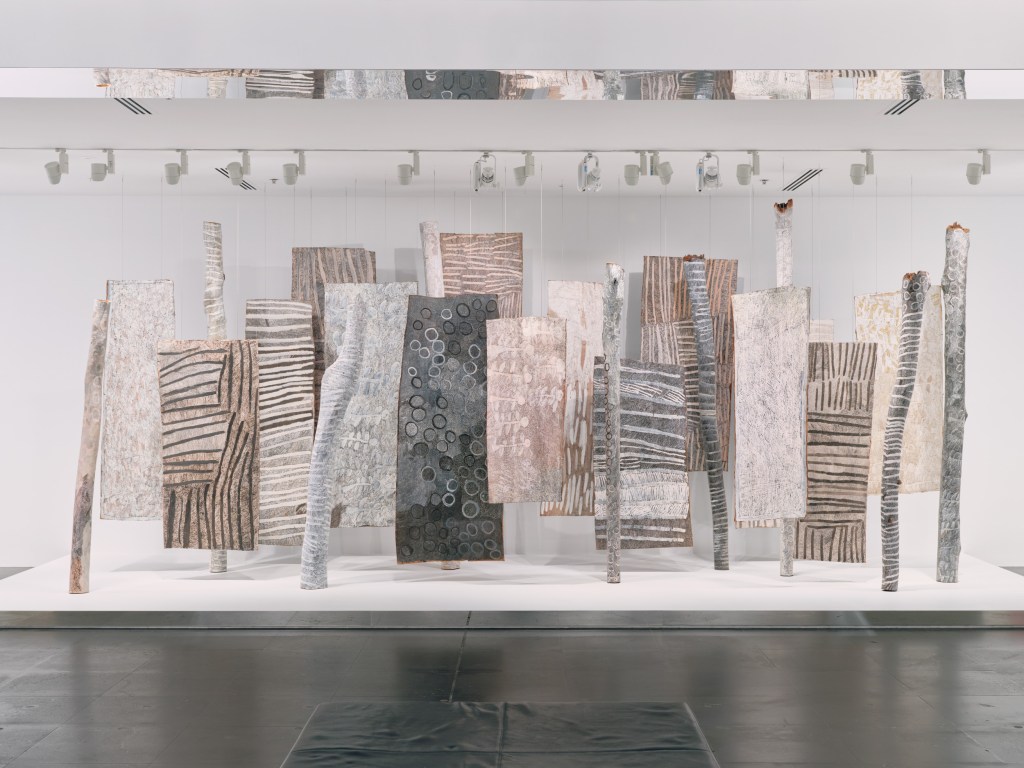 Moving into the second main gallery this sense of complexity and strength is further affirmed.
Visitors face a mirrored-infinity style installation of larrakitj (pictured top), including nine recently acquired 'pink poles' painted by Noŋgirrŋa Marawili, the signature blue poles of Dhambit Munungurr, and five recent green ochre by the late Malaluba Gumana.
In a twist of convention, the larrakitj are presented individually on plinths in a grid formation (they are usually clustered, a move institutionally set in play by curator Djon Mundine's Memorial at the National Gallery of Australia back in the 1980s), but here riffing off the Djapu grid pattern we seen in the work of Noŋgirrŋa Marawili.
The Djapu was an inherent way of mapping, a network of billabongs and ridges. In one corner of the room is an installation of paintings Djapu (Fish trap at Wandaway) 2019, allowing the savvy to find their own connection points.
This new way of presenting larrakitj (they have also been paired in the past with video for Tarnanthi and NATSIAAs) firmly sets in place their transformation from funerary objects into a major contemporary art form.
If this was the beating heart of the space, emanation out from it across the outer walls are the works of four senior artist from Yirrkala – Nongirrna Marawili, Dhambit Munungurr, Naminapu Maymuru-White and Mulkun Wirrpanda.
In late 2017, Nongirrna Marawili was the first artist to paint with reclaimed ink from discarded printer cartridges, with Dhambit's first blue barks made in 2019 using blue acrylic paint (blue is not a word found in Aboriginal language) – so you start to understand the gravitas of their actions.
There is a loose expectation that if you paint Country then use materials from Country, but to challenge what that means not by one, but two, three … in fact by these eleven women from Yirrkala, is like a slow escalation of whispers to a roaring crescendo in concert.
Further around the room, is Dhambit Munungurr's Order 2021, is a painting inspired by Julia Gillard's misogyny speech in Parliament. In the bottom Yolnu people storm Parliament in ceremony. They are dancing with spears, while limp-faced politicians look on as Gillard dominates the arena.
Munungurr's work has increasingly become more political with time, and despite the remote location of Yirrkala, demonstrates that making remotely can coexist with tradition and the most acerbic contemporary ponderings.
The other thing to note about this space, and the exhibition generally, is the scale of these bark works. They are huge, further dismissing these offerings as ancient paintings destined for a museum archive. These paintings leap out in contemporary white cube gallery space.
And, when placed with sitelines of Dhuwarrwarr Marika's installation, Birth of a nation (2020) (which was recently included as a finalist in the 2020 National Aboriginal and Torres Strait Islander Art Awards) – and who is often thought of as the first woman artist to paint a bark in her own right – we have this journey mapped out in a clear site.
The wider perception of 'a bark show' has been locked in the past for too long. Speaking with Russell-Cook on curating the exhibition he explained: 'We pushed, and then the art centre (Buku) pushed even harder to be more contemporary; This is not "NGV does Buku"; this is an innate way that Buku see their practice – it is international standard of contemporary art.
'And it is reflective in the exhibition design; it is both utterly contemporary and ancient at the same time and that is where the magic happens with this work, and I think the women in particular take these very long traditions of telling stories through inherited visual languages and iconography and then just completely transform them.'
The exhibition is expanded by a second major project, The Gecko and the Mermaid: Djerrkŋu Yunupiŋu and Her Sister, produced by NGV Kids. It introduces young audiences to Yolŋu art, culture and language through the personal stories of Ms N Yunupiŋu and her sister Eunice DjerrkŋuYunupiŋu.
Further, a new four-part video series runs alongside the exhibition on NGV Channel, presenting the voices of living artists Dhuwarrwarr Marika, Naminapu Maymuru-White, Eunice Djerrkngu Yunupiŋu, Noŋgirrŋa Marawili and Dhambit Munuŋgurr.
Bark Ladies: Eleven Artists from Yirrkala is a shape-shifting exhibition. It is uplifting, it is beautiful, it is strong and it is proud. One walks away with a greater sense of the strength of these women working so remotely, and the incredible inventiveness and impact that they are having on contemporary art.
Bark Ladies: Eleven Artists from Yirrkala 
17 December 2021 – 25 April 2022
NGV International, Melbourne
Curator: Myles Russell-Cook
Free entry